One of the factors that makes woodworking interesting is that there are varieties of colors(Grey, Black, White, Red, Blue, etc) to work with, especially in staining where there are hundreds of dark wood stains and white wood stains to choose from. This article will be explaining all you need to know about white wood stains.
I have researched and here're the 6 best white wood stains:
Best White Wood Stain of 2022
In this article, some of the topics of discussion are white stain vs. white paint, whitewash wood stain, steps to follow in using white wood stains, and the 6 best white color wood stains, among others.
Hence, look through this article if you want to know how to get perfect white staining results on your wood in your DIY projects.
Let's read on!
What Is White Wood Stain?
Just like there is a black wood stain, we also have a white wood stain. White wood stains are available as oil-based stains, water-based stains, and gel stains. Varying companies have different types of white stain options you can choose from to give that wooden furniture a white look.
In addition, in staining, you can mimic the color of wood on another. That is, you make a block of wood look like another. Therefore, a white wood stain is sometimes referred to as a whitewood stain because it is used to give another wood, the natural color of whitewood.
White Wood Stain vs. Paint
Painting wood and staining it require two different woodworking techniques. While wood paint covers the wood's surface and the wood's grain, a wood stain gives a surface coating to the wood such that its pigments enter the wood pores. Hence, the natural wood grain pattern and other natural beauty of the wood are enhanced by using white wood stain.
Using white paint on wood is beautiful, especially whitewashing the wood's surface. However, you can now white wash with a white stain without altering the grain of the wood. Also, the white color is opaque, hence a white paint covers the wood completely, but with a white stain, the natural grain still shows through.
Furthermore, staining is relatively easy compared to painting. Likewise, working on stained wood is less stressful compared to working on painted wood. Hence, using a white stain on your wood is preferable to white paint except you want to give your wood an artificial white beauty.
Can You Stain Wood White?
Yes, you can stain wood white. However, the wood's color will determine your wood's resulting white filter or look. White stains have been used on typical wood samples such as white oak wood and pine wood. The white color brings out the beautiful grain pattern of white oak wood more than pine wood.
Read More >> White Wood Stain On Pine
Furthermore, just like dark colors, there are different white wood stain options to give your wood a white look. There is subtle white stain, simply white stain, antique white stain, and other white wood stain products available at home improvements stores. However, consider your wood's natural tone before choosing from these white wood stain options.
In addition, the resultant white wash look you get after applying a white stain depends on the type of wood you are working with and its grain pattern. Read more below on how to apply white wood stain.
How to Apply White Wood Stain to Whitewash Wood?
When you stain wood, you enhance all of its attributes. Likewise, when you stain wood white, especially wood that has a color match with white color, you get a well stained gorgeous wood in return. Applying a white color stain on a wood surface is easy.
Tools You Need
To successfully whitewash wood, in your DIY projects you need the following materials:
Power Sander or Sandpaper
Bristle Brush or Roller
Whitewash Stain
Lint-free-cloth, Clean Cloth
Tarp
Paint Stripper
Sealant
Wood filler
Varnish
Gloves and Protective Gear
Brush or Roller
The application of white wood stain is not hard. The best option to use in terms of application tools is a brush. If you are afraid of brush streaks, then your best option is a clean cloth. Using a cloth is often easier because you can control the white stain and apply pressure to rub in more pigments of the stain.
Furthermore, you can use a roller. However, the fluffs of a roller absorb too much stain thereby reducing the available stain for the wood.
Nevertheless, to get a nicely stained wood, use first the brush techniques and then rub in more stain using the cloth method.
Steps to Use White Wood Stain
Are you trying to improve the ambiance in your room by using a white stain instead of white wood paint? That's a good choice. A white stain gives a lot of advantages over white wood paint. It protects your wood from termites, molds, and moisture and it last longer.
To apply white stains, follow the steps below:
Prepare Your Work Area
Strip Off Previous Stain or Paint Finish
Applying The White Wood Stain
Applying Top Coat to Give Protection
Prepare Your Work Area
Preparation is very important in staining. When you gather all the needed tools, put drop cloths on the floor or use a tarp, the staining process gets easier without you having to deal with messy floors later on. Apart from protecting your flooring, protect yourself from possible hazards by putting on hand gloves and other protective gear.
Strip Off Previous Stain or Paint Finish
If you are working on fresh wood or bare wood, there is nothing to strip off, all you need to do is use a power sander or sandpaper to lightly sand the wood. For wood with paint as the existing finish, remove the paint finish with a paint stripper to reveal the raw wood.
If the existing finish is a stain and sealant, a wood stripper and some sanding will expose the raw wood and the wood grain. Get rid of sand dust with a lint-free cloth and move to the next step.
Applying The White Wood Stain
Apply the first coat in the direction of the wood grain, let the stain absorb, and dry as the manufacturer recommends. If you are using an oil-based white stain, fewer coats are needed. However, a water-based white stain looks opaque like white watercolor paint. Hence, more coats will be needed.
Applying Top Coat to Give Protection
After you have gotten a desired white color intensity on your wood, apply a top coat to give your wood extra protection. Applying a top coat not only keeps the color bright but also prevents scratches and prolongs the service life,
Application of White Stain
Seeing that the white color is a positive opaque color that signifies maturity and brilliance, the white wood stain is used on different home furniture. Some of which are tables, fences, cabinets, doors, etc. Below are what you should know when applying white stains on this furniture.
1. Kitchen Cabinets
When exploring the different white wood stain options to choose one that suits your cabinets, endeavor to select a white wood stain with low odor and that is designated for indoor use. This type of wood stain is less toxic and does not release harmful fumes into your kitchen.
Before you apply white stains on your wood, get rid of all forms of dirt. Mix denatured alcohol and water in the same proportion to do that. After this apply the whitewash wood stain.
2. Table
Similarly, while trying to select from the varying white stain options, consider the location of your table. Is it an indoor or outdoor table? Is it a frequently used table? These considerations will help you to pick the best white wood stain for your table.
After choosing the best white wood stain, apply it as directed earlier while following the manufacturer's instructions.
3. Fence
The white stain preferable to use on your fence is one with waterproofing and sun-protecting qualities. Better still, select from the varied white stain options a white stain containing a sealant. This helps to seal the white stain on the fence as it is being applied.
By so doing, rain and other forms of unsuitable weather conditions do not erode the white color stain off your fence.
4. Floors
The best white wood stain for your floor is one that can withstand heavy use. You can select one from the 6 best white stains reviewed below. Using a brush or a cloth, apply the white stain evenly on the wooden floor along the grain pattern.
Wipe off excess stains with a rag and let it dry. You can apply multiple coats until you get the desired white shade after which you apply a sealant.
5. Door and Porch
Staining your wooden door and porch white starts with selecting the best white wood stain suitable for the intended purpose. Cover the hardware on your door and sand it with an orbital sander or sandpaper. Tape off the door handles and using a brush, apply the first coat of the white stain and let it dry.
Apply the next coat and repeat the process until you get the wanted white shade. Then, apply a sealant.
6. Pine
Raw pine wood is a light yellow wood. Hence, a whitewash wood stain suits the pine wood color. You can either use a subtle white stain or a simply white stain to accentuate the golden grain lines of the pine wood.
Also, remember to remove existing paint or stain on your pine wood to get a good white staining effect.
7. Oak
Varying types of wood give different white wash results depending on their colors. Similarly, because white oak wood has dark brown knots with a slight yellow tone, a white stain depending on its hue will lighten or darken the natural tone of the wood with highlighted dark knots.
Hence, you apply a whitewash wood stain based on your desired white wash look.
8. Poplar
Poplar wood has different color shades. There is the white poplar, the slightly yellow with grey undertone poplar, and the somewhat green poplar. Poplar wood is majorly used for painting due to its uneven porous structure. Hence, staining poplar is quite tasking.
However, it is better to stain the white poplar wood to improve its natural white appearance.
9. Dark Wood
Applying a white wood stain on dark wood is often used to reduce the dark hue and make it lighter. Whitewash paint is oftentimes used to lighten dark wood. However, instead of using white paint, you can use a white stain without altering the natural look of the dark wood.
When using a stain to white wash dark wood, depending on the stain type, you might not have to dilute it like oil-based paint.
6 Best White Wood Stain Reviews.
Best Overall – Varathane 297424 Premium Fast Dry Wood Stain, Rustic Antique White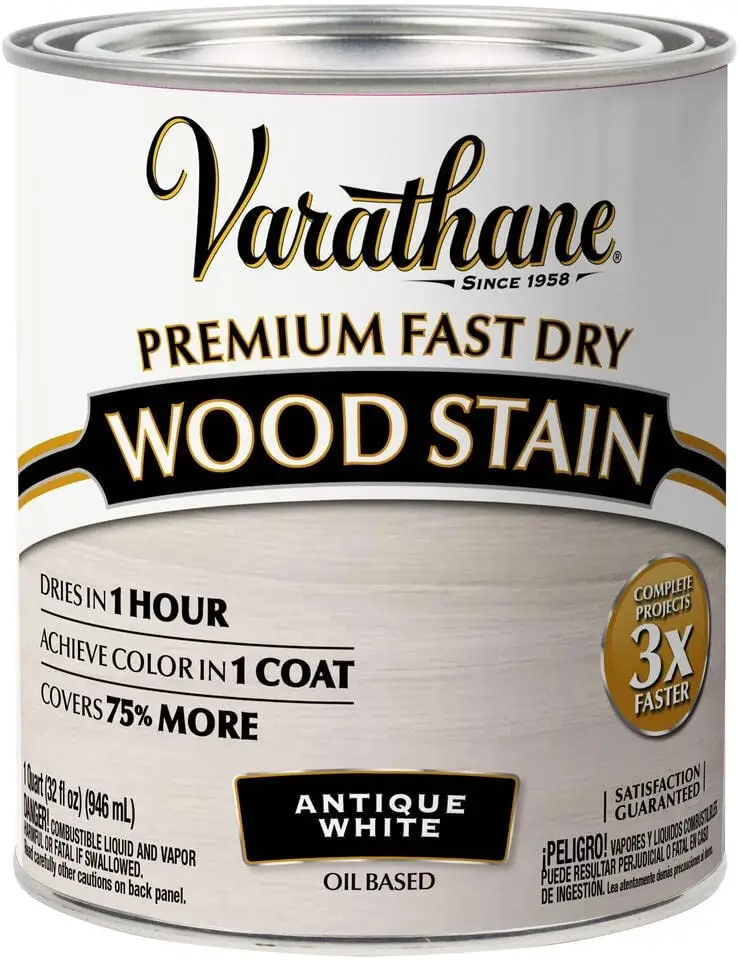 Out of all the white wood stain samples, this varathane antique white stain is recommended as one of the best white wood stains. It gives a rustic antique white appearance to wood. This varathane antique white stain is enhanced with nano-pigment particles. Hence, it is high performing white stain.
It gives coverage of 275 sq ft per quart and within 60 minutes it gets dry to touch. Also, this varathane antique white stain is an oil-based white stain that enhances wood's beauty by highlighting the natural wood grain. It is suitable for all interior wood projects.
In addition, with this varathane white wash, you do not need a wood conditioner; only one coat is required to get a rich white color.
Pros
Fast-drying
One coat coverage
Easy to use and clean
No pre-stain is needed.
Cons
Best for Interior  –  General Finishes WIPT Water Based Wood Stain, Whitewash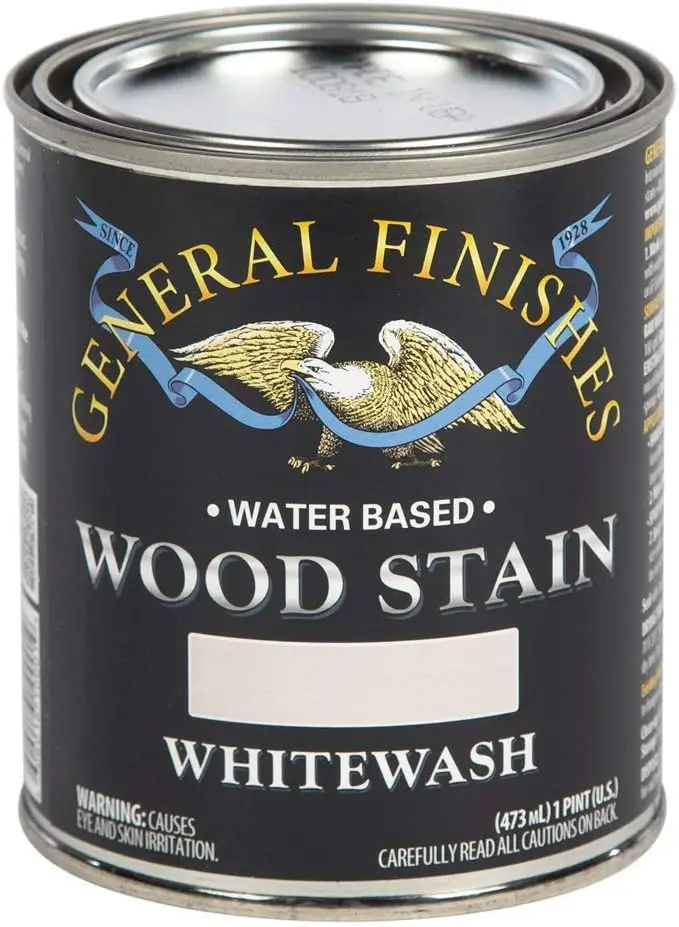 This is a General Finishes whitewash water-based stain. Because it is water-based, it contains low volatile organic compounds. It is formulated with high-quality pigments that give rich color and work like oil-based stains. It can be applied using a brush, spray, or cloth. Also, you can mix it easily to get custom colors.
Furthermore, this whitewash wood stain is thick, hence you get to control it easily. Also, due to this thick formula, it works like gel stains on softwoods like aspen and pine. As a result, blotching is reduced on these woods. It has a high open time, hence you can rub it in for a longer time.
In, addition, it can be used for any interior woodworking project. However, you need to use a sealer after applying this wood stain.
Pros
Low VOC
Low odor
Easy to use and clean
High-quality formula
Cons
Interior use only
Sealant needed.
Best for Weathered Wood – Minwax Wood Finish 227654444, Simply White Stain, Pure White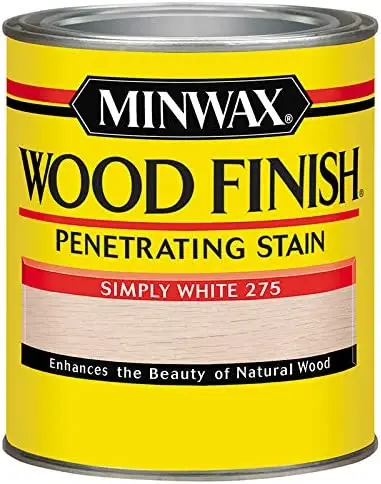 In case you need a simply white color stain, that is a stain with pure white color, this Minwax wood finish is your best bet. It is an oil-based wood stain made in a semi-transparent form with a relatively fast drying time. It gets completely dried in 2 hours.
It has a high penetrating power that deeply penetrates wood pores within a few minutes and its pigment are enriched to provide a beautiful color with just one coat or two coats. It is easily applied with a cloth or a brush and the longer you leave the excess stains on the wood furniture, the deeper the color gets.
In addition, this simply white solid wood stain enhances the wood grain as you apply it in the direction of the natural grain pattern to give a beautiful white stained wood.
Pros
Fast drying time
Penetrating stain
Easy to use
Cons
Interior use only
Combustible.
Best for Kitchen Cabinets, Doors – Minwax 618604444 Transparent Layering Color, White Wash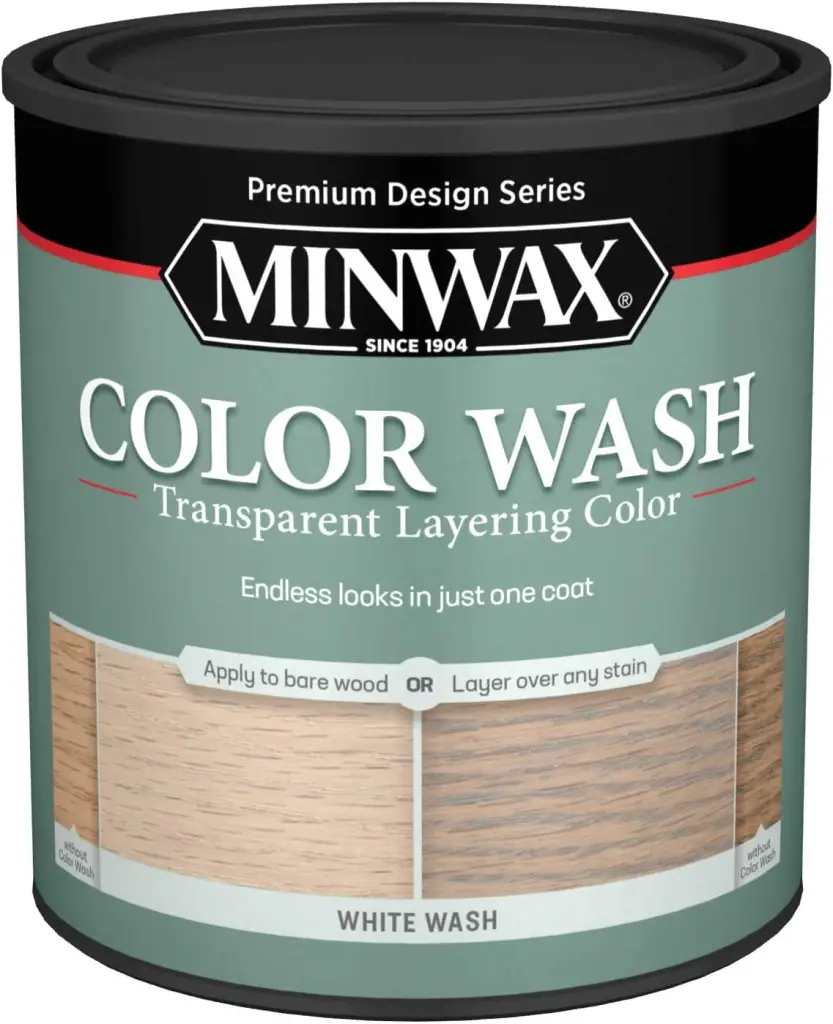 This is another Minwax wood finish that can be used to whitewash, just like the whitewash paint method. But, with this whitewash wood stain, you do not have to make any mixture. Hence, whitewashing becomes easier and it can be applied over woods with water-based or oil-based stain.
Furthermore, this whitewash stain is designed to give a white light tan color wash to woods be it bare or stained wood. It is a water-based stain that is relatively fast drying; dries to touch in 1 hour and gets completely dry in 3 hours. It is easily applied with a cloth, spray, or brush.
Also, its layering color brightens the wood surface by highlighting the wood grain and adding a subtle shade of white color to it.
Pros
Easy to apply and clean
Highlights wood's grain
Used on both bare and stripped wood.
Cons
Can't use it on floors.
Interior use only
Best for Bathroom Vanity – General Finishes Oil Based Gel Stain, 1 Pint, White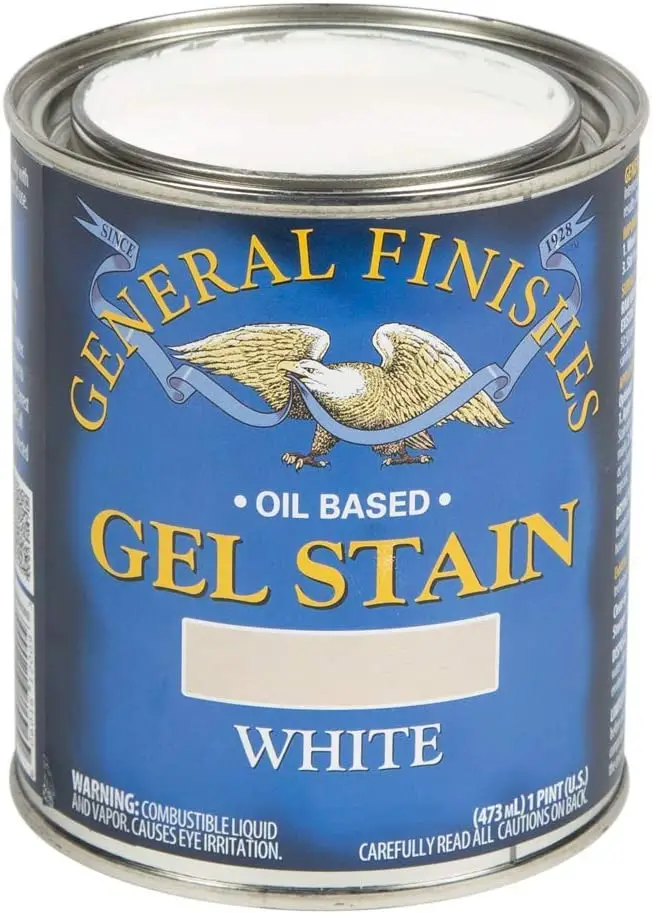 This is one of the General Finishes products that is more heavy-bodied than a normal oil stain; hence it does not readily penetrate the wood and is then referred to as an oil-based gel stain. Due to its gel stain character works well on a light wood that is difficult to stain like pine.
Also, it helps reduce blotching on those woods. This whitewash stain is easy to use with a cloth or foam without splashes or spills. It gives a sealing finish to wood surfaces as it stains, and because of its thick consistency, you get a good color control during staining.
Furthermore, with this white color stain, you do not have to sand in between coats and because it is thick, fewer coats are needed.
Pros
Seals as it stains.
Durable
Easily applied
Cons
Best for Floor – Rust-Oleum 297424 Antique White Varathane Premium Fast Dry Wood Stain
This is another varathane white wash. The difference between this whitewash and the one earlier mentioned is the rustic appearance. This varathane white wash does not give a rustic appearance. It only gives an antique white appearance to wood. It is an oil-based stain formulated for interior use.
This varathane antique white stain also contains nano-pigment particles, hence it is a high-performing stain that enhances the wood grain and gives a high-intensity white color shade in just one coat or just two coats. Also, it provides exceptional coverage of 275 sq ft per quart and gets dried in one hour.
Furthermore, you do not need to use a wood conditioner before using this stain, however, you need to use a wood sealer after applying for maximum protection.
Pros
Fast drying time
Easy to use
Exceptional coverage
High-performance stain features.
Cons
Top coat needed
Interior use only.
White Stain vs. Whitewash
Using whitewash paint instead of a white stain has advantages and disadvantages. let's discuss some of them. Whitewashing with paint requires you to mix the white paint with water or paint thinner. However, a white stain does not require such mixing or tinting.
A unique advantage of using whitewash paint is that you can make a thicker whitewash, that is make it less opaque. All you have to do is reduce the water or paint thinner proportion. However, you can also thin white stain to get specific opacity.
Furthermore, comparing white stain vs white paint, white stains enhance the natural look of wood such as highlighting the natural grain and bringing out the beauty of the wood's grain pattern. A paint whitewash can not achieve this natural wood beauty.
How to Make A Pure White Wood Stain?
If you did not get your desired pure white hue with store-bought stains the last time you used it for your woodworking projects, why not make your white stain? It is quite an easy process and all you need to do is pick up a white paint from a paint counter.
One of these methods is through the use of acrylic white paint. With acrylic paint, color pigment particles are well bound. Hence, the elements of acrylic white paint are tightly packed so that the white paint gives a pure white color and can produce thicker whitewash.
To make your white stain, use a white paint mixed with water. Pour some white acrylic paint inside a container and mix thoroughly an equal proportion of water with it and your stain is ready. Test on wood samples before use.
When you apply this solution to your wood, the wood grain shows through, and a pure white appearance is observed.
How to Remove White Stains on Wood Desk or Hardwood Floor?
Different actions cause white stains on stained wood desks or floors, but the two responsible culprits are heat and moisture. For instance, when you place a cold drink directly on your wood desk, as the cold drink return to normal temperature, water beads from it to your desk.
If this water is not wiped immediately, it penetrates the wood pores and settles there thereby causing white spots. There are different ways of removing such kinds of white stains.
You can either use some natural home remedies such as baking soda or chemical treatment to remove white stain on hardwood floor or desk.
However, you can use the Howard Restor product or mix lacquer with lacquer thinner in the same proportion for a more effective result. Dip steel wool inside this solution and use it to gently rub on the white stains until removed. Wipe the surface clean with a cloth and re-apply a top coat.
Read More >> How To Remove White Heat Stains From Wood Table Easily?
Points to Note When Staining Wood White
As much staining could be fun and active work, it could be a tiring one if the necessary results are not achieved. Hence, you need some necessary tips and note-specific points to effectively stain your furniture white. The first is the type of wood you are working with.
If you are working with softwoods such as pine, then you to use a wood conditioner to prevent its uneven grain from causing blotching. However hardwoods with more even grain texture like white oak, absorbs stain well, hence just two coats or more coats of white stain will be needed.
Furthermore, if you are using fast-drying oil-based or water-based stains on large wood furniture like floors, try to work on small areas at a time. This helps you focus on such an area instead of quickly getting the white stain on other areas so the whole surface can be dried at the same time.
FAQs
Is There A White Stain On Wood?
Yes, there are several white stains for varying types of wood which you can use to get different white appearances be it subtle white, simply white or pure white, rustic antique white, and antique white. The 6 best white stains which can be used on different wood projects are specified above.
Can You Paint Wood White?
Of course, you can paint wood white if you so desire. There are white paints made by different manufacturers you can pick from. However, instead of painting your wood white, why not thin your white paint to make a white stain which when applied increases the aesthetic features of your wood instead of covering it?
Does Gel Stain Come In White?
There are few white gel stains compared to water- and oil-based white stains. But General Finishes has an oil-based gel stain which has a gel stain feature and all the benefits of a gel stain.
Should You Use Gel Stain Or Regular Stain?
When it comes to staining your wood white, you can decide to use any type of wood stain. Whichever one you choose, endeavor to follow the right techniques for applying it. However, a regular stain is preferable when staining a wood white.
Do You Need To Sand Before Gel Stain?
Sanding in between coats before applying a gel stain might be unnecessary. This is because a gel stain sits on the surface of your wood. However, before applying a gel stain, it is good to sand so that the stain will sit on bare wood and not dirt or existing finish.
Can You Put Minwax Stain Over Polyurethane?
No, you cannot. A stain is designed to sit on a wood surface and not on a finish. Polyurethane is a finish, hence, a stain will not soak into it. The correct way to apply your polyurethane is to seal it over a Minwax stain.
How Long Should Stain Dry Before Poly?
While some stains are formulated to dry within 1 hour, some get dried for 4 hours. Hence, the length of time you should leave a stain on your wood before the stain manufacturer determines poly.
Can You Use Water-Based Polyurethane Over Gel Stain?
Yes, you can. But, you have to wait for the gel stain to cure for several days to do this. The water poly will soak the gel stain and disrupt its form if it is not cured. The best finish for gel stain is oil polyurethane.
Final Words: How to Stain Wood White Well?
I hope you have been able to discover that staining wood white is as interesting and simple as staining wood with any other wood stain . The important thing is to select the right white wood stain that will complement the colors of your wood or lighten it.
You can decide to check the different results of white stain on some wood samples online like white oak wood, alder, pine, etc. This helps you to how how your furniture will look after being stained white.
After getting the right white stain, follow the guidelines, points, and tips explained as you stain to get beautiful results.
Let's get started!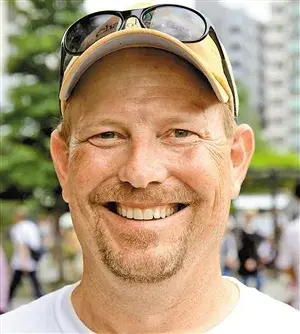 My name is Mark, and I am a software engineer and the founder of OnWoodWorkingArt.
I grew up with a passion for woodworking and now have my woodworking studio with a group of like-minded friends who love to create woodworking. My dream is to have a more extensive workshop and be able to make woodworking my main business.