Exterior Masonry paints come out beautiful, and at times, you might wonder if these paints can be used on other exterior surfaces. Yes, they can. Exterior masonry paints can be used on exterior wooden surfaces and other surfaces, such as metal, pebbledash, plastic, bricks, roughcast, walls, etc.
You can use exterior masonry paint on your wood fence and shed. Some woodworkers even prefer to use it because it has varieties of colors to choose from. Also, it is thick. Hence, it is easy to apply uniformly. In addition, it does not chip, scratch, or flake.
Let's jump in!
What is Masonry Paint?
Perhaps you have heard about masonry paints here and there, and you wonder what exactly these paints are used for. Masonry paints are not the same as regular paints. They are acrylic-based paints useable on different surfaces. Some of which are brick, rendering, plaster, pebble dash, stone, etc
This type of paint is well known for its waterproofing and weather-resistant qualities. Apart from this, it protects against insect damage. Also, it is a breathable paint because it allows water vapor to evaporate, preventing water damage, flaking, and chipping, among others. It is a durable paint that withstands external impact.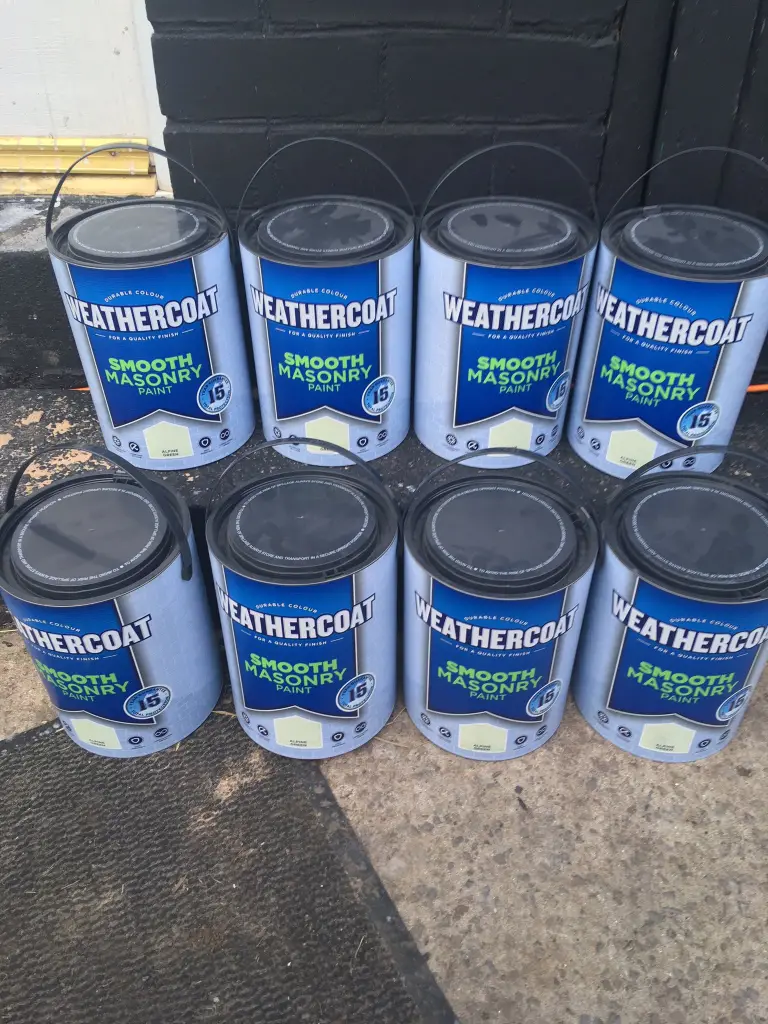 Benefits of Masonry Paint
Are you wondering what you stand to gain from using masonry paint on your external wooden fence and shed? Masonry paints offer a lot of benefits, sometimes more than regular paints. They are majorly designed for exterior use; hence they can withstand tough weather conditions like rain, wind, snow, etc.
One of the major benefits of masonry paint is that they give a microporous coating. That is, they prevent moisture absorption and ensure that any absorbed one escape, thereby preventing rot, mold, mildew, discoloration, and the like. Another major benefit of masonry paint is its use on different surfaces.
Masonry Paint Colours
Are you considering using exterior masonry paint on your wood fence and shed? It is a good idea because apart from the benefit of dirt and waterproofing features, there are varieties of masonry paint colors you can choose from.
However, there are certain things to consider before choosing an exterior masonry paint color. One of the most common masonry paint color shades is classic cream and jasmine white. However, more than 18 standard masonry paint colors have hundreds of shades.
Examples of masonry paint colors are white, pink, green, black, cream, grey, red, and yellow, among others. Some masonry color shades are cornish cream, Vermont grey, etc.
Can You Use Masonry Paint on a Treated Wood?
Pressure-treated woods are woods that have been subjected to certain chemical treatments. This treatment mostly prevents insect infestation, fire, wood decay, mold, and the like.
The wood preserving chemicals are deeply absorbed into the wood fibers to produce a more durable wood. Therefore, pressure-treated woods are durable wood, and masonry paint can be applied to them.
However, if you are working with a new treated wood that still contains an amount of moisture, you should let the treated wood get completely dried before applying masonry paint to prevent paint chipping and the like.
What Surfaces Can You Use Masonry Paint on?
That masonry paint is suitable for exterior surfaces does not mean it can be used on all exterior surfaces. What you can use masonry paints on depends on how creative you can be with the paint and how much you know about the paint.
Some woodworkers even use masonry pants on interior surfaces. However, the original purpose of masonry paints was for them to be used in painting exterior walls made from different materials, not only masons.
Hence, masonry paints can be used on concrete walls, brick walls, pebble dash walls, wooden walls, and stone walls, among others.
Concrete Paint vs. Regular Paint?
Concrete paints are often called epoxy paints containing a hardener and a resin. Meanwhile, regular paints are solvent-based paints, be it oil or water. Concrete paints are known to be stronger in adhesion than regular paint. Hence, if you contemplate using concrete paint on your concrete floors or walls, do not.
In addition, concrete paints are designed to offer more resistance to wear and tear. That is, they are designed for high-impact use. Another major difference is that concrete paints come out with a shiny look, but regular paints tend to have a dull matte or flat finishing look.
Do You Need Primer with Masonry Paint on Wood?
Priming involves providing a material used on wood before painting to enable paints to adhere better to the wood surface and ensure a smooth painting. The materials used are called primers, and various paint brands manufacture different kinds.
While some woodworkers do not see priming as a necessary paint process, it is, however, an important process, especially when working with paint like masonry paint that is designed to be used on different surfaces.
Hence, before using masonry paint, you must prime your wood with either a stain-blocking primer or a wood primer.
How to Use Masonry Paint on Exterior Fence?
One of the good things about woodworking is that you can easily find your way around it. And even when you can't, painting an inconspicuous part of the wood to check is quite easy. Applying masonry paint to your exterior fence is simply as straightforward as applying a regular fence stain.
The most common type of masonry paint is waterproof acrylic masonry paint that is easy to repaint. To use this type of masonry paint on your wooden fence, the first step to take is to remove any previous painting or other forms of finishes.
After removing the previous finish, use a wood cleaner or mild soap and water to remove dust, mold, mildew, and other dirt forms. After this, leave the wood fence dry before starting the sanding process.
Start sanding with medium-grit sandpaper (140) before moving to the high-grit sandpaper (220). Remove all sand dust and go ahead to prime using a good wood primer. Two coats of the primer should be enough. After the primer is dry, apply the paint using thin coats.
Note that masonry paint has a thick consistency. Hence it is better to work on a small area per time to give a perfect painting result.
Can You Use Exterior House Paint on Deck?
It depends on the type of paint you are working with. Not all exterior house paints are suitable for use on a deck. Yes, you might be wondering if both the outdoor walls of your house and your deck are exterior surfaces. Hence, an exterior paint that is weather-resistant and tough should work on both surfaces.
Well, that is not true. Here is one major factor to consider. The first is the type of material your exterior house is made of. If the exterior of your house is made up of wood, then you might be able to apply your exterior house paint on your wooden deck.
Read More >> Best Deck Stain For Pressure Treated Wood Of 2022
Can You Use Masonry Paint on Interior Wood?
Sometimes, being experimental with different paint is very interesting. Hence, many woodworkers have used exterior paint like masonry on interior surfaces, and the result has been beautiful.
Furthermore, the attributes of masonry paints are top-notch, so you might want to use them on your interior wooden surfaces. But, it is advisable to not. This is because exterior paints like masonry contain toxic chemicals called volatile organic compounds.
Inhaling these harmful compounds are dangerous. Hence, it is better not to use them indoors or work in a ventilated environment.
Which Brand of Masonry Paint is Best?
When it comes to choosing the best brand of paint, there is no particular brand that can be pinpointed. This is because there are a lot of masonry paint brands that produce varying quality masonry paints with peculiar features. Nevertheless, a couple of masonry paint brands are regarded as the best.
Examples of such brands are Sandtex, Zinsser, Wickes, Leyland, and Johnstone. These brands produce specific masonry paints that meet a particular need. For instance, Dulux weather shield masonry paint is the best choice because it can withstand weather changes in all seasons.
What Other Paint Should You Use to Paint an Outdoor Fence or Shed?
There are different types of paints suited for exterior use. Part of which is masonry paints that are suitable to use on almost every exterior surface. 
However, when painting wood, another recommended exterior paint is acrylic-based.
It is a water-based paint with water-resistant properties that do not crack, peel or chip and is sometimes called an all-purpose paint. Nevertheless, you must prime the wood surface before use. Also, sealing your outdoor fence before and after applying acrylic paint is quite essential.
Can You Use Tin Roof Paint on a Wooden Fence?
You could give it a trial, but you shouldn't use a paint designed for tin on wood. Doing that will waste time, resources, and energy because tin roof paint is designed for use on the tin, which does not have the natural characteristics of wood.
A tin roof fence paint is non-flexible, self-leveling, and designed to adhere strongly to itself to cover the tin roof firmly. These qualities will not work on your wooden fence because of its pores. And in the case when the pores absorb moisture, a tin roof paint on wood will break and peel off.
Final Words
if you are thinking of reviving the exterior of your property, why not use masonry paints. It is suitable for use on any type of exterior wooden surface, and it is a highly durable paint and strongly withstands high-impact use and extreme weather elements.
In addition, masonry paints give an extended protection period of about ten years. Also, this type of paint might not necessarily need sealing. That is, masonry paint already has the properties a wood sealant would give. Hence, it further prevents stress and hastens the painting process.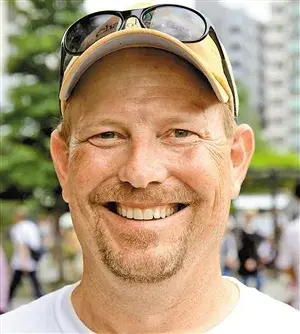 My name is Mark, and I am a software engineer and the founder of OnWoodWorkingArt.
I grew up with a passion for woodworking and now have my woodworking studio with a group of like-minded friends who love to create woodworking. My dream is to have a more extensive workshop and be able to make woodworking my main business.