Staining pine wood and getting the best pine wood staining colors are two tasks that require careful study and in-depth knowledge. Otherwise, you may end up with the wrong results. Many artists want to know if grey, ebony, walnut, black or white colors are suitable for pine stains. Other details need to be explored.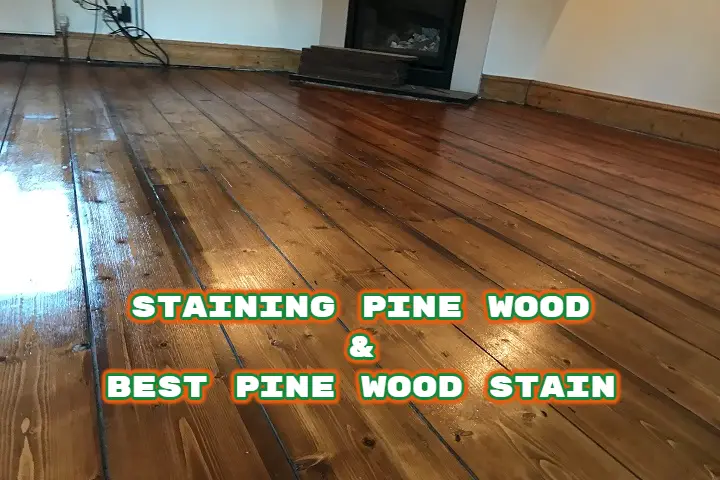 First, let's see what I found:
This article will provide a detailed guide on the best ways to stain pine wood and what shades of colors best work for this fantastic wood type.
Let's get started!
Our Top Pick
Does Pine Wood Take Stain Well?
Yes, stain works well on pine wood, depending on who is doing what. The artist must follow the proper procedure when staining this porous softwood. For pine to take stain well, it must be cleaned with pre-stain conditioner, sanded, and done with at least two coats of stain.
Reasons to Use Wood Stain on Pine
Many people have asked why stains are used on pine, and after investigation, it was found that the following are the benefits of using wood stains on pine:
It can give any color you want and enhance the natural beauty.
It protects the wood from damage caused by rain and UV rays.
Extend the service life of wooden furniture.
It is simpler to use and maintain than logs.
Protect furniture surface from scratches.
It Covers original spots and discordant woodgrain.
What Kind of Stain Should Use on Pine?
The best stain to use on pine should have high penetrating powers. Don't forget that pine wood have incredible stiffness and resistance to shock, even though they're generally considered softer than hardwood varieties. Pine requires the kind of stain to penetrate the wood, blend all blemishes and scratches, and provide excellent color blends.
Another feature you should look for when choosing a stain for your pine is resistance to flaking, peeling, and cracking. You don't want to stain the pine and see it peel within a short time.
Color depth is also essential for stains on pine.
There Are 6 Stain Colors That Are Good For Pine:
Grey Wood Stain Is Best For Pine
You can stain pine wood grey. Pine wood is light-colored; therefore, it can easily be changed to any color. The best color for pine wood is grey. Grey makes your pine project look exquisite and classy. There are different shades of grey wood stain that you can use to give your project that modern, sophisticated look. Each shade has something unique to offer you.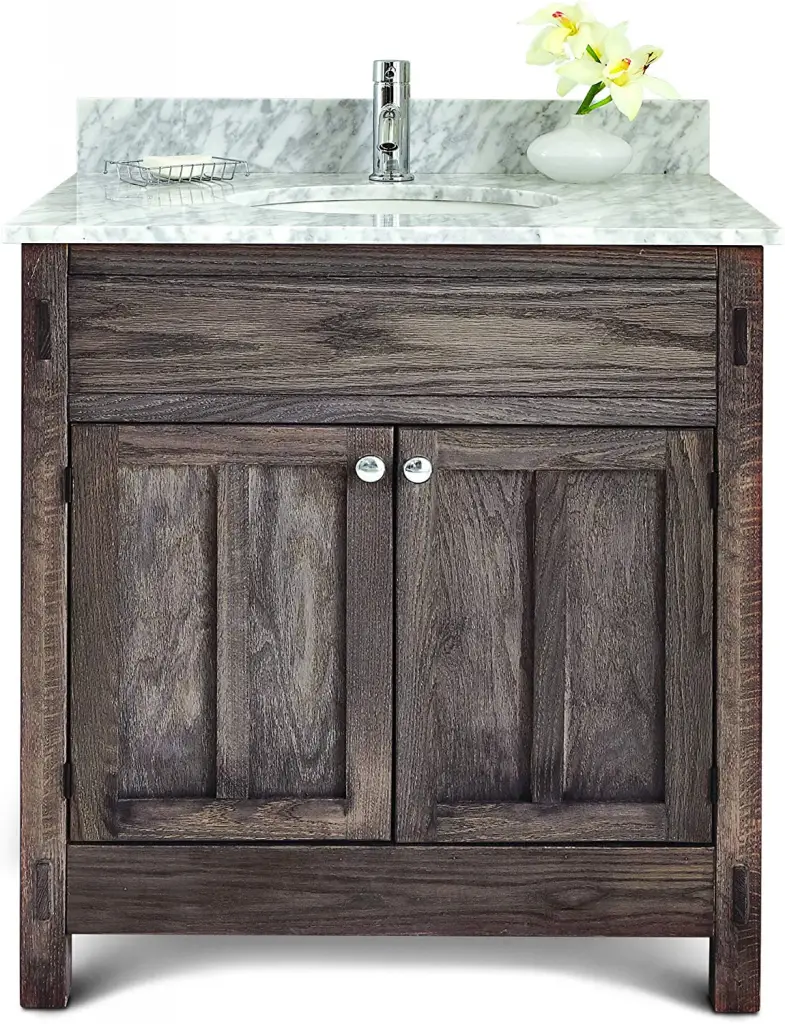 If you want to make your new piece of pine wood look grey, old, and weathered, you can give it a lovely natural grey shade. Simply use the vinegar or black tea method. 
Materials needed:
Fine steel wool
A paintbrush
A mason jar
White vinegar
Steps to follow:
Tear a small piece of steel wool and place it in the mason jar with about 1½ cups of white vinegar. The lid should be used to close the jar. Steel wool alters the color of white vinegar, resulting in a mixture that can be brushed on the wood to achieve a grey tint.
Wait two to three days for a weathered grey color, 30 minutes for a lighter shade of grey, and several hours for a darker shade of grey. 
How Do You Grey-Wash Pine?
To grey-wash a piece of pine wood, you need the following:
A dark wood stain
White paint
Some brushes
Lint-free rag
You want to start by painting the wood with the dark wood stain, allowing it to dry completely.
Next, Mix the white paint with water -a 50/50 ratio is excellent. Use a brush to paint the wood with this mixture. Paint in small sections but don't let it sit for too long. Wipe it off after about 45 seconds; you can get that grey-washed effect you desire. 
Using Baking Soda
Do you want to make your new piece of pine wood look a little old? You can do this with baking soda. How?
Let's show you. All you need steps for this is:
Baking Soda
Paintbrush
Lint-free cloth
Vinegar
Pine wood is very good at absorbing baking soda, and this is because it has a high amount of tannins. More tannins would ensure that the wood looks very weathered and aged.
Start by placing the wood outside in the sun. The sun's rays will aid in intensifying the aged appearance.
Mix the baking soda with water about 50/50. The amount of solution required will be determined by the size of the wood surface to be covered. Stir well before using a paintbrush to apply the baking soda and water mixture to the wood and allow it to dry.
After spraying the baking soda-water combination on the wood, spray it with apple cider vinegar to hasten the aging effect. You should see the results in 10 minutes!
Making Pine Look Rustic
If you don't want to refurbish an old piece of wood, you can still use a new element to achieve this goal. You need a piece of wood, the one with imperfections would be a great choice.
Prep it up, make more scars or dents, and be careful not to break it. A simple scrape and scratch would do the trick. Sand the wood and stain it with your preferred wood stain. If you want to make it look more aged, you can use the baking soda method mentioned earlier. Apply wood finish to seal it and make it shine. There you have it: your rustic piece of wood.
Best Grey Wood Stain for Pine – Varathane 313835 Weathered Wood Stain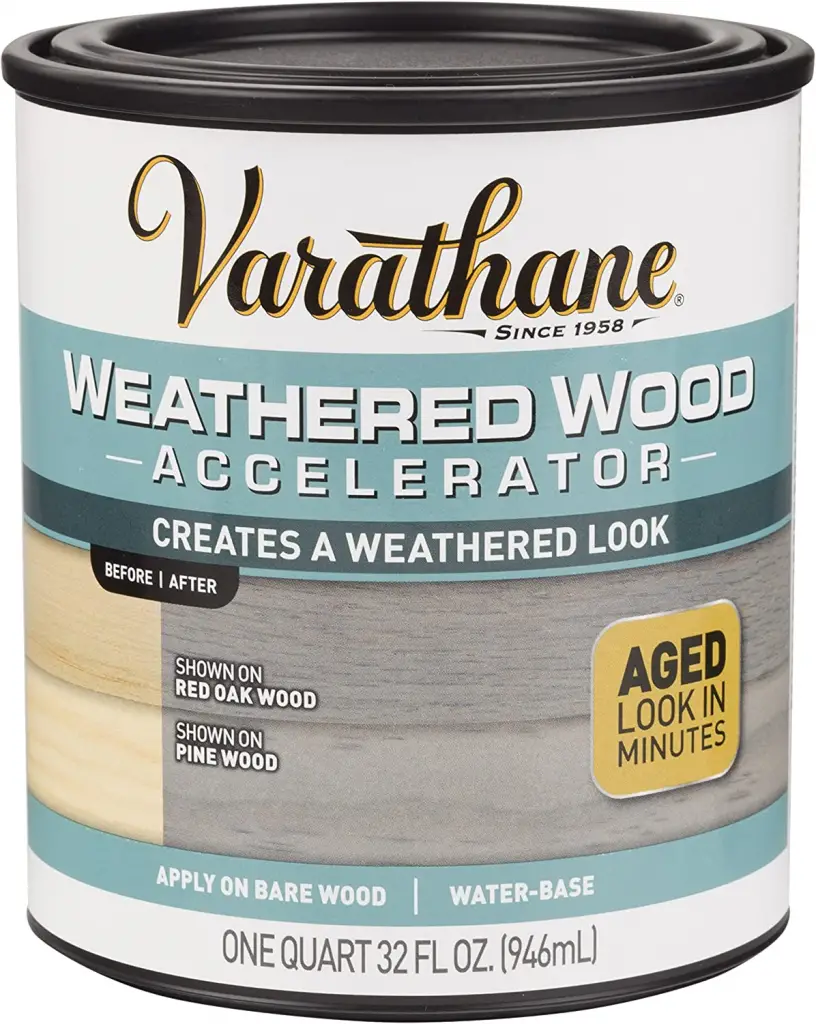 This glossy water-based wood stain is excellent, especially if you are looking to achieve a weathered look on your piece of wood. It is a weathered wood accelerator, meaning that it would give your art piece a nice, rustic, weathered look when applied. 
Following the directions carefully should achieve a weathered appearance appropriate for the wood used color and type. However, be sure to apply it to a wood that doesn't have any previously applied stain or sealer; this can alter the nice grey color.
Pros
Suitable for both treated and untreated wood
It gives your wood a nice grey shade 
Dries fast
Coats the wood very well
Cons
It can be blotchy if not carefully applied
It can also be watery and spill on your paint
Best Weathered Grey Wood Stain for Pine – Minwax 405040000 Wood Effects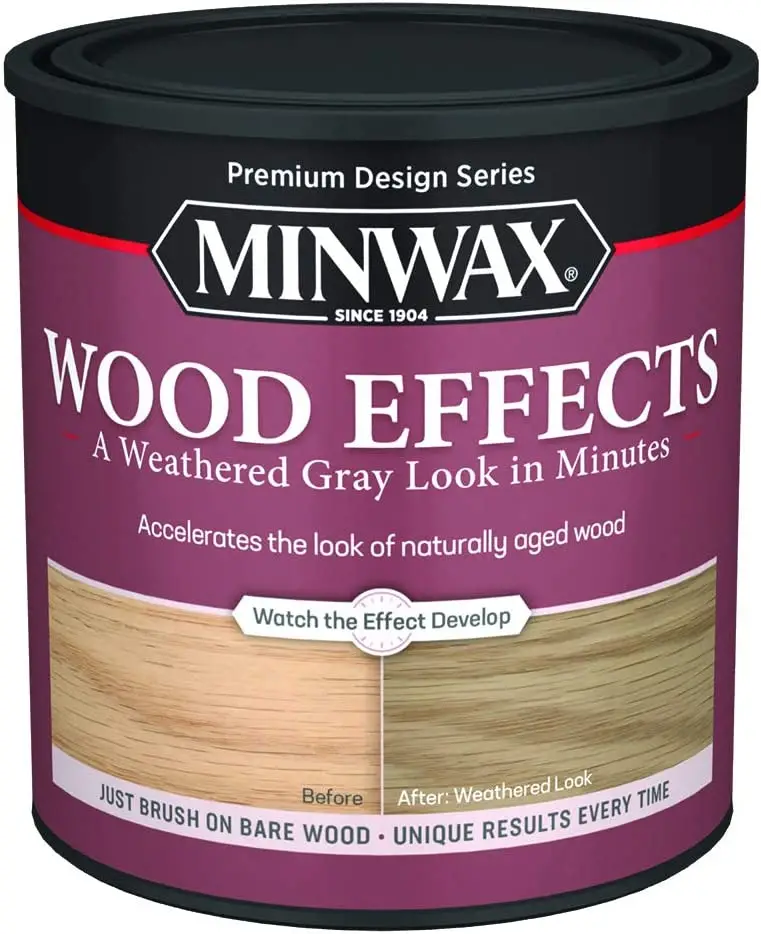 This pine wood stain is your best bet if you try to get a weathered look without the baking soda method. The Minwax 405040000 Wood Effects gives a grey-weathered look to your pine wood. It is straightforward for pine wood to absorb this paint and produce excellent results because of the tannins.
It also comes in various colors apart from grey; it makes your DIY woodwork project more accessible and refined. Be sure to apply it according to the instructions to avoid unpleasant results.
Pros
Dries fast
Produces fast results in a short time
It gives an excellent weathered grey effect
Excellent for DIY projects
Cons
You might need to apply several coats to get your desired results
Can be blotchy
Best Classic Grey Stain for Pine – Minwax 70048 Classic Grey Oil-Based Wood Stain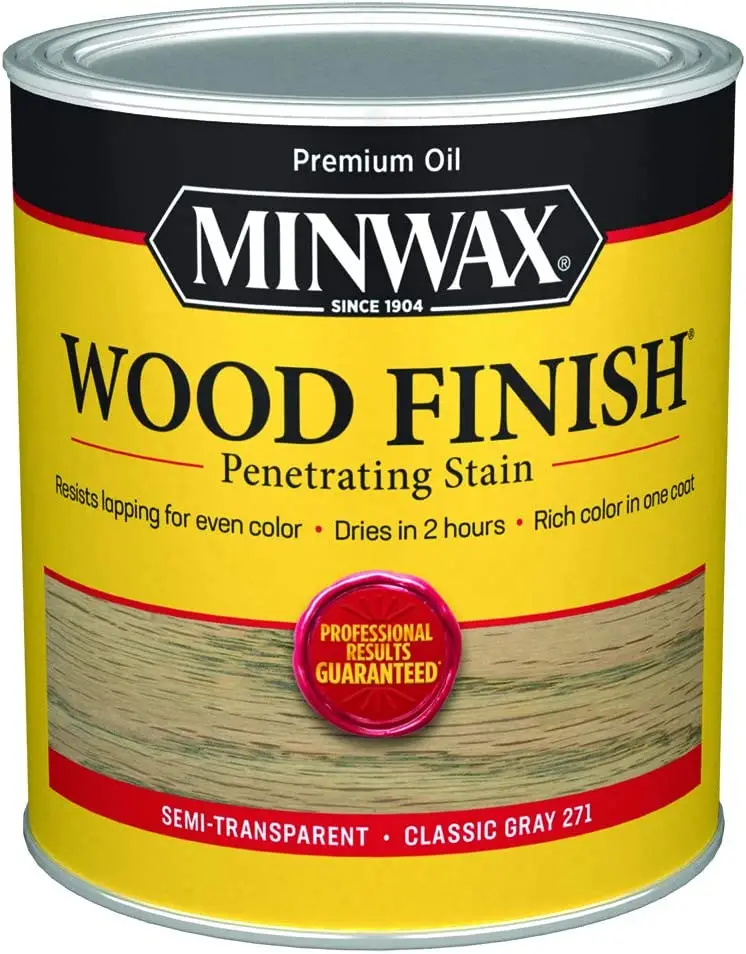 Minwax 70048 Classic Grey 271 is a vibrant classic grey wood stain. This Minwax 70048 Classic Grey Oil-Based Wood Stain is excellent for pine wood; it seeps into the wood and gives a fantastic, sophisticated look that blends right into your decor.
It is ideal for bare, unfinished wood; it gives off a natural crisp, grey finish. It is best suited for indoor decor, but it can also be used for outdoor furniture; however, you must coat it with a sealer. If you're looking for a lighter shade of grey, you might want to look for a different product, and this product gives a cool dark shade of classic grey.
Pros
Dries fast
Very easy to use
perfect for price 
Maximum coverage
Cons
Doesn't last long for outdoor furniture
Read More>> Best White Wood Stain For Furniture – Staining Wood White [Ultimate Guide]
White Wood Stain On Pine
Irrespective of the type of wood you are working on, Cypress wood, Pine, White Oak, Birch Plywood, and more. It is essential to get the finishing right, and this is the point where wood stains are imperative. Whitewood stains are used to whitewash wood, and whitewashing is the process that allows you to enhance the brightness of the wood without necessarily having to cover the grain pattern. 
You could paint the craft with oil-based furniture paints or choose the most suitable wood stain color. Read on if you wonder how you could whitewash pine.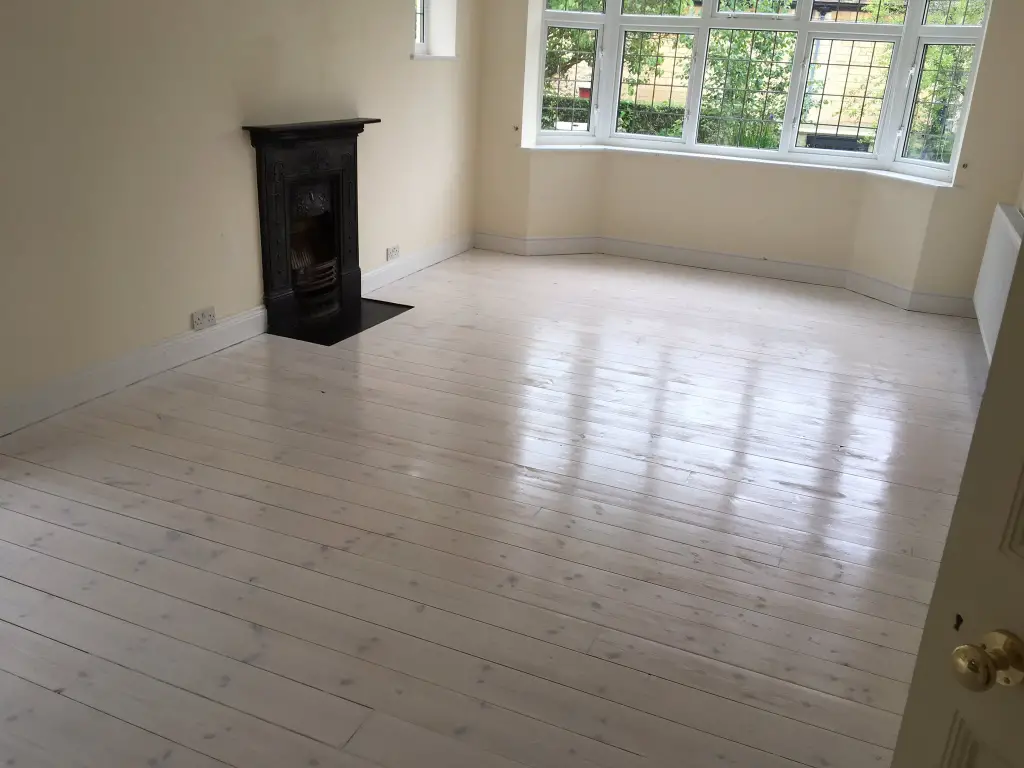 Can You Stain Pine Wood White? 
Absolutely! You can undoubtedly stain pine wood white, and the wood would appear more terrific. The process might require some additional skills to give it that professional look, but nothing is genuine. The good is that you can apply white stain on pine using a roller, paintbrush, or rag.
Whitewash vs. White stain
Whitewashing woods is synonymous with pickling woods. In old Europe, pickling was done using limewash to prevent decay and insect infiltration. Whitewashing is used interchangeably with white stain, but there is a slight difference between both. Whitewashing uses a white tint to enhance the natural features of the wood.
Whitewashing brightens the look of the wood but retains its natural grain, it gives an imperfect aesthetics, but a friendly feel to living spaces. It causes the whitewashed furniture to stand out as the natural lines of the wood can be observed clearly. So the process of whitewashing is enabled by a white stain. Whitewash binds to wood fibers and protects the wood internally. The white pigment is applied to the wood to bring about these benefits.
Stain Wood vs Paint 
Staining has a slight edge over painting. Wood stain penetrates the wood pores and gets it coated. On the other hand, painting only covers the top of the wood. No doubt, both substances can protect and dramatically improve the aesthetic appeal of your wood piece. However, wood stain offers a more cottage-like design.
Using White Stain on Pine
You can use antique white, pure white, or whitewash.
The steps are pretty simple:
Start by sanding the surface for a smooth finish
Apply the first coat of white stain
You can apply the second layer as the first quickly penetrates and dries out 
The more white stain coats you use, the better for the project. More coats mean more coverage. 
Make sure the stain you're using is white. The application can be through a roller, rag, or the painter's hand.  
Making Pine Look Like White Oak
To make a pine wood appear like white stained oak, carry out the following steps:
Sand the oak wood to remove dust. This is a crucial step in making the stain adhere to the surface.
Apply pre-stained wood conditioner and allow to completely dry out for a few minutes. Pre-stain conditioner ensures smooth and even distribution of stain. 
Use your foam brush and apply a light coat of your chosen white stain. You can also use a rag or roller. You'll achieve the same result, depending on your expertise.  
If you desire a more immaculate white finish, apply more coat layers.
Whitewash Raw Pine
You can whitewash raw pine through the following steps:
Natural pine has not been whitewashed or stained before, which will significantly aid the ease of the work. 
Thoroughly sand the surface and clean off any debris from the sanding.
To create the stain for the whitewashing process, dilute water-based white paint with water and oil-based white paint with turpentine or paint thinner. Dilute the whitewash till a good consistency is achieved.
Apply the whitewash with a roller or paintbrush
Allow each coat dry before applying another coat.
Best White Wood Stain for Pine – General Finishes Water Based Wood Stain, Whitewash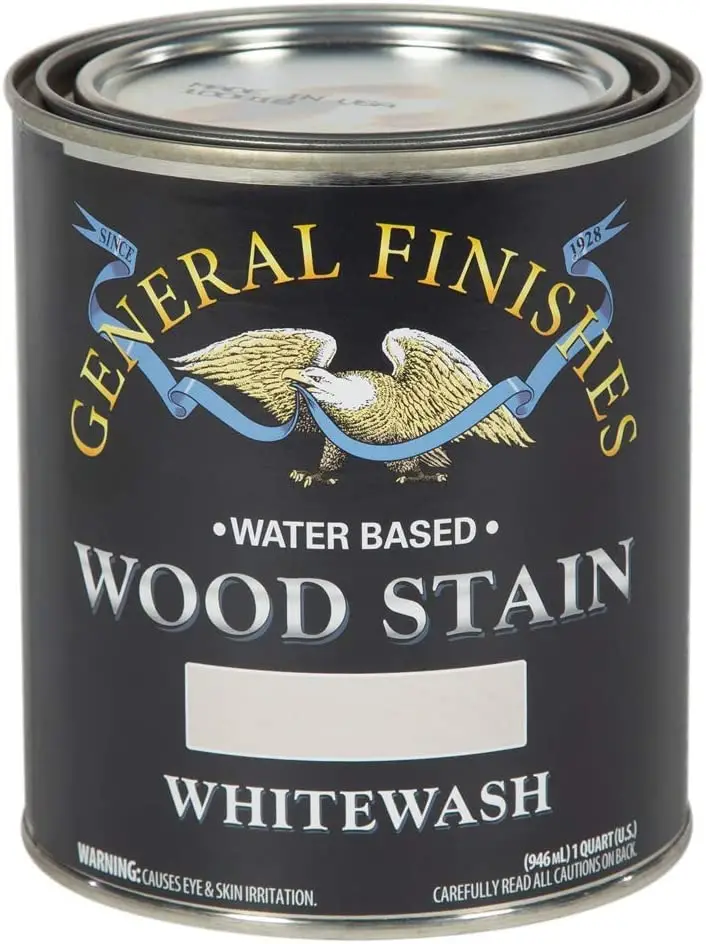 If you search for a white stain for your pine wood, this kit will offer optimal performance for a natural look. The stain's high-quality pigment offers vibrant dark colors, and the paint works well on interior or indoor wood. 
You don't have to worry about applying this stain because it can be sprayed or applied using a piece of rag. Another option is manual application with the hand; it can mix well with any water-based topcoat. 
It features quality workability that equals or surpasses what most oil-based stains offer. You can safely use the stain with low VOC and odor without fear of skin or eye irritation. It is also easy to clean up, thanks to its noncombustible formulation.
Pros
Easy to apply, and cleanup
Safe to use, non-toxic
Designed for interior wood projects
Offers vibrant dark colors
 Cons
Not formulated for outdoor use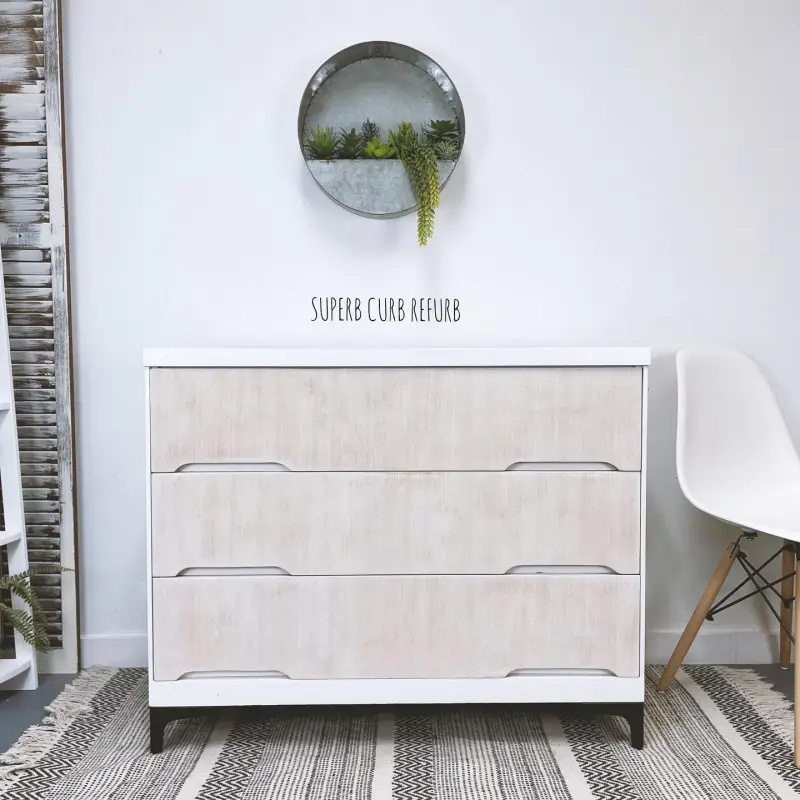 Best Simply White Stain for Pine – Minwax Wood Finish 227654444
This is the job's stain if you do not want the grain lines to be visible but somewhat observable. Minwax lightly numbs the wood surface with a white hue and beautifies the pine furniture, cabinet, or doors.
It is an oil-based stain that has a fantastic drying time. Within 2 hours post-application of stain, the wood piece is ready to be handled. The paint does not lap unevenly, and with rookie experience, it is still easy to get the application rightly.
Another essential feature of this white stain for pine wood is that it penetrates the pinewood's pores in less than 5 minutes. It is easy to apply. With a piece of clean cloth, you can get things done in a few minutes.  
Pros
Protects the wood grain
Dries quickly
Penetrates quite deeply and instantly
Ease of application
Cons
Best Antique White for Pine – Varathane 297424 Premium Fast Dry Wood Stain
The Varathane pine wood stain guarantees the most coverage and the most robust whitewashed appearance. Varathane stain delivers awesomely visible grain-lined furniture with as few as one coat.
Although Varathane is known to make oak pinkish in appearance, it makes pine brilliantly white. This stain gives a glossy finish, dries in just an hour post-application, and beautifies the wood.
Plus, one container of these pants will cover 275 square feet. The nano pigment particles of this stain reinforce its high performance on pinewood, and it dries to touch about 1 hour after application.
The stain highlights the natural look of pine wood. It's best used on trim, cabinets, doors, wood furniture, paneling, etc. 
Pros
Fantastic for interior and exterior designs
Easy to use
Excellent coverage (275 sq. ft.)
It doesn't require a pre-stain conditioner
Cons
Suitable for obtaining a white finish in oak wood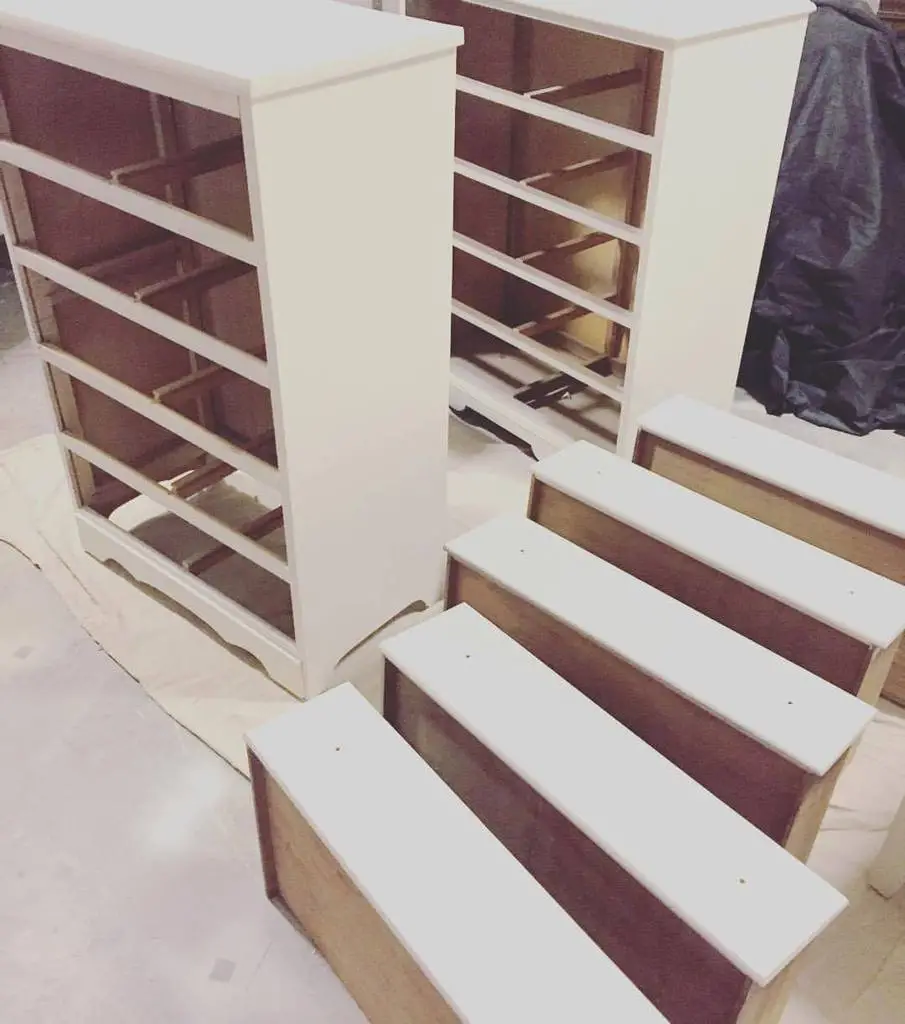 Black Wood Stain on Pine
The trick is to use light-colored wood with darker shade stain colors when it comes to staining wood. Pine is obviously a light-colored wood; getting it to look black is no issue. Its light color allows any color to blend correctly with it. Black Wood stains on pine wood would seep into the wood and give it a nice natural look.
If you are looking to buy black wood, you might discover that it is more expensive. Instead of the extra cost, you can make your own. You should know that paint and wood stains are not the same; they produce different results on wood.
Even though they come in different colors, a wood stain is a fast-drying oil, gel, or water-based product penetrating wood pores and highlighting the natural wood grain. Hence, wood stains are lovely on pine.
Light Stain Looks Good On Knotty Pine
Many people like knotty pine because of its unique wood grain and natural whorls, or "knots," that give it a rustic appearance. Knotty pine can be stained with almost any stain after it has been sanded smooth. Simply select the color and finish that best complements the space. You don't want to hide the knots, so a light color would be great; a golden shade or even white would be exquisite.
How Do You Darken Pine Wood?
If you want to darken your piece of pinewood, you can simply get a wood stain that is the same color as your preferred shade. But sometimes, wood stains can be expensive, or even the chemicals used in making them can be an issue. The good news is that you can opt for a natural way to darken your pine wood. Let's give you a few tips.
Of course, pine wood darkens naturally over time, but if you want to hasten the process, you can use Vinegar, black, or even coffee. However, the issue with this natural method is that they might be temporary, and they might not give you the shade you want
Best Black Wood Stain for Pine – SamaN Interior Water Based Wood Stain
SamaN interior Water-based pine wood stain has fantastic quality. If you are new to wood staining, this is your best choice because it eliminates the need for wood conditioning and provides one-coat coverage.
It comes in a variety of colors, and it takes about an hour to dry; you can topcoat it with something like a sealer or a finish right away. You should know that water-based stains are a more suitable choice for wood for various reasons, so you can't go wrong with this pine wood stain.
Pros
Dries fast
Maximum coverage with just one coat
Provides coating 
Long-lasting
Cons
Might not give a smooth finish
Best True Black Stain for Pine – Minwax Wood Finish 227644444
Minwax Wood Finish 227644444 is a one-coat, deep penetrating oil-based wood stain that adds rich color and highlights the natural wood grain. This oil-based pine wood stain highlights the natural wood grain and resists lapping for consistent color in only one application.
Minwax Wood Finish 227644444 works on any bare or stripped wood surface and is ideal for interior wood projects, including unfinished wood furniture, cabinets, doors, trim, molding, and flooring.
Its unique recipe allows it to penetrate wood pores deeply within 5 minutes of application and dry in as little as two hours, allowing you to stain wood in as little as one day.
Pros
It gives your woodwork project a nice rich color
Great value for money
Fast drying time
It does not need an extra finish or sealer
Cons
Can be blotchy if not handled properly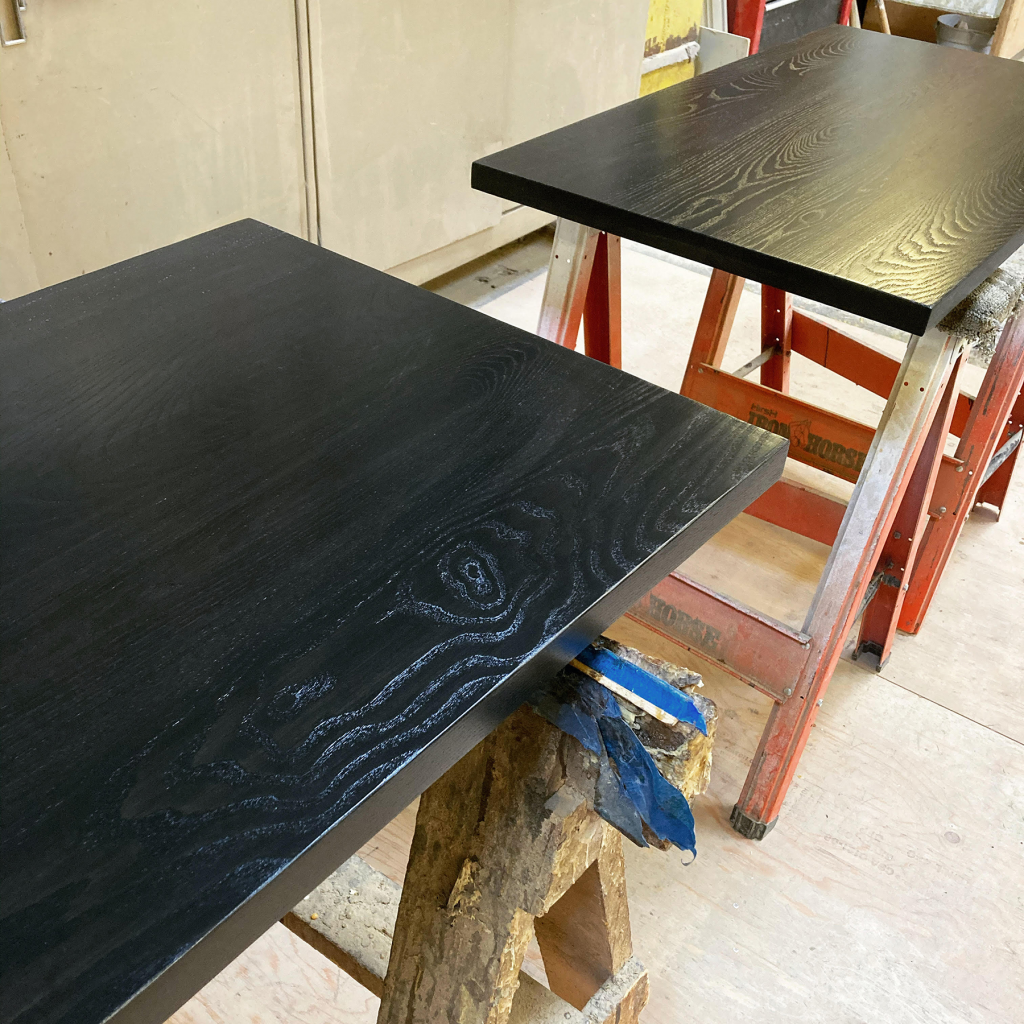 Cherry Wood Stain on Pine
If you are looking for how possible it is to stain your pine wood a cherry color, chances are that you are tired of the standard black, grey, and white colors. Well, it's not just you; cherry-colored decor has a way of brightening up a space. 
Staining Pine Wood to Look Like Cherry
You might want to use pine wood because cherry wood is the most costly furniture hardwood in America; therefore, it's critical to understand its stain. Because a shame can either enhance or detract from the beauty of the wood. Cherry wood stain is one of the numerous reasons why the demand for cherry wood increases.
Pine wood is cheaper and more beginner-friendly, especially if you are new to wood stains. Pine wood is your best choice to achieve the cherry color might require a few trials and errors. Now how do you accomplish this?
Cherry wood stain varies in color from light pink to a deep reddish-brown. To understand the color of cherry wood stain, you must first understand the color of natural cherry wood; that way, you can get the exact cherry wood shade you want.
The first technique or tip to remember about this issue is that you'll need to custom-mix a stain color 90% of the time to acquire the effects you want. This may appear complicated, but it's as simple as trial and error.
Mixing red and mahogany wood stains will bring you close to the result; incorporate varying measurements depending on the color you want.
Best Cherry Wood Stain for Pine -Varathane 225246H Wood Stain-Traditional Cherry
Varathane 225246H Wood Stain-Traditional Cherry is a polyurethane oil-based wood stain finish. This stain has a deep, rich color in this unique oil-based semi-gloss compound.
 Its dark, rich hue will cover your wood excellently in just one brush sweep. This is a protective finish, so you don't need to coat it with an additional product; the result is smooth and even. It is ideal for elaborate moldings, wood furniture, trim, cabinets, doors, and paneling on any interior jobs. It is advisable to sand raw wood in the direction of the grain for optimal results before staining.
Pros
Rich cherry color
Maximum coverage
Offers protection 
Suitable for interior and exterior decor furniture
Cons
Walnut Wood Stain on Pine 
You can stain pine to make it appear like walnut and put in the work to get the color perfectly. But it is usually not advised to stain pine wood with walnut stains because the inherent difference in the wood grains would give away your work as a miniature copy of walnut wood. 
What Color Is Walnut Stain
Walnut stain is famous for its deep dark brown colors and features yellow undertones. The nut itself comes as a medium brown substance, not too dark or brown. The combination of the natural color and undertone makes the stain confer unique warm colors on pine. You can see this in the appearance of a wood stained with walnut stains. 
Indeed, the walnut stain is dark. It is very dark brown with dense black undertones, making the furniture look black and expensive. To reduce irregular patches, you might need to apply a pre-stain wood conditioner before applying this stain. As an oil-based finish, the pigment is ideal for DIY projects. 
Does Walnut Darken With Age
Just like many other types of wood, walnut gets light over time. The dark brown look fades to a honey-like pale hue with time. The yellow undertones also fade with age and become darker. The older your wood furniture gets, the darker the walnut becomes. With topcoat sealant, you can reduce aging.   
Best Walnut Wood Stain for Pine- Minwax 26060 Walnut Gel Stain Interior/Exterior Gel Stain
This Minwax gel stain could be applied to woods, cabinets, doors, accessories, floors, furniture, etc. The brand was formulated to have a unique non-drip formula that eases off the application process. The stain is dark and very thick in its consistency, producing beautiful results and giving the desired color to woods stained by it. 
The edge the stain has is its versatility. It can be applied on a wide range of surfaces, and it works well on the exterior and interior stained projects. It delivers even color and won't drip or run when applied on vertical surfaces. 
Whether you use a brush, roller, or sprayer, this product makes surface application easier. 
Pros
Gives excellent value for money
Easy to use and dries in 24 hours
Long-lasting and surface protecting 
Provides a uniform color tone
Cons
Costly compared to the tin size
Best Dark Walnut Wood Stain for Pine – Ready Seal 525 Exterior Stain and Sealer
Ready seal walnut stain is durable and confers this character on wood stained by it. This stain does not require back brushing or similar techniques because it does not leave streaks or run lines on surfaces stained by it.
You can apply the stain using a roller, sprayer, or brush. Plus, it requires no priming, thinning, or diluting before applying it to your wood furniture. 
Wet-line application is not needed when using this stain as the formula blends itself. The icing on the cake is that the stain will perform under any range of temperatures while providing an appealing appearance. 
Pros
Requires no priming or diluting
Works under extreme temperature 
Supports different application methods
Applicable to all kinds of woodworks
Cons
Takes about 14 days to reach its darkest color
It cannot be applied over newly stained or painted surfaces
Ebony Wood Stain on Pine
The ebony-wood stain is dark but not black. However, it contains shades of brown and black. It is perfect for creating a dense touch of darkness on any wood. Also, because it does not cover the grains of the wood, it gives a delicate "burnt wood" look. The color of ebony wood stain makes it highly suitable for a range of projects.
Ebony wood stains could be used on pine wood. Since pinewood are lighter naturally, ebony stains would have a fun time darkening them. You may need to learn something about darkening pine, but eventually, it will not be challenging to stain pine with ebony stain.
Besides staining the pine, it has to look incredible when the procedure is completed, so you will have to perform the following steps to finish the pine staining properly:
Sand the pine. Pine has both softwood and hard growth rings. The softwood can wear faster than the growth ring if not done correctly. This is why it can be easy to sand and damage the wood. The best way to sand pine is to use a speed random orbital sander.
Dust off debris. Using a vacuum cleaner or any dry cloth 
Seal the wood. The softwood portion of the pine absorbs stain faster than the growth ring and thus can cause irregular patches on the wood; therefore, before sanding the wood, seal it up. 
Apply the stain. You could procure gel stains because they do not run on the surface, making them easier to work with. Through the help of a brush or roller, apply the stain onto the surface in layers and allow it to dry.
Also, You can stain Unfinished Pine Furniture, The following are the steps:
Sand the surface.
Remove debris with a dry cloth.
Apply gel stain with a foam brush.
Wipe off the excess stain using a brush with a short bristle.
Allow the paint to dry for a minimum of five hours.
Apply other layers of the stain for a darker tint.
Best Ebony Wood Stain for Pine- Varathane 269395 Premium Fast Dry Wood Stain
This wood stain is ideal for furniture cabinets, doors, trim and paneling work. The paint ensures a great coat and dries fast also. The stain was also made with high-performance nano pigment stain particles that highlight the wood's natural properties. The woodwork can be carried about an hour after the stain is applied.
One coat of this liquid oil-based pine wood stain will cover a wide surface area of 275 square feet. What's more, the drying period is fast. While it highlights the natural grain color of your wood, the stain will also add beauty. 
Pros
Easy to use
Very durable
Easy to clean
Con
How to Choose Wood Stain Color?
Choosing a wood stain color that will restore and enliven your wood is pretty simple. First off, you must know the type of wood you're working with. Is it hardwood or softwood? Then, is it pine or poplar, chestnut or African Blackwood, Sapele or hackberry, wenge or pecan?
You must also consider the project. The stain color that'll work on an interior project may not suit exterior or outdoor items. If you're painting trim or cabinets, the stain color might be different if the project is wood furniture, a door, or a floor. The good thing is that many types of stain colors to choose from. In addition, stains look different on different wood pieces. 
Tools You Need for Staining Pine Wood
Let's find out the supplies needed to stain pine wood and what each is used for:
Protective Gloves and goggles: The safety gloves must be rubber and chemical-resistant. They'll prevent the oil-based stain from getting on your skin. In addition, nitrile gloves will keep your hands safe and healthy throughout the process. The goggles will keep toxic from the eyes. 
A Piece of Wood: You'll need a piece of pine wood to stain. Ensure you get the suitable wood for the right stain. 
Solvents/Mineral Spirits: Get the right mineral spirits or solvent to clean up any unwanted stain mess that bleeds through the tape.
Pre-stain wood conditioner: The stain will distribute evenly on the wood surface with the pre-stain conditioner. It'll make your work looks neat.
Sandpaper: Use the sandpaper or sanding tool to make the pine wood surface smooth for solid adhesion and bonding.
Stain Stripper: The stripper helps strip your wood surface of the old and previous stains. 
Cloth/Paper towels: You'll need paper towels to clean up the mess created by the cloth you're using to apply the stain. 
Razor Blade: With the razor blade, you can cut the masking tape into desired sizes and shapes. 
Masking Tape: Use the masking tape to cover up the surrounding area of the stained item. It helps maintain smooth stains and reduce excess stains getting to unwanted areas.  
How to Apply Wood Stain on Pine Step by Step?
Here is the step-by-step guide on how to apply wood stain on pine:
Step 1: Sand The Surface
The first step to staining your pine wood is to sand the surface. Sanding is more vital if you're using a water-based formula, and Oil-based stains may not. The whole idea behind sanding between coats of stain is to ensure that the staining solution bonds well to the surface. Besides, sanding prevents the stain from leaking into the pore of the pine wood. Using a 120-grit sanding sponge or pole will be fine, and you'll get a smoother finish with 220 or 320-grit sandpaper. 
Step 2: Mask Surface Area that Doesn't Need Staining 
After sanding the entire surface of the item, the next step is to spread the masking tape or make a film on surrounding areas that you'll not be staining. A 3M paint masker will be your best shot. If you have another masking tool, you can use it. The whole idea is to ensure that the stain doesn't overflow or seep down the surrounding. 
Step 3: Apply Pre-stain Conditioner
Once you've sanded and masked the surface, it's time to apply the pre-stain conditioner. This formula helps evenly distribute the stain, produces excellent results, and makes your job look more professional. 
Step 4: Apply Stain on Surface
The fourth step is the longest and most subtle step, which requires you to be very careful. Start with the first coat of stain, and make sure you wide off excess stain before it dries at every stage. This way, you can avoid surface blotching.
Make sure you apply the stain along the wood grain for even and quick distribution. 
You can wipe the stain with a cloth for small projects with hidden corners.
Another method of applying the stain is to use a bristled paintbrush or a roller. If you're working with a water-based formula, use a synthetic paintbrush. For oil-based products, a natural paintbrush will be the option. You can also apply your stain with a paint sprayer. A high volume low pressure (HVLP) stain sprayer works better. They are easy to wipe, lightweight, and budget-friendly.
Step 5: Apply The Second Stain Coat
You don't have to wait for too long before applying the second. Usually, the first coat of quality stain product dries very quickly and gets absorbed by the surface. However, apply the second coat in smaller and lesser quantities.  
Step 6: Wipe off and Seal
With step 5, you're done. However, you may do the last step by coating your pine wood. This way, you'll protect it from harsh weather conditions, including UV rays, flaking, and scratching. The best sealant is the polyurethane topcoat, and a shellac coat or carnauba wax is another option. 
Things to Consider Before Staining Pine Wood?
Here are things you must factor in when staining your pine wood:
Pre-stain conditioner: As we've hinted earlier, this liquid helps in evening out the wood's capacity to absorb the stain. The idea is to have an even, smooth, and attractive project. 
Color of Stain: Typically, the stain comes in various colors and shades, and you must use as many color shades as possible. This way, you won't risk the transparency of your project. 
Stain application: How you apply your stain also contributes to its overall visual effects on your pine wood project. As a general rule of thumb, you shouldn't use the stain directly. Start in small patches on scrap wood. Once you're okay with the outcome, you can start staining the project.  
Stain type: The type of stain to buy depends on the project and preference. You can go for gel stains, oil-based stains, and water-based stains. Each has benefits and downsides. Gel stain will do a good job if you want a thicker, easier-to-apply stain that blends transparency with brightness. No stain comes close to oil-based for durability and the low cost of maintenance. Quick-drying and low-odor features stand water-based paints out.
Excess stain removal: Don't forget to avoid extra stains getting onto the surface or unwanted areas. If not, they will mess up your work. In case you over-stain, don't forget to wipe off excess stain. Make sure the excess stain doesn't dry or soak in before removing.
Absorption level: Pinewood absorbs wood differently, giving lighter or darker results, and some may be blotchy or uneven. To avoid the poor effect, follow the proper procedure.
Best Pre-stain Conditioner for Pine – Minwax 41500000 Pre-Stain Wood Conditioner
Applying a pre-stain conditioner has become an integral part of staining pine wood, and not all conditioners are ideal for the purpose. The Minwax 41500000 works as a perfect treatment to make bare-stained pined wood look great. It prevents blotches and streaks and gives an even absorption to your oil-based stain formula.  
What's more, the conditioner assures you of even stain distribution and penetration into the pores of the porous pine wood. It provides a natural, even look to your project and allows you to apply the stain almost immediately. A pre-stain conditioner is also an ideal option for unfinished wood projects. It performs well on a wide variety of wood, including maple, pine, birch, alder, etc.  
Pros
Perfect for soft and hardwood
It doesn't require drying before stain application
Provides even and natural result
Works with a wide range of items
Cons
Best Pine Wood Color Stain for Furniture
Some people like to stain pine wood, and many people like the color of pine wood and like to stain their furniture. After investigation, some of the best pine wood color stains for furniture have been found that will hopefully help you to:
Natural Pine – Defy Extreme Wood Stain Natural Pine
The Defy Extreme Wood Stain Natural Pine is a naturally environmentally-friendly stain perfect on pine. This semi-transparent water-based stain leaves a stunning matte finish on your wood grain. Many customers call it 'their wood's sunscreen' because it is highly resistant to color loss and graying. 
It produces a semi-transparent natural finish on a wide range of surfaces, including outdoor patio furniture, siding, fences, decks, playsets, and more. It is one of the most durable, long-lasting wood color stains on the market, thanks to its high resin formulation and resistance to fading and darkening.  
Being water-based, the Defy Extreme Wood Stain is highly low in a volatile organic compounds, making it non-toxic and safe to use.   
Pros
Works on a wide range of surfaces
Easy to apply and maintain
Beautiful matte finish 
Resistant to fading, graying, and darkening
Cons
It doesn't adhere well to the surface 
Semi-Transparent Natural Pine – DEFY Deck Stain for Hardwoods
As the name suggests, the Defy Deck Stain for Hardwoods comes as a semi-transparent stain suitable for hardwoods. You can also use it for softwood, which won't peel or flake. This cedar-toned water-based stain is environmentally friendly; it is also formulated to absorb quickly into oily and hardwoods. 
So, if you're looking for a pine stain to use on mahogany, redwood, and smooth cedar, this is the perfect product to beckon on. Regarding durability, the Defy Deck Stain is the best, penetrating deeply into decks and other dense and difficult-to-penetrate woods. 
It also lasts long, making it one of the stains with the most extended life. It also features low VOC, making it safe and non-toxic to the skin and other parts of the body. 
Pros
Extremely durable and long-lasting
Safe and non-toxic
Great for oily and hardwoods
Low VOC level
Cons
Won't stick after the third coat
Golden Pine – Ready Seal 510 Exterior Stain and Sealer for Wood
Not all golden pine stains are genuinely golden. But with the Ready Seal 510 Exterior Stain, you can be sure of getting the result you desire. This formula's edge over many of its competitors is that it doesn't require any primer. 
At first, the stain looks highly dark when you apply it; but after 14 days, the truly golden color of the formula comes out brightly. You'll love it. 
You can apply the stain using a paintbrush, roller, or spray. Your project's appearance looks the same regardless of the application method. Guess what? You won't need to back brush, yet the stain won't leave any streaks, laps, or runs. 
Pros 
Excellent for an exterior project
It doesn't require a primer
Works with spraying, brushing, and rolling 
Performs in any temperature range  
Cons
Not suitable for use on painted surfaces
Maple-Pine – HOWARD RF2016 RF3016 Restor-A-Finish
If you're a fan of maple pine, the Howard Restor-A-Finish is the guy to stain it. This easy-to-use and affordable formula has strong penetrating and restoring powers, and a simple wipe-off application method gives you an excellent finish.
It will restore your wood to its original look and finish. While doing this, the Howard will also blend out all the major and minor abrasions, blemishes, imperfections, and scratches on your wood.  
That's not all. The Restore-A-Finish comes in a wide variety of colors. In fact, it will give up to nine shades, ranging from ebony brown to dark walnut, golden oak, mahogany, dark oak, and more. 
It's one of the most affordable on the list and suitable for all light brown colors. 
Pros
Easy to apply and maintain
Blends blemishes and restores finish
Available in multiple colors
Removes oxidation, smoke damage, and watermarks 
Cons
Warm Light Pine Color – Minwax 22180 Puritan Pine Oil-Based Wood Stain
The Minwax Oil-based Wood Stain is surprisingly a quick-drying formula suitable for staining interior wood projects. It completely dries out 2 hours after application. It's designed with penetrable solid powers, passing through wood pores in 5 minutes and producing an excellent finish. 
This easy-to-apply, less toxic, and low VOC Minwax resists lapping. It confers a beautiful look and magnificent warm light color to your interior projects, including doors, cabinets, and wood furniture in just one coat. 
Within 5 to 15 minutes, you can wipe off excess stain and reapply the coats to achieve a vintage deeper color. It comes as an option for a wide range of projects. But you've got to spare a few bucks.
Pros
A perfect formula for doors, wood furniture, and more
Fast drying
Deeply penetrates the wood stain 
Low VOC and toxicity 
  Cons 
Ipswich Pine – Rust-Oleum 211714H Varathane Oil-Based Interior Wood Stain
Rust-Oleum isn't a novice in producing high-quality staining formulas, and their oil-based Varathane interior wood stain represents all that the brand stands for.
This rich and beautiful formula provides incredibly natural color to your interior wood projects. It's suitable for paneling, floors, wood furniture, doors, cabinets, etc. Its more profound penetrating strength makes this oil-based product a sought-after in the market.   
It gives more actual color to your interior surfaces as it completely dries to touch in 1-2 hours. Its coverage of 150 sq. ft. is one of the highest for an oil-based stain. It doesn't require constant blotching or stirring, yet it evenly applies itself to the project and penetrates for a more accurate color and elegant look. 
Pros
Perfect for a wide variety of projects
Provides more accurate color and rich translucence
Quick-drying formula
It doesn't require blotching for even application
Cons 
Final Words
Getting the correct information about wood staining doesn't get easier. This article has given you all you need to stain pine wood, and more. You've got to select the best pine stains each time you're working on a project. Make sure the stain has a solid power to penetrate the wood and bring out the best results. You shouldn't compromise on getting the most authentic color and beautiful appearance your project deserves.
In the end, staining pine wood isn't as difficult as many people want to make us think. It all starts with choosing the suitable stains and using the best application method.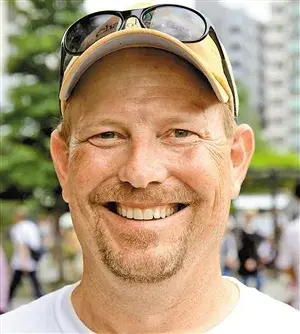 My name is Mark, and I am a software engineer and the founder of OnWoodWorkingArt.
I grew up with a passion for woodworking and now have my woodworking studio with a group of like-minded friends who love to create woodworking. My dream is to have a more extensive workshop and be able to make woodworking my main business.