There are a lot of meanings attributed to the color blue from calmness, intelligence, peaceful to depth and power. Having this color on your wooden furniture can bring about a unique look depending on the blue stain options you choose.
Do you want to know what a blue wood stain is? Want to know if your wood can be stained blue? Do you want to learn the different blue wood stain colors you can choose from? All the answers you are looking for are in this article.
Let's see what is the best blue wood stain first?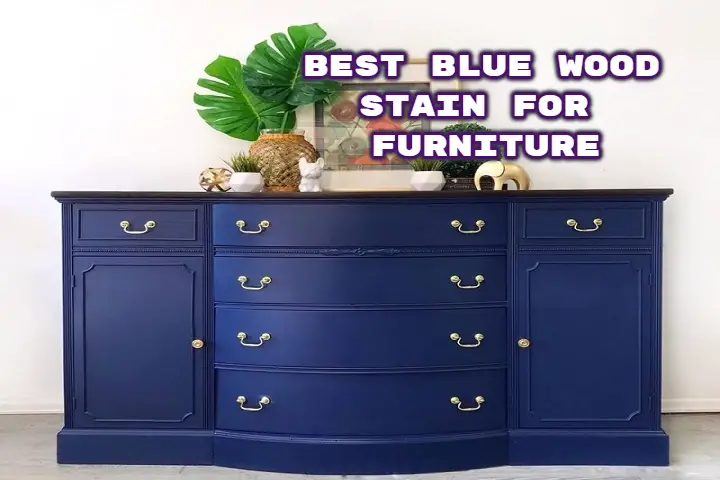 Apart from this, information about how to lighten blue stains and the procedures for applying them are all given below.
Let's get started!
What Is Blue Wood Stain?
Wood stains are generally colored substances or pigments available in different forms. Wood stains could be semi-transparent or solid in color and are formulated in water-based, oil-based, gel, lacquer-based, water-soluble dyes, etc.
They are known to give beauty to woods by highlighting their natural aesthetic features. A blue wood stain is part of the many categories of wood stains. The only difference is the blue color. And because this blue color has different shades, there are different types of blue wood stains.
Hence, the reviews of the ten best blue wood stains are discussed below.
10 Best Blue Wood Stain Colors & Reviews
In the world of blues, there are different options and styles to utilize. If you visit a google site to search out blue wood stains, you would have seen different materials with various types and styles of blue wood stains. As a result of these different options, you might get confused about the one to buy.
But, not to worry, you can filter the ten best blue wood stains below and decide which one to buy for your wood project.
#1. Vintage Blue Wood Stain – Water-Based Gel Stains by Retique It
This is one of the blue stain options you can buy if you want an aqua blue hue like the ocean color with some slightly grey undertones. It is a water-based gel stain that can do the work of a stain and a glaze. This stain is formulated by Retique It with a new hybrid technology that makes it work just fine like a paint glaze. Gel stains are known to be thick, but this one is thin and easily absorbed like a traditional stain.
Pros
It is water-based; hence, it is relatively safe and does not give off a toxic smell.
You can apply it to your painting as a form of finish
This product can be used for both interior and exterior wood projects. Be it cabinetry or decks.
Cons
You have to follow the manufacturer's instructions to get a good staining result.
#2. Ocean Blue – Luminos Cold LUM1151 BIO Outdoor Wood Finish BIO-Stain
This is a water-based quick-drying bluish-black wood stain. It is majorly designed for exterior use because it contains protective substances against ultraviolet rays, infrared radiation, fungus, frost, and rain. Since it is water-based, it is relatively safe and odorless.
This product does not stick; hence, you do not need to sand in between coats. Usually, a coat is enough but for more dark intensity use two coats. To use this stain, it is important you strip off the previous finish or paint.
Pros
This product is perfect for staining outdoor wood furniture and it can also be used indoors.
It is water-repellent and dries quickly thereby saving time.
It is easy to clean with water.
Cons
You need to stir well before use.
The resultant color depends on the natural color of the wood it is being applied on.
#3. Indigo – Minwax Express Color Wiping Stain 308074444
This Minwax stain product has a purply blue. Indigo color depicts power and dignity. Hence, if you need for your project a blue color that depicts sincerity and integrity, this wood stain is one of your options. This product is a water-based wipe-on stain that dries within 60 minutes. It gives a deep, beautiful and perfect coverage with just one coat. All you require is to wipe off excess stains and let them dry. Then for maximum protection, apply a clear coat.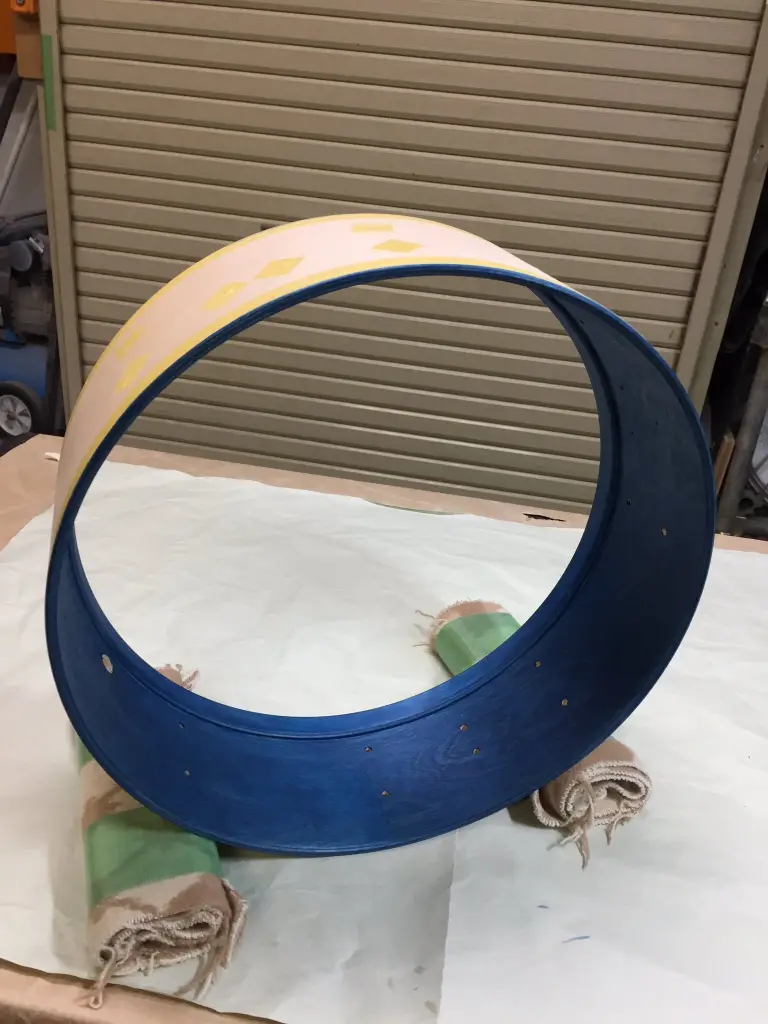 Pros
It dries fast within an hour
It gives off a low odor since it is water-based
It is easy to use. Just wipe
It is easy to clean with soap and water.
Cons
It does not contain a wood sealer, you still need to use one after applying it.
It is not suitable for exterior use.
#4. Azure Blue- SamaN Interior Water Based Wood Stain
There is no color as serene as the color of the clear sky. This is one of the blue options you can buy. It matches a lot of interior decor colors. This SamaN blue wood stain product is water-based, and it is recommended for interior use like moldings, wood paneling, cabinets, etc. SamaN products are known to be green and naturally safe. They are always odorless and safe for humans, pets, and the environment. The colors are available in different shades. Hence, you can mix two or more shades to get the exact custom color you want. This wood stain is quality and durable. Below are the advantages and disadvantages.
Pros
It is easy to use and only one coat application is needed.
It is easy to clean with soap and water.
You do not need a wood conditioner before you use it.
Cons
It can only be used for interior wood only
#5. Bleached Blue – 297425 Premium Fast Dry Wood Stain
This is part of the blue stain options you can buy or mix to get a desired blue color. However, using only a bleached blue color with the warm, calm, and cool atmosphere it creates is also a good choice. This bleached blue stain product is oil-based and formulated for interior use. It is infused and enhanced with nano-pigment which makes it a high-performing stain. It nicely enhances the wood grain and dries quickly within 60 minutes. Also, It soaks into wood penetrate it deeply and one quart gives covers square feet of 275.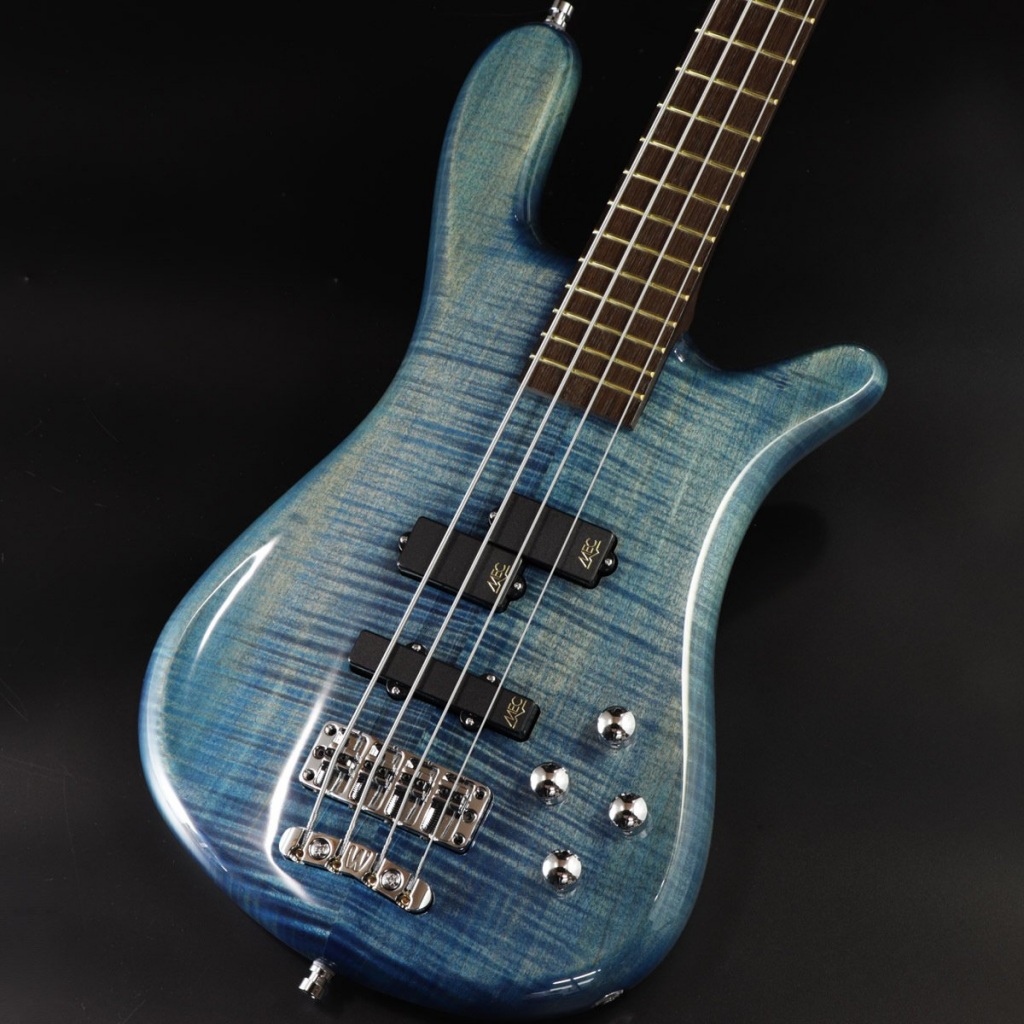 Pros
It last long
It is easy to use and clean
It dries fast
It does not need a wood conditioner
Cons
It is only suitable for use on an interior wood project
You have to shake well before and during use.
#6. Gloss Navy Blue – Rust-Oleum 1922502 Painters Touch Latex
This is a Rust-Oleum paint product. It is a very durable paint that gives a glossy finish. It is a navy blue variety. If you do not want those stain options, but want to paint, here is a navy blue paint with a glossy finish. You can use it for both indoor and outdoor projects. This paint is acrylic and water-based hence, its level of toxicity is low. Within half an hour, it completely dries to the touch. It is resistant to chipping and it last long. Because it is water-based, it is easy to use and clean.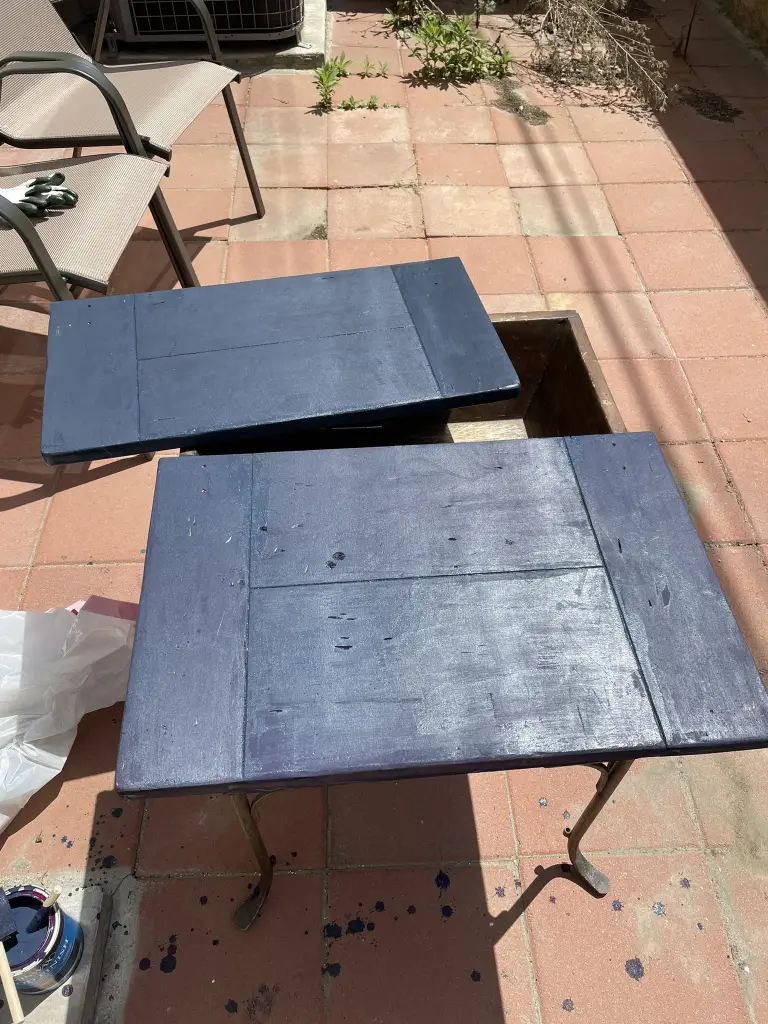 Pros
It has a fast drying time.
It is durable for both indoor and outdoor wood projects.
It can be used on varieties of surfaces such as metals, unglazed ceramic, etc.
Cons
You have to use a primer with this paint for a better result.
#7. Royal Blue – Spirit Stain Rainbow Colors for Wood
This alcohol pre-mixed wood stain will deliver a perfect job for a royal blue stain. It gives a beautiful and bright royal blue color. One peculiar characteristic of this spirit stain is that it can be diluted and inter-mixed since it is pre-mixed with alcohol. Apart from this, it can easily be applied with a foam brush, cloth, spray, or paintbrush. It has non-grain rasing features and is formulated with materials that make it resistant to fading.
Pros
It is quick-drying hence saving time.
It is easy to apply
It is fade-resistant
It is easily thinned using paint thinners.
Cons
It is only a stain, you still have to use a sealant.
It contains flammable materials.
#8. Pure Blue – General Finishes Water Based Dye, 1 Pint, Blue
Are you thinking of matching color for that living room? You visit a lot of google sites but availability and prices tend to be deterrent factors. Not to worry, General Finishes company is trusted and the availability of their product can be guaranteed. This wood stain has a rich and deep blue color manufactured into a water-based dye. It is designed to deeply penetrate and enhance the wood grain. It can be applied with a brush, rag, foam brush, or spray. Also, because it is a dye stain it can be easily intermixed with another stain to get a desired blue color.
Pros
It last long
It gives a rich blue hue and style
It penetrates deeply
Cons
This stain still needs an extra sealant to work with
#9. Nordic Blue – Rubio Monocoat Oil Plus 2C-A Sample Wood Stain
Do you need a blue color that compliments the aqua furniture in your living room? Choose a nordic blue color. Rubio Monocoat has got you covered. They are known to manufacture natural products. This natural oil nordic blue stain seems small, but it gives a deep coverage and goes a long way. This product can get a durable stain covering with just a coat. Furthermore, because the solvent is a natural oil, it has no dangerous volatile organic compounds (VOC) and a host of other toxic chemicals. It is available in different colors and its prices are relatively affordable.
Pros
It is environmentally safe
It provides a complete and durable coating.
Cons
It is meant to be used only on wood and cannot be used on other materials.
You still need to use a sealant after using this product.
#10. Majorelle Blue & Mosaic Blue- Luminos LUM1104 Outdoor Wood Finish Stain Protector
Perhaps you already have a smooth royal blue finish on your furniture and you want to try out some other designs with the same color, this mosaic blue by Luminos brand is a perfect match. It gives a seemingly antique ceramic and mosaic shade of blue. It is a water-based stain with enhanced pigments, formulated to work on exterior surfaces. It contains materials that protect the wood from molds, UV rays, rain, and frost. Also, it is water-repellent. In addition, it is a water-based product, hence it dries quickly and does not give off toxic fumes. This design of wood finish is available in different colors and their prices are relatively affordable.
Pros
It is durable
It last long
It is cleaned up easily
It is user-friendly.
Cons
You can only use it on exterior wood surfaces
Can Wood Be Stained Blue?
Yes, wood can be stained with any chosen color, including blue. And no matter the color you stained with, you will always get a colored or stained wood. The reason for the woodworking guide centers on the different kinds of wood colors, structural abilities, absorbing powers, and best colors that suit different woods. This is because knowing this enables you to know the wood you are working with and the staining outcome you are likely to get from using some colors.
Therefore, if blue is the color you want to stain your wood with? Why not? You can choose from the varieties of blue shades from royal to nordic to mosaic blue.
Is Stain or Paint Blue Better for Wood?
Staining wood or painting it are two different departments that vary in process. Those are the two major options and styles you can go for in woodworking. Both options are good, it all boils down to your choice and some factors such as availability, prices, etc.
However, stains are always much better on wood; blue stain is no exception. With blue stains, you can get a lot of classic looks with the different shades compared to paints with a limited finish outcome. Staining your wood blue increases the natural wood beauty while painting gives it an artificial beauty.
To learn how to perfectly stain your wood blue, read more below.
How to Use Blue Wood Stain Naturally?
If you will agree with me that using blue wood stain is an easy process and there is nothing to worry about. The only thing required is following the necessary steps. Not doing this can affect your staining project. Below are the items needed.
Tools You Need:
It is good to buy the items and materials you need beforehand because of their availability when staining enables you to get your projects done quickly. You need a drop cloth, sandpaper, wood stripper, rags, paper towels, paintbrushes, a tarp, a clear coat, and the blue wood stain. You can get them at a local store at affordable prices.
Steps to Apply Blue Wood Stain:
Preparatory Stage
At this junction, you lay down drop cloths, wear protective gear, ventilate your work area and prepare to sand your wood. The 120 and 180-grit sandpaper should be used on previously finished wood. 80-grit on new or bare wood.
Grain popping
After lightly sanding the wood, remove sanding dust and wet your wood with water. You can do this by using a water-dampened rag. This enables the wood grain to absorb more stain. After doing this, sand lightly again. Then wipe off all sand dust.
Pre-staining stage
Softwoods like pine tend to get blotchy and hence might need a wood conditioner. If you are working with one, you need to pre-stain the wood with this conditioner to enable uniform stain absorption and prevent blotchiness.
Staining and sealing Stage
Follow the manufacturer's instructions when applying your stain. However, it is imperative you start with a thin first coat, wipe off excess and leave it to dry before you apply the next if you want darker hues. After the coats are completely dry, seal up with a clear coat, and you are done.
Interior Blue Wood Stain
Perhaps you need to stain that room with mixtures of blue colors that agree with the existing room color. You can choose from many options of interior blue stains at different relatively affordable prices. However, to choose out of these options, it is advisable to know the wood you are working on and choose a blue stain that is suitable for an interior purpose. Here are the factors to consider.
Wood Species
The variety of wood you are working on, its level of porosity, stain preference, etc should be known before you buy your stain.
Color Mixing
Do you want to intermix your interior blue wood stain to get a custom blue color? Ensure you buy an interior blue stain that can be easily inter-mixed.
Wood Stain Type
Since the wooden furniture is meant for interior usage. Choose a blue wood stain that will not give up toxic fumes as it cures.
Exterior Blue Wood Stain
Varying colors of blues are available for exterior purposes as there are for interior purposes. There are aqua blue, royal blue, and mosaic blue options among others. The major difference that should be considered is the stain formulation. Hence you should use exterior stains for external staining projects. Other factors to consider are
Staining Time
Ensure you fix your exterior wood finishing projects at a time when the weather is favorable. It will be so bad for the rain to start in the middle of staining your deck, disrupting your woodwork.
Blue color type
Try to choose or create a blue color that matches your home's exterior environment. Or better still, choose a blue that has a similar color as the clouds like azure.
Clear coat
After choosing a blue stain that protects your wood from UV rays, molds, water, and the like. It is highly important to still apply a sealant for maximum wood protection.
Application of Blue Wood Stain
Kitchen Cabinets
Do you agree with me that you do not need the services of a professional woodworker to stain your kitchen cabinets? After you have decided on a blue exterior stain of your choice, put some drop cloths on the floor. Remove drawers and handles. Set them aside and then begin to remove old paint or finish.
After this, start to smoothen the wood surface by sanding. Remove sand dust, add some water to the rag and wipe the wood clean. Stir your stain well and apply it to your cabinets. The number of coats you need depends on how deep you want your blue color to be.
Sheds
Applying a blue wood stain to a shed is a great option. Doing this is quite an easy process. You can choose samples of blue colors based on your environmental colors: deep blue, aqua blue identical to cyan color, and vintage blue with greyish undertones among others. You can decide to add two exterior blue stains to get the exact shade you are looking for.
To apply, prepare the surface of the wood as previously pointed out based on the type of wood you are working on. A maximum of two coats should be enough. Let the coats dry then seal your shed.
American Flag
The blue color of the American flag is typically termed old glory blue. Now you are wondering where to get such kind of blue color. You do not have to. To get this color in wood stain form, you can either add colors to create it or go for a similar purple-blue indigo color.
Trying to add up wood stains to get this color might be stressful, so I will advise using the indigo shade of blue instead. The Minwax brand produces an example of such a color blue wood stain. It is water-based hence, it has low toxic constituents, and it dries fast.
Fences
Staining wood is fun. Imagine your shed and your fences are painted in different shades of complimenting blue colors. As mentioned earlier there are arrays of blue shades you can use.
However, when applying a blue wood stain to your fences, get to know the kind of wood you are working with. If you are working with pine or cedar, both softwoods, you should apply a pre-stain conditioner before applying the blue stain.
This is is to prevent blotchiness because most softwoods tend to have an uneven surface texture that makes them absorb stains in a non-uniform manner.
Guitar
To apply a blue stain on your guitar, tape off the back and sides of your guitar and every other place where you do not want the stain to get.
Work with the front part before staining the back and the sides. Pour the blue stain into an open container dip in a rag or cloth and apply the stain on the front side.
It is advisable to use a rag to be able to control stain application. Gently sand to raise the wood grain and then apply a second coat. Leave it to dry. Repeat the same process for other parts before sealing it off.
Final Words
In conclusion, I hope this article has provided the necessary guidelines and information on everything you need to know about blue stains and applying your blue stains.
Blue is a unique color with many attributes attached to it. Blue is a rarely occurring color in nature, which is why you should choose this classic color for your next DIY wood project. The ten best blue wood stains have been discussed above. You can look through it, choose a perfect blue stain, and beautifully apply it to your furniture following the outlaid guidelines.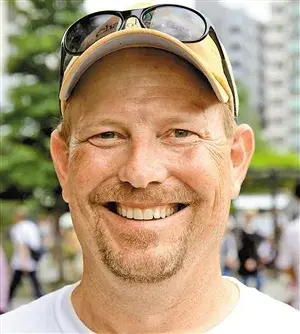 My name is Mark, and I am a software engineer and the founder of OnWoodWorkingArt.
I grew up with a passion for woodworking and now have my woodworking studio with a group of like-minded friends who love to create woodworking. My dream is to have a more extensive workshop and be able to make woodworking my main business.