Woodworking can be so much fun when it involves staining with different stain colors from classic gray, early American, dark walnut, briarsmoke, weathered gray to carbon gray, among others.
Apart from this, creating different wood stain colors by mixing them also makes wood staining interesting. Grey wood stain colors have many shades of colors which makes gray a beautiful wood stain color to work with. Are you thinking of using a gray stain color for your next wood project?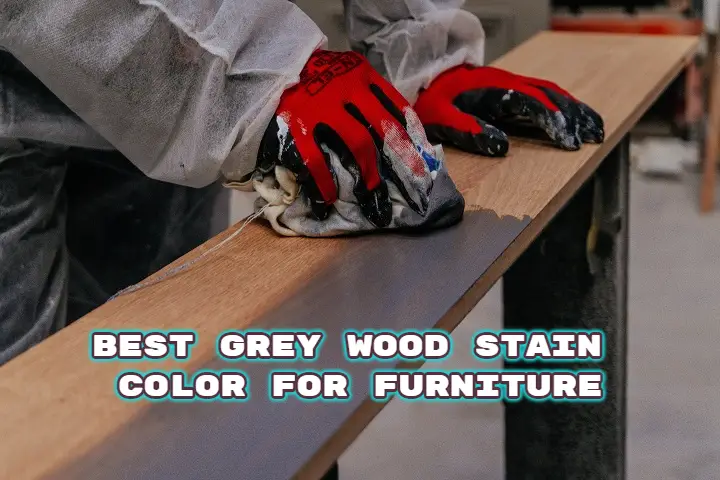 Here's what I've learned so far:
Can You Stain Wood Grey Color?
You can choose Minwax willow grey stain to turn the wood into a grey hue. Sand the wooden furniture surface, then apply 2-3 gray stains and finally apply a clear sealant as a protective layer to prevent scratches and discoloration. You can also use white vinegar and water to wash the wood gray color.
All the guidelines you need are available in this article which range from the best gray wood stain color to considerations for choosing a gray wood stain.
Let's jump in!
Grey Wood Stain Colors
Knowing the wood stain you want to use is an essential process before staining. How well you know the wood stain you want to use will determine if your staining project will come out great or not.
Without further ado, let's quickly look at the different existing gray stain colors:
Classic Gray
This is one of the grey wood stain colors whose color tends to give off a natural tone. It looks like it is mixed with some brown because of the brown undertones it gives off.
This is more of the reason it is regarded as a gray-brown color. Hence, this true gray will suit your wood project if you still want to maintain the natural color of your wood.
Best Classic Gray Wood Stain: Minwax 22761 Classic Gray 271 Wood Finish Oil-Based Wood Stain – Editor's Favorite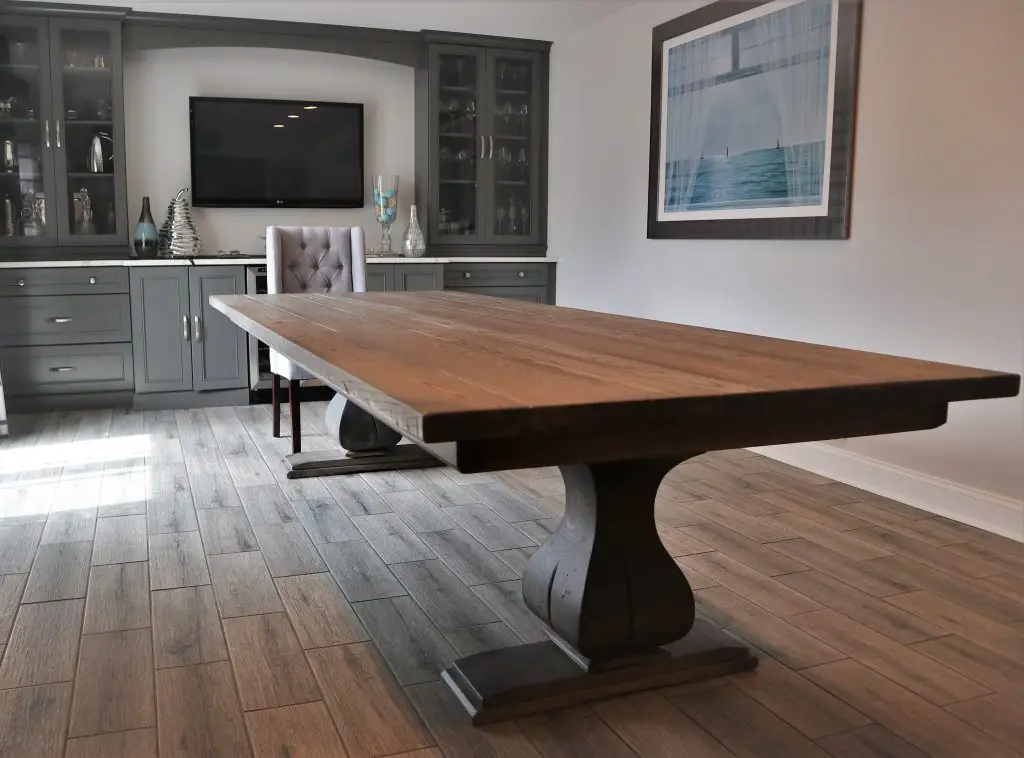 Weathered OAK
This somewhat gray wood stain color looks great on oak wood and other types of wood; it gives a unique look. Just like the name implies it can be used to make a wood effect or design that looks like a weathered oak. You can choose this to stain that old-aged oak table.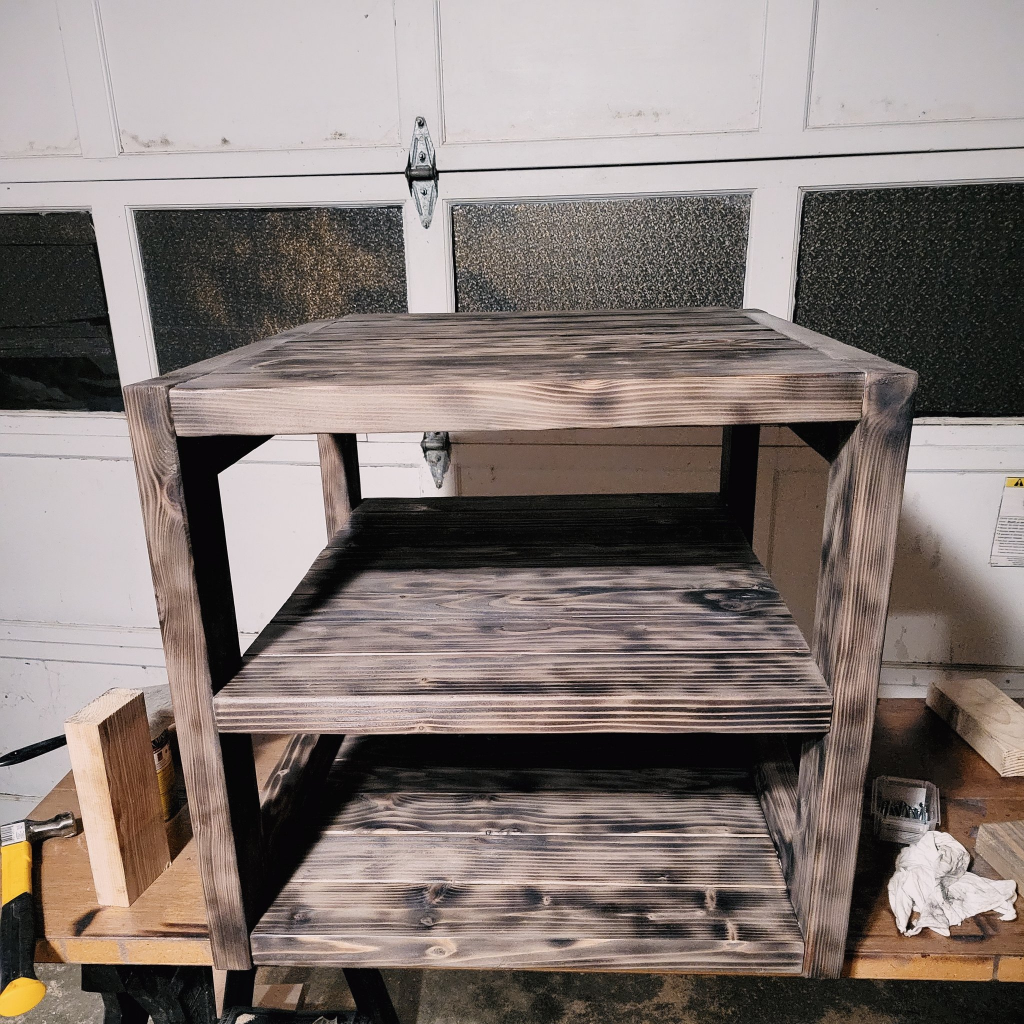 Best Weathered OAK Wood Stain: Minwax 70047 Weathered Oak Wood Finish Oil-Based Wood Stain
Sunbleached
Like the name implies, when you apply this grey stain, you get a somewhat faded sunbleached result with slightly blue undertones.
It is often not considered a true gray due to its attributes. However, it is part of the grey wood stain colors to choose from.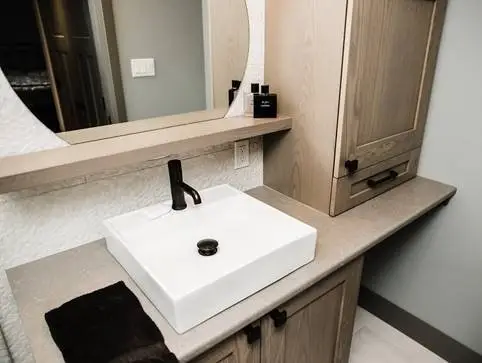 Best Sunbleached Wood Stain: Varathane 262011 Premium Fast Dry Wood Stain, Quart, Sunbleached
Carbon Gray
This grey wood stain is more close in spectrum to white color. It has slightly blue undertones like that of sky blue.
However, this seemingly off-white gray stain color tends to combine with the presiding color in the environment to form its unique undertone This gray color shade exudes a mature and classic ambiance.
Best Carbon Gray Wood Stain: Varathane 307416 Premium Fast Dry Wood Stain, Half Pint, Carbon Gray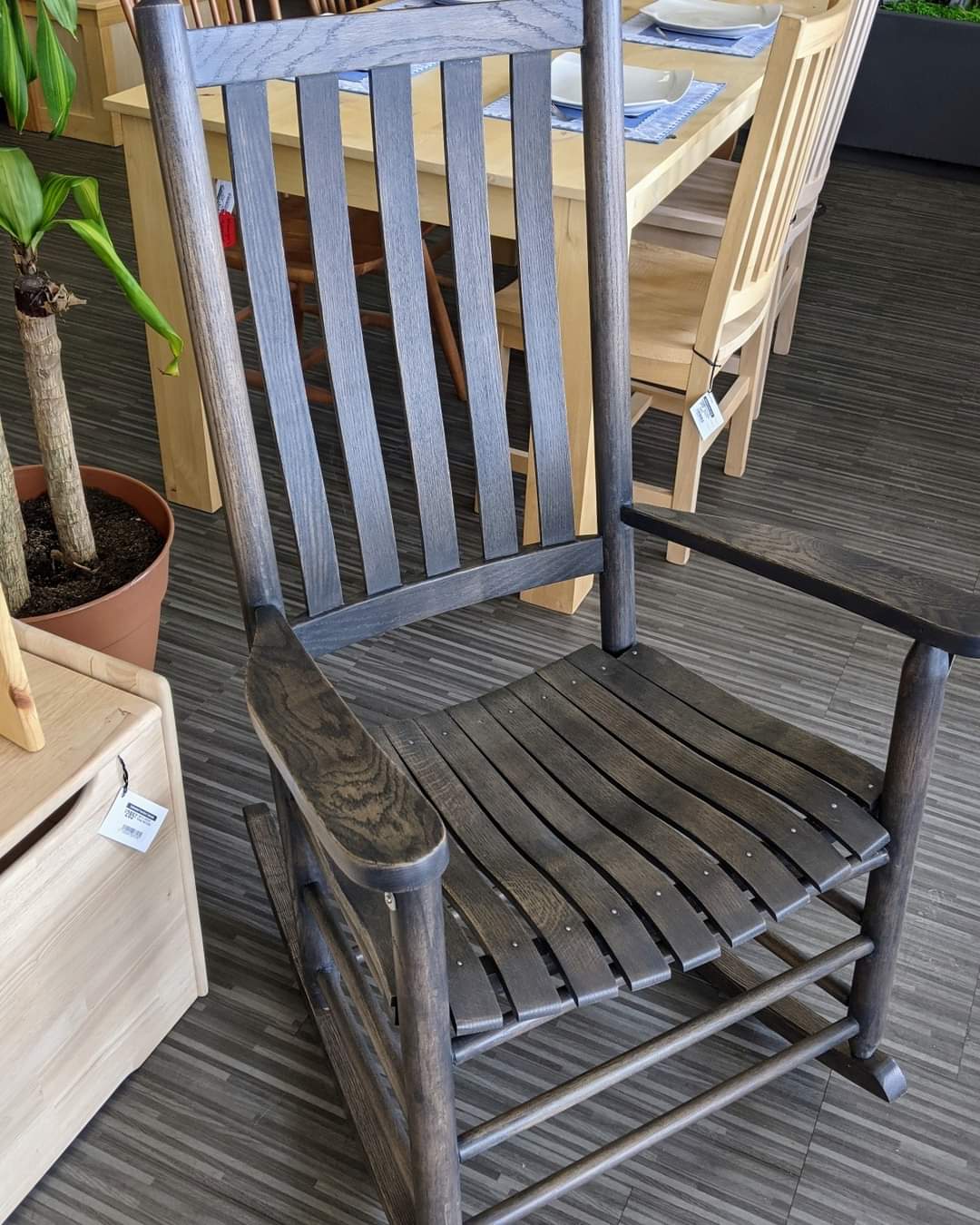 Weathered Gray
This is another beautiful grey stain. You should choose weathered gray if you want a gray stain with loud blue undertones. It has a rich hue like that of navy blue tinted with a little glossy white color. It is one of the dark grey wood stain colors.
Best Weathered Wood Stain: Varathane 269394 Fast Dry Wood Stain, Weathered Gray – Best for Interior Furniture & Cabinets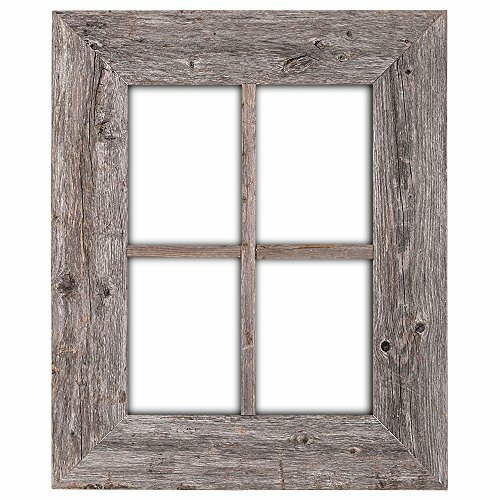 Slate Gray
Here is another gorgeous dark gray with the natural color of flagstone. It is part of the gray wood stain options to go.
for if you want a natural look even with a grey shade. This gray shade is slightly blue, and this is because it is formed from the same ratio of purple and green color pigments.
Best Slate Gray Wood Stain: General Finishes Oil Based Penetrating Wood Stain, 1 Quart, Slate Gray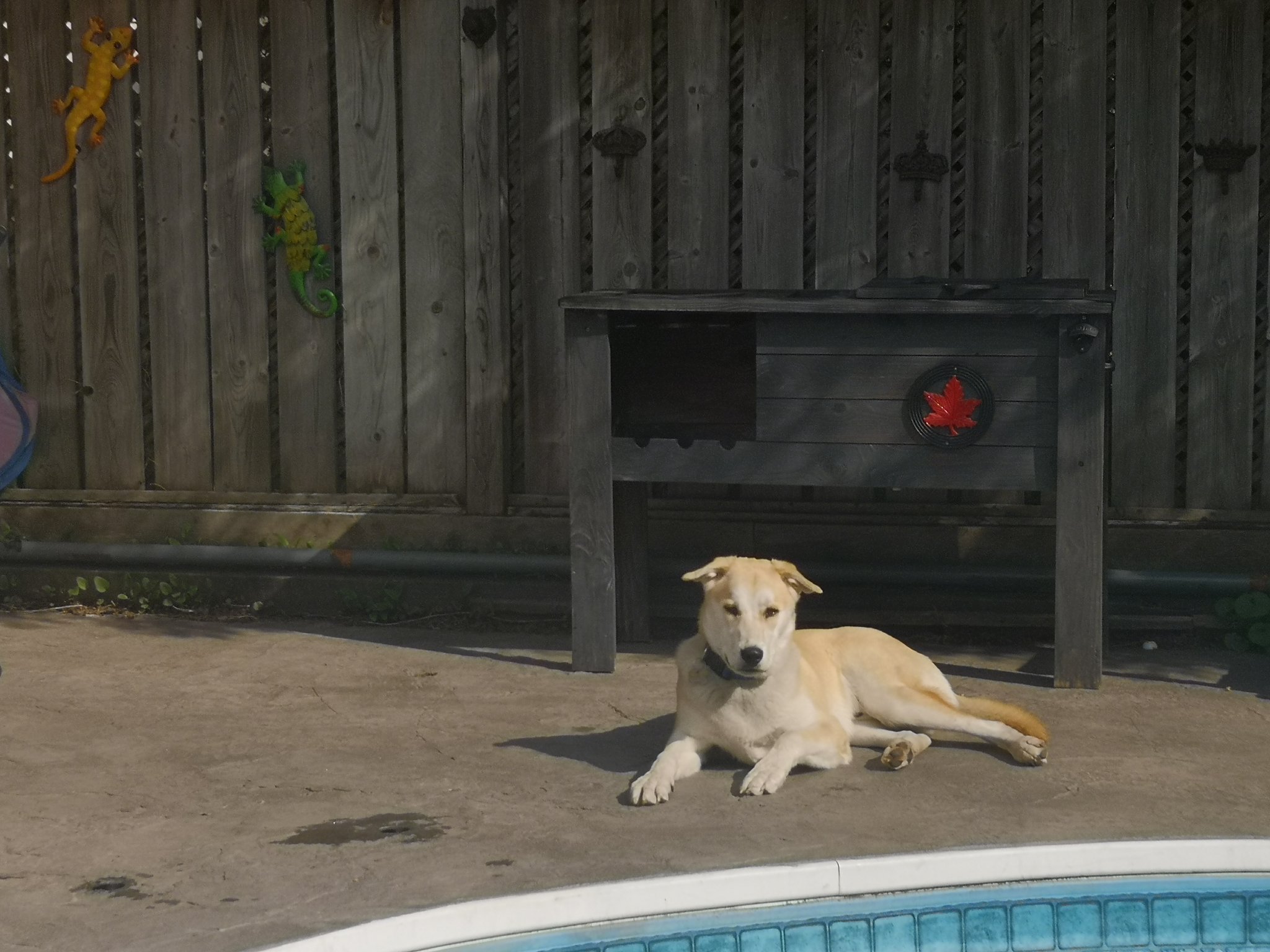 Aged Barrel
This belongs to the darker shade of grey stain colors. The aged barrel has a similar characteristic as carbon gray, the only difference is that it is darker.
Hence, if you want a darker shade of gray exuding serenity, this black shade of gray could be part of your wood stain options.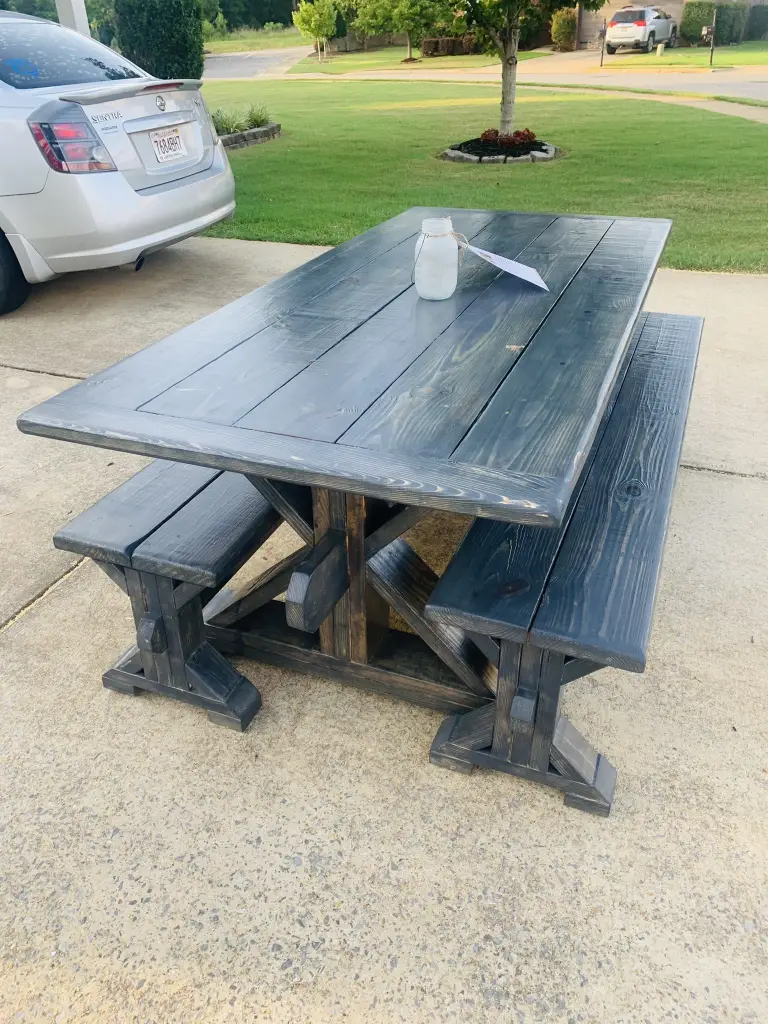 Best Aged Barrel Wood Stain: Minwax® Wood Finish™, Aged Barrel
Willow Gray
This is a perfect definition of a balanced shade of grey wood stain because it is not too light or too dark. It just stays balanced in the gray color spectrum. It is part of the wood stain options that fit the space of a farmhouse living room.
10 Best Gray Wood Stain Reviews
Most times, woodworkers want to know what some brands of wood stain colors are made of and if they will give desired results. Purchasing them to know the right stain options is not a good idea right? This is why we give this review about the 10 best grey stains you should consider based on your project.
This classic gray stain color is produced by a highly trusted Minwax brand. It is an oil-based and semi-transparent grey wood stain. It highlights wood grain within a few minutes of application, let's say within 5 to 15 minutes.
One coat is enough to give you that gray stain color intensity that you desired.
The more you leave the stain on before wiping off the excess stain, the deeper gray hue you get. It is quick-drying, hence you can finish your project on time. Also, it gives a modern and classic look to all your interior wood projects.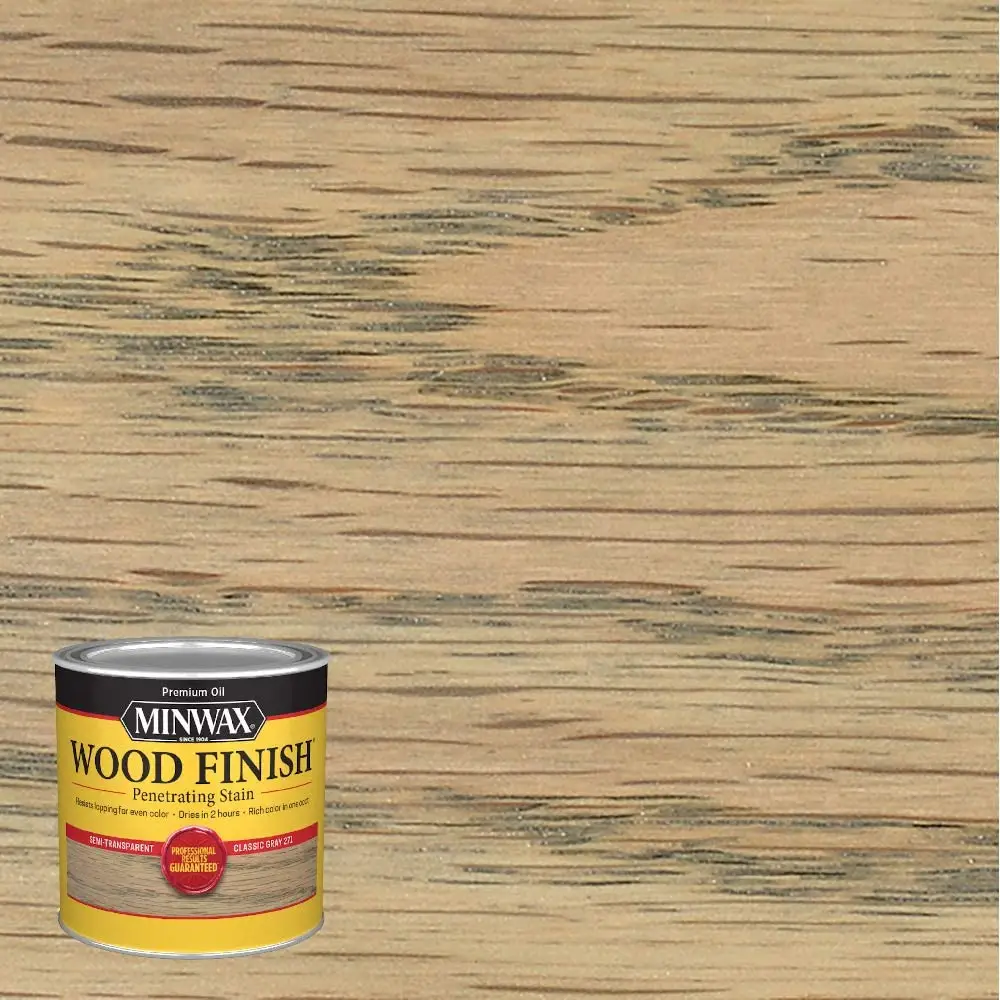 Pros
It dries quickly completely within two hours and deeply penetrates wood pores within a few minutes.
It has a beautifully rich and even color
It is easy to apply with a clean cloth or a brush
Cons
To get a uniform color, you need to pre-stain
It majorly works for interior wood projects like cabinets, doors, and floors.
This is another Minwax grey stain that also gives a beautiful gray hue. It is also an oil-based grey wood stain that highlights wood grain with just one coat and gives a rich gray stain color to your wood surface.
The major difference between this wood stain and the previously mentioned one is that this one gives a weathered-like oak wood effect to your wood.
The weathered oak gives a light to medium oak effect based on the length of time you leave the excess stain on your wood and the number of coats used.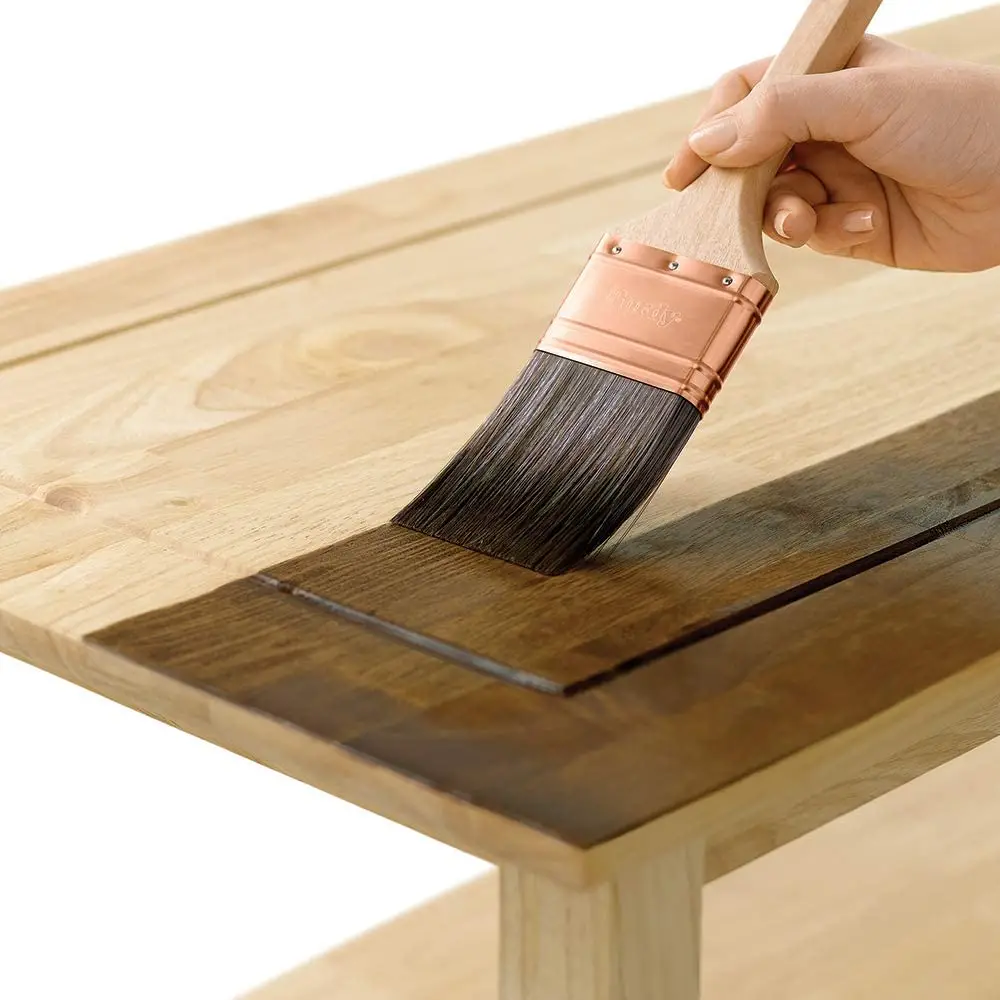 Pros
It penetrates deeply and dries quickly
It is easy to apply with a clean cloth or a brush
It gives warm undertones of a weathered oak design.
Cons
It is only meant for interior wood projects.
It does not contain any sealant. Hence, you still need to use a wood sealant after using it.
This varathane weathered gray wood stain color is an oil-based wood stain that is formulated to dry fast to touch within an hour.
The color pigment of this grey wood stain is nano-pigment, hence it can deeply penetrate the wood pores richly and evenly.
To get that even coverage, all you need is the first coat. Also, it enhances wood grain in a nice and beautiful way. It is easy to use and you do not need a wood conditioner before using it.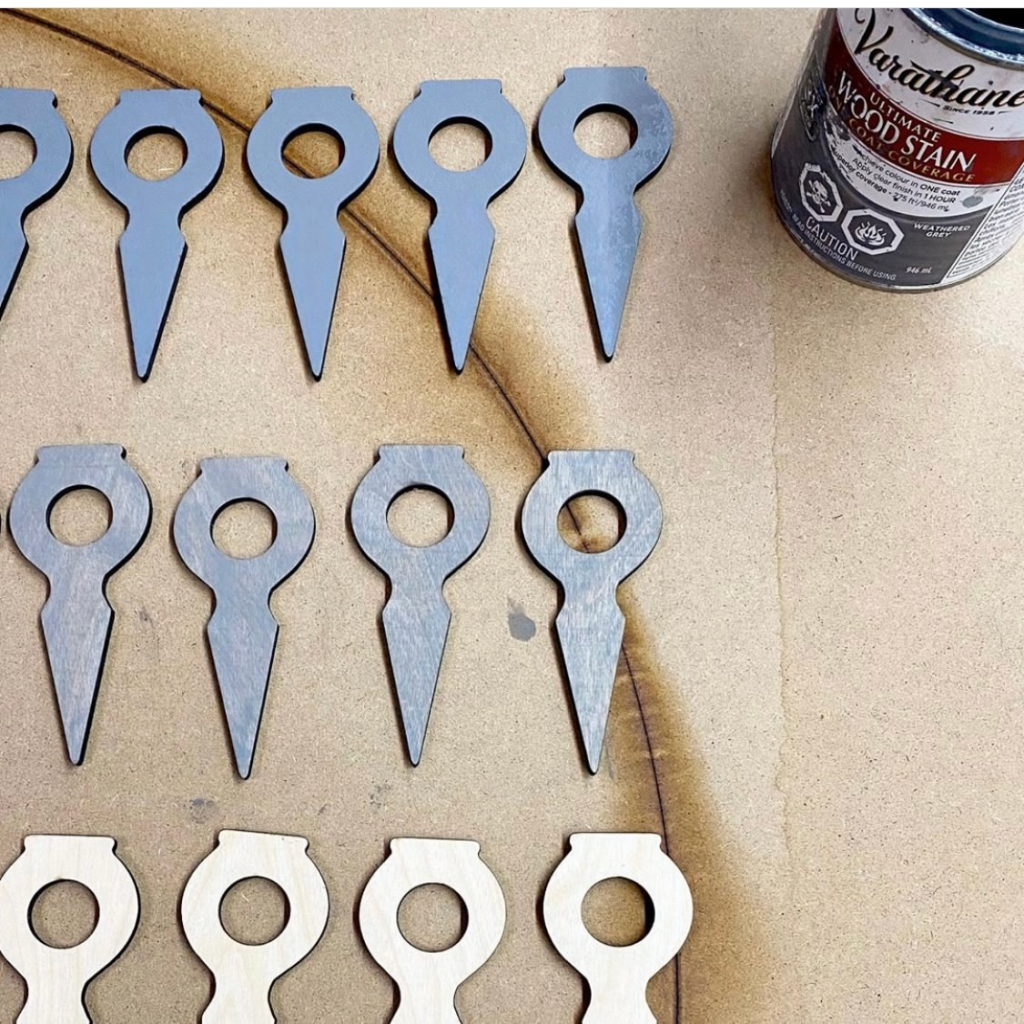 Pros
It penetrates three times faster into wood pores than normal wood stains
It is fast-drying and gives one coat coverage.
It lasts long and does not fade easily.
It is easy to use with a lint-free rag or cloth and cleaning it is easy too.
Cons
It can only be used on interior wood surfaces like trim and paneling.
You still need a sealant to seal in the grey wood stain.
This grey wood stain is a sunbleached type of gray. If you want a neutral grey wood stain for your DIY projects with a white tint, then you should choose this grey stain. It gives a uniform coverage with just one coat and dries up fast.
The color pigment particles of this grey wood stain are enhanced with nano-pigment color techniques, hence it has a high performance.
Also, It highlights the natural wood grain of the wood, it is a fast penetrating oil-based grey wood stain.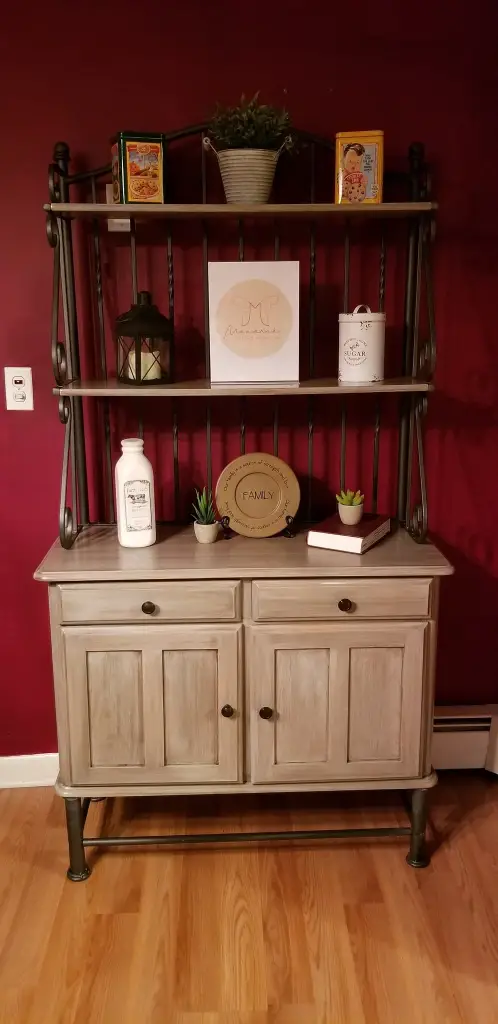 Pros
It is fast drying and penetrates deeply
It is easily applied with a brush or clean cloth
It last long and quite easy to clean and does not require a wood conditioner
It gives full coverage with just one coat.
Cons
It is only ideal for indoor use
You still need additional protection to seal it in.
This is an exterior water-based aged gray wood stain. It is a high-quality stain. Because it is water-based, it contains less harmful substances when compared to oil stains.
Also, because the solvent of this stain is natural, it does not give off toxic fumes as it cures.
However, you might need two coats with this type of stain because water stains are not as thick as their oil counterparts. Notwithstanding, because it is a water-based stain, it penetrates and dries off faster.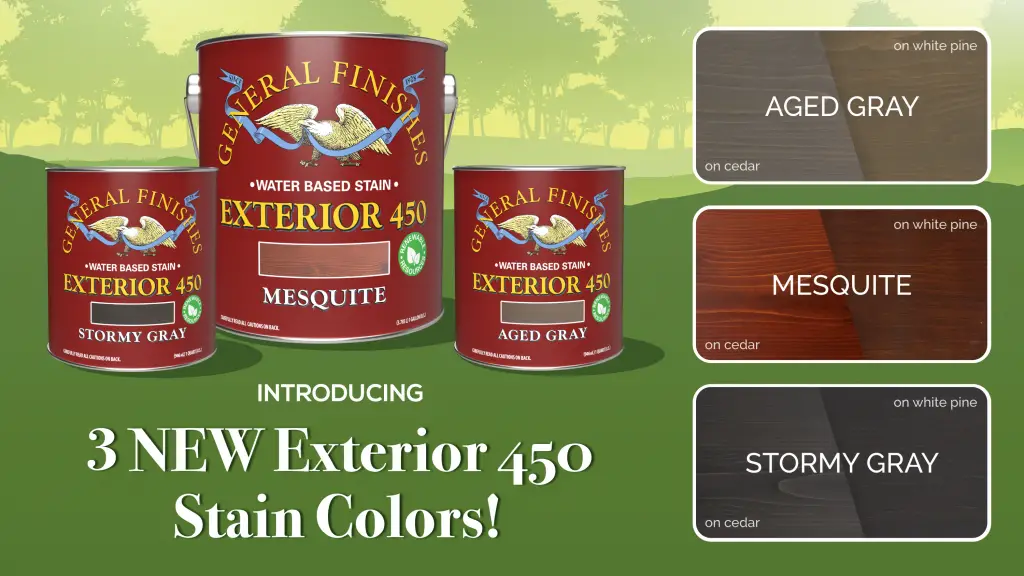 Pros
It is very durable just like oil-based stains
Applying it is easy. cleaning it also is easy
It can be used for both interior and exterior wood surfaces.
Cons
The UV absorbers it contains only work to protect the finish, they do not protect the wood.
It is only ideal for vertical outdoor surfaces like fences and not horizontal surfaces like decks.
This is an oil-based light gray wood stain designed to be used exteriorly.
According to the manufacturer, it contains zero VOC. That is, it does not have any form of Volatile Organic Substance (VOC) that is known to cause the pungent odor and toxic fumes that characterize oil stains as they cure.
Hence, this stain is human and environment friendly. Not only this, but it is also user-friendly because it is easily applied and maintained.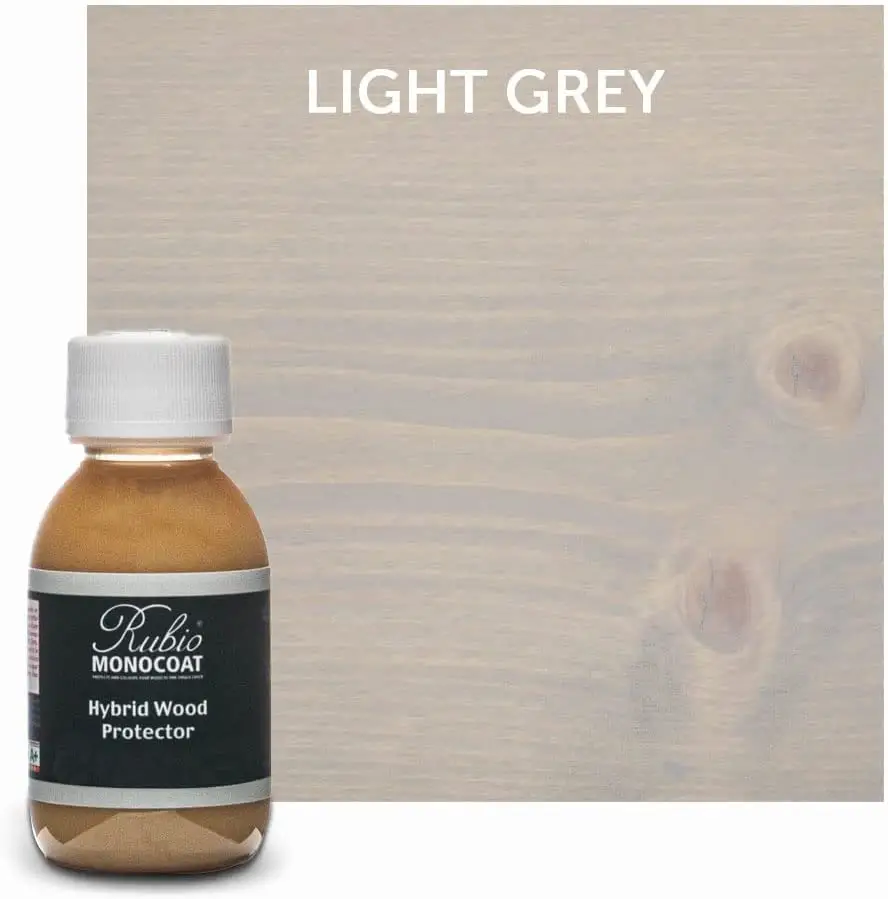 Pros
You do not have to use two coats
It is safe to use because it contains no VOC. Hence, non-toxic.
Cons
There is a need to mix it with an accelerator to provide maximum exterior protection.
Are you a lover of dark gray stain color? This carbon gray fast-drying stain is a suitable choice. It is a gorgeous color to choose for home design.
This varathane carbon gray is a premium quality gray color because its pigments are nano-pigments.
Hence, they carry enough rich colors into the wood pores to give uniform coverage. As a result, all you need is one coat to get the desired hue.
Apart from this, it is fast drying, therefore you can complete your staining projects quickly.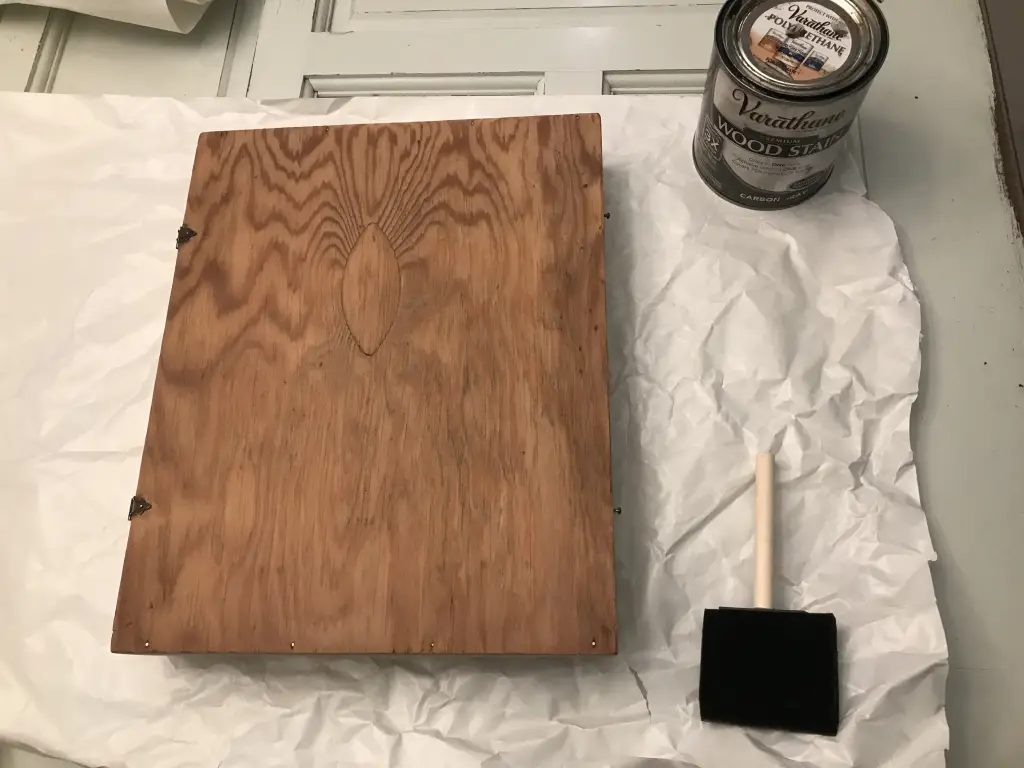 Pros
It is fast drying. Within one hour, it gets dried to the touch and a wood conditioner is not required
It is absorbed three times faster compared to other stains
It beautifully enhances the wood grain and it is easy to use.
Cons
It is recommended only for interior use
Are you a lover of nature and gray stain color? Choose this tranquil-looking slate shade of gray. This grey wood stain is formulated to be a high penetrating stain oil stain that soaks into wood pores in a uniform way.
As a result, streaking and blotching are highly reduced. This also makes it suitable on woods like pine that absorb stain unevenly.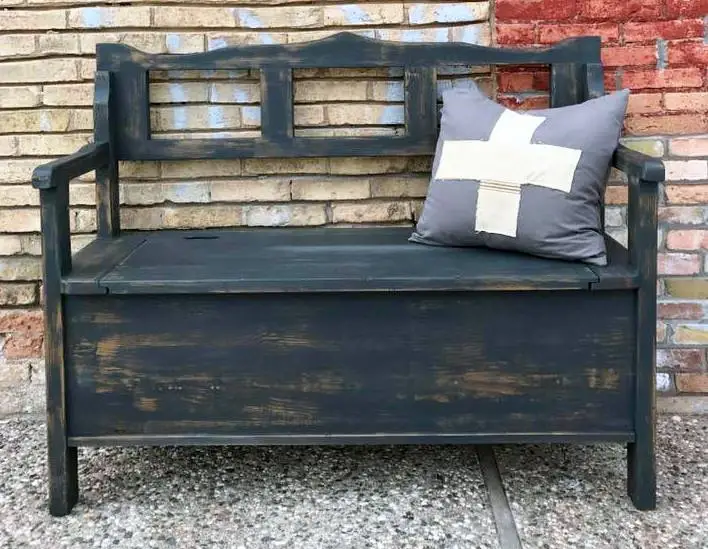 Pros
It is a wipe-on stain that is, it is easily applied with a brush rag or lint-free cloth and it is easily cleaned up.
You can either use an oil-based or water-based topcoat with this stain.
Cons
You still need to cover the stained wood with a polyurethane top coat or other types of wood sealer.
This stain is part of the semi-transparent oil-based stains with a good penetrating power manufactured by Minwax.
This aged barrel gray stain color gives a farmhouse design to your home. It exudes an unforced traditional look.
Also, it gives a deep and even coating and naturally highlights the wood grain. It dries to touch in an hour and fully dries in two hours. You can use it on either a previously painted or stained wood that has been stripped or bare wood.
Pros
It has a fast drying time.
It uniformly soaks into wood pores to give an even color with just one coat.
It is easy to use.
Cons
It is only suitable for interior wood projects like cabinets, doors, etc.
This is another shade of weathered gray wood stain designed by Rust-Oleum. It has similar characteristics to the one previously mentioned above.
Its distinct feature is just the color effect it has on wood. It has a fast drying time thereby speeding up your wood DIY projects.
It deeply penetrates wood pores thereby giving the wood a uniform, beautiful and rich color.
Pros
It dries fast within 60 minutes
It is easy to use
It gives a smooth coverage with just one coat.
Cons
It is recommended for interior use only
It does not contain a sealant, hence you need to use one after its application.
Considerations for Choosing Gray Wood Stain
There are several wood stain options you can go for. Nevertheless, it is a good idea to consider some factors before making a final choice about the stain color to use. Gray stain color are beautiful. However, this beauty can be conditional if the proper side comparison is not carried out before choosing them.
Wood Species
The first thing to consider is the type of wood you are working with. Different wood has a unique look after being stained with grey wood stains. Hence, check if your wood type will give you that particular grey effect you want.
Wood Condition and Location
Is your wood new or aged-looking? If new why not go for a lighter shade of grey like classic gray? If old, weathered gray is more suitable. Also, the surrounding color of where your furniture will be should determine the grey stains to choose.
Type of Design
Do you want a rustic look for your already aging wood? A weathered gray wood stain might do the trick. Is it a farmhouse complete home design you want, an aged barrel wood stain is your best bet.
Exterior Grey Wood Stain
Can You Use Gray Wood Stain on Exterior?
Of course, you can if that is the stain color you want. However, you need to be careful in choosing a grey wood stain that is designed for exterior use. After this, you should apply a clear coat sealant that can protect your wood from UV rays.
Can You Stain a Deck Grey?
According to woodworking statistics, the most used stain color for staining decks nowadays is grey. So, the answer to this question is an emphatic yes. Why wouldn't you want for your deck that classic and modern look that a gray wood stain has to offer?
Is Gray Paint or Stain Better for Exterior?
When it comes to painting or staining, both have their advantages and disadvantages. However, when it comes to wood, be it interior or exterior, gray stain will always be better because it enhances the natural aesthetic features of the wood.
Does Gray Stain Make Wood Waterproof?
No wood stain makes a wood waterproof unless such stain is designed to do that. However, many wood sealants are weather-resistant as well as water-resistant. They are used on the stained surface to protect the wood from water damage, UV, and the like.
What Is The Best Wood Stain for the Exterior?
There are hundreds of exterior wood stains with different colors produced by many companies like Ready Seal, Cabot, Minwax, Rust-Oleum, etc. Therefore it will be difficult to say just one of these many exterior wood stains is the best. The best thing to do is purchase one from a trusted and tested brand.
Interior Grey Wood Stain
Can Grey Wood Stain Be Used Indoors?
If you do a side comparison of the colors of your interior home decoration with the grey color and it tends to match, why not? You can use grey stains indoors. There are a lot of home design ideas you can decorate your interior furniture using a grey wood stain.
How Do You Apply Interior Wood Stain?
Applying interior wood stain is quite easy process. Put drop cloth on the floors of your workstation, put your furniture on it, and work in a well-ventilated room. Then do some sanding, wipe off sanding dust and the stain application can start. However, this procedure is different depending on wood species and stain type.
How Do You Make Gray Wood Stain?
You can either create your custom grey-colored wood stain by mixing wood stains with colors that can produce a grey color. However, remember to select colors with similar undertones. Also, you can make a homemade weathered gray look with steel wool, water, and white vinegar solution.
What Is The Best Wood Stain for the Interior?
There is no specific best wood stain for interior staining. It all boils down to what you want. The choice is yours to make after putting into consideration the necessary factors. However, always choose a fast-drying interior wood stain with less harmful volatile organic compounds.
Grey Wood Stain on Floor
Can You Stain Wood Floor Grey?
Yes, you can stain wood floors gray. However, depending on the wood species, gray stains on the wood floor could be tasking. Especially choosing the correct shade of gray to suit the particular wood type. For instance, not all types of gray colors will suit the red undertones of a red oak floor.
Will Grey Wood Floors Go out of Style?
I believe you should determine what is in style for you or not. However, indeed, grey wood floors are gently being removed by greige (grey plus beige) wood floors. Nevertheless, this does not signify that grey wood floors have lost their style. The mature and serene ambiance that gray color exude cannot be relegated.
Is Gray Wood Flooring Fad?
Although some people might believe it is, grey wood flooring has never been a fad. Apart from the fact that gray color has a lot of varieties, it can be regarded as a modern neutral color that can easily be paired with a host of other colors. Gray stain colors have warm and less shouting blue undertones that make them stand out.
How Do You Stain Hardwood Floors Grey?
How you do this depends on the type of hardwood you are staining. However, staining hardwood floors grey is an easy process in as much you chose the correct shade of gray for your wood species.
For red oak with red undertones, darker shade of gray wood stains like an aged barrel or weathered gray is suitable.
Staining White Oak Grey
Furthermore, to stain white oak grey, the first thing to do is choose the right shade of gray. Remember different shades of gray look different on varying wood species. You can search on google for samples of gray wood stains on white oak.
However, to prevent pulling out tannins from the oak, choose a fast-drying stain. Give the oak wood surface a good sanding, remove sand dust and use a water damped rag to remove the remaining sanding dust.
Apply a thin first coat of your stain. Wipe off excess stain and let it dry. To get a darker hue apply two coats. After the layers of coats are dry seal immediately to prevent tannin pulls.
Bona Grey Stain on Red Oak
Bona grey wood stain is one stain that is suitable to stain red oak without the red or pink undertones showing through. It gives the desired grey outlook even with the natural color of red oak.
It does not require wood bleaching, wood conditioner, or any form of pre-stain treatment. The only thing you are required to do is wood popping or grain popping. This involves applying water to your wood to raise the wood grain.
This process allows the stain to soak into the wood deeply. After this, apply two coats of the bona gray stain and let them dry. Finally, apply a non-yellowing sealant.
What Types of Wood Are Best Suited for Grey Stain?
As earlier mentioned the aesthetic features of some wood species such as grain pattern, color, porosity, texture, etc make them bring out the beauty of a rich gray stain color more than other wood species.
Ordinarily, the best wood that most professional woodworkers recommend to be suitable for grey stain is white oak wood. This is because this type of oak wood is believed to give the best result when stained with a grey stain.
However, be it pine wood, red oak, maple, etc you can get them all stained if you choose the right shade of gray wood stains.
What Wood Stain Is Best for Grey?
Be it oil-based wood stain, water-based wood stain, a gel stain, or poly stains, all these types of wood stains are best for grey as well as they are well formulated.
You are the one to determine your choice after considering the necessary factors. Based on this, different manufacturers designed varying types of gray stains both for interior and exterior wood projects.
Samples are water-based exterior aged-gray wood stain by GF, oil-based interior classic grey wood stain designed by Minwax, among others, read more above to further check the samples
How Do You Gray Stain Wood?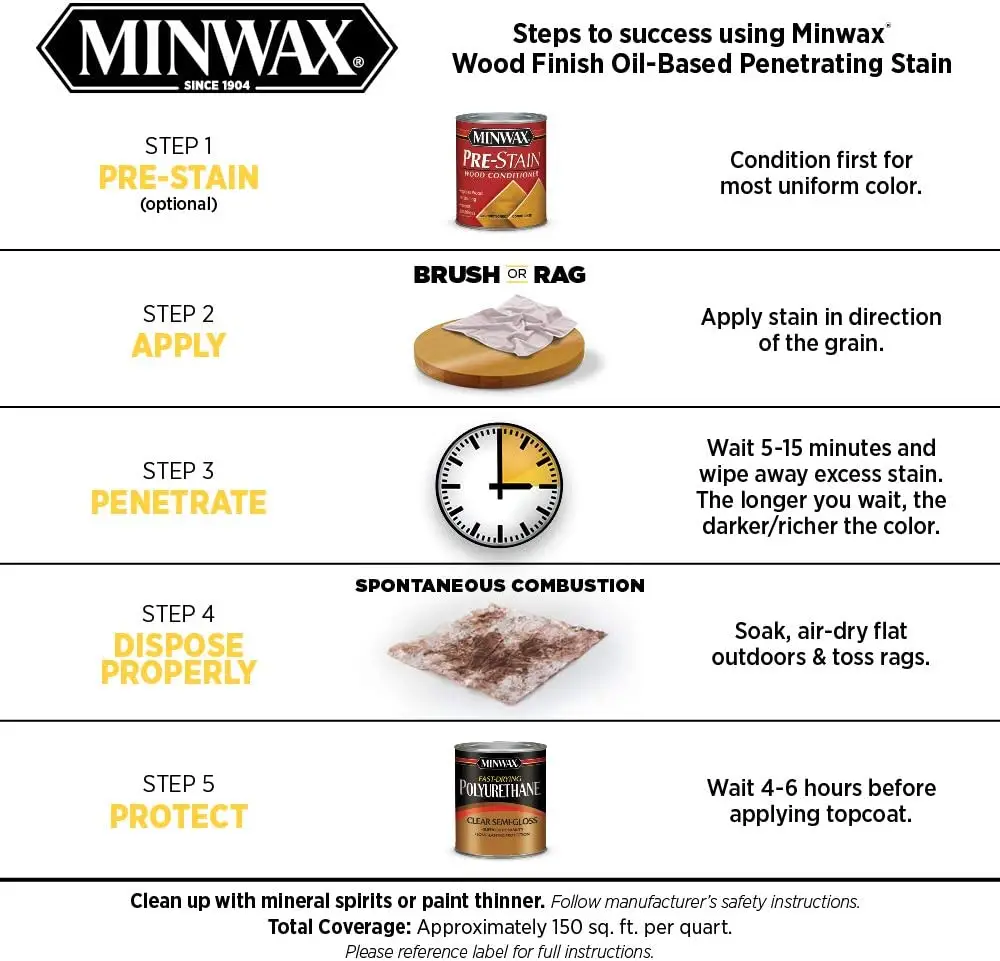 Staining any wood gray is a straightforward procedure. The materials you need are an orbital sander, tack cloth, sandpaper, protective gear, mineral spirits, a grey wood stain, a top coat, etc.
Step 1: Strip off the previous stain and/or finish
To get a new stain color on the finished wood, there is a need to remove all former finishes. For an old worn-out finish, sandpaper can be used. Start with sandpaper as low as 80-grit, before moving upward to 120 and 150-grit then remove the dust and wipe clean with mineral spirits.
For a new finish, use a wood stripper and a plastic paint scraper to remove the finish. After this use a degreaser and leave your wood to dry.
Step 2: Apply the grey stain
If you are working with a wood that tends to get blotchy like pine, use a wood conditioner before staining. Apply a thin coat of your stain following the manufacturer's instructions.
Then wipe off excess stains still in the direction of the grain. Allow it to dry before applying a second coat if need be. Then let all the coat layers dry before sealing it.
Step 3: Protective Coating
Lastly, protect your wood by applying a non-yellowing and compatible topcoat. Usually, two coats of sealants should be enough.
FAQs
Can I stain oak cabinets gray?
Yes, you can. You get an excellent result especially if the cabinets are made of white oak. Seeing that gray has more than 50 shades, you should choose a light grey color like classic gray, willow gray, carbon gray, weathered gray, etc.
What kind of wood is grey?
Wood is grey under two conditions. The first is when the wood has greyish streaks then it is referred to as grey wood also known as barn wood.
Secondly, if the natural wood weathering process has made a wood somewhat grey in appearance, such wood is referred to as grey compared to green.
What color is vintage blue?
A lot of colors have varying undertones which range from red pink brown blue to yellow, etc. However vintage blue has very pronounced grayish undertones. In case you just need grayish undertones instead of a grey hue, vintage color wood stain is a good choice.
You can get it in both semi-transparent and solid forms.
Can you stain grey over Brown?
In as much as color can be mixed. You can apply stain over stain if you know the staining effect it will give.
Also, the resultant color of grey over brown depends on whether the grey and brown color have a light or dark shade.
Either way, a grey stain over brown gives a greyish tone to the brown color.
Can you stain grey cedar?
It is advisable to stain a cedar before it starts to weather. However, when the weathering process has already started and you have achieved the desired silver-gray color, it is better to apply a sealant to further prevent it from weathering.
Can mahogany be stained grey?
Yes, there is nothing impossible. However, it is a tasking process due to the fact that the natural color of mahogany is a bit dark.
However, you can achieve a weathered gray look with mahogany or you stain it with a classic gray stain with complementary brown undertones.
How do you stain oak grey?
There are different varieties of oakwood. There is white oak, red oak, pin oak, black oak, etc. The best oakwood for grey hue is white oak. There is no big deal about staining oak grey. Just ensure you do some grain popping on the oakwood before applying the grey stain.
How long does it take for wood to grey?
There is no specific time it takes for wood to grey. The degree of exposure to weather conditions is a contributing factor that determines how fast a wood will grey.
Apart from this, wood species also determine the time duration because some wood grey faster than others.
Is it better to stain wood with a brush or rag?
This is dependent on the type of wood stain being applied. For instance, applying a gel stain with a rag might not be a good idea.
For a gel stain, a foam brush or paintbrush is more suitable. For other stains like oil and water stains, you can use a rag based on the product label.
How do you make pine wood look grey?
There are different stain options to make pine look grey. You can use the homemade steel wool plus white vinegar greying solution. Gray washing also is another option. Or better still, apply gray stains. However, before staining, apply a wood conditioner.
How do you make grey wood rustic?
To make this happen, you can use three stain options. First, allow the grey wood to weather until it has a rustic look, and then seal the wood.
Also, you can apply a weathered gray stain to get a rustic look.
Lastly, you can use homemade steel wool and white vinegar to create this wood effect.
Final Words: Which Gray Is The Best Color for Interior Furniture?
Finally, do you intend to get a grey color that is not too light or dark with some light blue undertones? Then willow gray is a perfect match. Or do you want to give your wooden door a rustic and weathered look that of oak? Weathered oak is good for that effect.
If it is a somewhat faded blue color that you want, sunbleached gray provides that. This signifies that there is no best color of gray for your interior furniture, the choice is yours to make.
With all being said, the next thing to do is to have an idea of what different samples of gray stains will look like on your furniture, then make your choice from the stain options.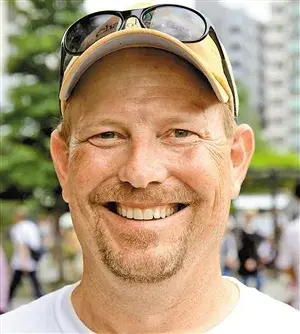 My name is Mark, and I am a software engineer and the founder of OnWoodWorkingArt.
I grew up with a passion for woodworking and now have my woodworking studio with a group of like-minded friends who love to create woodworking. My dream is to have a more extensive workshop and be able to make woodworking my main business.