For there to be a redwood national park containing redwood trees, shows redwood lumber is valuable, extremely durable, and beautiful. According to basic information, redwood trees are the world's tallest wood species, making them very expensive.
Hence, this article is the ultimate guide you need if you have redwood furniture and want to enhance the wood's beauty or stain your furniture with red wood stain.
Here's what I learned:
Can You Use Red Wood Stain to Get A Redwood Look?
You can use red wood stain to get a redwood look. Use a brush to apply the red stain in the direction of the wood grain. The red wood stain has an intense color, and it can bring an attractive color to the wood, making it vibrant.
Some of what will be discussed are top red wood stain colors, redwood veneer varnish, how to apply red wood stain, and how to get red stains out of wood furniture, among others.
Just keep reading!
What Is Red Wood Stain?
Apart from durability, a redwood deck has such aesthetic appeal, which is why the redwood deck costs much. Nevertheless, you can use a red wood stain on your oak deck to simulate the beauty of redwood. Naturally, red colors draw attention and the different shade of this color is never boring.
Red wood stain is a fruity stain color and just like any other stain color, it could be acrylic wood stain (water-based), oil-based stain, or oil-based gel stain. It penetrates, colors, and protects wood like other wood stain products, and varying companies produce different red wood stains.
What Wood Takes Red Stain Best?
Creating redwood surfaces to look like natural redwood (sequoia sempervirens) using red stains is quite possible. As a result, you can decide to create redwood furnishings with an intense deep red hue in your DIY wood projects. However, not all wood varieties will bring out the beauty of red color stains.
Nevertheless, wood with large pores like red oak, chestnut, cedar, etc readily absorb stains, hence can be stained red to form stained redwood. If the right techniques are followed, woods with small pores can be stained red. Either way, any wood varieties that can be stained with other stain colors can be stained red.
Red Wood Stain vs. Wood Dye vs. Wood Varnish
Moving further, red wood stain as earlier mentioned could be used on redwood decks, redwood furniture, as well as other wood surfaces to mimic naturally stained redwood. A red stain could be an oil-based stain or a water-based one. It is made of red pigments intended to stick into pores on wood surfaces.
On the other hand, a wood dye that can also be used as deck stain or wood stain contains particles. Because these particles are tiny compared to pigments, they penetrate wood fibers deeply, adding color to them. Also, a red wood dye is environmentally friendly compared to an oil-based redwood stain or red acrylic stain.
The work of wood varnish is quite different from that of wood stain or dye. Wood varnish is like a semi-transparent stain, but instead of staining, it topcoats a stain or dye to prevent the wood surface from water, atmospheric moisture, scratches, and the like.
Is There Red Stain for Wood?
Trying to figure out a light shade of red stain for your new redwood deck to enhance its beauty? Or do you want to create stained redwood furniture with your raw wood? There are numerous shades of red stains you can choose from crimson red and Sedona red, to dark barn red, etc.
So, yes. Different red penetrating stains for wood are used to add color and enhance wood's natural beauty. The 10 top red stain varieties are reviewed below. Glance through it and select suitable ones for your wood projects.
How to Choose Red Wood Stain Colors?
The first thing to consider when choosing a red wood stain color is your color objective. What shade of red stain color do you want? Do you want a dark shade, medium shade, or light shade? Check your environment and select a red color that blends in with other surrounding home furniture.
Furthermore, for a darker red stain color, go for a dark color water-based red stain or a dark color red dye stain. This is because they are readily absorbed by wood pores. Hence, you can add as many coats as possible until you get the desired dark red color.
Also, to choose a red stain color to consider if you will be using it on exterior wooden surfaces or interior surfaces. If the red stain is for exterior use, choose one that is not too light. A slightly darker shade of red stain is ideal for blending in with sunshine for more aesthetic value.
10 Best Red wood Stain Colors for You DIYs
#1. Sedona Red – Minwax 710430000 Finish Penetrating Interior Wood Stain
Have you decided to get a redwood color on your wooden table? Why not go for this reddish-brown penetrating stain produced by Minwax? This oil-based stain heightens the attractiveness of natural wood grain with just a coat due to its deep and rich color.
This stain is fast-drying. It sticks into wood pores within 5 minutes and gets completely dried in 2 hours. Before wiping the excess stains after applying the stain, wait for a few minutes, because the more you wait, the more color pigments penetrate the wood.
In addition, the is easy to use with a cloth or brush and can be applied to different types of wood. Also, it is formulated to be used on interior woodworking projects.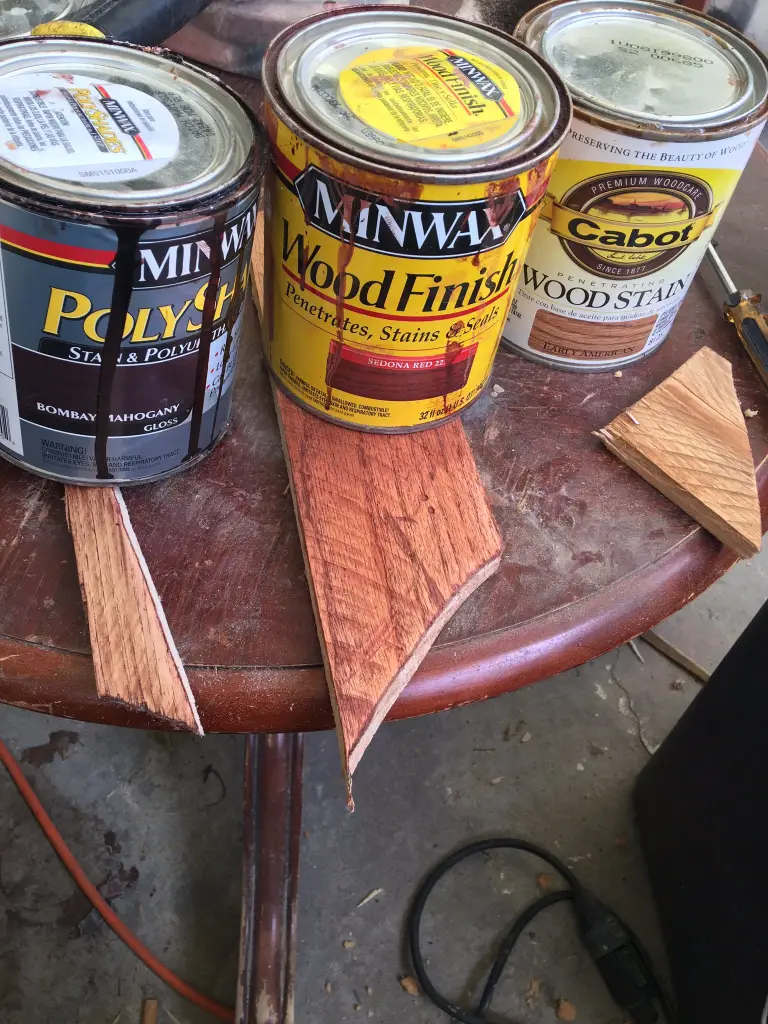 Pros
Easy to use
Fast-drying
Deeply penetrates
Cons
Can't be used on outdoor furniture
Need a wood sealer
Combustible
#2. Dark Barn Red – Varathane 307414 Premium Fast Dry Wood Stain, Quart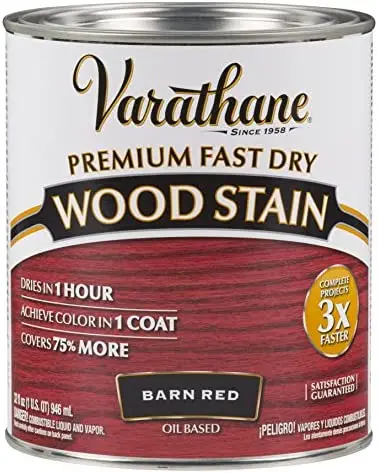 This is an interior dark barn red oil-based stain produced by Rust-Oleum. The performance rate of the red pigments of this stain is high because it is intensified with nano-pigment particles. As a result, it gives a deep barn red color with just one coat and provides long-lasting protection.
In addition, this red stain dries up quickly within 60 minutes, revealing the wood grain and accentuating the wood's attractive features. Apart from this, you spend less with this stain because a quart provides about 275 sq ft coverage. Also, you do not need a wood conditioner before using it.
This stain cannot be used as a deck stain or for other exterior woodwork. However, you can use this stain on all interior wooden projects like kitchen cabinets, doors, etc.
Pros
Durable
One coat coverage
Fast-drying
Easy to use and clean
Cons
Not suitable for outdoor use
Cannot be diluted.
Wood sealer needed.
#3. Dark Cherry Red – SamaN Interior Water Based Wood Stain for Furniture, Cabinets
Do you want to stain those chestnut wood reading tables into redwood? You should select this dark cherry red stain for redwood. This red stain is one of the risk-free water-based stains manufactured by the SamaN company. It does not require technical know-how. Anyone new to the staining process can use it.
This wood stain is a high-quality stain that can be applied without using a pre-stain conditioner thereby, saving time. It deeply penetrates wood surfaces hence, only one coat is needed to get a deep and rich color. Apart from this, because it is water-based it is easy to clean with soapy water.
In addition, this water-based stain cannot protect your harmful UV rays and direct sunlight, hence cannot be used as a deck stain. Therefore it should be used only for interior woodwork.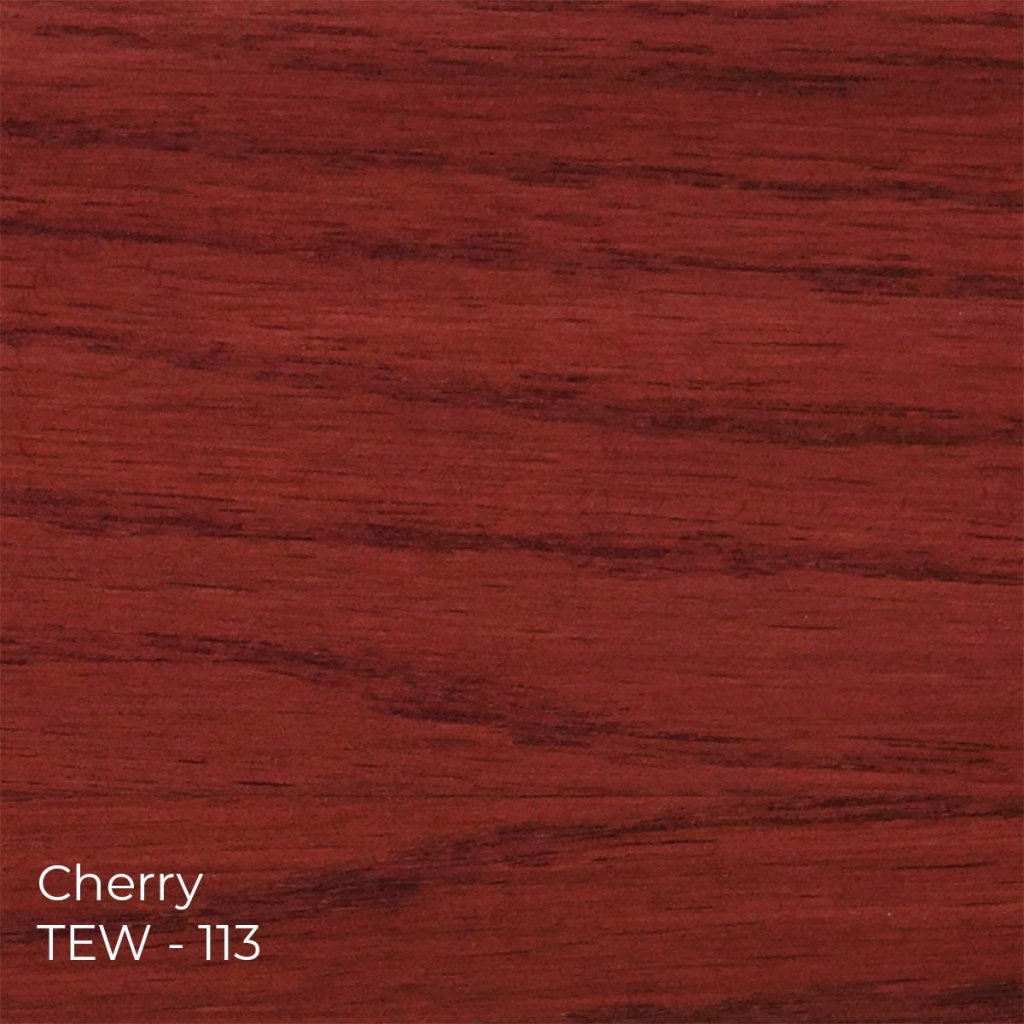 Pros
Odorless
Easy to use and clean
Environmentally friendly
Cons
Not usable on outdoor furniture
Wood sealant is needed.
#4. Warm Cherry Red – General Finishes Oil Based Penetrating Wood Stain, 1/2 Pint
This is a General Finishes warm cherry red stain. It is a high-performance oil-based stain designed for raw wood use. Hence, if you are trying to stain wood with an existing finish, you have to strip such a finish of the wood before applying this stain.
This wood stain looks gorgeous on the hardwood like oak, the red color gave a spotlight to the natural grain of the oakwood thereby making it more beautiful. However, you can apply it on hard-to-stain softwood like pine because this stain is formulated to prevent blotchiness.
This red stain is designed for interior woodwork, however, if you will like to use it as a redwood deck stain, then you need to apply a sealant that will provide UV protection, and prevent damage caused by mildew, water, and sunlight, insects, etc.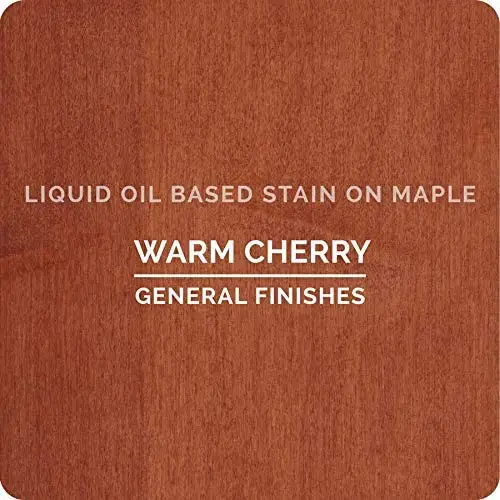 Pros
Durable
Easy to use
Uniform color
Cons
Sealant needed
Not suitable for outdoor projects.
#5. Dark Mahogany Red – General Finishes Exterior 450 Water Based Wood Stain
This dark mahogany red stain is a semi-transparent stain. Due to this, it does not give an intensely deep red color and can be used on different woods including redwood. Hence, you can use this stain for redwood furniture such as a redwood fence, and all your solid wood furnishings.
Furthermore, this stain is designed for both interior and exterior use. However, you cannot use this stain on wooden decks. This is because it is only formulated for use on horizontal wooden surfaces like doors, cabinets, and doors. It is a water-based stain that is easily absorbed and it highlights the wood's grain as it does
Also, this exterior stain contains UV absorbers that protect your wood from UV rays but not sunlight. Hence, you need to apply a wood sealer to give your wood added protection.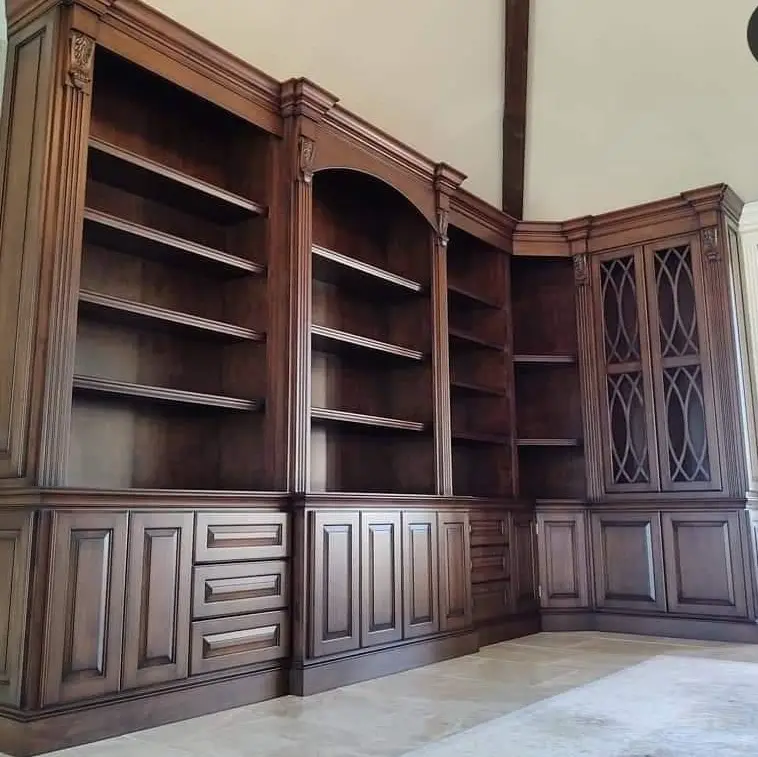 Pros
Durable
Long-lasting
Low toxicity
Easy to clean and use
Cons
Extra protection is needed.
Cannot be used as deck stains
#6. Semi-Transparent Redwood – Krylon K03604000 Exterior Wood Stain
Here is another semi-transparent exterior stain for redwood. It can be used to create a redwood with all your outdoor furniture. An exterior stain might not be a deck stain recommended, but this Krylon red stain can be used as a redwood deck stain for an old deck and a new deck.
One unique attribute of this stain is that it comes in a paint sprayer form, hence it is easily applied through spraying. Also, it is a premium stain that has water-repelling features and protects wood from UV rays, and sunlight. Because it is sprayed, it brings about fast wood staining and stain coverage.
Furthermore, this exterior stain is designed to withstand harsh environmental conditions like dirt, mold, mildew, and the like. Also, it gives a smooth finish to your redwood fence.
Pros
Durable
UV protection
Easy to use
Mildew-resistant
Cons
For outdoor use only
#7. Empire Red – General Finishes Water Based Dye
Here is another redwood deck stain produced by General Finishes, it is not a regular stain, but a dye stain with an empire red color. A Dye stain can be used for both indoor and outdoor woodwork. But you must make use of added protection if you will be using it for outdoor purposes.
This water-based dye is designed to highly penetrate wood fibers. Hence, it is the best stain to use if you want to create a redwood deck because it deeply colors your wood. Furthermore, you can easily apply this stain to redwood with a foam brush or a cloth. It can also be sprayed.
Also, because it is a dye stain, it poses no harmful health risk to users hence it is safe to use for interior furniture like high-end bed frames.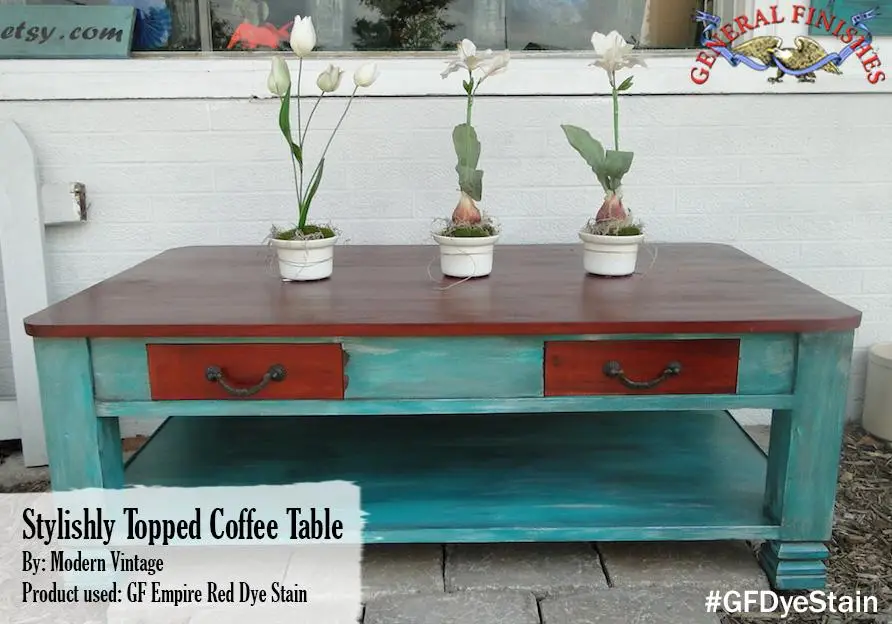 Pros
Safe to use
Suitable for interior & exterior use
Deeply penetrates
Cons
#8. Red Oak Stain – Minwax Wood Finish 221504444, Half Pint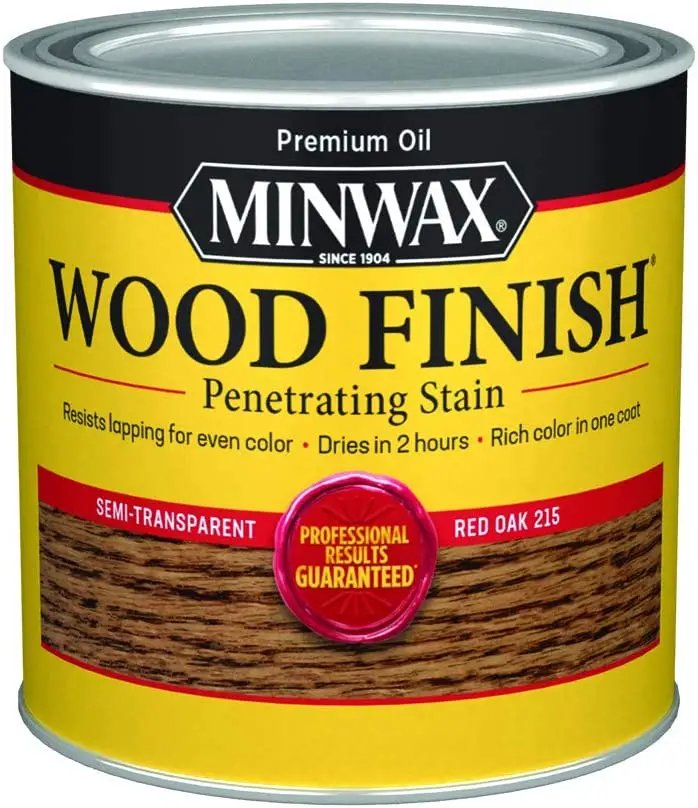 This is another semi-transparent wood stain for redwood making. It is an oil-based wood stain that gives the wood a red oak color with warm red tones. This stain cannot be used to make a redwood deck because it is only meant for interior projects. It is easy to apply with a brush or a cloth.
It is a wood stain that penetrates within a few minutes of being applied and in 2 hours it gets dry completely giving a natural finish. Also, with this stain, the more you leave the excess stains on your wood, the more the color gets deepened and the wood's grain gets enhanced.
Furthermore, this stain has a deep penetrating formula hence it only requires one coat. Also, it can be used on the surface of both raw wood and stripped wood.
Pros
Easy to use
Deeply penetrate
Relatively dries fast.
Cons
#9. Natural Cherry Gloss – Minwax PolyShades Wood Stain, Polyurethane Finish
This is a unique stain for redwood making because it contains both a stain and sealer. Hence, it is used on exterior surfaces because it seals in the stain on the wood and protects it. However, extra protection from UV rays and sunlight is still needed if you will be using it as a deck stain
Thus, it is suitable for use as a deck stain and you can use it to make a redwood deck. It is an oil-based stain and poly that gives a rich color and lasting protection to the wood.
It is easily applied with a brush, all you need to do is sand the wood, get rid of the sanding dust, and apply this glossy sealing stain.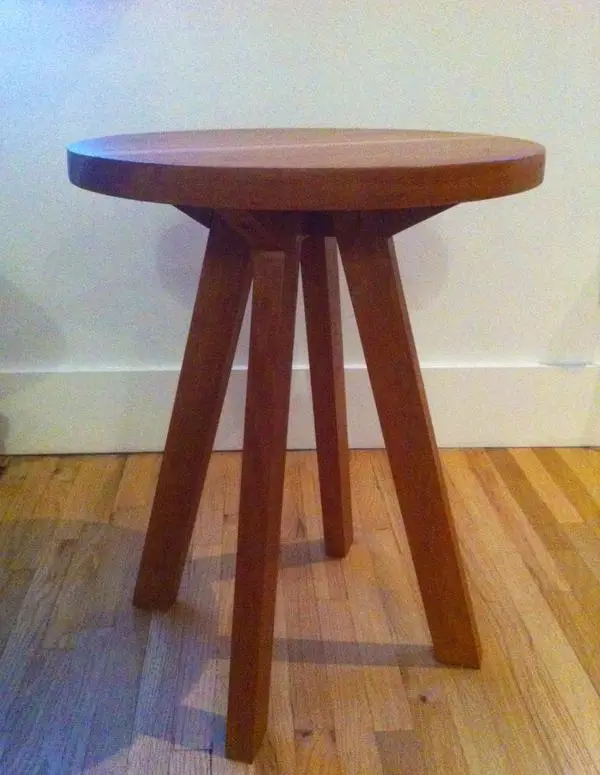 Pros
Durable
Easy to use
Stain and sealer
Cons
Sand in between coats
Longer drying time
Sealant needed for exterior use.
#10. Crimson Red – Minwax Express Color Wiping Stain 308054444
This is a crimson red wiping stain produced by Minwax. It is a water-based stain. Hence, it is not toxic to users, it has a low odor, dries fast, and is easily cleaned with soapy water. Also, because it is a water-based stain, you can easily mix it to create a customized red stain.
It is easy to apply with a foam brush or a rag and it gives a pretty crimson red color. Also, because it is water-based it might not be suitable to get a redwood deck from your wood deck. You can use it as a stain for redwood on all other interior wood surfaces.
Furthermore, apart from being a wood stain that soaks into wood richly, it also contains a wood finish. However, you still need a wood sealer for maximum protection.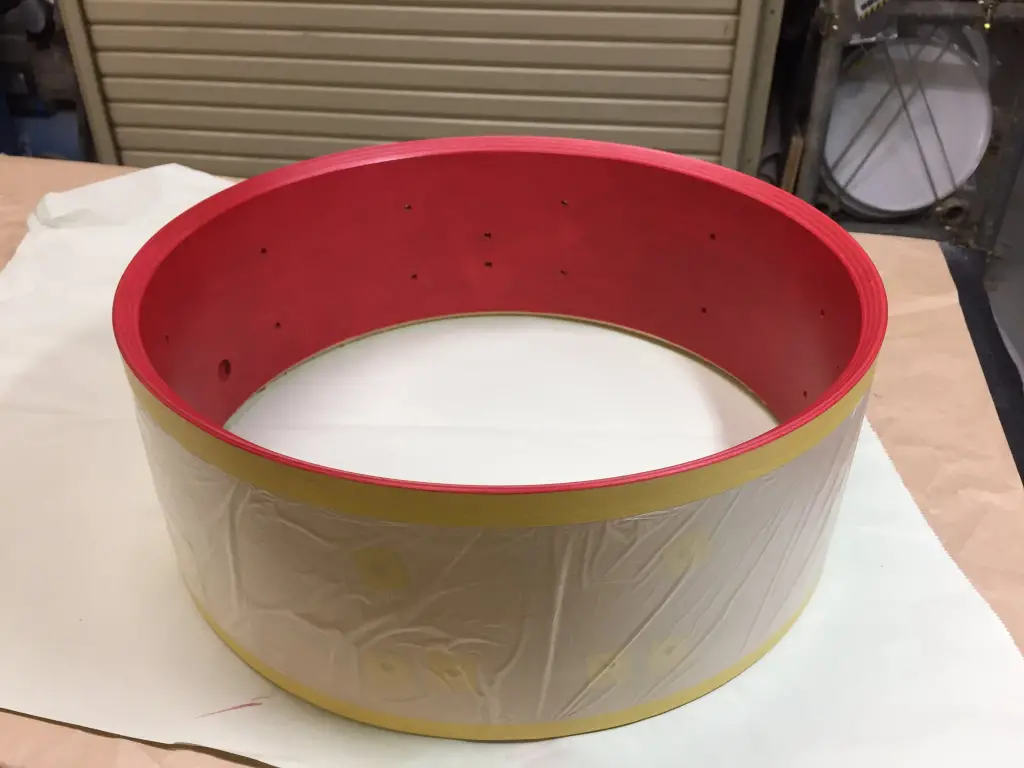 Pros
Less toxic
Easy to use
Easy to clean
Cons
Why You Should Buy The Best Mahogany Stain?
When it comes to staining or woodworking generally, it is quite important to purchase quality products to prevent hassles while staining. However, also note that the best red stain for different projects differs based on wood species and the likes.
For instance, a redwood stain that is suitable to produce a redwood fence might not be the best choice for making a redwood deck. One of the advantages of buying this best mahogany stain for your woodwork is that it saves woodworking time because it dries fast.
Also, this effective red stain protects against UV rays and it's mildew resistant hence your hardwood is immensely protected. Another feature you enjoy from choosing the best red stain for your wood is durability.
It is a high-performing red stain that does not only color but is formulated to withstand fading, high-impact use, and the like.
Applying Red Stain to Wood
A Red stain always looks classic on wood decks and gives them a redwood appeal. Hence, a lot of individuals love to apply red stains to their decks to produce redwood decks. If you want to know how to create that redwood deck quickly and easily, follow the steps below.
Tools You Need to Use Red Wood Stain
Having your tools and materials at hand before starting to stain helps in achieving neat stain work. It also helps to achieve fast staining. However, for a more effective result, purchase quality tools. Here are the tools you need.
Wood cleaner
Sandpaper
Broom
Pressure washer.
Knee pad
Brush
Red stain
Protective gear
How Do You Apply Red Stain to Wood Deck Step by Step?
The foremost imperative step is to prepare the surface when it comes to staining. The preparatory and staining steps are highlighted thus.
Clean your deck
Pour some mild dish soap into the mop bowl, add some water, mix it up, and use a mop to apply this cleaning solution to your deck. Wash the deck in small segments to remove dirt, mildew, mold, and dust effectively. After this, you clean up with enough water.
You can decide to use pressure washing to get the job done. After finishing this step, let the deck dry up completely for a good number of days depending on atmospheric situations.
Self preparation
The staining process involves you being exposed to hazardous chemicals. Therefore you need to wear safety equipment like gloves, breathable nose cover, eye goggles, etc. And since you will be bending to work on your deck, it is advisable to get a knee pad to prevent your knees from cuts and abrasions.
Sand the deck
You should sand your deck to remove the previous finish that might hinder the red stain from penetrating the wood pores. Start with low-grit sandpaper like 120-grit to roughly sand before moving to the high-grit sandpaper like 220-grit to smooth sand. Use a power sander and apply even pressure while sanding.
Try to sand the deck segment by segment and remember to sand the siding and railings. Use hand sandpaper to get to those places a power sander cannot get to.
Prepare to stain
While preparing to stain, the first thing to consider is staining under favorable weather conditions. Choose an appropriate time. Then because the whole deck is dirty again due to sand dust use a leaf blower or a broom to remove this dust.
Also, remove any form of pebbles, sticks, and rocks stuck in the holes of your deck
Produce a redwood deck
After getting an effective red stain that offers UV protection, it's time to stain with it. Using a brush apply the red stain from one end of your deck to another and the deck gaps. Avoid using a warped brush that can cause brush streaks. You can buy a quality polyester brush.
While staining, since you chose an effective stain, only one coating is needed. Apply the same coating to the siding and railings. Let it dry for the required time and your stained redwood deck is ready.
How to Make Red Stain Darker?
A prominent way to make a red stain darker is by using a red or orange dye. You can use a non-grain raising dye or solid dye which is dissolved in water. Dye is good to darken the tone of red stain because it is a more natural form of stain.
Hence, It does not build up color elements on the wood surface but soaks into wood fibers to deeply color it. Also, you can add the solid dye to oil or water red stain to increase the color intensity. However, you need to mix well.
Read More >> How To Stain Wood Darker Color? [3 Ways, 7 Tips, 10 Best]
How to Make Red Stain Lighter?
To make a red stain lighter, if it is a water-based stain, dilute it with water to increase the solvent pigment ratio, thereby lightening it. For oil-based stain, dilute it with boiled linseed oil. You can also use paint thinner like mineral spirits to reduce the color intensity of your red oil wood stains.
Another way to go about it is through color mixing. Green color pigment or green colored dye helps to tone down red stains. Hence, you can add this green pigment to your red wood stain or apply it to the red-stained surface to reduce the tone of the red color.
Read More >> How To Lighten Dark Stained Wood Furniture? – Bleaching And Sanding
How to Make Bright Red Wood Stain?
Just like darkening a red wood stain with a red or orange dye, you can make a sharp bright red wood stain by mixing it with a yellow dye. The more yellow dye you add to the red stain, the more bright red stain you will get.
Another way to go about this is through the use of yellow pigment. However, ensure you get a compatible yellow pigment for your red wood stain.
Also, you should mix some portion of the red stain with the yellow pigment to determine the quantity of yellow pigment needed to get the desired bright red shade.
Best Way to Make Wood Furniture Russian Red?
To make a Russian red, put a little amount of yellow dye in a container and pour the same amount of denatured alcohol through it to dissolve the salt inside the pigment. Then filter it with a cheesecloth.
In another mixing cup, repeat the same process for a red dye and a little brown dye. Add some filtered orange dye to the filtered yellow dye until you get a resultant orange mixture.
After this, depending on the number of brown undertones you want, add in some brown. Test it on your furniture to see how it is. You can add in more brown, red, or yellow dye as you desire.
How to Remove Red Wood Stain?
What Color Cancels Out Red in Wood?
Just like any other wood stain, a paint and varnish chemical stripper can be used to remove the red wood stain. All you need to do is apply the stain stripper to the red-stained surface with a brush, let it sit on it for the recommended time, and use mineral spirits to wipe it off.
However, If you want to naturally cancel out or neutralize a red stain, or add a green pigment or dye to your wood, the red tone greatly reduces and you see more of a dark brown tone. This is because the green color contrasts with the red color on the color wheel.
How to Get Red Stains out of Wood Furniture?
Are you trying to get that red stain off your furniture and re-stain it like a professional with the outlined steps in this article? If you do not want to use the chemical stain stripper explained above, another method of getting red stains out of your furniture is by bleaching it.
You can make some homemade bleaching solutions with materials like baking soda, vinegar, and the like. However, to avoid stress, you can get wood bleach from a local hardware store, use it as recommended, and get that red stain out easily.
Staining Redwood
Still contemplating if you can stain your redwood deck? Redwood has a natural tone of red color. This red color can be darkened, lightened, removed, or stained. So yes, you can stain redwood. And there are different redwood stains available in paint stores.
Does redwood stain well?
You can stain redwood well with a stain, following the process of cleaning, staining and sealing. The best redwood stain is translucent, highly penetrating, water-based stains that eliminate weathering and enhance the beauty of redwood.
However, most often redwood is stained with semi-transparent stains. These stains suit the deep red hue on redwood because they lightly tone it instead of adding color to it. Nevertheless, you can also use stains to change the color of your redwood decks.
Does Redwood Stain Protect Wood?
The natural red stain in redwood is due to the high tannin buildup in redwood plants. These tannins help protect the wood from insect infestation, fire, fungi, and decay. This is why the redwood deck is common. Therefore, yes. The natural red stain in redwood protects the wood.
However, you still need to protect your redwood surface from high impact and mildew seeing that deck is constantly used furniture. Try to get a semi-transparent mildew-resistant finish to provide this protection and heighten the beauty of your redwood.
How Do You Prepare Redwood for Staining?
The type of finish your redwood have on and the type of new stain you want to apply on your redwood will determine how you prepare your redwood for staining. If your redwood table is painted, then you have to first apply a paint stripper, wait for a few minutes scrap it off, then sand to prepare the redwood
If the existing finish is a varnish or wood sealer, the mineral spirit can be used to wipe off the stain, then you wash with mild soap and water. Let it dry and sand. For a bare redwood, just wash the redwood surface with soap and water, and let it dry and sand.
However, if you are working with a redwood deck stain that can work on a bare or stripped surface and doesn't require sanding, all you need to do to prepare your redwood is clean off dust and dirt with a cloth.
How to Stain Redwood Effectively?
Are you trying to revive those old redwood tables by staining them again? To stain your redwood effectively, prepare the wood surface by cleaning it using the stipulated cleaning methods above.
Also, ensure you sand off all scratches, and all rough areas as you sand the whole redwood piece. After this, remove all the sanding dust. Then apply a sanding sealer to prevent tanning bleeds from ruining your staining (optional).
After the sanding sealer is dried. Stir your stain well, then begin to apply along the grain pattern of the wood. Choose a stain that requires just one coat. This helps you prevent wiping the redwood stain, thereby messing up your work.
After this, allow the stained redwood piece to dry. If it will be used outdoor, get a topcoat that will protect the wood from moisture, UV rays, sunlight, mildew, and the like.
What's The Best Finish for Redwood?
The best finish for your redwood depends on varying factors. This is because as an individual is trying to tone down the natural red color of the redwood, another is trying to seal the red color with a good varnish. Hence, for both parties, the best finish will be different.
However, a slightly opaque stain that is semi-transparent is the recommended best finish for your redwood projects. Also, if your redwood is located outdoors, the best finish is a semi-transparent and oil-based stain like an Australian timber oil stain.
Best Redwood Stain for Exterior Deck, Fence – Ready Seal 530 Exterior Stain and Sealer
This is the most preferable redwood deck stain. Hence, if you have not been able to select a stain for your redwood siding, fence, and deck, here is an excellent pick for you. This stain contains a stain and sealer, it is two-in-one. You can easily brush, roll or spray it on your redwood.
This stain is not meant to be thinned, so do not add in a thinner. Also, it cannot penetrate the finished surface, you have to strip off the finish. However, it can be applied at any temperature and doesn't streak or overlap.
Furthermore, with this stain and redwood sealer, you do not have to use a primer and this helps you finish up your staining quickly.
Pros
No priming
Durable
Stains and seals
Doesn't overlap and the streak
Easy to use and clean
Cons
Stripping needed
Long curing time.
FAQs
Can you use food coloring to stain wood?
Just like dyes, food colorings can be used to stain wood. It contains color particles that soak into the wood. Using it to stain kids' wooden toys is good because it is safe and non-toxic.
Do I have to varnish after staining?
Yes, you should. Especially when the applied stain does not contain a sealer. It is good you varnish to protect your wood from water, warps, cracks, and, the likes. It doesn't cover up the color of stained wood because it is a clear coat.
Is it better to oil or varnish wood?
Be it tung oil, or other types of transparent oil, they do the work of varnish on wood. In terms of quality, they have almost the same attributes. However, varnish dries faster than oil, therefore it is better.
Is wood stain better than paint?
None is better than the other because they both have different purposes. Do you want to paint to color seal (paint) your furniture or do you want to color soak (Stain) your furniture? However, for woods, applying stain is better.
Which is better Polycrylic or polyurethane?
Polycrylic is acrylic-based (water) hence, it might not be a totally good top coat for exterior wood. Polyurethane on the other hand is made up of a more toxic but durable material. Hence, your wood project will determine which is better.
Does Minwax stain have polyurethane?
Not all Minwax stains contain polyurethane. However, a particular Minwax stain called polyshade has polyurethane. This type of stain adds color to your wood and seals it at the same time.
Does Redwood look red?
Yes, redwood looks red. The red is always noticeable with a dark brown undertone. This is more of the reason it is called redwood. The sole responsible factor for this red color is high tannic acid in the wood.
Does the dark walnut stain have red in it?
Not at all. Dark walnut stain is a dark brown colored stain, with no bit of red at all. It doesn't even have red undertones. The dark brown hue is only filled with black undertones.
Is redwood waterproof?
No, the natural redwood is not waterproof, the reason clear coats or topcoats are always used is to provide additional protection from moisture and other weather and environmental conditions.
How do you stain pine red?
To really get a red stain on pine, you might have to mix colors to get the exact shade of red you are looking for. However, you need to use a pre-stain wood conditioner to effectively stain your pine red.
Can you use tung oil on Redwood?
Yes, you can. And it is the most perfect oil for finishing redwood. However, because it takes a long time to dry, people tend not to use it. Hence, if you want to use this finishing oil, be patient.
Final Words: What Is The Best Stain for Redwood?
As pinpointed earlier there is no specific best wood stain for redwood. All you are required to do is make a good choice of redwood stain based on what project you are using it for. However, remember semi-transparent wood stain is recommended as the redwood stain.
With all this information, I hope you have learned a few things about redwood, red wood stain, redwood stains, how to apply red wood stain, and the like. Hence, you have no choice but to stain those wood with red stains perfectly.
Have fun with your red color staining!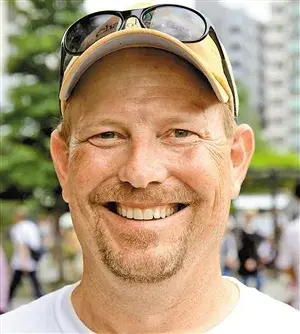 My name is Mark, and I am a software engineer and the founder of OnWoodWorkingArt.
I grew up with a passion for woodworking and now have my woodworking studio with a group of like-minded friends who love to create woodworking. My dream is to have a more extensive workshop and be able to make woodworking my main business.