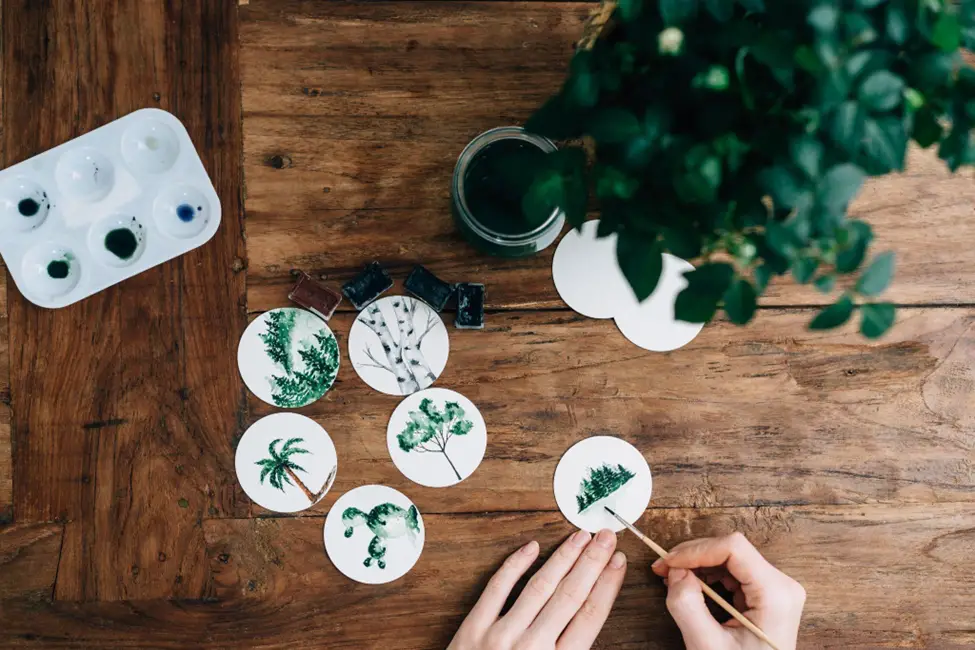 MDF boards offer an excellent opportunity to create beautiful and stylish crafts and projects at home. Not only is it an economical option, but MDF boards also come in a range of sizes, thicknesses, and finishes, so you can pick the one that best suits your project.
This blog post will review some creative DIY MDF board project ideas you can attempt at home. We will also discuss the tools and materials required for each project, giving you a head start as you embark on your crafty journey.
So, get ready to get creative and join us in exploring DIY MDF board project ideas.
1.  MDF Wall Art
Whether you're looking for a unique wall hanging or a personalized gift, MDF wall art is a great way to add a touch of creativity to your home.
So, if you're feeling crafty, check out these creative DIY MDF board project ideas.
Paint a scenic landscape. For a pretty and serene scene, paint a mountainscape or other nature-inspired design on your MDF board. You can even add LED lights behind the painting for a beautiful nighttime scene.
Carve out a geometric design. If you're looking for something a little more modern, try carving out a geometric design on your MDF board. You can use a simple template to help you get started.
Create a word collage. Spell out your favorite word or phrase with colorful letters to create a one-of-a-kind piece of MDF wall art. This is a great project for kids or anyone who loves wordplay.
Make a mosaic. Glue smaller pieces of tile or glass onto your MDF board to create a beautiful mosaic design. This project is perfect for using up leftover tiles from other projects.
Paint a mural. Why not paint an entire mural on your MDF board if you're feeling ambitious? You can use acrylic paints or even spray paint to create your masterpiece.
With a little imagination and painting MDF wood, you can transform a simple piece of MDF into these creative works of art.
2.  DIY Wall Shelves
If you're feeling creative, why not make a unique shelf that reflects your style?
From modern geometric shelves to rustic farmhouse-inspired pieces, there are plenty of creative ways to use MDF boards.
To help start your project, here are some inspiring DIY wall shelf ideas using MDF boards:
●    Floating Shelves
These shelves are perfect for small spaces or areas where you want to make a statement. All you need is an MDF board, some paint or stain, and some brackets.
Cut your MDF board to the desired size and shape, then paint or stain it. Attach the brackets to the wall and then mount your shelves.
●    Hexagon Shelves
These shelves are perfect for displaying collectibles or small plants. To make them, you'll need six pieces of MDF board, some paint or stain, and some brackets or L-braces.
Attach the brackets or L-braces to the back of each hexagon after cutting and painting the board, and then mount them to the wall.
●    Corner Shelves
These shelves are great for maximizing space in small rooms or corners. To make them, you'll need two pieces of MDF board, some paint or stain, and some L-braces.
●    Ladder Shelves
These shelves are perfect for larger spaces or areas where you want to create more storage. To make them, you'll need four pieces of MDF board, some paint or stain, and two ladders.
Cut each MDF board into the desired size and shape, then paint or stain them. Place two ladders against the wall and mount the shelves on top.
●    Pipe Shelves
For an industrial-chic look, make an industrial pipe shelf using MDF boards and galvanized steel pipes. This project requires basic tools such as a miter saw, drill, and screwdriver.
●    Rustic Wood Shelf
Get the farmhouse vibe without breaking the bank by making this rustic wood shelf using MDF boards as the base and unfinished wood planks for the shelves. You can easily customize the size of your shelf according to your needs.
3.  Wooden Planter Boxes
Planter boxes are a great way to add some greenery to your home, and they can be made in any size or shape to fit your space.
However, to make the perfect wooden planter box, it's essential to gather all the necessary materials to make the perfect wooden planter box.
You'll need MDF boards in the size of your choice, wood glue, sandpaper, screws, paint or stain for finishing touches, as well as tools such as a saw and screwdriver.
Once your supplies are ready, it's time to start assembling your wooden planter box!
Start by cutting the MDF board into two equal pieces using a saw or other cutting tool. Then use wood glue to attach the two pieces at the corners and allow them to dry completely before continuing.
Once the glue has dried, use a screwdriver to secure the sides of the box together with the screws. Finally, sand down rough edges before adding a coat of paint or stain for a beautiful finish.
Now your planter box is ready for planting! Simply fill it with soil and choose flowers or herbs that look great in your new home decoration. Displaying these beautiful plants in your planter box will bring life into any room!
4.  Customized Children's Desk
If you've ever been to a furniture store, you know that children's desks can be quite expensive. And if you have children, you know that they grow quickly and their furniture needs will change often. So what's a parent to do?
One great option is to get creative and DIY a children's desk from an MDF board.
To get started, you'll need to decide on the style of desk you'd like to create. You could opt for a traditional wooden desk or something more modern with sleek lines and geometric shapes.
Once you have settled on a design, the next step is to measure and cut the MDF board pieces according to the size and shape of your chosen desk. All pieces must fit together perfectly, so there are no gaps or overlaps when assembling them.
If you don't feel confident about cutting the pieces yourself, plenty of online tutorials can help walk you through the process step-by-step.
The next stage is to assemble the pieces using wood screws and glue. In addition, you could paint or stain the desk in bright colors, add an intricate pattern and decorative elements such as handles or knobs, or even create custom designs with stencils or paints.
You may also try out a painted accent table. Give an old table a new lease on life by painting the MDF top in a bold color or fun pattern. This is a great way to add a pop of personality to any room.
5.  DIY Picture Frame
One of the other creative DIY MDF board project ideas includes making a picture frame.
It's easy to customize your frame's size, shape, and design to match your existing décor. You can also paint or stain the MDF board or even decoupage it with patterned paper. Then simply add your favorite photo and display it proudly.
6.  Custom Headboard
MDF customized headboards are a great way to add a personal touch to your bedroom. Not only can you customize the design with paint and embellishments, but you can also choose from various dimensions and shapes.
MDF board is a great material for headboards because it is lightweight yet sturdy, and its smooth surface makes it easy to paint and prime.
With minimal tools, you can easily construct your headboard for a fraction of the cost of one from a retail store.
Furthermore, the installation process is relatively simple and requires no specialist skills.
7.  DIY Toy Boxes
DIY MDF toy boxes are a great way to store and organize toys stylishly and cost-effectively. To make your own, you will need an MDF board, a saw, sandpaper, glue, and screws.
To start, measure and cut your MDF board pieces to the desired size. Sand down all edges to ensure there are no sharp edges or splinters. Next, glue the pieces together and secure them with screws.
Once the box is assembled, apply a primer layer before painting or staining the box.
Finally, use stencils or freehand designs for personalized decorations. With these easy steps, you can make your own MDF toy box in no time!
Conclusion
You can make many creative and fun projects with the MDF boards. All you will need is just some creative DIY MDF board project ideas.
From turning your MDF board into a wall clock or bookshelf to making a custom door or window frame, you can make just about anything with these boards.
Plus, MDF boards are relatively cheap and easy to work with, making them perfect for a quick project on a budget. So don't hesitate to get creative and start working on your DIY MDF board project today!
FAQs
What is an MDF Board?
MDF Board, also known as medium-density fiberboard, is an engineered wood product with uniform density and a smooth finish. It is made from wood fibers that are glued and compressed together using a combination of heat and pressure.
Is MDF Board Waterproof?
While the board is not waterproof, it can be made waterproof by using sealants and coatings, such as wax, sealer, or lacquer. These sealants and coatings protect the MDF Board from moisture, scratches, stains, and wear and tear.
Is MDF as Strong as Plywood?
Unfortunately, no. Regarding strength, MDF (medium-density fiberboard) and plywood are quite different.
Plywood is generally considered the stronger of the two, as it is composed of several layers of wood glued together.
On the other hand, MDF is made of wood fibers and is less durable and moisture-resistant than plywood.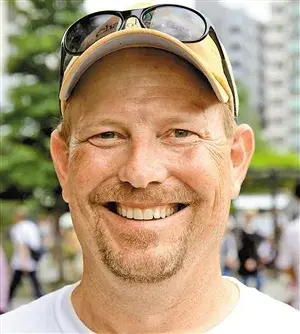 My name is Mark, and I am a software engineer and the founder of OnWoodWorkingArt.
I grew up with a passion for woodworking and now have my woodworking studio with a group of like-minded friends who love to create woodworking. My dream is to have a more extensive workshop and be able to make woodworking my main business.