Have you always wanted to apply stains to your wood furniture but the toxic chemicals in wood stains are keeping you back? Or are you allergic to the chemicals in wood stains, but you would love to stain your coffee table? There is a way out. You can decide to make your own natural wood stains.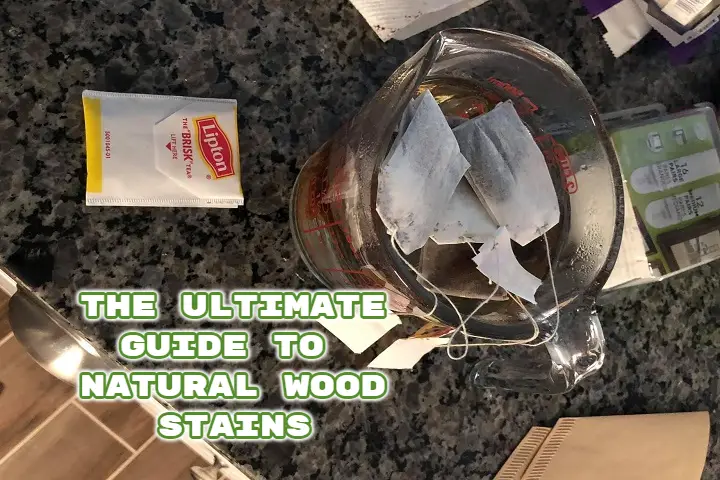 Here's what I know from my own experience:
How to Make Natural Wood Stain?
You can use coffee, tea, vinegar, walnut shells, linseed oil, olive oil, walnut oil, and tung oil to make non-toxic natural wood stains. They have no harmful gases, are eco-friendly, food-safe, and are often used as kitchen furniture stains. With repeated sanding and oiling, the beautiful natural finish will enhance the color and protect the surface of the wood.
This article has explained the different natural materials you can use to make non-toxic wood stains. You will also learn how to apply a natural wood stain, the best 7 natural wood stain reviews, and how to finish wood naturally, among others.
Let's dive in deeper!
Is There a Natural Stain for Wood?
There are a lot of easy-to-get materials you can use to make different shades of natural stain colors. For instance, some materials you need to make DIY wood stains are coffee or tea, white vinegar, rusty nails, steel wool pad, etc.
Therefore, there are natural wood stains for wood, and you can easily make them right in your house, which is the reason they are called homemade wood stains.
These natural wood stains are non-toxic. They do not give off a pungent smell compared to some commercial stains. As a result, they are environmentally friendly and enhance natural living.
Pros
Natural Diy wood stain provides many advantages.
Non-toxic & Eco-friendly
Food safe
Make easy & Low cost
One of these is it is eco-friendly. Using a homemade wood stain enhances the environment and preserves it because it is non-toxic and does not release harmful chemical fumes unlike the oil and water-based manufactured stain.
Furthermore, these homemade stains are made from natural products. Hence, most are food safe and can comfortably be used on kitchen wood furniture and a dining room table.
Also, you can easily make high concentrations or low concentrations of these stains at a low cost. And just like commercial wood stains, natural DIY wood stains can be used on different wood species.
Cons
A peculiar disadvantage of natural DIY wood stain is that it is difficult to produce in very large quantities when working on large wood projects. That is, a homemade wood stain is more suitable to prepare and use on small home woodwork like a coffee table.
Another disadvantage of a natural DIY wood stain is that it is difficult to get a uniform stain color, especially when making them in small quantities.
Also, a natural stain gives different resulting stain colors to wood species. Hence, you need to test it on scrap wood to know the end stain color
Natural Wood Stain Colors
Different natural wood stain colors can be achieved from different natural DIY wood stains. However, these colors appear different on different types of woods. This is more of the reason you need to test your natural stain on scrap wood before usage.
Furthermore, here are some colors you can get from natural stains:
Onion skins natural stains give a pale yellow color.
white vinegar and steel wool give a deep brown color.
For a golden tone gray color, balsamic vinegar and steel wool produce that among others.
Also, to increase the tannins in your wood and make it very dark with a slight black color, tea stain or coffee stain will produce that.
6 Ways to Make Non-toxic Natural Wood Stain?
Tea with Vinegar
A black tea stain is a beautiful wood stain you can apply to your wood.
To make a tea stain, you can use any tea type from black tea to oolong tea to get different colors. Brew some tea in hot water for about 20 minutes and set the hot tea water aside to cool.
Because this deep concentrate will add tannins to your wood, use a white vinegar damped rag to wipe the wood surface to prepare and deeply clean it before applying the tea stain.
Coffee Stain
Staining wood with a coffee stain works fine just like a tea stain. This is because coffee stains also add tannins to your wood instead of staining it. The reason why it is either a coffee or tea stain.
To make a coffee stain, brew a strong coffee for 10 minutes.
To get s darker color, let it brew for an additional 10 minutes. The dark color of the stain is easily seen, you can thin it with warm water to reduce the intensity of the stain color.
Vinegar with Metal
There are different types of vinegar and each gives a distinct color. But for a warm amber hue, white vinegar should be used. The metal could be steel wool or rusty nails. Pour some white vinegar into a glass jar and add in some steel wool or rusty nails.
Leave for some hours or days if you want a darker stain. When you are ready to use it, remove the metal and add a cooled brewed tea and your non-toxic stain is ready.
Walnut Hulls
Yes, you can also make use of walnut hulls to make your DIY wood stain. Although, it could take a relatively long process.
There are two ways to make a natural stain with walnut hulls. The first is dry the walnut hulls before soaking them in water for days to make your stain.
The second method is simply boiling the walnut hulls for about 40 minutes. Let it cool, sieve out the hulls and the dark brown stain is ready.
Beeswax
If the making of the wood finishes earlier discussed is too long, you should try making this natural finish. All you need is a beeswax bar, olive oil, and a glass jar. Pour the olive oil into a boiler and melt the solid beeswax on a low medium heat.
Pour the mixture into a glass jar and let it cool. As it cools, it hardens. Then you can use it on the wood surface. This wood finish can stay for months because it is long-lasting.
Linseed Oil
Linseed oil is a natural finishing oil for your wood. Oils such as linseed oil, olive oil, and the like are known to be deep conditioning oils that can deeply restore and maintain wood surfaces.
Linseed oil can accentuate the original color of the wood. Wood coated with linseed oil has a natural golden-brown luster and can turn slightly yellow over time.
You can make linseed oil by using a hot or cold oil pressing machine or you boil flaxseed in hot water on medium heat until the oil is visible on top.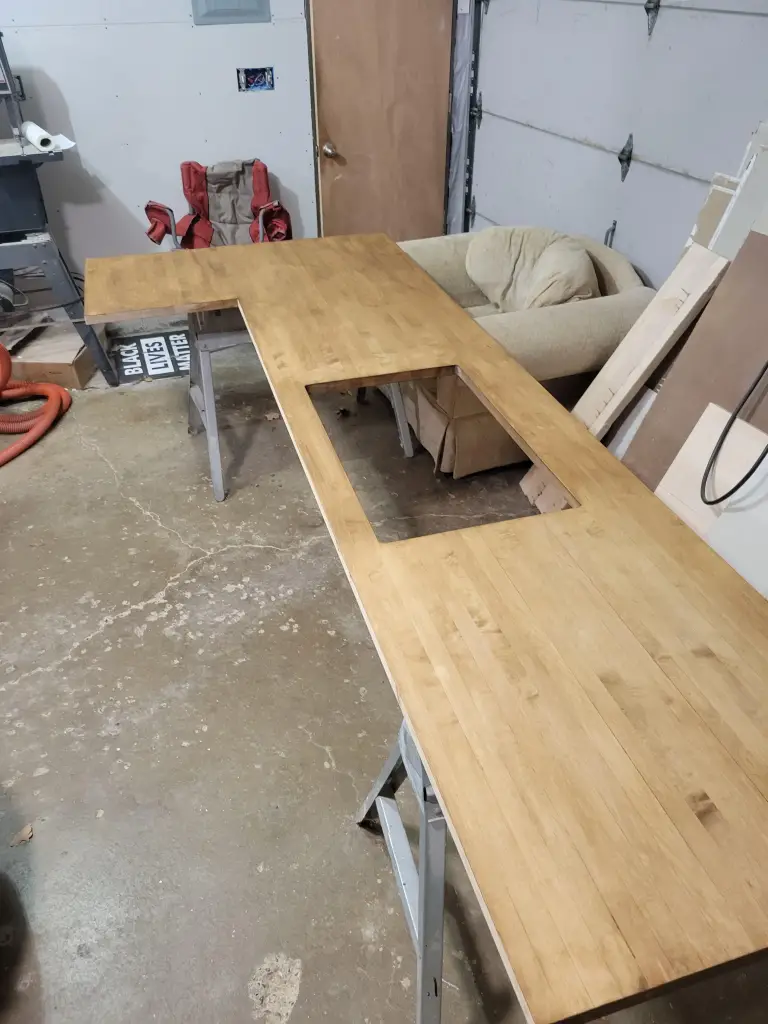 How Do You Finish Wood Naturally?
By the time you are done staining and the stained wood furniture is dry, be it direct sunlight exposed furniture or interior one, it is advisable to use a sealant to seal the stain in. Just like there is a natural stain, there is natural wood finish.
One of which is linseed oil. Linseed oil is not readily preferred because of its long drying time.
However, you can make use of other natural finishes like tung oil, sunflower oil, beeswax, shellac, and walnut oil amongst others. An almost natural quality wood finish you can also utilize is a wax finish.
Tips to Apply Natural Wood Stain
One of the cons of a natural wood stain is that you do not know the exact finished color the concentration of your natural stain will produce. Hence, it is important you use scrap wood to determine this.
Also, note the number of coats you applied before you get your desired color on the scrap wood. You can write it down, including the number of materials you use to make your natural wood stain.
Furthermore, note that your scrap wood type might be different from the wood type of your furniture. Hence, you should test on an inconspicuous spot on your wooden furniture.
Best Natural Wood Stain Reviews
Best Overall – Minwax 22090 Natural Wood Finish Oil-Based Wood Stain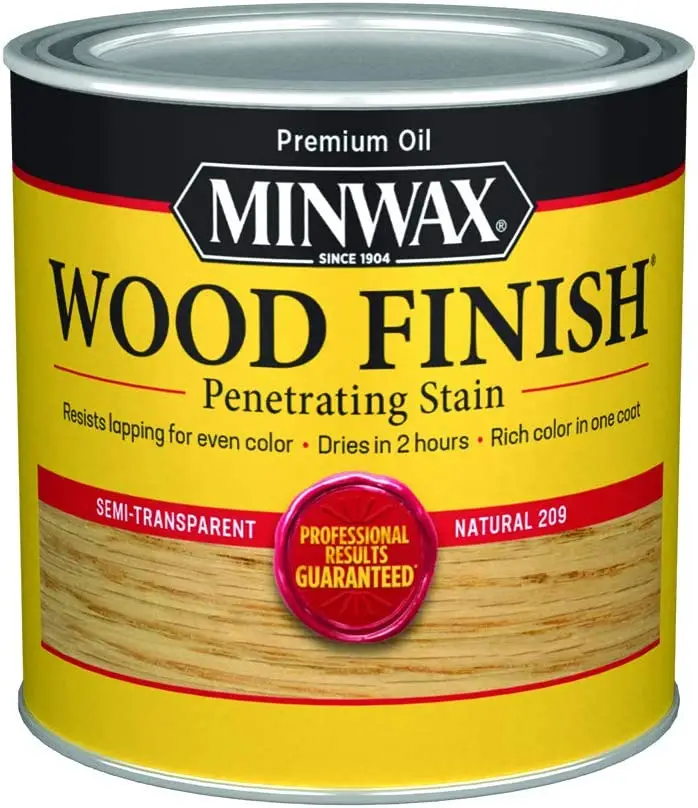 This is an oil-based stain that gives a natural look to the wood. It is a deeply penetrating wood stain that seeps into the pores of wood within 5 minutes of the application. This stain dries quickly within 2 hours, and it gives a deep color with just one coat.
It is a neutral-colored stain. It does not add a particular color to wood, but enhances the natural color of wood with its neutral undertones.
Furthermore, it is easy to apply on wood projects with a clean cloth or brush. Also, this stain is semi-transparent, it highlights the wood grain lightly.
In addition, when applying this wood stain, ensure you remove excess stains within 5 to 15 minutes of stain application to prevent sticky stains that won't dry easily.
Pros
Deep penetration
Quick-drying
Works on unfinished wood
Rich color
Easy to apply
Cons
Interior use only
Contains toxic substances
Best for Interior Furniture, Floors – Rust-Oleum, Natural Varathane 211688H Premium Wood Stain, Quart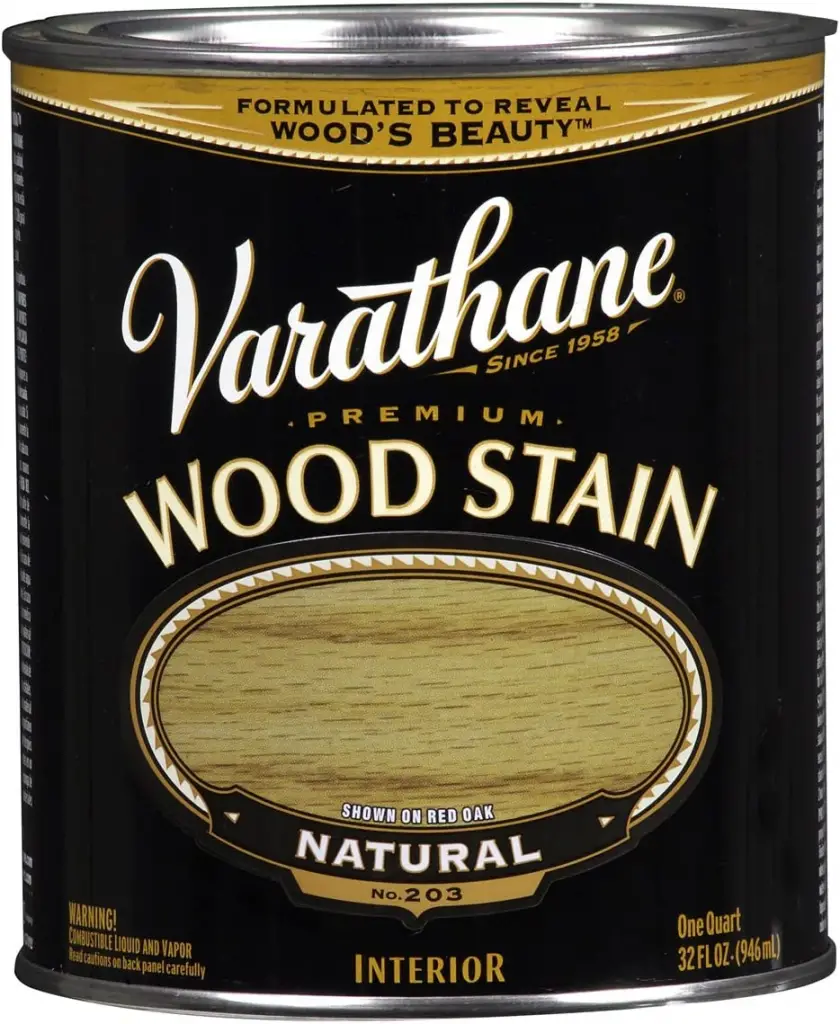 This is an oil-based interior wood stain manufactured by the Rust-Oleum brand. It is not made with the typical linseed oil, but soya oil. Hence, it penetrates deeper into wood pores. It is fast drying and dries to the touch within 60 to 120 minutes. Hence, you can re-coat within a short time.
This stain is enhanced with premium pigments that give a rich color. Hence, this rich color lasts long and does not fade. Also, because of this quality, well-saturated pigments, the problem of constant mixing and stirring is eliminated. All you need to do is mix before use.
In addition, a quart of this oil-based translucent stain can cover up to 150 square feet and is designed to enhance wood grain since it adds no artificial color to wood.
Pros
Richer colors
Non-fade pigments
Deep penetration
1-2 hours re-coating time.
Exceptional grain enhancement.
Cons
For interior use only
Slightly toxic
Best for Exterior – General Finishes Exterior 450 Water Based Wood Stain, 1 Quart, Natural Base
This is a premium quality stain produced by General Finishes. It is water-based and formulated for outdoor wood projects like wood fences, garage doors, etc. One good advantage of any water dissolved wood stain is that it can easily be cleaned up with soap and water.
In addition, this stain contains UV-absorbing substances. Hence, your exterior wood is saved from UV rays. However, because the UV absorbers attract Uv to the stain, the stain color is liable to fade. Hence, you should use a wood sealer that can optimally protect your wood.
Also, this stain is easy to apply with a cloth, brush, or paint sprayer.
However, it is not suitable for horizontal wood surfaces, especially large ones like decks.
Pros
Easy to use
Easy to clean
Uv absorbers
Quality pigments.
Cons
Can easily fade
A sealer is still needed.
Best for Deck, Fence – Cabot Wood Toned Deck & Siding Stain, Gallon, Natural
This is a stain with a natural wood tone color specifically designed for decks and sidings. You can use it as a stain and as a finish because it gives a translucent shiny finish to a wood surface. However, it is advisable to protect your exterior wood with a sealant further.
Furthermore, it has deep penetrating qualities and can protect your deck and siding from rain, dew, snow, and any water damage because the stain is water-repellent.
Apart from this, it also protects wood from other harmful weather conditions like sunlight. It is also mildew-resistant.
This oil-based stain is easy to apply and only one coat is needed. However, it might appear dark when it is first applied but in the long run, the natural tone of the stain gets more visible
Pros
Penetrates deeply
Mildew-resistant
Water repellent
Interior and exterior use
One coat stain.
Cons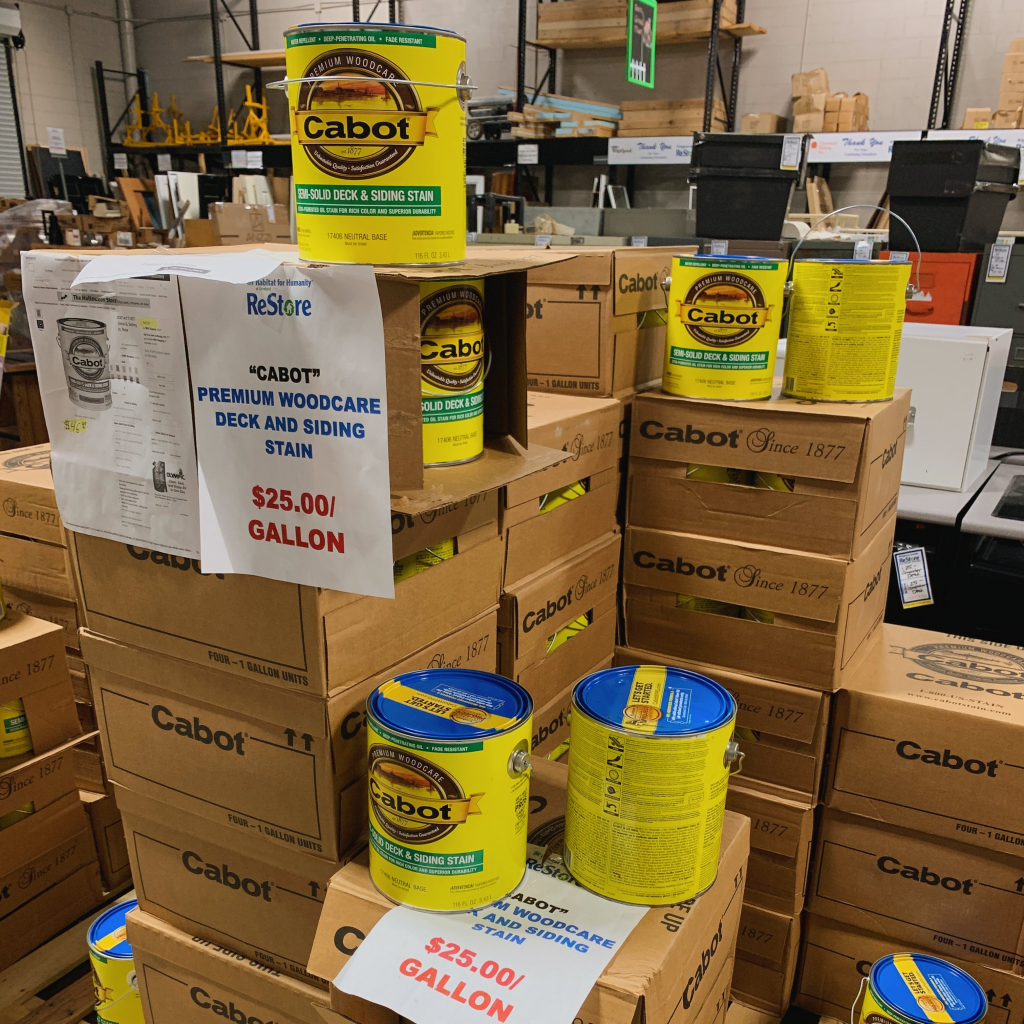 Best for Pressure Treated Wood – DEFY Extreme Semi-Transparent Wood Stain, Natural Pine 5 Gallon
This semi-transparent water-based wood stain is a stain that gives a natural pine color to wood. The pigments of this stain are high-performing because they are enhanced with zinc nano-particles technology. These quality pigments reflect ultraviolet rays which could cause color loss and gray.
Also, this same stain is made up of high-quality resins that penetrate well and are resistant to fading. It gives a natural matte finish to stained surfaces and can be used on vertical and horizontal exterior wooden surfaces like decks, fences, siding, patios, etc.
Furthermore, the stain can is easily applied with a cloth and easily cleaned up with soap and water since it is a water dissolved stain. Also, it contains low volatile organic compounds.
Pros
High Durability
Prevent UV damage
Resistant to fading and graying
Low VOC
Easy to clean
Cons
Slightly toxic
For external use only.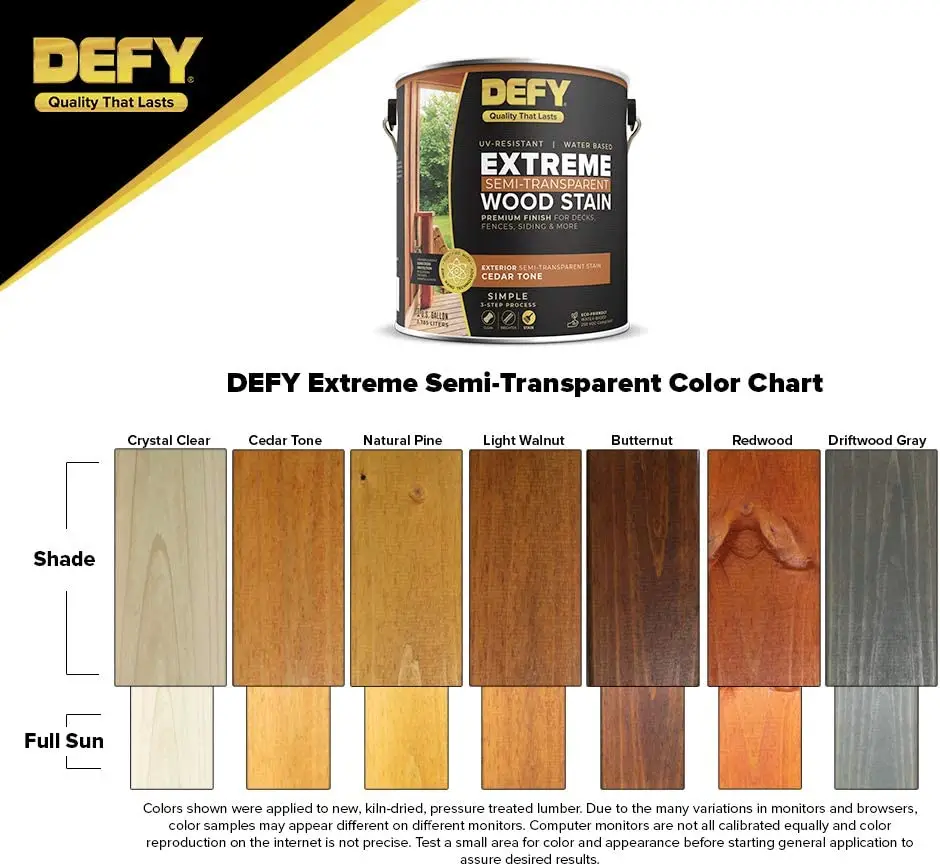 Best for Cabinets, Kitchen – Minwax 71000000 Finish Penetrating Interior Wood Stain, Gallon, Natural
This is an interior deep penetrating oil-based wood stain manufactured by the Minwax brand. Because it penetrates deeply, it gives a rich color and requires only one-coat coverage.
Apart from this, this wood stain seeps into wood pores within 7 minutes and dries fast within two hours.
This special formula stain is easily applied with a clean cloth or a stain brush. Also, endeavor to wipe off excess stains within 15 minutes. This time frame is enough to get a dark color. If you want a deeper color, apply a second coat and ensure you remove the excess stains also from this final coat.
Furthermore, this wood stain enhances the wood grain with its light-colored neutral undertones and gives wood a shiny staining effect.
Pros
Quick-drying
Deep penetration
Easy to apply
Easy to use
Rich color
Cons
Interior use only
Contain toxic substances
Best for Siding, Log Homes – SEAL-ONCE Nano+Poly Wood Sealer & Stain with Polyurethane (Natural)
This is an odorless natural water-based SEAL-ONCE product. It is a two-in-one sealer that also contains water-based polyurethane. Hence, you do not have to go through the time-consuming process of waiting for your stained furniture to dry before sealing it.
Furthermore, this stain provides excellent protection, especially against wear and tear on wood surfaces that are prone to high traffic usage like a deck. Also, this stain and sealant protect exterior wood surfaces from water damage and other damage caused by weather elements. It is easy to clean with soap and water.
In addition, this stain and sealer contain a relatively low amount of Volatile Organic Compounds. Hence, it is user-friendly, pets safe, and does not give off toxic fumes as it dries.
Pros
Very low VOC
Stain and sealant
Easy to clean
Odorless
Protects from UV rays
Easy to use.
Con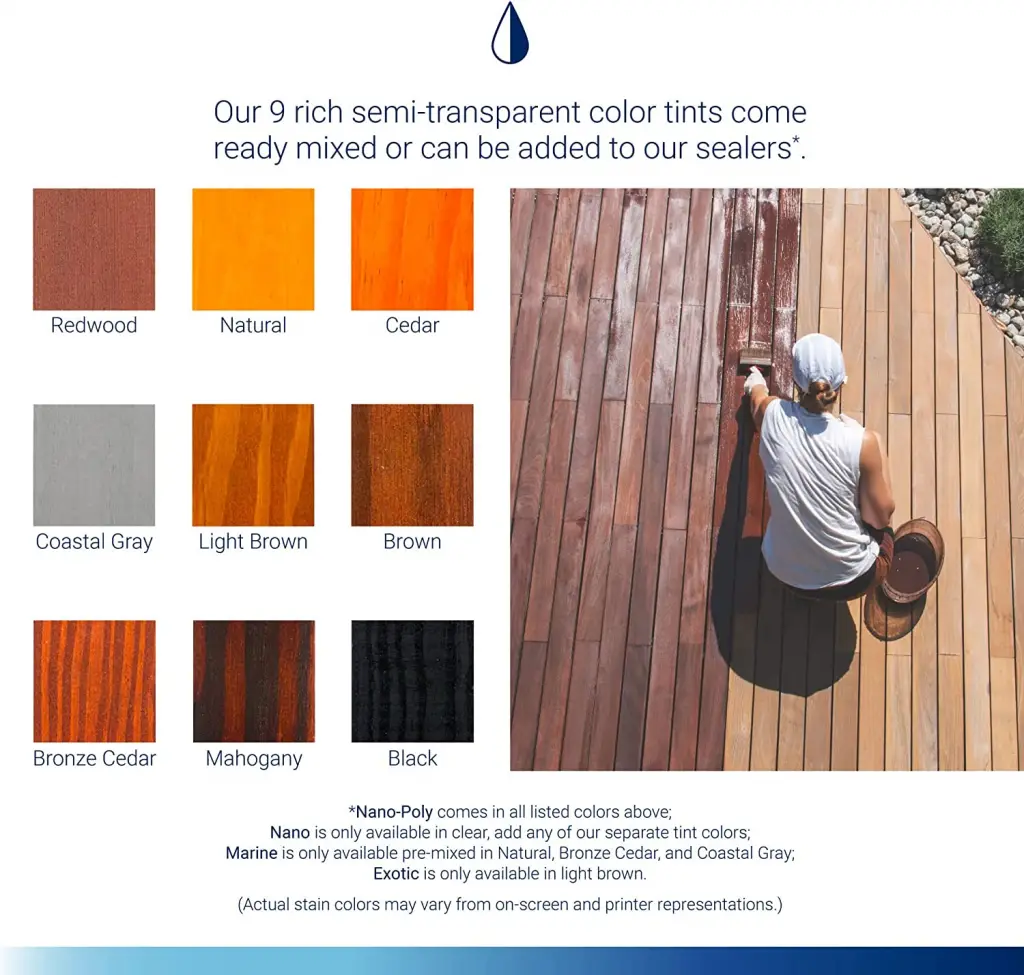 Final Words
There is nothing as serene as safety. Therefore, if you are thinking of abstaining from using non-safe commercial wood stains, it is a good idea. The different types of natural water and oil-based wood stains you can produce yourself at home have been discussed above.
You can produce your natural stain first in small quantities and test it on scrap wood before using it on your wood projects. However, if you do not want to go through the stress of making a natural stain, you can choose many commercially made natural stains with very low toxic substances.
Make your choice and stain your wood perfectly following the right guidelines.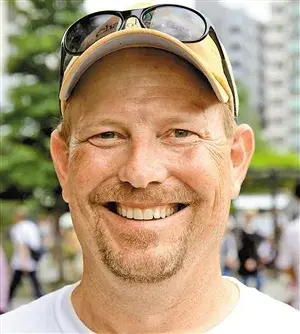 My name is Mark, and I am a software engineer and the founder of OnWoodWorkingArt.
I grew up with a passion for woodworking and now have my woodworking studio with a group of like-minded friends who love to create woodworking. My dream is to have a more extensive workshop and be able to make woodworking my main business.