A beautiful fence speaks a lot about your property, especially when the fence is stained with colors that complement the stained colors of your property's sidings and decks. Are you planning on staining your new wood-made fence, or do you want to give your old fence boards a new look? That's a good idea.
With the guidelines provided in this article, you will learn about a good stain for wood-made fences and how to apply wood fence stain. Also, the best stain for a fence and what to consider before choosing the best stain for a wood fence will be discussed.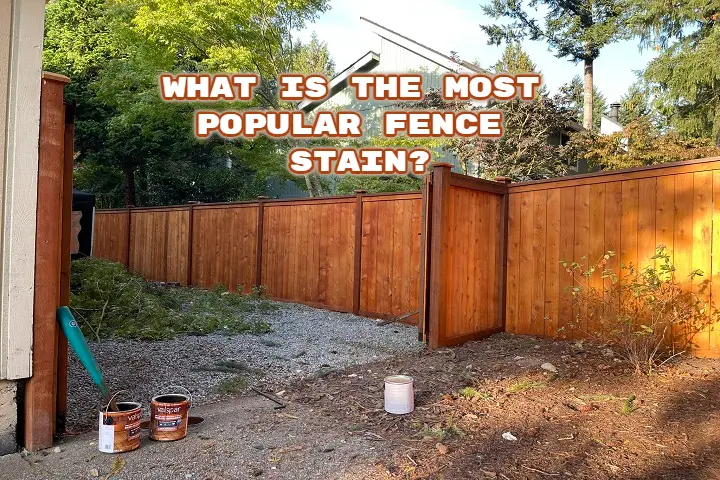 I have researched and here's what I've found:
Keep reading to learn more!
Staining vs. Painting Wood Fence
Staining has always been a great option for wood generally. Apart from the fact that a fence stain color enhances the beauty of the wood, a wooden fence stain also offers protection for your fence.
Painting is also good for your fence, especially when the current condition of your fence is bad or there are lots of imperfections on the wooden fence. However, staining is much better on your fence compared to painting.
This is because, while fence stains penetrate wood fences to enhance their natural look, paints cover up your wood's natural features.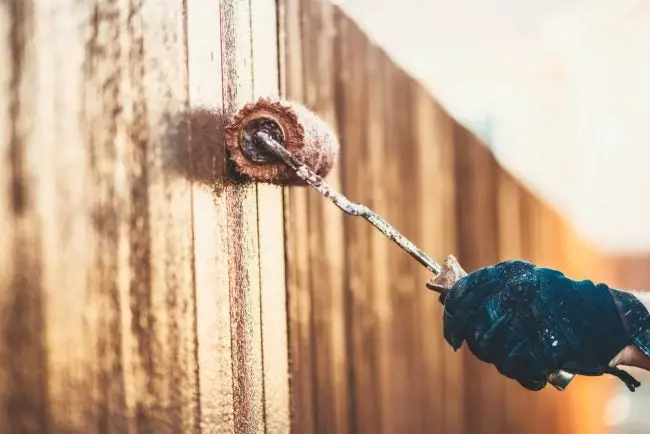 Benefits of Staining Your Wood Fence
Using the best fence stain on your wooden fence has many benefits:
Mold, moisture resistant
Resistant to sunlight and UV rays
Durable
Protects natural wood color
Enhances the appearance of wood grain
Wide selection of colors is available
One of which is moisture resistance. A good stain for a fence has waterproofing features that enable it to adequately protect your fence from moisture, leading to wood rot.
Other benefits you derive from staining your fence with the best fence wood stain are durability, resistance to mold and mildew, and resistance to weather elements like the sun and UV rays.
Apart from all these, staining with a wood fence stain produces a beautiful fence with enhanced wood grain. Also, there are different fence stain color options to choose from.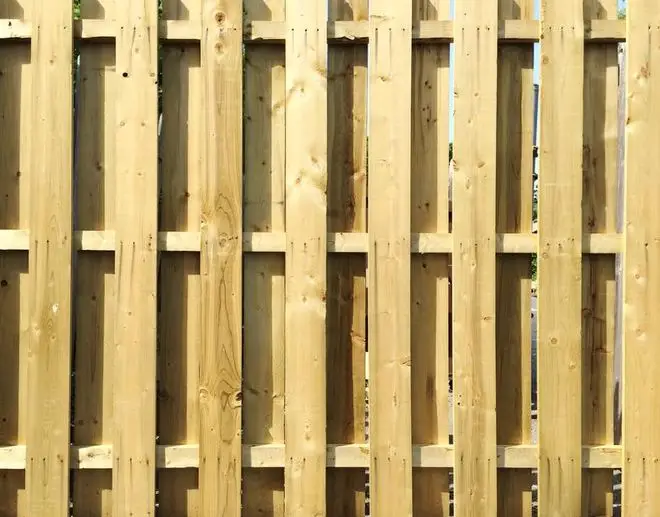 What Happens if You Don't Stain Your Fence?
When you do not stain your fence, you expose the fence boards to constant moisture from rain, dew, fog, high humidity, and snow. And because there is no protective covering to provide waterproofing, your fence keeps expanding and retracting to absorb moisture.
This process could lead to cracking that breaks fence boards. Apart from cracking, exposure to water can increase the activities of fungi causing mold and mildew, which can quickly rot your wooden fence.
Also, when you do not provide staining protection for your wooden fence, you expose it to UV rays and sun, which hasten the weathering of your fence, making it less durable.
How to Stain a Wood Fence to Get a New Look?
An exterior wood like a deck, fence, and the like requires utmost care due to their constant exposure to weather elements. One beautiful way to protect your exterior fence is by staining it. However, ensure the recommended 50°F – 90°F external temperatures and 40 – 70% relative humidity are adhered to.
Staining in higher or lower temperatures could give a bad staining result. Below are the tools and methods to staining your old fence to get a fence with a new look.
Tools You Need
Painter's tape
Wood bleach
Garden sprayer
Wood stain stripper
Power washer
Wood filler
Sandpaper and Power sander
Fence stain
Brush, roller or sprayer, etc.
Steps to Apply Stain to Wood Fence
Applying stain to your exterior wood is quite easy and can be done in a day if you work with the best fence stain that is quick drying. The only precaution is staining within the recommended temperatures.
Also, check the weather forecast to ensure there will be no rain, fog, or dew in the next 6 hours after staining to prevent lap marks, sticky stains, or washed-off stains.
Here are the four steps to follow:
Wood preparation
Correcting Fence Imperfections
Apply the fence stain
Seal the fence
Wood Preparation
Use a finish or stain stripper to remove the finish for finished woods. After this, clean your fence with a power washer or high-pressure washer and let it dry. Sprinkle water on your fence, if the water beads, your fence is not dry. Allow the fence to dry then lightly sand it.
Correcting Fence Imperfections
If you spot mold or mildew, apply a wood bleach with a garden sprayer following the manufacturer's recommended time, rinse off with water from a nozzle sprayer, and let the fence dry.
Also, use a wood filler to fill dents, other imperfections, and lightly sand.
Apply the Fence Stain
After covering nearby plants with drop cloths, you can apply your fence stain with a roller, brush, or sprayer, whichever you are convenient with. Apply an even coat of fence stain to ensure a uniform appearance. To prevent lap marks, work on small sections per time. If you desire, you can apply a second coat.
Seal The Fence
Finally, after ensuring a uniform appearance by allowing each even coat of fence stain to dry before applying another, you should give your fence extra protection by sealing it.
However, select the best fence stain that contains a sealer to avoid this process.
How Long Does Stain Need to Dry on Fence before Rain?
One of the major concerns of staining an exterior wood is rainfall after staining. Rainfall is not a problem for interior wood because there is structural coverage.
Hence, it is always advised to work with information on weather forecasts when staining an exterior wood to prevent rainwater from disrupting the stained surface.
It is generally recommended for the stain to dry on the exterior wood surface for 24 hours before rainfall.
Nevertheless, if you are working with the best quick-drying fence stain, under required staining temperatures and humidity, 7 to 8 hours of complete dry time before rainfall is enough.
How Many Coats of Stain Should I Use on Your fence?
The number of coats of stain needed on your fence is determined by the type of fence stain you are using and the hue intensity you want to achieve on your fence.
Usually, fences need 1-3 coats of stain.
A fence stain might require just one coat of coverage while another might need more than one coat.
Nevertheless, if you are working with a fence stain that requires one coat and did not achieve your desired stain color with the one coat, you can add another layer of coat. However, 2 to 3 coats of fence stains should be enough for your fence.
How Long Does a Stain Last on a Fence?
The long-lasting feature of a stain applied on your wood fence is relative and typically lasts 2-4 years. This is because different brands of fence stains have different durability qualities. Hence, a fence stain might last for 4 years while another might only last for 2 years.
Also, the level of weather elements exposed to fence stains can reduce the number of years they will last. However, inspecting your fence every 2 years for mold, mildew, and rot is advisable. And also re-apply fence stains every 3 to 4 years.
Best Time to Stain a Fence
Be it indoor or outdoor furniture, the recommended staining temperature is within 50 degrees Fahrenheit and 90 degrees Fahrenheit and 40 to 70 percent of relative humidity.
These atmospheric conditions signify the best time to stain a fence. Nevertheless, fence stains work well at low or any temperature.
In addition, another factor to consider in choosing the best time to stain your fence is rainfall.
Do not stain when it has been forecast that there will be rainfall or any other forms of precipitation within the next 6 to 8 hours after staining. These 3 factors highlighted determine the best stain time for your fence.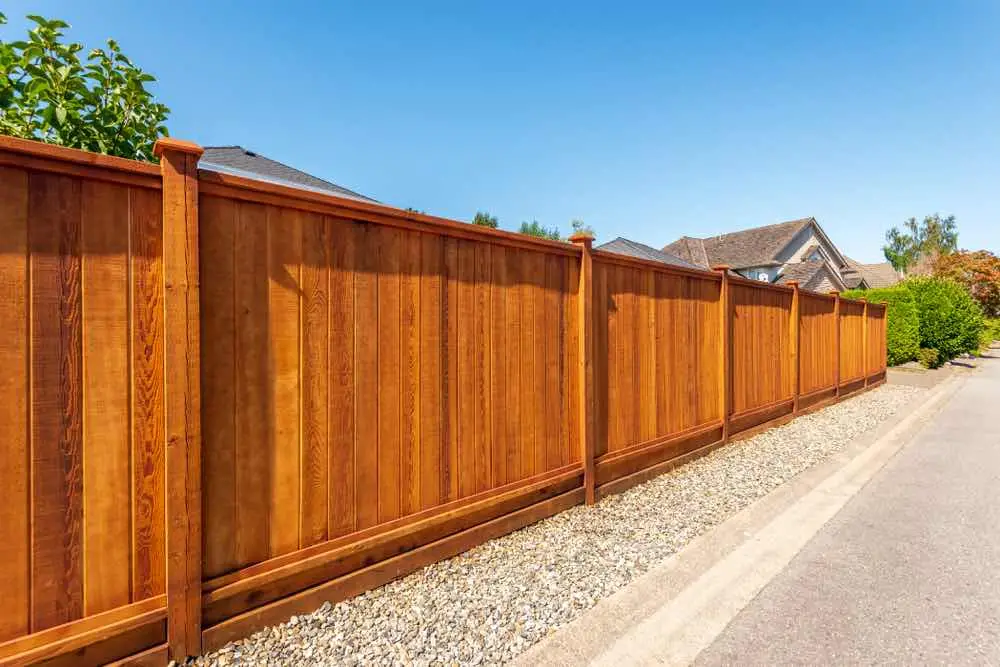 Stain Fence before or after Assembly
Staining a fence before assembly is often rare especially when a fence is made with pressure-treated wood. This is because a wet treated wood cannot be stained until it is dry.
Also, applying stain to fence boards before assembly could be stressful because the stained fence slats could chip off during assembly thereby a double staining time might be required.
If you are thinking of not reaching the inner edges that are in contact with the ground, you do not have to worry. Because most fence woods are treated woods. Hence, they can withstand rot and insect infestation.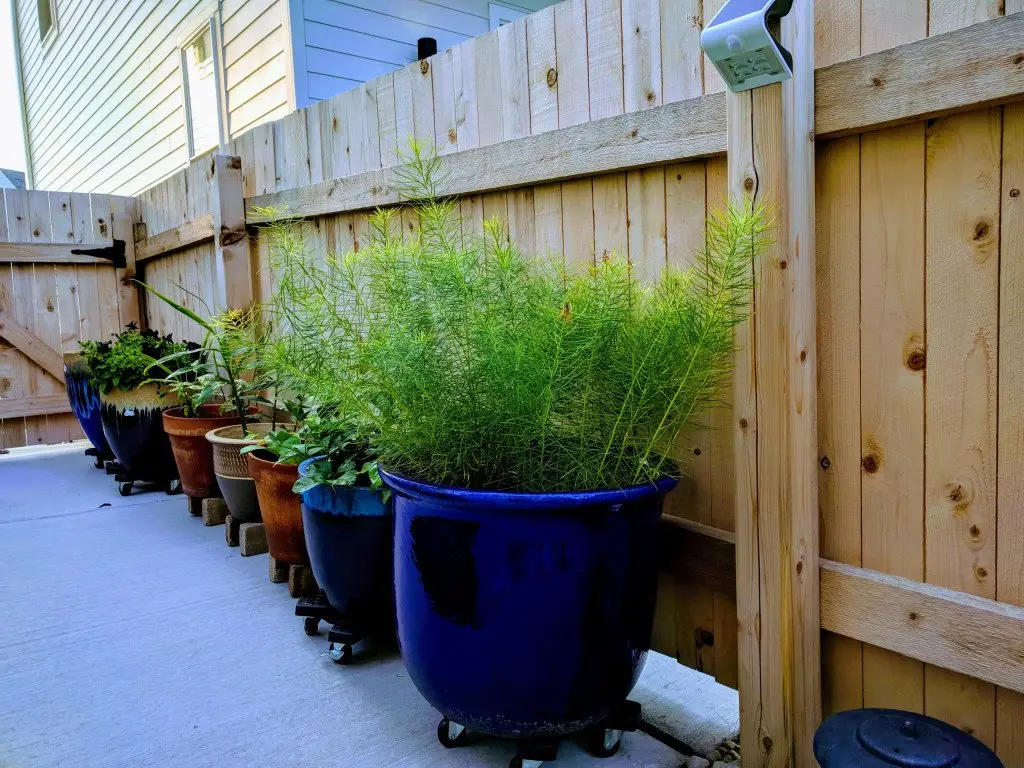 What to Consider Before Choosing the Best Fence Stain
Wood Type
The current condition of your wood and the wood species will determine what best stain for fence you should consider buying. If your fence wood is old with unsightly marks and other imperfections, you should select a semi-solid or solid fence stain that can cover up those marks.
Also, if your fence is made with diffuse-porous wood like pine, it is better to use a pre-stain wood conditioner and also select a rich color quick-drying stain to prevent botching.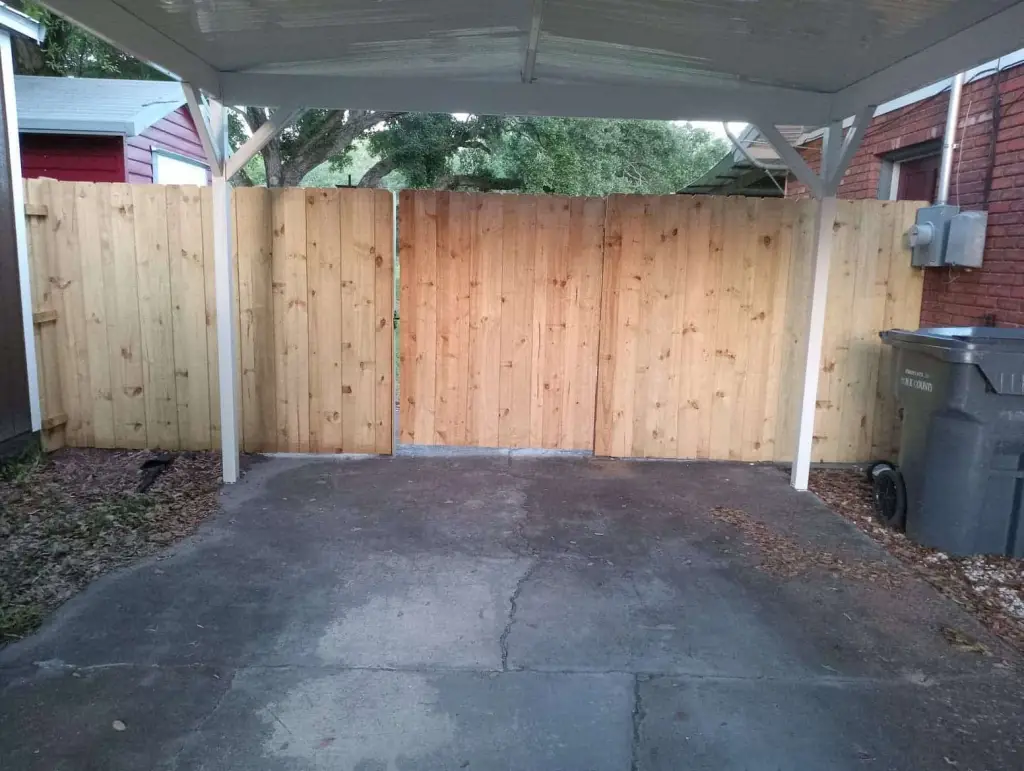 Oil-based or Water-based Wood Stain
Most DIY woodworkers often select oil-based stains because it is always believed that oil-based stains are more durable than water-based stains. This is not true because some water-based stains are more durable and high-performing than oil-based ones.
The factor you should consider before making your choice between water and oil-based stains is the level of volatile organic compounds they have to prevent you from over-exposure to harmful chemicals.
Appearance, Opacity
Are you working on a cedar fence and you do not want to use a commercial cedar fence stain or do you want to preserve the natural color of your cedar fence without adding any extra color tone using a cedar fence stain?
Then you should select a clear fence stain that reveals the natural stain color of your cedar fence. If you want to reveal the wood grain slightly, you should choose a semi-transparent stain. Hence, the level of opacity you desire will determine the best stain for your fence.
Sealing and Waterproofing
Seeing that exterior wood is always exposed to harsh weather conditions it is important to use a fence stain that can seal it and provide waterproofing features. However, it is good to note that not all fence stains have this quality.
Therefore, in selecting the best fence stain, consider the functions of such stain.
Also, because of unpredictable weather conditions, it is good to hasten your fence's staining and finishing process by choosing a stain that contains a sealer.
Resistant to Mildew, Rot
Some fence woods are treated to prevent insect infestations and decay because they always contact ground moisture. Nevertheless, if your fence is under a tree, it is necessary to choose the best fence stain that will provide additional protection from fungi-causing mold and mildew.
Also, you should specifically choose rot-resistant fence stains that can protect your fence from wood-eating fungi.
Environmentally Friendly & People Friendly
We have to preserve the ecosystem and our immediate environment as humans. We can do this by choosing environmentally friendly fence stains. Fence stains with little or no amount of volatile organic substances and other people and environmentally harmful chemicals should be chosen.
Some fence stains contain no toxic substances and are human and pet safe. Such types of stains should be considered and selected to protect ourselves and our environment.
Ease of Use
Another important factor to consider when choosing the best stain for your fence is the easy application of the stain. Many a time, many durable stains are complained of as not durable because of bad staining results. Meanwhile, the stains are durable, but their application requires technical know-how.
Hence, to avoid a stressful stain application, select an easy-to-use fence stain to enhance the uniform appearance of the stain on your fence.
How to Choose The Best Fence Stain Color?
Choosing the best fence stain color for your fence should not be difficult. All you need to do is to consider certain factors like surrounding colors, fence preference, and neighborhood among others. Your fence preference determines the stain color you can choose.
To create a contemporary look with your fence, gray stain color or a blue one will effectively create that look. For a ranch fence, a deep brown colored stain or a darker stain color is more suitable.
However, it is better to consider surrounding colors like the colors of your patios, siding shed, and deck before choosing a complementing fence stain color.
Your fence stain color should add to the beauty of your property.
In addition, you might select a fence stain color that can accentuate a particular part of your property that you want to draw attention to. Select a complementing fence stain color and not a contrasting one.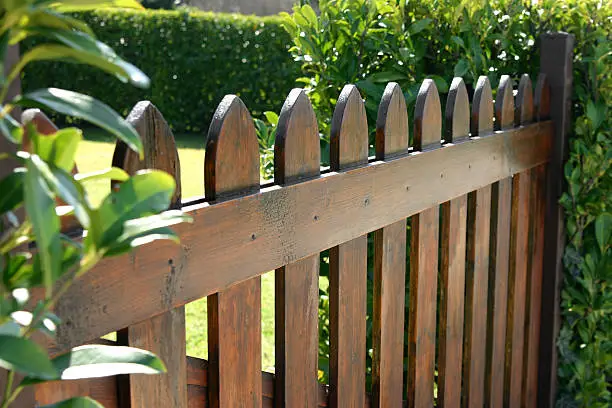 Best Stain for Wood Fence
Deck Premium Wood Fence Stain And Sealer – Best Overall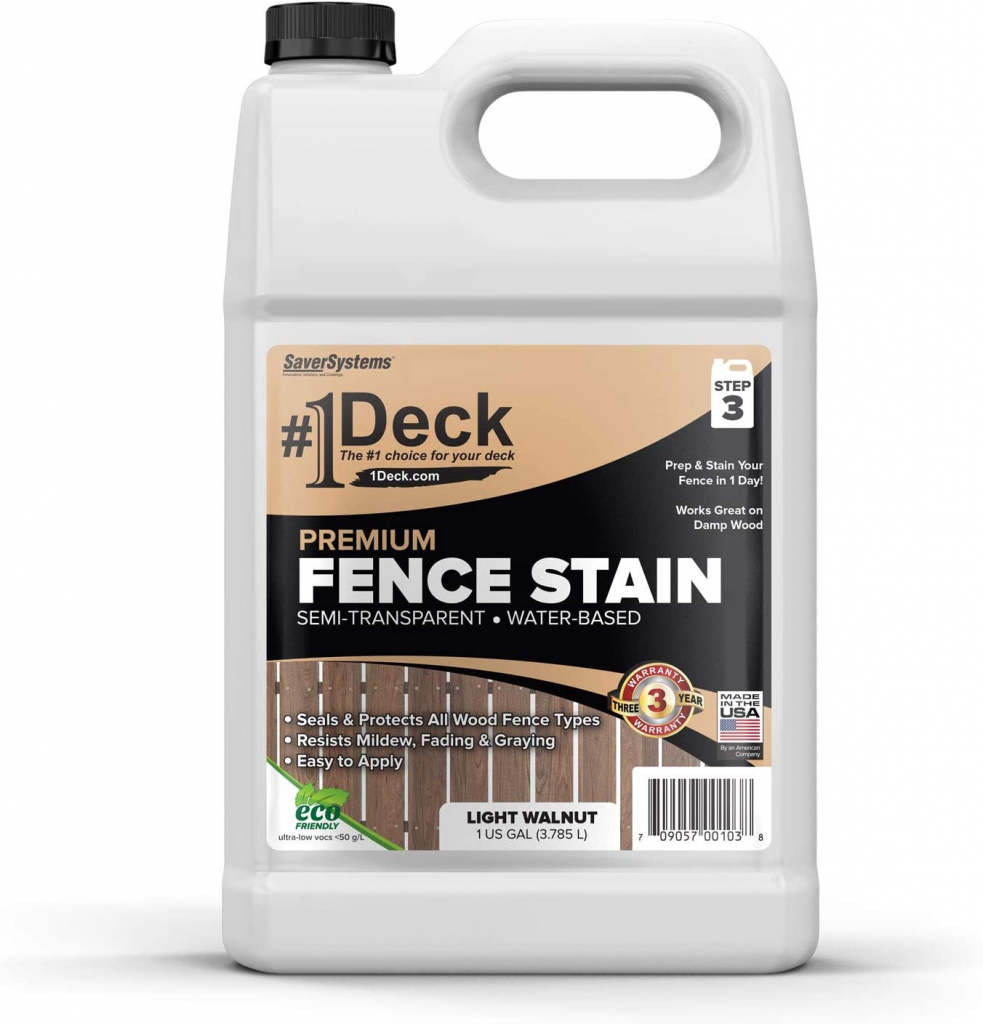 This is one of the best fence stains. It is a water-based semi-transparent stain designed for exterior use. It deeply penetrates the wood pores and enhances the wood grain. It is made from high-quality materials hence, it is long-lasting and provides optimal protection from ultraviolet rays and any form of environmental precipitation.
Also, because it is a water-based wood stain, it is easy to apply and can easily be cleaned with soap and water. This fence stain contains a low amount of toxic chemicals. Hence, it is more environmentally friendly and pets safe. Furthermore, this fence stain contains wood sealing properties. Hence, you seal as you stain.
In addition, this fence stain can be applied with a roller, sprayer, or brush and is suitable for any wood species, and fence type, whether treated or not.
Pros
Easy to apply
Suitable on any wood type
Protect from UV rays
Water protectant.
Stain plus sealer.
Cons
DEFY Extreme Semi-Transparent Wood Stain – Best for Pressure Treated Wood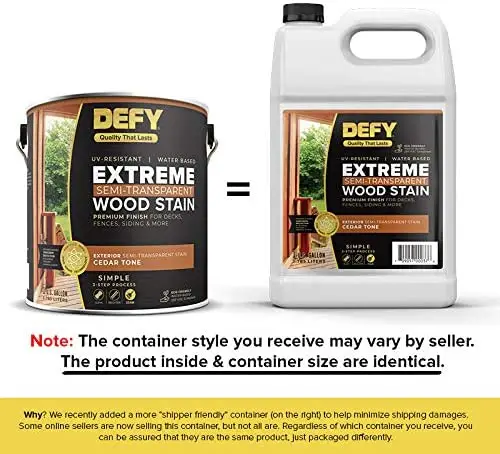 This is another water-based semi-transparent stain made by DEFY. It gives a natural cedar tone to your fence and a natural matte finish. It is not only suitable for a fence but can also be used on patios, decks, sidings, playsets, and other exterior wooden surfaces. Also, It reveals the wood grain beautifully.
Furthermore, this fence stain has high-performing pigments that are enhanced with zinc nano-particles technology. Hence, these stain pigments provide a deep and rich stain color to your fence. Apart from this, the pigments send back harmful UV rays to the environment. Hence, they maintain their color for a long time.
In addition, this exterior fence stain is easy to apply with a brush, roller, or sprayer, it is easy to maintain and less toxic because it contains relatively low volatile organic compounds.
Pros
Resistant to fading
Last long
High-quality color pigments
Low VOC
Easy to clean
Cons
No sealant
Non-water resistant
Ready Seal 512 5-Gallon Pail Natural Cedar Exterior Stain and Sealer for Wood – Best for Cedar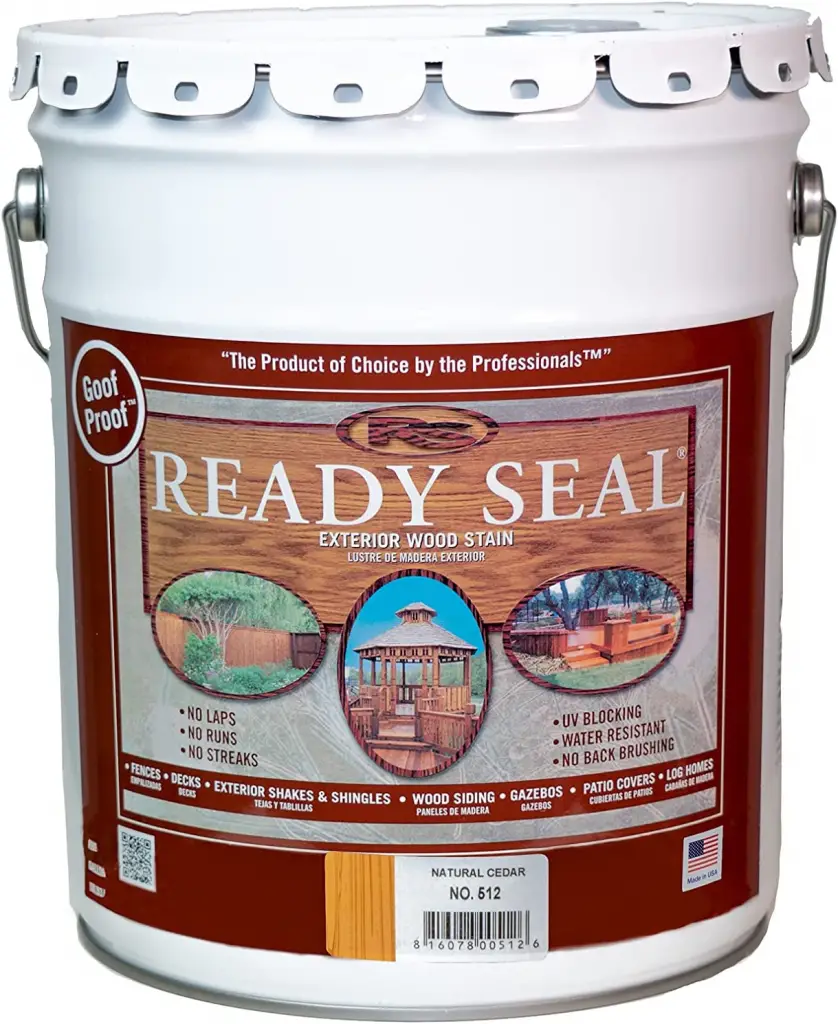 This oil-based stain and sealer is formulated for exterior use and easily applied with a sprayer, roller, or brush. One major benefit of using this exterior stain is that you can make use of it under any degree of atmospheric temperature because it has a self-blending quality.
Furthermore, you do not have to go through back-brushing stress when applying this stain with a roller because it does not streak, run or leave lap marks. Also, if you will be using a sprayer, you do not need to dilute or thin it because it is easily sprayed without thinning.
Also, this fence stain is easy to maintain and has a short re-coating period of 45 minutes. However, it requires a long drying time of at least 48 hours.
Pros
Any temperature usage
Self-blending
No primer
No back brushing
Easy to apply.
Cons
14 days true color appearance
Contains VOC
Wood Defender Semi-transparent Fence Stain SIERRA – Best for UV Protection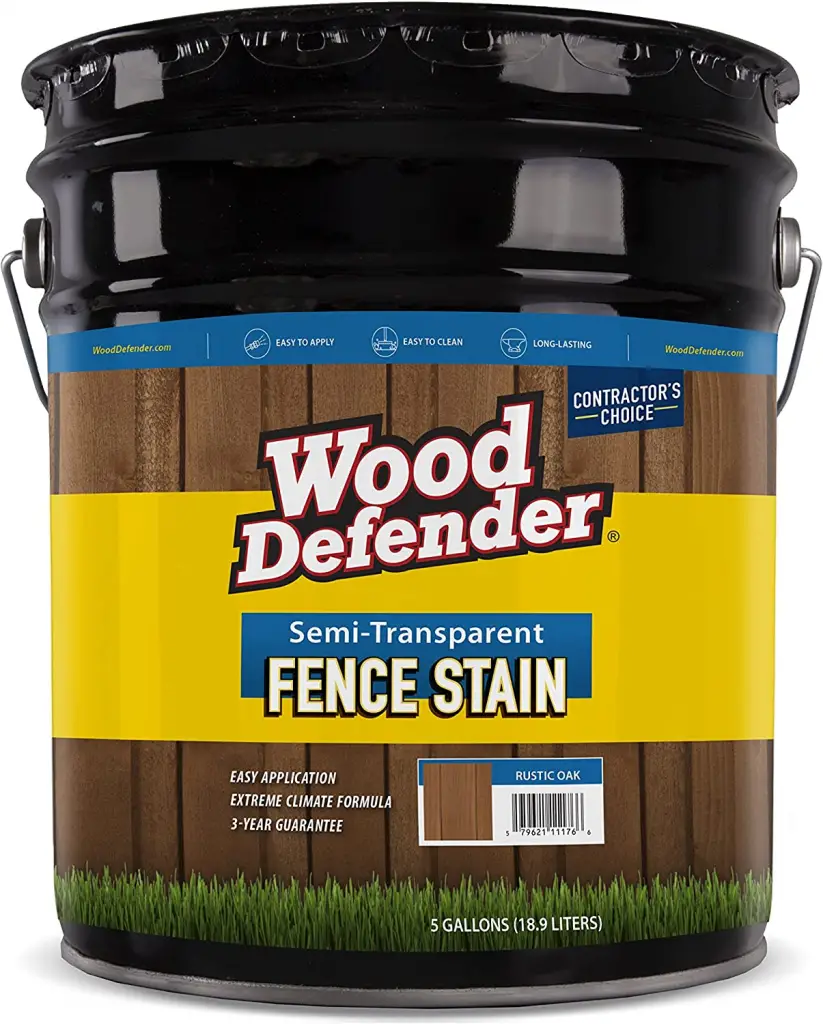 This is a sierra colored semi-transparent best fence stain designed for use on a vertical wood surface like a fence. Using the opaque pigmentation method, this semi-transparent stain designated by the wood defender brand is fortified with unique stain pigments. Hence, the pigments provide a good stained fence.
Furthermore, the opaque pigmentation of this fence stain enables it to protect your fence from damaging UV rays. Hence, it provides excellent UV protection. Apart from this, you can easily apply this stain with a stain brush, roller, or sprayer. However, ensure low and even pressure when spraying.
Furthermore, because of the unique pigments of this stain, a little stain goes a long way to give increased coverage. Thereby, reducing cost.
Pros
UV protection
High-performing pigmentation
Easy application
Increased coverage
One-coat-coverage
Cons
No waterproofing quality
No sealer
Wood Defender Transparent Fence Stain OXFORD BROWN – Best for Brown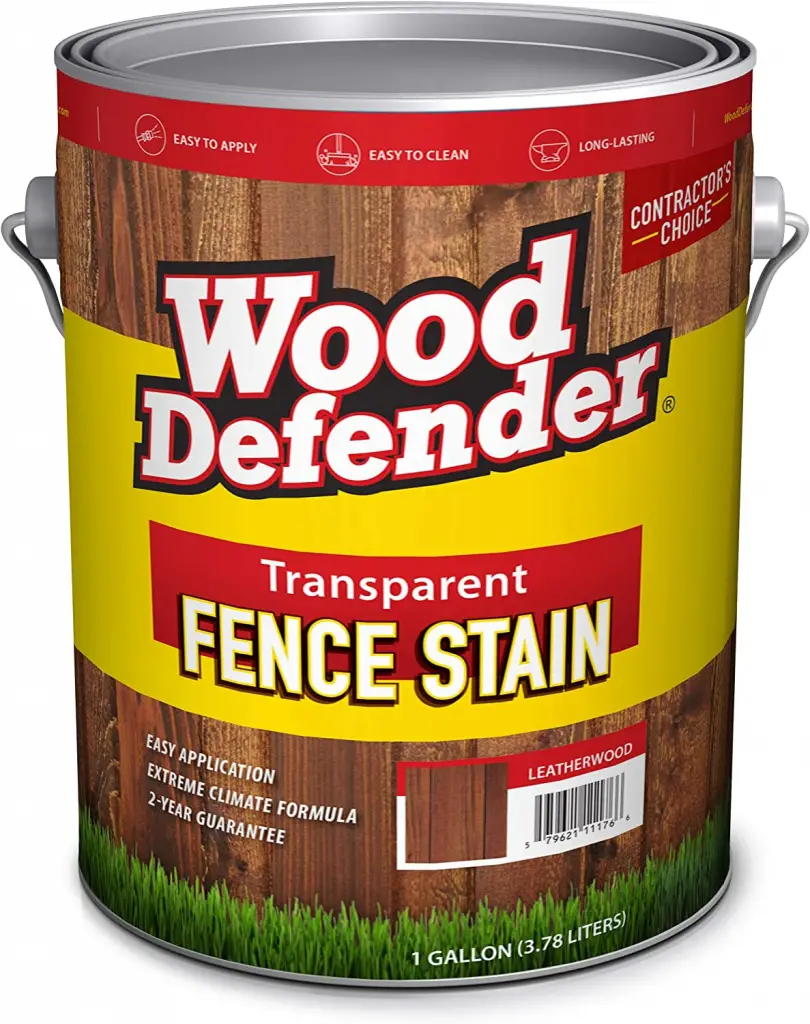 This is another best fence stain manufactured by the wood defender brand. It is a transparent stain that gives a deep brown tone to your wood fence. This stain also utilizes unique pigmentation, it is infused with ultra-fine trans oxide pigments. That is, these pigments are grounded so thin and fine.
As a result, the pigments don't absorb UV rays but reflect them, protecting your fence from harmful ultraviolet rays.
Also, these high-performing ultra-oxide pigments help to highlight all the grain of your new wood fence. Furthermore, this stain is recommended on new woods that do not need solid color stain covering.
However, it is not paint, therefore it should not be used on a concrete fence or other fence surfaces and you can easily apply it to your wood fence with a sprayer, brush, or roller.
Pros
Uv rays protection
High performing pigments
Enhance wood grain
Suitable for new wood
Easy application
Cons
For fence only
No sealer
No waterproofing feature.
KILZ Waterproofing Wood Stain, Exterior – Best for Redwood
This semi-transparent exterior wood stain is designed for use on outdoor surfaces like decks, fences, and patios. It gives a natural redwood color tone to your wood fence. It is one of the best fence stains you can purchase due to its many functions. It has a waterproofing quality, hence your wood is protected from cracking.
Also, it protects exterior wooden furniture from damage caused by sunlight and it has a 5-year lasting warranty on wooden fences. This stain is suitable for both weathered and new woods. However, the weathering process should be within 10 years and the new wood should be stripped of its existing finish before usage.
Furthermore, this easy to use acrylic-based exterior stain gives an extended coat coverage of 250 square feet and offers a lasting protection
Pros
Waterproof
Prevent Uv damage
Suitable for different exterior surfaces
Mildew resistant
Low-temperature usage.
Cons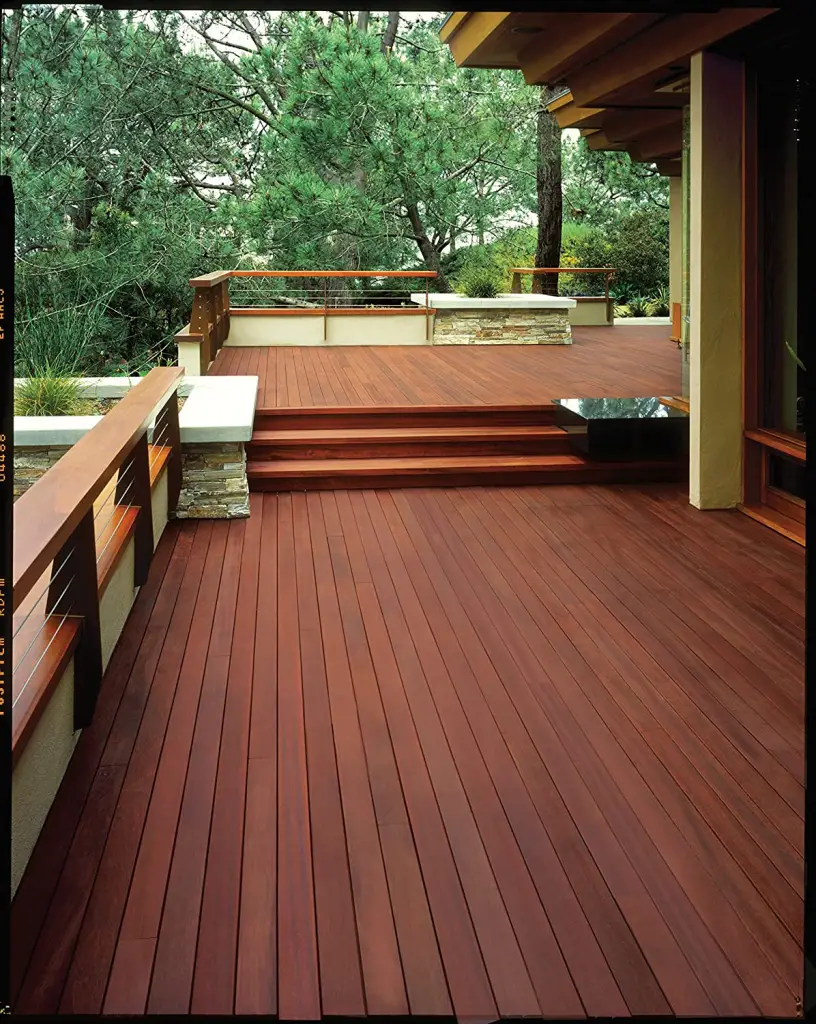 General Finishes Exterior 450 Wood Stain – Best Water-based for Cedar
This is a natural cedar color water-based stain made by General Finishes brand. It is a high-quality pigmented exterior stain suitable only for vertical exterior surfaces like fences, garage doors, and the like. Hence it is not good enough to be used on a deck, because the deck's surface is horizontal.
Also, because it is water-based, it contains relatively low VOC, it is easily cleaned with water and soap and can be applied with a brush, roller, or sprayer. This exterior stain contains UV absorbers that protect your wood stain from UV damage. But, these absorbers do not provide sun protection for the wood.
In addition, this stain is recommended for use on interior furniture also. However, additional wood sealer protection is required.
Pros
Durability
Both interior and exterior usage
Uv absorbers
Easy to apply
Easy to clean
Cons
Not suitable for horizontal surfaces
Contains no sealant
Non-waterproof.
Seal-Once Marine Premium Wood Waterproof Sealant – Best for Pump Sprayer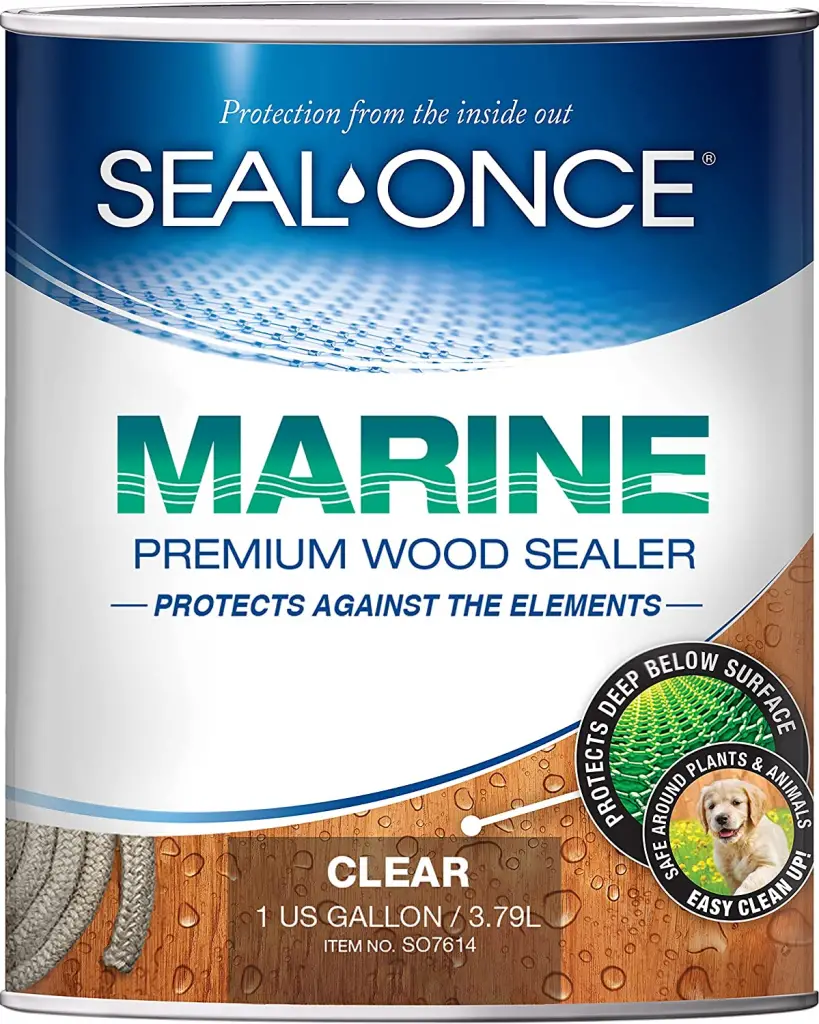 This marine premium wood sealer is another best fence stain on the market. The Seal-Once brand designs it. It has many great qualities that provide maximum protection for all forms of exterior wood surfaces like porch, decks, and siding. It can also be used on boat docks because it protects against saltwater spray.
Furthermore, it has a waterproofing quality that protects your fence wood from cracking and warping. It is water-based, hence, it is easy to clean with water and soap, and its level of toxic organic compounds is very low.
Also, it contains a sealant that offers both saltwater and normal water protection.
Also, the sealing stain dries fast. It is environmentally friendly and can be applied with a sprayer, roller, or brush.
Pros
Waterproof
Easy to clean
Durable
Very low VOC
Stain and sealant
Cons
Cabot 140.0003458.007 Australian Timber Oil Stain – Best Fence Stain for Texas, Colorado
This is a honey teak Australian timber oil produced by the Cabot brand. It is suitable for all outdoor furniture. Hence, you can use it on your fence as well as your patios. It is an oil-based stain made from three types of oil. As a result these stains maximally penetrate the wood.
Precisely, the three oils this exterior stain is made from are tung oil, linseed oil, and long oil alkyds. Hence, these oils seep into the wood to condition it, deeply restore and greatly enhance the wood's beauty. This stain is also fortified with a complex iron-oxide pigment that protects your fence from UV rays.
In addition, this oil-based stain provides a rich color and has a water-repelling quality. Also, it is recommended for use on interior wood surfaces as well.
Pros
Water repellent
Deeply penetrates
UV protection
Easy to use
Cons
STORM SYSTEM Storm Protector Penetrating Sealer & Stain Protector, Black Walnut – Best for Old Fence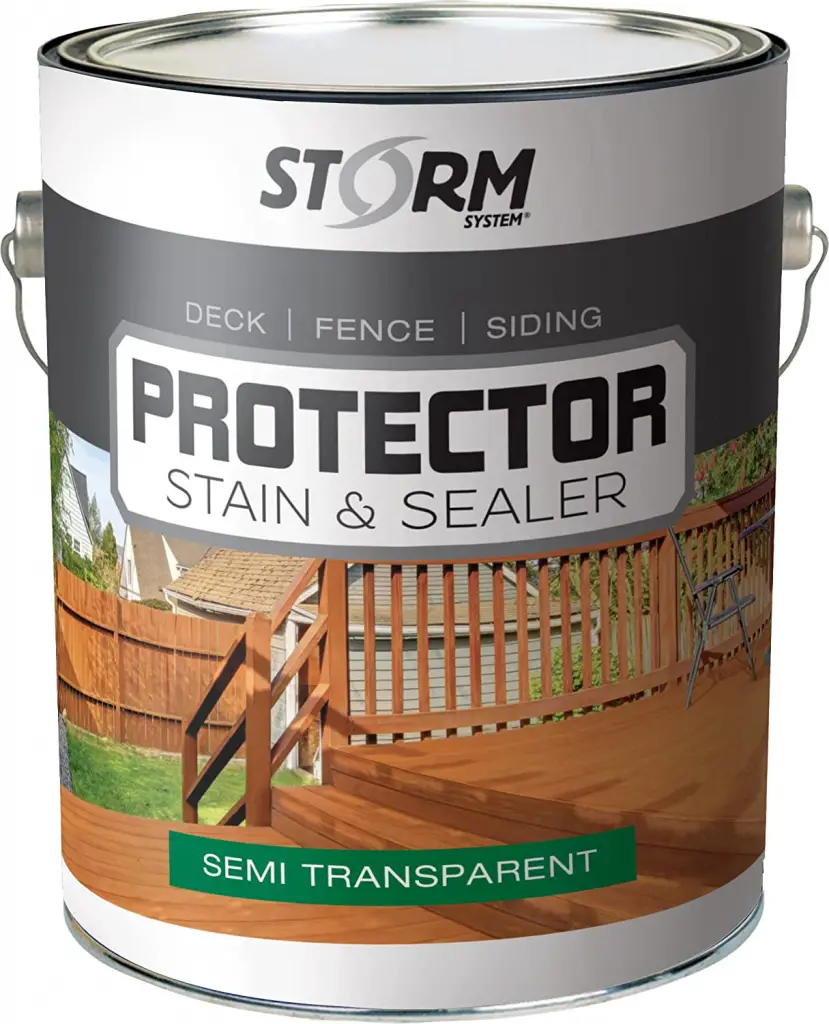 This is a sealer and stain designed for deck fence and siding. It is an oil-based semi-transparent fence stain with a black walnut color. This stain is suitable for use on any form of a wood surface from pressure-treated wood, pine, mahogany, spruce, to douglas fir wood. It is an easy-to-use stain requiring no technical know-how.
In addition, this oil-based stain has a semi-transparent sealer that further protects your wood fence from weather elements. This stain highlights the wood grain and is applied easily with a brush, roller, or sprayer. Also, this storm system stain and sealer contains high-performing pigments.
Furthermore, this stain is formulated to withstand stormy periods of both the winter and summer seasons and provide continual protection all around the seasons.
Pros
Suitable for most wood
Quality pigment
Stain and sealer
Highlight wood grain
Easy to use
Cons
Tips & Tricks for Applying Stain to Wood Fence
Applying your fence stain is not difficult because there are different methods you can use to apply a fence stain. You can decide to use a brush, spray it or use a roller. However, there are a few tips and tricks to note when using each method to apply your stain.
If you are using an oil-based stain, the best tool to use is a natural bristle brush. For vertical fence slats, stain from top to bottom, and for horizontal fence slats, stain from side to side.
If you plan to use a roller, use the one you can easily handle and ensure you back brush.
Also, when using a sprayer, apply the stain from a short distance using an even pressure all through to ensure uniform staining. Do not stain haphazardly. Follow a particular pattern and start with a thin coat.
How To Maintain Wood Fence?
Good fence maintenance starts with staining your fence with the best stain for wood fences. Ensure you select a fence stain that protects your wood fence from water damage and the like. Apart from this, carry out a fence maintenance inspection yearly to check for rot, mildew, etc.
In addition, if your stained fence is not stained with a stain plus sealer, you should choose a compatible clear coat or topcoat be it polyacrylic, water-based, or oil-based polyurethane to seal your fence wood from environmental conditions further.
Also, maintain your wood fence by fixing fence damage. Tighten loose screws and caulk to fix them permanently. Straighten bent fence slats with a good Bender and endeavor to clean your fence with soapy water once a month to remove dirt. You should use a pressure washer to deeply clean and rinse your fence.
Final Words
Applying stain to a wood fence is a great option, and the steps required to carry it out have been specified in the article. Also, the most important aspect of choosing the best stain for your fence has been explained. You can either choose two separate products or use a fence stain and sealer.
However, whether you use separate products or two in one stain and sealer, ensure they will provide the protective and aesthetic qualities your fence needs. In conclusion, applying stain to your fence is worth it once the protection of your fence is guaranteed.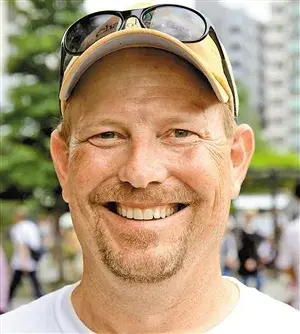 My name is Mark, and I am a software engineer and the founder of OnWoodWorkingArt.
I grew up with a passion for woodworking and now have my woodworking studio with a group of like-minded friends who love to create woodworking. My dream is to have a more extensive workshop and be able to make woodworking my main business.