Working on exterior wood surfaces can be a bit challenging, especially when the wrong wood stain types are used. A non-suitable exterior wood stain can do more harm to your fences and decks than good. Hence, this article has provided the ultimate guideline to follow while choosing exterior wood stains.
Some of the topics that will be discussed are features of a suitable exterior stain, and when and why to use an outdoor wood stain. Also, the best exterior wood stain and sealer and how to maintain exterior stain are all explained in the article.
Best Exterior Wood Stain and Sealer for Deck, Fences
Quickly read through to know more about exterior stain and staining.
Is Stain Good for Exterior Wood?
Are you thinking of painting your outdoor furniture? If you want an artificial color, you can go ahead. But, if you want to maintain the natural color of your exterior wood, applying stain is a good option. There are different types of wood stains specifically designed for outdoor furniture.
However, you must choose an exterior stain that can protect your natural wood from environmental conditions such as harmful UV rays, mold and mildew, water damage, sun, and the like. Wood stains that provide these types of protection are good for outdoor stains.
What is Exterior Wood Stain?
Exterior wood stains are stains that are suitable for use on exterior wood surfaces. They are formulated to withstand different environmental conditions like the sun's UV rays. There are different types of exterior stains ranging from oil-based stains to water-based formulas.
However, the best stains for wood decks and fences are oil-based stains. These oil-based stains are produced by different brands and they are available in different forms from solid stains, semi-solid stains, transparent, and semi-transparent stains.
In addition, some exterior stains contain stain and sealer and are often preferred to be used on exterior woods. However, these exterior stains can also be used on other wood surfaces.
Features of Exterior Wood Stain
Waterproof
One of the greatest harm to exterior wooden furniture is water damage. The reason is that outdoor woods are exposed to factors such as rainfall, dew, fog, snow, atmospheric water vapor, etc. Hence, a good exterior stain needs to have waterproofing qualities to provide an excellent profession.
Mold and Mildew Resistant
Mold and mildew caused by fungi are other issues that affect wood surfaces placed outdoor. And if care is not taken, mold and mildew could cause wood rot and fade the natural color of the outdoor wood. Hence, exterior wood stain needs to be mildew resistant.
Durable
To prevent further damage, a good feature an exterior wood stain must have is durability. A durable exterior-designed stain is usually expected to be an all-in-one stain. That is a stain and sealant. However, for best protection, a durable exterior stain should protect against UV rays.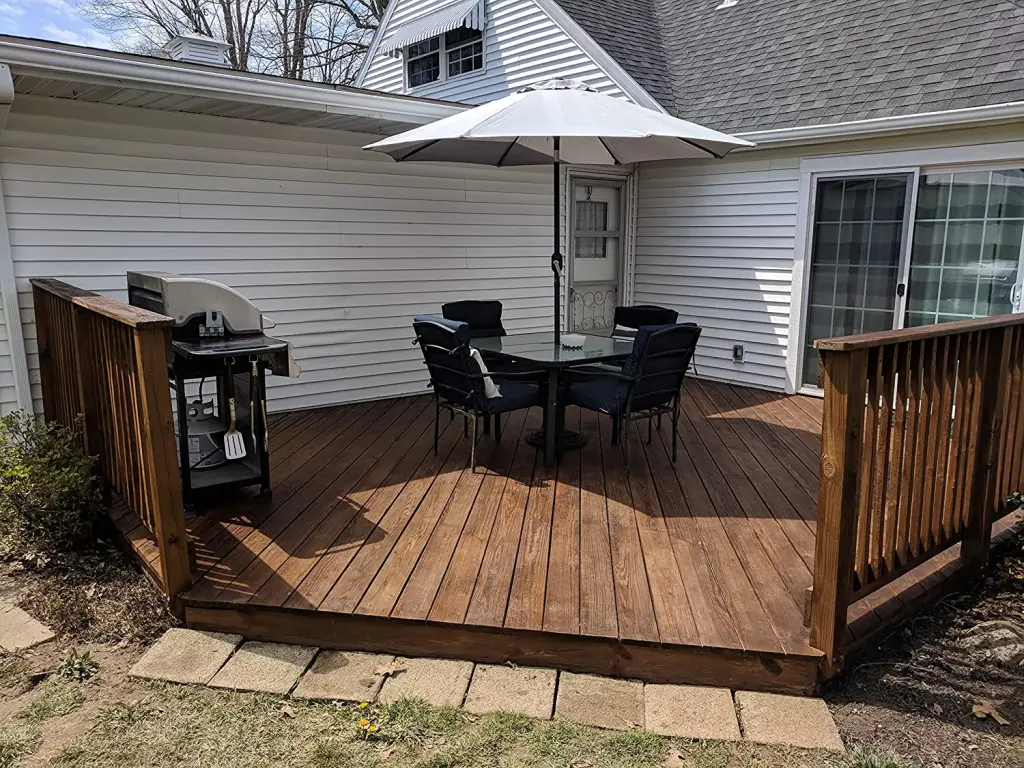 When and Why to Use Outdoor Wood Stain?
If you are working on outdoor wood planks such as decks and fences, you certainly need to use outdoor wood stains on them. It is better to use an outdoor stain because of the additional protection an outdoor stain has which an indoor designed stain does not have.
In addition, it is preferable to use an outdoor wood stain on newly built outdoor decks instead of painting them. This is because stain enhances the natural beauty of these outdoor woods.
However, for old weathered wood, an outdoor stain might not be suitable, because weather conditions already damaged the wood.
How Long Does Exterior Wood Stain Last Outside?
The long-lasting effect of an exterior wood stain depends on the type and brand of wood stain you are using on your exterior hardwoods. Ordinarily, an exterior stain can last for more than 5 years and up to 10 years when you apply the stain with the right woodworking tools.
However, this time frame can be reduced if the wood surface is not well prepared before the stain was applied or if the weather conditions at the time of staining were not favorable. Either way, staining can last as long as painting if the right staining process is followed.
Stain vs. Paint Outdoor Wood
Painting and staining come with different advantages. Hence, deciding on painting or staining is your choice to make based on the qualities you wish to see on your wood deck and wood fence. If you want to retain the color of your natural wood, staining does that well.
However, if you want to achieve a flashy solid color on your wood deck, you should use oil-based paints to achieve that. Also, if it is an easy-to-apply rich wood color you need on your wood fence, staining is the best option.
Nevertheless, staining requires a relatively low budget compared to painting.
Water-Based vs. Oil-Based Stains
Water-Based Stains
Water-based stains are wood stains with water solvent hence, since water is a neutral substance, these stains contain no harmful fumes caused by volatile organic compounds. This type of stain penetrates deeply and raises the grain of the wood beautifully.
Furthermore, water-based exterior stains are easily applied, and they are now formulated to have high durability like oil stains.
Another good feature of a water-based stain is that it is easily cleaned up with soap and water.
Pros
Low VOC
Quick-drying
Rich color
No toxic smell
Resist mold and mildew
Cons
Several coats might be needed
Oil-Based Stains
Even though water stains are said to have high durability, oil-based stains have much higher durability and are more suitable for use on exterior wood siding, decks, and the like. Also, they give deeper penetration hence, they last longer than water-based stains.
However, you need paint thinner to thin or clean these stains. Furthermore, oil-based stains give off a toxic smell as they dry and they take a long time (sometimes 2 days) to dry and completely cure.
Pros
High durability
Deeper penetration
Less maintenance
More even finish
More harsh weather resistant.
Cons
Longer drying time
Attract mold and mildew
Flammable when wet
Transparency
Clear, Transparent Stains
A clear stain is a form of wood stain that gives a thin film-like transparent coating to a wood surface. Transparent stain is not suitable for outdoor use due to a maintenance coat that needs to be applied every 1 – 2 years.
Features
Highly transparent stain
Reveals natural wood grain.
Enhance the natural look and natural color
Semi-Transparent/Semi-Opaque Stains
A semi-transparent finish on your backyard deck slightly highlights the wood grains of the deck. However, a semi-transparent stain as a deck or siding stain requires 2 – 3 years of periodic re-coating. It is suitable for hardwoods like redwood
Features
Light color
Shows wood grain
Semi-opaque.
2 – 3 years re-coating.
Solid Stain Colors
A solid stain share similar characteristics with solid paint. A solid stain gives a solid color to the wood while covering the wood grain as paint does. It offers more durable protection than a semi-transparent stain.
Features
Best for outdoor use
Covers wood grain
Thick coating
Solid color
Lasts 4-5 years.
Semi-Solid Stain Colors
This type of exterior stain is semi-opaque. That is, it is slightly transparent and slightly opaque. Hence, it only reveals the wood grain a little. Semi-solid stains have similar features to semi-transparent stains, but they provide richer color.
Features
Tinted to any color
Longer protection
Re-coat every 3 – 4 years
Woodland Oil & Toner Colors
These are a blend of wood conditioning oils already formulated to give specific deep colors. Hence, they provide a wide variety of highly pigmented natural colors to choose from for your decks. Examples are mahogany, cedar natural tone, redwood natural tone, etc.
Features
Penetrating oil
Natural oils, not hazardous
Enhance wood grain
Enhance natural look
Highly pigmented.
Deck Resurfacer Colors
These decks' resurfacer colors are specifically formulated to transform weathered decks, fences, and other outdoor wood surfaces. They give lasting protection to wood and are available in all shades of colors.
Features
Best for worn out wood
Durable coating
long-lasting protection
Suitable on concrete
Exterior Stain Colors
Choosing an exterior stain color should not be difficult because there are different types of wood stain colors that outdoor designed stains have. However, it is good to know that you cannot achieve some stain colors on your outdoor wood with certain types of wood stains.
For instance, a clear stain will provide your fences with no color. But, a solid stain or semi-transparent stain can provide different hues of colors on your outdoor wood. Seeing that semi-transparent stains are more suitable on hardwoods, they are the most popular forms of outdoor wood stains.
Hence, the exterior stain colors that you can achieve with semi-transparent stains are pinpointed below
Redwood color tones: These color tones provide varieties of red hues with sometimes brown undertones.
Natural wood color tones: With these tones of brown colors, you can achieve any desired hue of brown color.
Cedarwood color tones: These are slightly dark and little warm colors like that of cedar woods
Honey color tones: These are medium brown colors with slightly yellow undertones.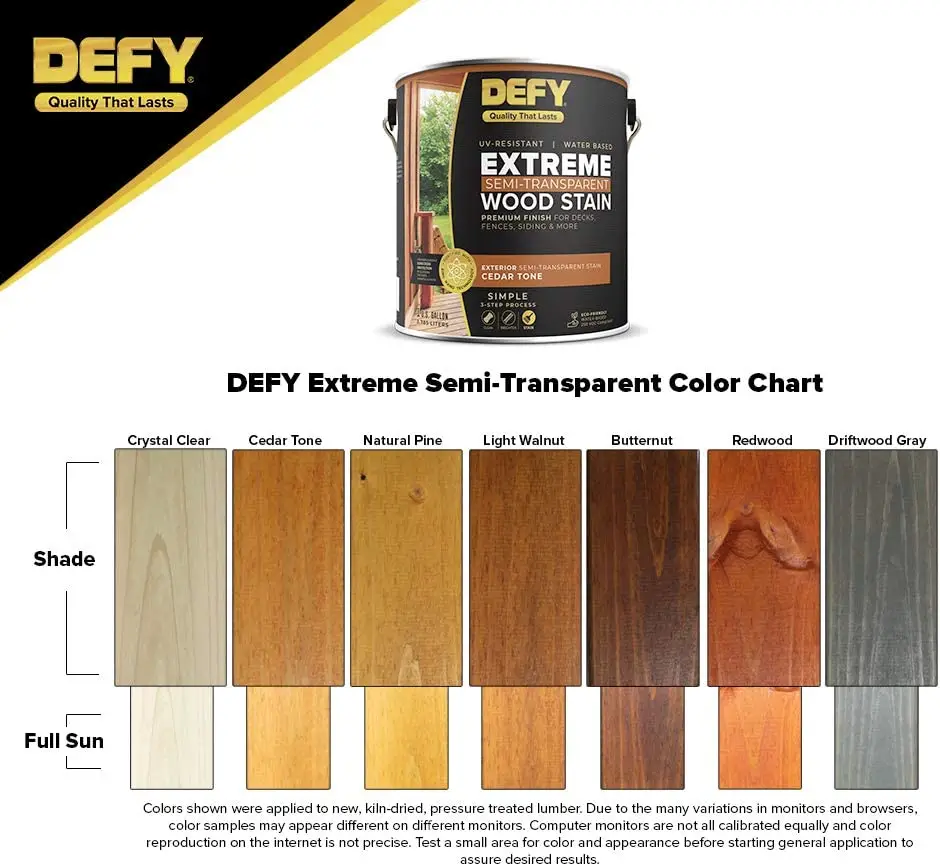 Exterior Stain Dry Time
Drying times of exterior stain types are dependent on certain important factors. Some of which are the type of wood stain used, environmental factors, type of coating, and the number of coatings.
Under required environmental conditions, a water-based stain will get completely dried within 6 hours. However, an oil-based stain, which is the most common type of exterior stain dries up in at least 24 hours.
If it is a thin coat, this dry-up time might be enough. But, if it is a thick coat the drying process could be extended. Also, the higher the number of coatings, the longer it might take for your exterior stain to dry
Film Stains vs. Penetrating Stains
The whole types of exterior wood stains can be put under these two big umbrellas. Film stains as their name imply do not penetrate but form films on wood surfaces. On the other hand penetrating stains do not stay on wood surfaces but penetrate wood fibers to color the wood.
Film stains
Do not penetrate
High maintenance
Slightly hide the grain of wood
Susceptible to cracking and peeling
Penetrating stains
Absorb into wood fibers
Low maintenance
Enhance the wood grain
Susceptible to fading
Choosing The Right Outdoor Wood Stain
Moving further, that some stains are recognized as the best exterior wood stains does not mean they are the best stains for your exterior furniture. You must determine the needs of your wood and other factors to choose the right outdoor wood stain for your oak deck.
New or Old Wood
If the siding and deck you are working on are old and the woods have exposed wear and tear marks and other imperfections, it is better to choose a stain that will cover up these marks, such as an opaque stain. On the other hand, if the siding is new, choose a stain that brings out the beauty of the natural wood grain.
Weathered Furniture
Weathered furniture is already exposed to unfavorable environmental conditions and is already in the weathering process. The best stains for this type of wood are resurfacer stains designed for worn-out wood. Solid stains with further UV rays protection can work on them too.
Staining Time
The time of staining an outdoor piece of furniture does affect your choice of exterior stain. If the weather is unfavorable like in the winter or summer, it is better to work with an exterior stain and sealer. This prevents wasting time waiting for the stain to dry before sealing it.
Low Chemicals
Are you torn between choosing water-based wood stains and oil-based wood stains for your decks? If you want a toxic-free, low chemical stain with non-curing toxic fumes, then choose an environmentally friendly water-based wood stain.
Lasting Protection
The maintenance period is another factor you should consider. Do you want a stain that will provide lasting protection for 5 years, or can you easily maintain a stain that needs to be changed annually or every two years? These and many more are the things you should consider before selecting your outdoor wood stain.
Exterior Staining Tools You Need
You might be wondering if staining tools are also needed for exterior staining just like interior staining? Yes, they are needed. Tools and the correct usage of tools are two important factors that determine if a stain application will go on smoothly or not.
Also, seeing the vast array of immovable outdoor pieces of furniture, there are different exterior staining tools needed to stain these wood surfaces well.
Some of these tools are listed below:
Deck cleaner
Pressure washer
Sanding tools (sandpapers and power Sanders)
Broom
Long handle deck stain brush
Synthetic bristle-brush (water solvent stains)
Natural bristle brush (oil solvent stains)
Ladder (to reach window and siding height)
Soap and water (cleaning water stain)
Mineral Spirits (thinning and cleaning oil stains)
Clean rags.
Protective gear like gloves, etc
How to Apply Wood Stain for Exterior Deck & Fences?
There are different ways to apply exterior wood stain. This is because each exterior wood, be it weathered, soft, or hardwood is unique and requires distinct staining techniques. However, let's quickly discuss how to stain exterior wood surfaces using the four steps below:
Wood Surface Preparation
Applying the first layer of stain
Applying additional coats
Applying a wood sealer
Wood Surface Preparation
As usual, you should remove any existing finish before staining unless the stain product you are working with can be used on finished woods. A paint or stain removal will get that done, just follow the manufacturer's instructions. Scrape the removed finish, sweep and pressure wash the deck and fence with mild detergent.
Let your wood dry before starting the sanding process. Using a power sander, remove all scratches and unsightly marks.
Applying The First Layer of Stain
If you are working on a deck it might be difficult to apply stain to certain areas. Hence, you should use a long handle deck brush. After removing the sanding dust and cleaning the wood with a rag, mix the stain thoroughly and pour it into a more open container.
Dip the deck brush into the stain and apply in the direction of the wood grain. You can use a foam brush or bristle brush to apply the stain on your fence.
Within 15 minutes, remove excess stains and let this first coat dry.
Applying Additional Coats And a Sealer
If you want a deeper color, you need additional coats. However, you have to wait for at least 4 to 5 hours before you apply for a second coat. After applying this additional coat, wipe off the excess stains too and let the two coats dry completely before using a sealer.
It is preferable to wait for at least 24 hours after the stained wood is dried before using a sealer on it.
Application of Exterior Wood Stains and Sealers
1. Furniture
Applying an exterior stain is not as difficult as you might think. The major step is selecting the most suitable stain for your hardwood or softwood pieces of furniture. And remember that for an outdoor wood like pressure-treated pine, a pre-stain conditioner should be applied before staining.
2. Door
When it comes to applying an outdoor wood stain on your exterior door, it is good to note that the surface of a door is vertical, and not all exterior designed stains are suitable for use on vertical wooden surfaces. A Semi-solid stain is more suitable for use on doors and other vertical surfaces.
3. Deck
One of the tasking exterior furniture to apply stain on is a deck because it is always exposed to atmospheric conditions, it has no built shade on it and cannot be moved indoors to be stained. Hence, when applying an outdoor wood stain to the deck, do so under the right environmental conditions.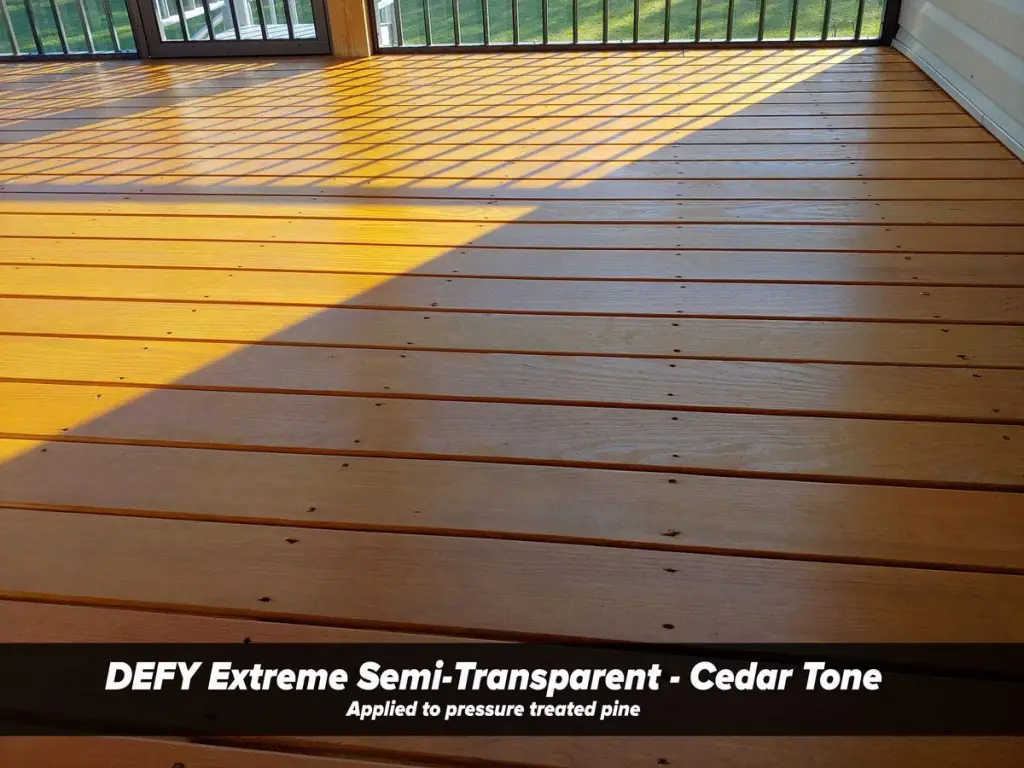 4. Fences
Just like decks, fences are exposed to all forms of weather. Hence, you should apply a stain that has high waterproofing qualities to protect them from the rain. Also, choose a sealant that can shield your fences from UV rays to prevent weathering of your wood and discoloration of the wood stain.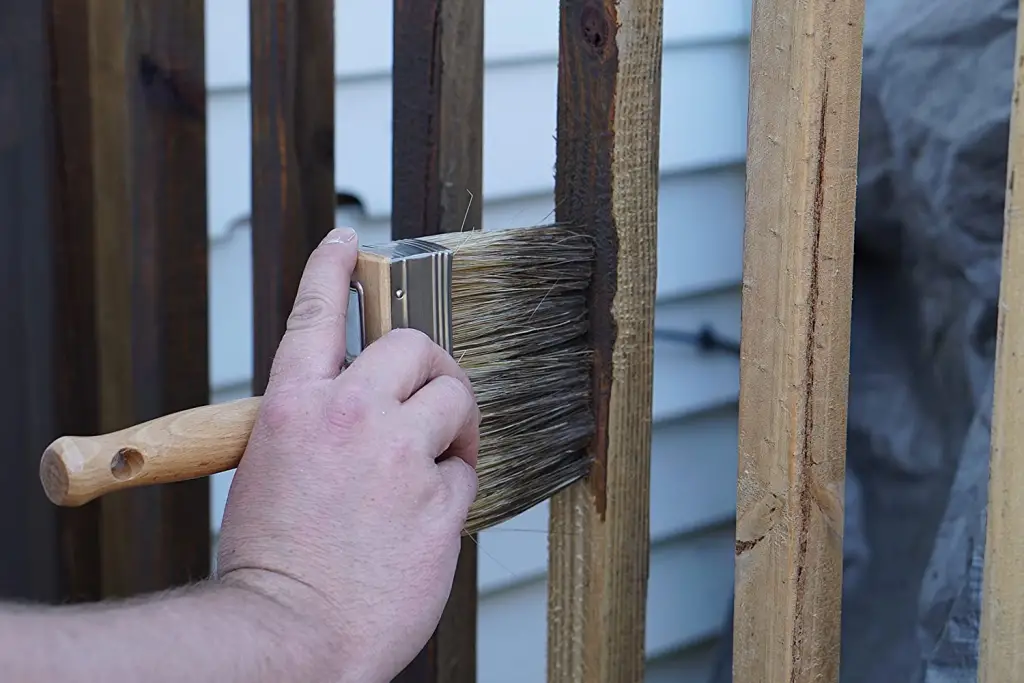 5. Sheds
When trying to apply exterior stain on your shed, look at the surrounding of the shed, are there trees around it. If yes, then apply a water-based stain because it resists mold and mildew caused by tree fungi better than an oil solvent stain. Also, work with a stain that protects your shed from UV rays.
6. Siding
The major factor that determines the type of stain you should apply to your home wooden siding is the color of your building. Hence, to get a solid color, a high-quality pigmented stain like a solid stain is often applied on a siding. Because it has arrays of colors to choose from just like paint.
7. Shutters
Whichever hue of stain color and stain type you select for your window shutters, ensure it has waterproofing features and can protect the shutters from UV rays. If not, you should purchase an exterior wood sealer that can provide these features to adequately protect the wooden shutters.
8. Beams
Beams are horizontal structural wooden materials that carry the weight of buildings. Applying stain on them is easy too, just be careful to choose a wood stain that has a similar color to the surrounding color of your building. Also, waterproofing features and UV rays protection should be ensured.
9. windows
When applying an exterior stain on your window, use a high-quality brush instead of a lint-free cloth or rag. This is because a quality brush enables you to stain the intricate edges of your exterior windows perfectly. Let the whole stained surface dry before applying a sealer.
10. Planed Timber
If you are working on pressure-treated woods, ensure the planed timber gets dry before applying the exterior stain. If it isn't, the timber will not absorb the stain or the staining could get sticky because the moisture in the timber cannot evaporate. Also, apply a good wood sealer.
11. Sleepers
Planning on staining some subfloor sleepers? A decking stain can also be used for that. However, sleepers are hidden underneath the floors; therefore, a colorful semi-transparent stain might not be needed. But because the purpose of sleepers is to prevent moisture from damaging the hardwood floor, exterior stain with waterproofing qualities should be used on them.
Tips for Staining Exterior Project
There are certain noteworthy points to remember when staining your exterior DIY project.
When sanding your wood, if you want a darker stain color, stop sanding using medium 150-grit sandpaper. For lighter stain color, end your sanding with 220-grit sandpaper.
Another tip is that, when working with hardwoods, multiple coats might be needed because they absorb stain lightly. Also, when working on diffuse-porous softwoods like pine, always use a wood conditioner to avoid blotchiness.
Lastly, always wipe the excess stains within 15 minutes to avoid sticky stains, and choose a weather-favorable day for your exterior projects.
Maintaining
Be it opaque, clear, or semi-opaque stains, the level of maintenance individuals are willing to give will determine the lasting effect of the stains. Generally, less opaque stains like a clear or transparent stain require yearly fresh coat maintenance. However, simple weekly maintenance tips are also needed.
Always keep stained exterior wooden surfaces clean by sweeping off dirt, falling flowers and leaves, and other forms of debris. If there are tree shades on them, cut off the old tree branches before they fall on the stained furniture.
In addition, be it a solid wood stain or semi-transparent stain, endeavor to check your exterior wooden furniture thoroughly every three years to prevent rot, undue weathering, and insect infestation.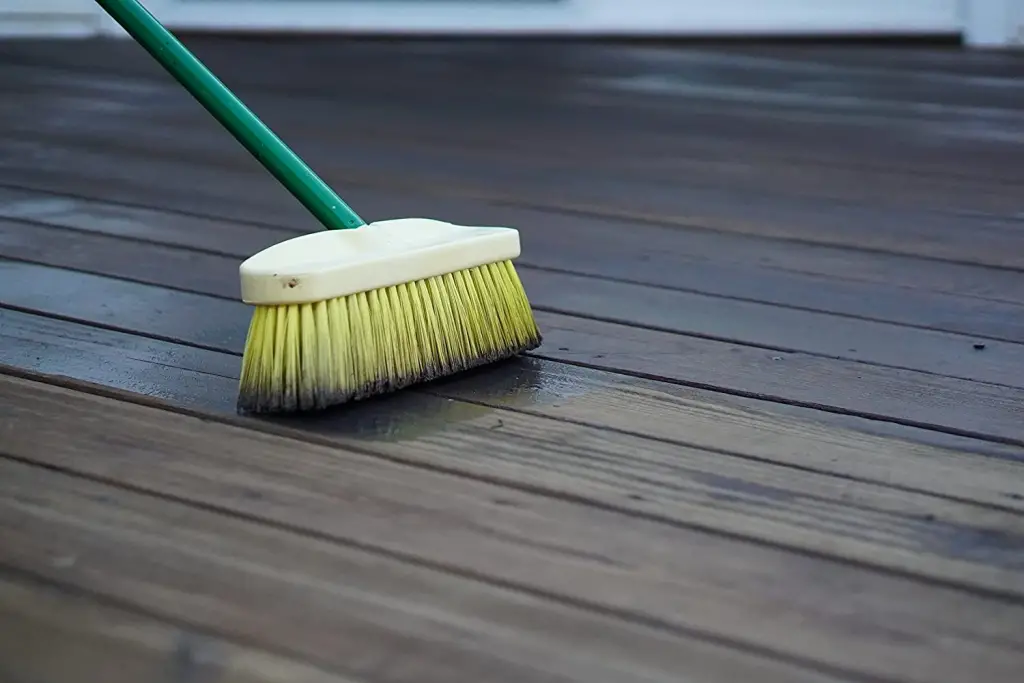 Best Exterior Wood Stain and Sealer Reviews
Let's look at the Top 10 exterior wood stains and their pros and cons:
Editor's Choice – DEFY Extreme Semi-Transparent Wood Stain, Cedar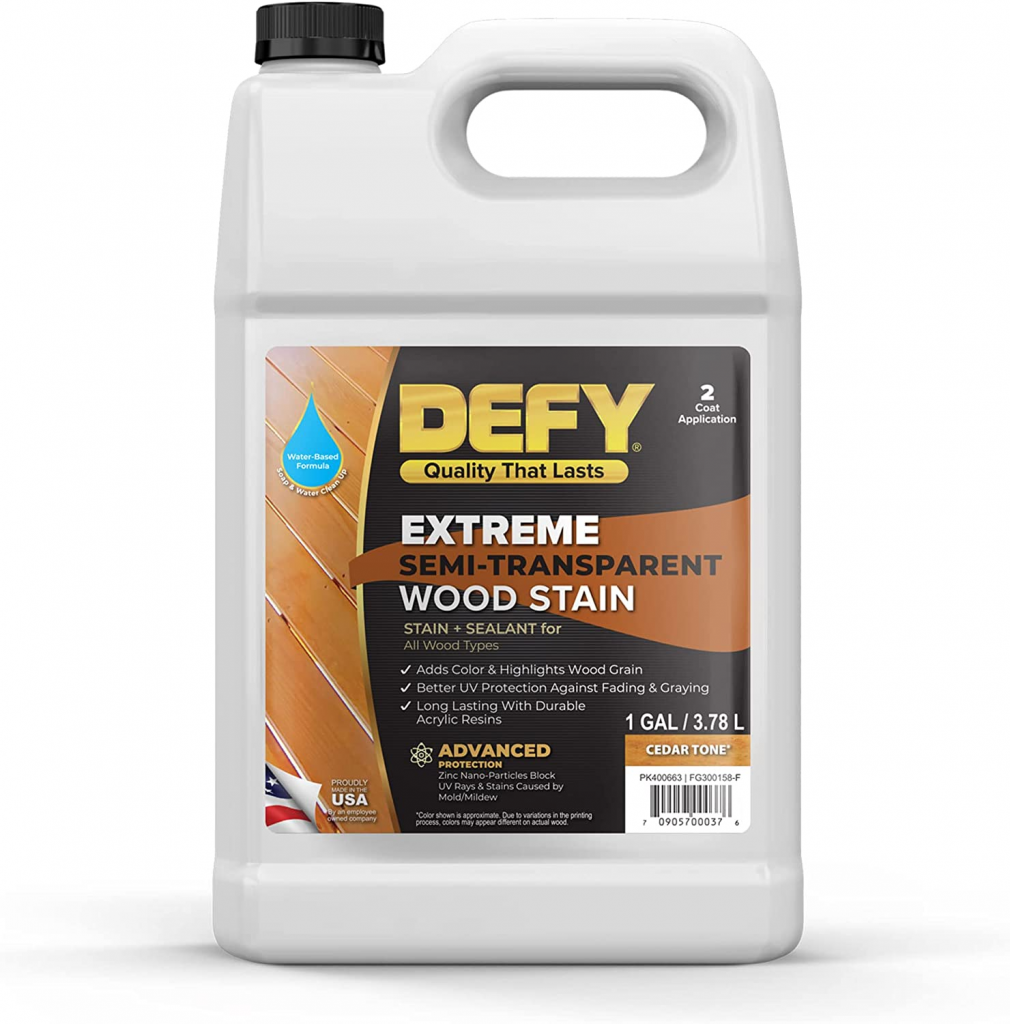 This defy extreme semi-transparent wood stain is a water solvent stain and sealer put together. This product has awesome stain properties that qualify it as a top-notch stain. It is designed with nano-particles technology and high-quality resins, making it highly resistant to cracking and discoloration caused by sun and UV rays.
Furthermore, this defy extreme semi-transparent wood stain is a highly recommended deck stain because it is fade-resistant and it protects exterior wood for a long period without changing color. However, it can be used on other outdoor surfaces like patio, siding, etc.
In addition, this stain is easy to clean with soap and water, easy to apply, and also easy to maintain. Also, it can be used on treated softwoods and it highlights wood's grain.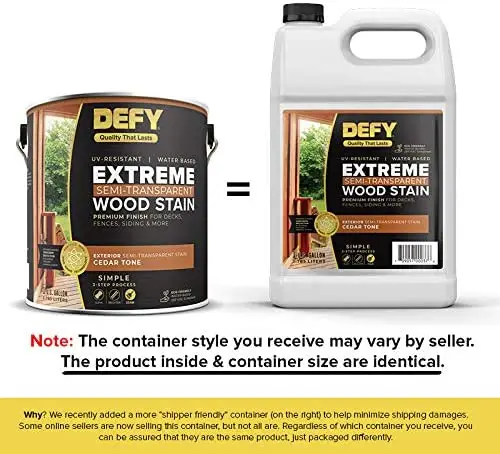 Pros
Exterior stain and sealer
Natural matte finish
Uv rays protection
Prevent wood graying
Protect wood color
Cons
Best Waterproof for Outdoor – Thompsons Waterseal 41851 Gl STN Tran Woodland Cedar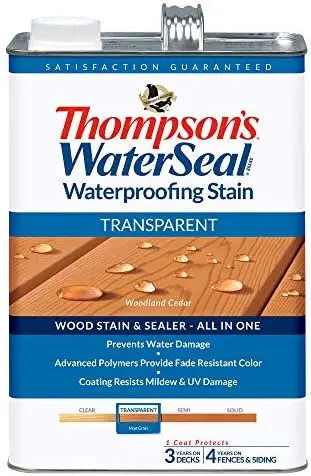 This transparent exterior wood stain with great waterproofing quality enables it to protect the wood from damages caused by rain and other forms of water sources. It is designed with an advanced stain system that makes it resist color fading. Also, it contains a stain and sealer.
In addition, this transparent exterior stain prevents mildew growth and it also protects exterior wood from sun and UV rays. It slightly reveals some wood's grain and just one coat is recommended to give a thin film-like covering that protects exterior wood.
Furthermore, a coating last for as long as 3 years on decks and 4 years on fences and wood sidings. It has low volatile organic compounds. Hence, are more environmentally friendly.
Pros
Non-fading
Waterproof
Stain and sealer
Prevent UV damage
Prevent mildew damage
Easy to use.
Cons
Stir during use
High maintenance cost
Best for Deck – Ready Seal 125 1-Gallon Can Dark Walnut Exterior Wood Stain and Sealer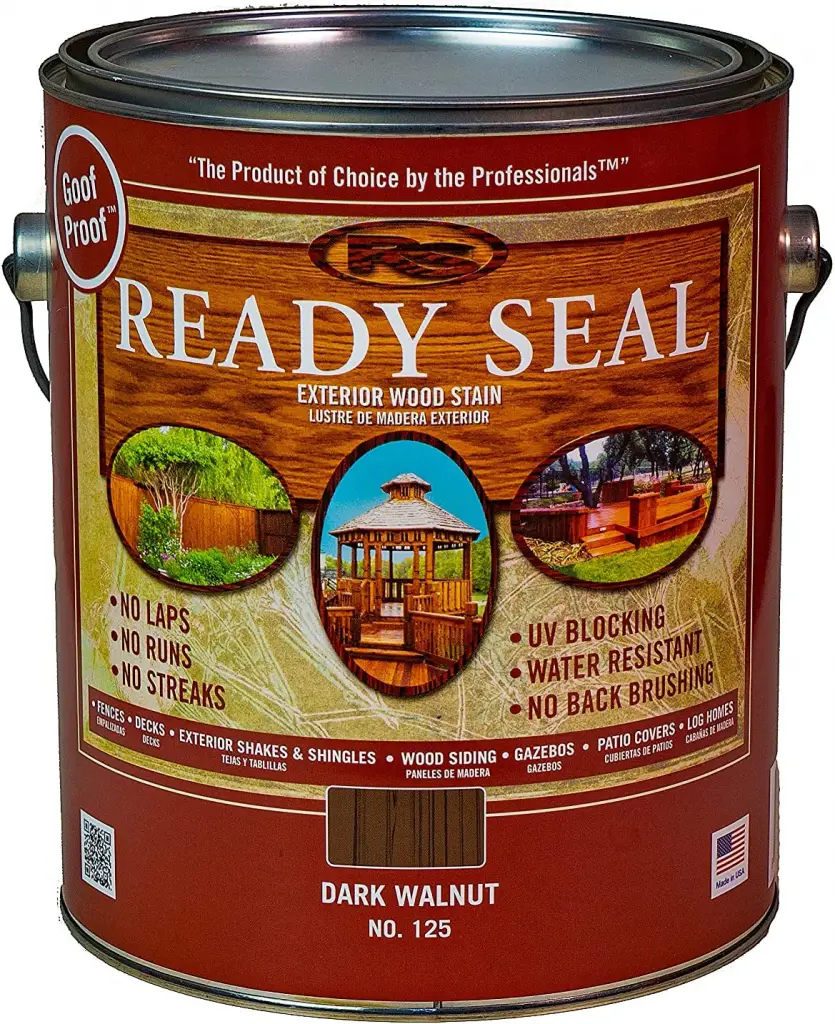 This is a dark walnut, self-correcting best deck stain. No primer is needed with this stain. But, it does not work on woods with an existing finish. It contains a sealer and each coat dries fast within 45 minutes. Also, it is easy to apply with a paint roller, foam brush, or sprayer.
The recommended range of staining temperature is between 50 and 90 degrees Fahrenheit. However, this stain is formulated to work perfectly at any temperature hence, it is regarded as one of the best exterior wood stains. It needs no laps, runs, or streaks, making it easy to work with.
One peculiar disadvantage of this product is that its true color can only be known about 14 days after its application.
Pros
Uv blocking
Water-resistant
Easy to apply
No back brushing
Stain and sealer
Cons
Non-suitable for finished woods
Long color curing time.
Related Post >> Best Deck Stain For Pressure Treated Wood Of 2022
Best for Fences – #1 Deck Premium Semi-Transparent Wood Stain for Decks, Fences, & Siding (Dark Walnut)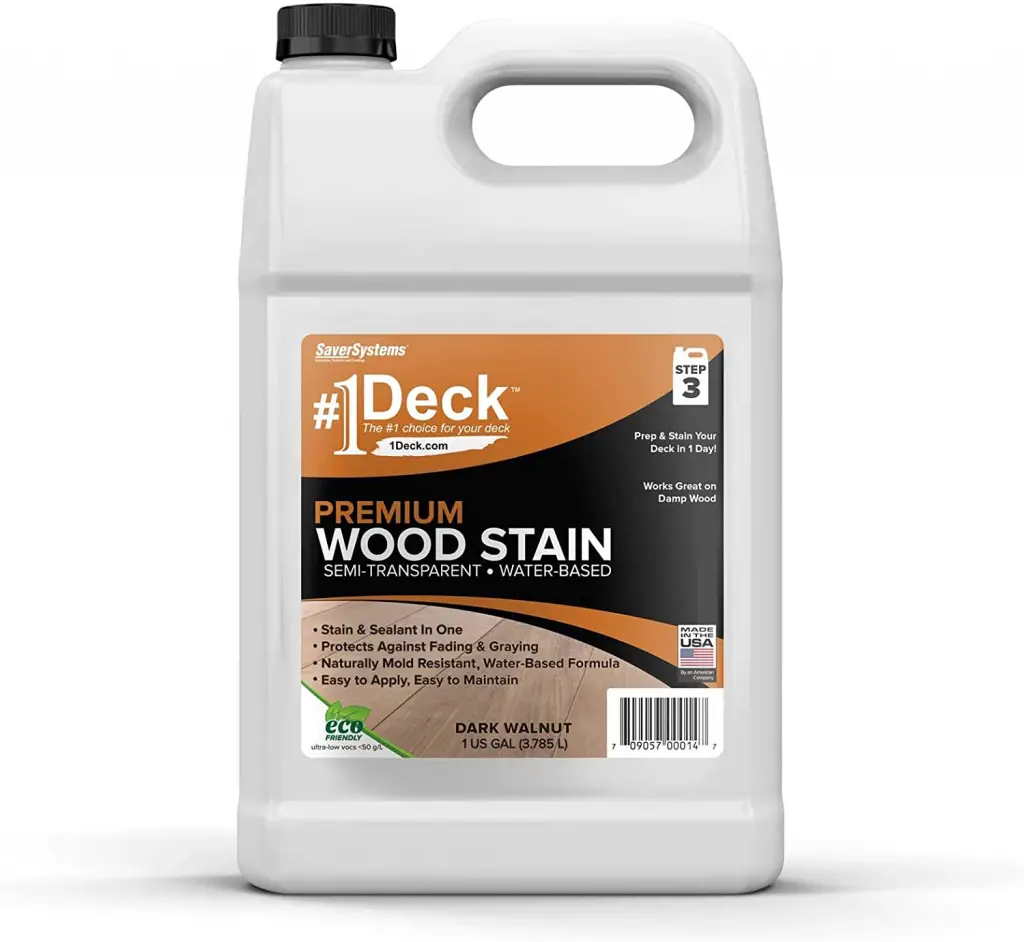 This is a premium, semi-transparent exterior stain with a dark walnut color. It is a two-in-one waterproof stain and sealant that is available in five different variants. These variants penetrate deep into woods and show the grain of the wood thereby enhancing their natural aesthetic features.
Furthermore, it is one of the best exterior wood stains recommended as a good deck stain. This is because it works on varieties of deck wood types such as pressure-treated softwoods like redwood, pine, cedar, and the like. It can also be used on hardwoods, but the maintenance cost on such woods is high.
Also, this water dissolved stain is easily cleaned with soap and water and can be used on damp wood without any staining issues.
Pros
Used on damp wood
Easy to clean
Low VOC
Easy to apply
Stain and sealer
Cons
Not recommended for hardwoods
Best for Siding – KILZ Waterproofing Wood Stain, Exterior, Semi-Transparent, Redwood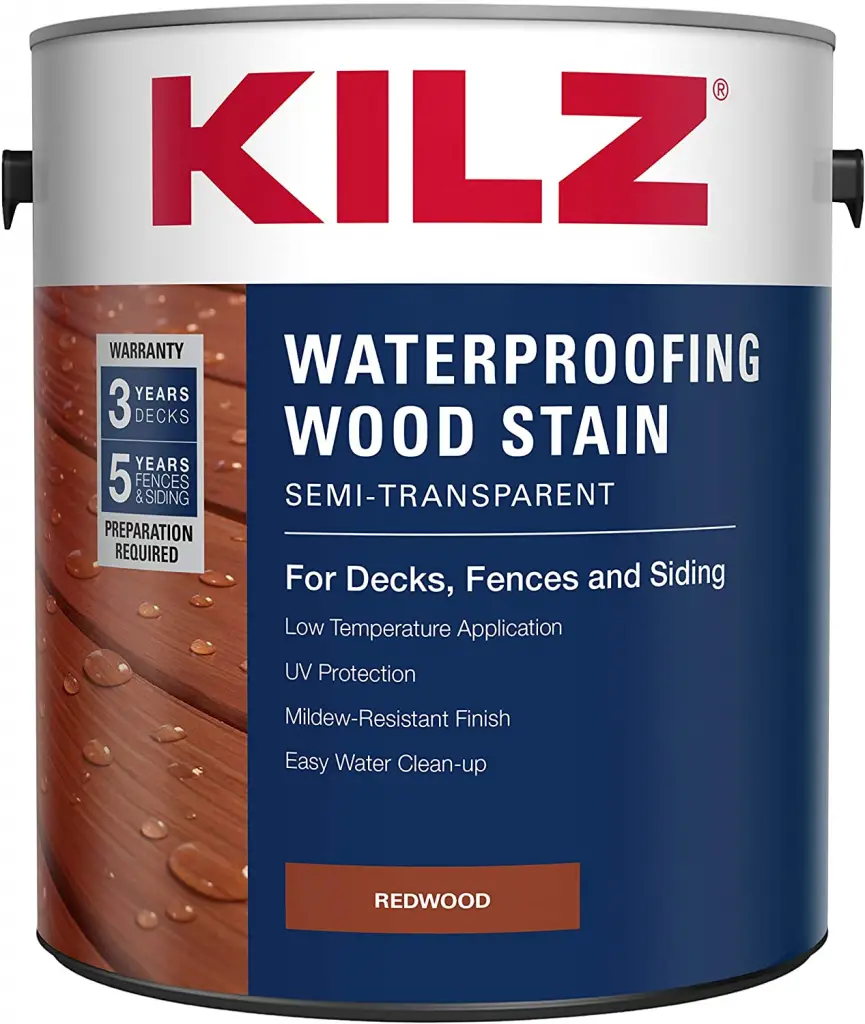 Here is another waterproofing semi-transparent stain that provides optimum protection against mildew and ultraviolet light rays. The water-based formula gives a natural redwood color to outdoor wooden surfaces. This easy-to-use stain protects wood from sun damage, snow, and several other weather elements.
A distinct advantage of this stain is that it can be applied to slightly weathered wood surfaces, long unsealed wood surfaces, and bare woods. Also, it is a multi-functional stain that can be used on almost every exterior wooden such as decks, railings, patios, shingles, and playsets, among others.
Furthermore, it provides 3-year protection for decks and 5-year protection for sidings and fences. It can be brushed or sprayed on wooden surfaces, and it is easily cleaned with soap and water.
Pros
Prevent UV damage
Waterproof
Wide coverage
Easy to clean
No toxic fumes.
Cons
Surface preparation is required.
Best for Furniture – Olympic Stain Maximum Wood Stain and Sealer, Semi-Transparent Stain, Redwood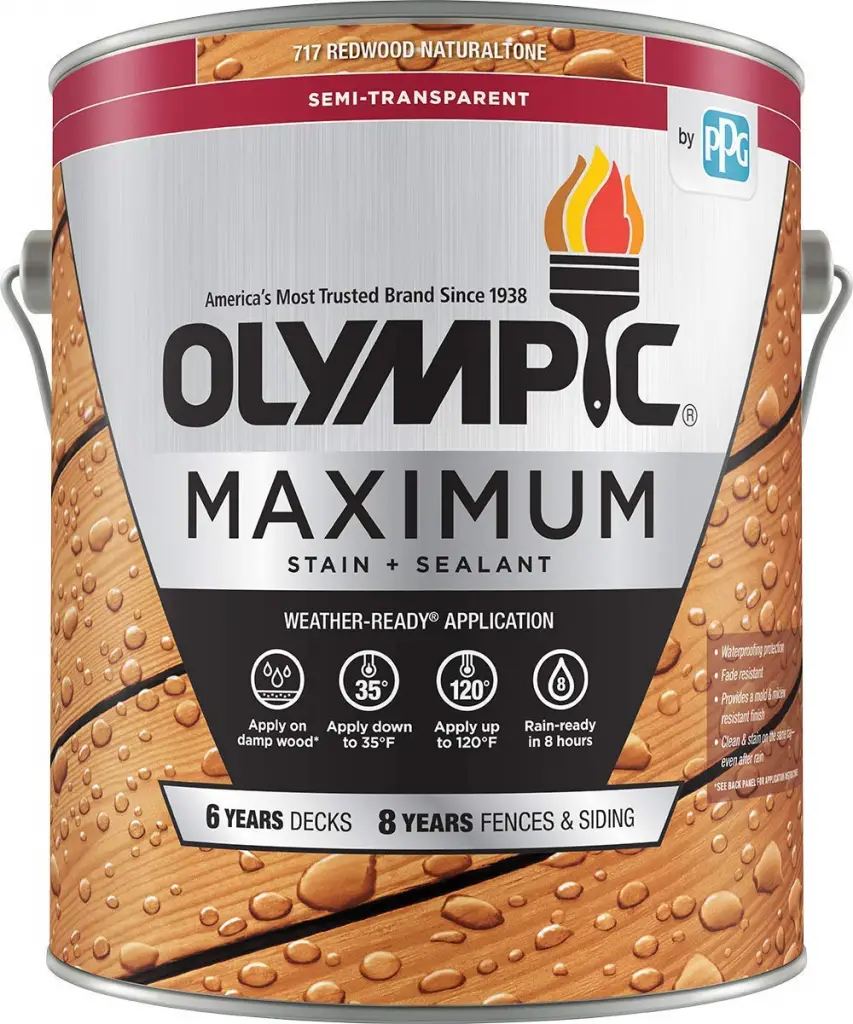 This is another stain and sealant semi-transparent wood stain with more advanced features. It is also an all-in-one stain plus sealer. But it offers a more durable 6-year protection for decks and 8-year protection for fences. It is designed with advanced sun-blocking and water resisting properties.
This wood stain is designed to operate in extreme weather conditions, hence the reason it is called a weather-ready stain. It can be used at a low temperature of 35 degrees Fahrenheit and it can be used on damp wood 8 hours after rain.
In addition, it is a stain and sealer that is suitable for both vertical and horizontal surfaces. It provides a deep coverage such that a gallon is enough for a small deck, while a standard deck and large deck will use 2 and 3 gallons respectively.
Pros
Uv blocking
Waterproof
Weather ready
Easy to use
Wide coverage.
Cons
Relatively long drying time
Back brushing is needed.
Best for Door – General Finishes Exterior 450 Water Based Wood Stain, Red Mahogany
This is red mahogany water dissolved stain pigments manufactured by General Finishes. This stain is majorly recommended for patios and other vertical exterior wooden surfaces like doors. Hence, this product should not be used on a horizontal wooden surface. It is a water dissolved stain hence it is easily cleaned up by water.
Also, it has very high durability and you can easily apply it with a paint roller, a foam brush, or a paint sprayer. It contains ultraviolet rays absorbers. However, these absorbers do not protect the wood from the sun. Hence, color fading can occur.
Also, due to its formulation, this water stain is toxic and should be used under proper ventilation while putting on the necessary protective gear. In addition, the product does not seal the wood. Hence, you should use a sealer after applying this stain.
Pros
Uv absorbers
Highly durable
Easily applied
Easily cleaned.
Cons
Only for a vertical wooden surface
Wood Color fading
Sealant needed.
Best for Hardwood – Old Masters 24991 80704 Gel Stain, 1 Quart, Dark Walnut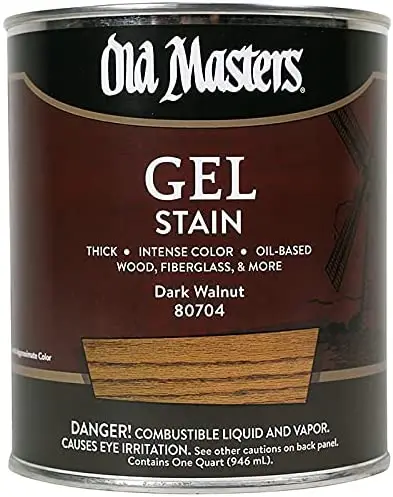 This is a dark walnut intense color oil-based gel stain suitable for use on different surfaces from fiberglass to wood among others. Because it is a stain in gel form, enough stain pigments are combined to provide a deep color in just one coat application.
This type of wood stain is best for hardwoods and woods that absorb stains non-uniformly. This is because gel stains do not penetrate the wood, it stays on top of the wood to seal it. Furthermore, due to the thick consistency of gel stain, this product might require a longer drying time.
In addition, the oil base of this stain will cause it to give off toxic fumes as it cures. However, applying with no streaks, runs, or laps is easy.
Pros
Easy to use
Easy to apply
Different surfaces usage.
Intense color
Cons
Combustible
Toxic
Sealer needed.
Best for Indoor & Outdoor – Minwax 26070 Cherrywood Gel Stain Interior/Exterior Gel Stain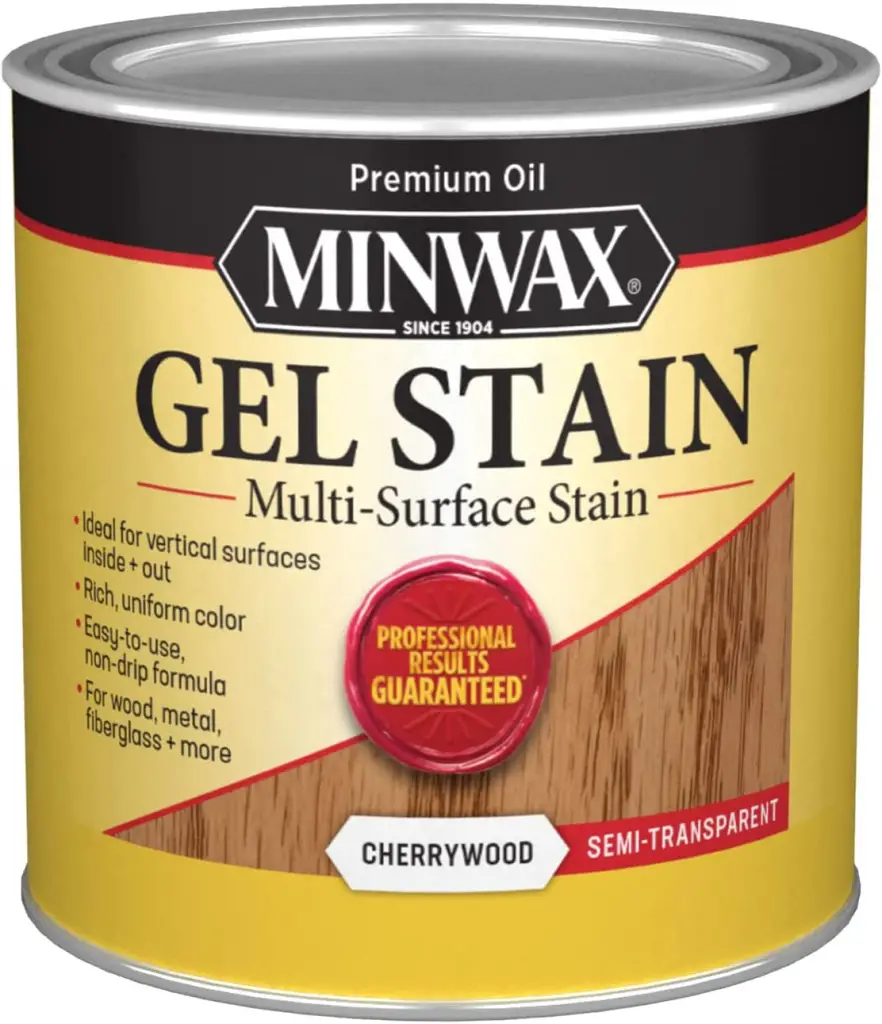 This is another multi-surface gel stain produced by the Minwax brand. If you have both interior and exterior woodworking projects to work on, instead of purchasing exterior and exterior wood stains, it is better to choose this double-functioning wood stain. This gel stain can also be used on metal, wood, fiberglass surfaces, etc.
With this non-drip formulated gel stain, you can easily control stain application. Hence, you can easily stain without runs and streaks. However, this gel stain requires 8 to 10 hours of drying time between coats hence, if you will be using two coats, you cannot finish your work in 24 hours.
In addition, this strain does not contain a sealant. Hence, you need to apply a sealer after the stain is dry. It is recommended to wait 24 hours after the stain has dried before sealing.
Pros
Exterior and interior use
Non-drip formula
Easy to use
Rich color
Cons
Exterior Spray Stain – Krylon K03603000 Exterior Semi-Transparent Wood Stain, Rustic Brown

Krylon are well known for its easy-to-use spray stains. The easiest to use stain application method is spraying. This is because instead of dipping your stain brush inside the stain can, applying, and repeating the process, you just spray. However, you should note that spraying stains require good hand management.
Nevertheless, if there are curved areas you cannot spray effectively on your wood, use a foam brush to apply stains to such areas. This stain is highly durable and can withstand tough environmental conditions. It is also water-repellent. Hence, your wood is protected from cracking.
Furthermore, this product protects from sunlight and ultraviolet rays of light. Hence, color fading is prevented on your wood.
Pros
Fast and even coverage
Water repellent
Highly durable
Uv fade protection
Easy to apply
Cons
FAQs
What is the longest-lasting exterior stain?
There is no particular longest-lasting exterior wood stain. All exterior wood stains have their peculiar lasting effect if properly maintained. However, the Olympic stain maximum wood stain and sealer provide more lasting protection.
What is the best wood for outdoor use?
Softwoods might not be conducive for outdoor use, but, you can make them suitable for exterior use by pressure-treating them. However, a particular hardwood, redwood, is very good for exterior use because it naturally prevents insect infestation.
Do You need to prime my deck before staining?
On the product label of some stains, you will see priming is not needed. Therefore, priming is not a necessary pre-staining tool needed with every wood stains. However, priming might be needed if you apply a solid color stain to your deck.
Do you need to seal stained wood outside?
If your wood is an outdoor wood that cannot be moved, you will have to seal it outside. And if you are working on indoor hardwood floors, you will have to seal them inside. Where you seal is not important as the atmospheric conditions of where your sealed wood is.
Do you need to pressure wash a new deck before staining?
If it is a pressure-treated new deck, pressure washing might not be needed. However, it is a wax finished new wood, it is required to remove the finish and then pressure wash.
Can I use exterior stain on kitchen cabinets?
Most exterior stains contain harmful chemicals. These chemicals are responsible for the added protection they give. Hence, to prevent polluting your kitchen with harmful chemicals, do not use exterior stains on your kitchen cabinets
Is oil or water-based deck stain better?
A traditional water stain is believed to be less durable than oil stains. However, their levels of durability are presently the same. The major difference is the long curing time required for oil solvent stains to fully dry.
Can you stain pine for outdoor use?
Pine is one of the woods that is fairly difficult to stain because of its non-uniform pores. Nevertheless, you can beautifully stain your treated pine for outdoor use once you condition it with a wood conditioner.
How do you waterproof pine wood for outdoor use?
There is no specific method of waterproofing all pinewood. To waterproof your pinewood simply stain it with a stain and sealer that has waterproof qualities.
How do I stain the outside of my house?
Are you referring to your building's wood siding? Staining it is very easy. Once you choose a highly durable and protective stain, choose a day with a temperature range of 50 to 70°f with no rain and stain it.
Is Sherwin William's deck stain better than Behr's?
Each of these stain brands has its areas of specialization. When it comes to semi-transparent stains Sherwin Willian's ranks first. However, in the cader of solid stains, Behr company ranks first.
Is Cabot deck stain any good?
Cabot deck stains are superb. However, the limiting factor is that their prices are on the high side. Also, to give your deck full protection, you have to apply the Cabot clear wood protector.
Is Lowes Sherwin Williams paint the same as Sherwin Williams?
No. These two companies are just partners. Hence, they produce different paint products. However, you can purchase varieties of Sherwin Wiliams paints at Lowes Sherwin Williams
Final Words
In conclusion, as earlier mentioned, there is no single best exterior stain for all exterior wood projects. Making the best choice of exterior stain is your responsibility. All the stains company does is produce varying high-performing stains that will suit your different staining projects and meet specific staining needs.
Therefore, when selecting the choicest stain for your outdoor wood, consider the guidelines earlier discussed and check out the samples and reviews of the chosen stain online to be sure you are purchasing a quality exterior stain.
Have fun staining.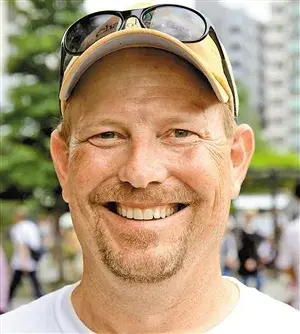 My name is Mark, and I am a software engineer and the founder of OnWoodWorkingArt.
I grew up with a passion for woodworking and now have my woodworking studio with a group of like-minded friends who love to create woodworking. My dream is to have a more extensive workshop and be able to make woodworking my main business.