What is the best exterior polyurethane or best outdoor polyurethane? Well, that depends on what you're looking for. Finding the best exterior polyurethane can be difficult with so many brands and varieties to choose from. Whether you're staining wood or painting metal siding, the answer depends on your budget, the look you want, and how long you want your project to last. 
Let's see what I found out:
Exterior polyurethane will last much longer and be more effective at protecting your home. It will add an attractive shine that will brighten up your home's appearance. This article will help you make an informed decision when choosing the best polyurethane.
Please keep reading!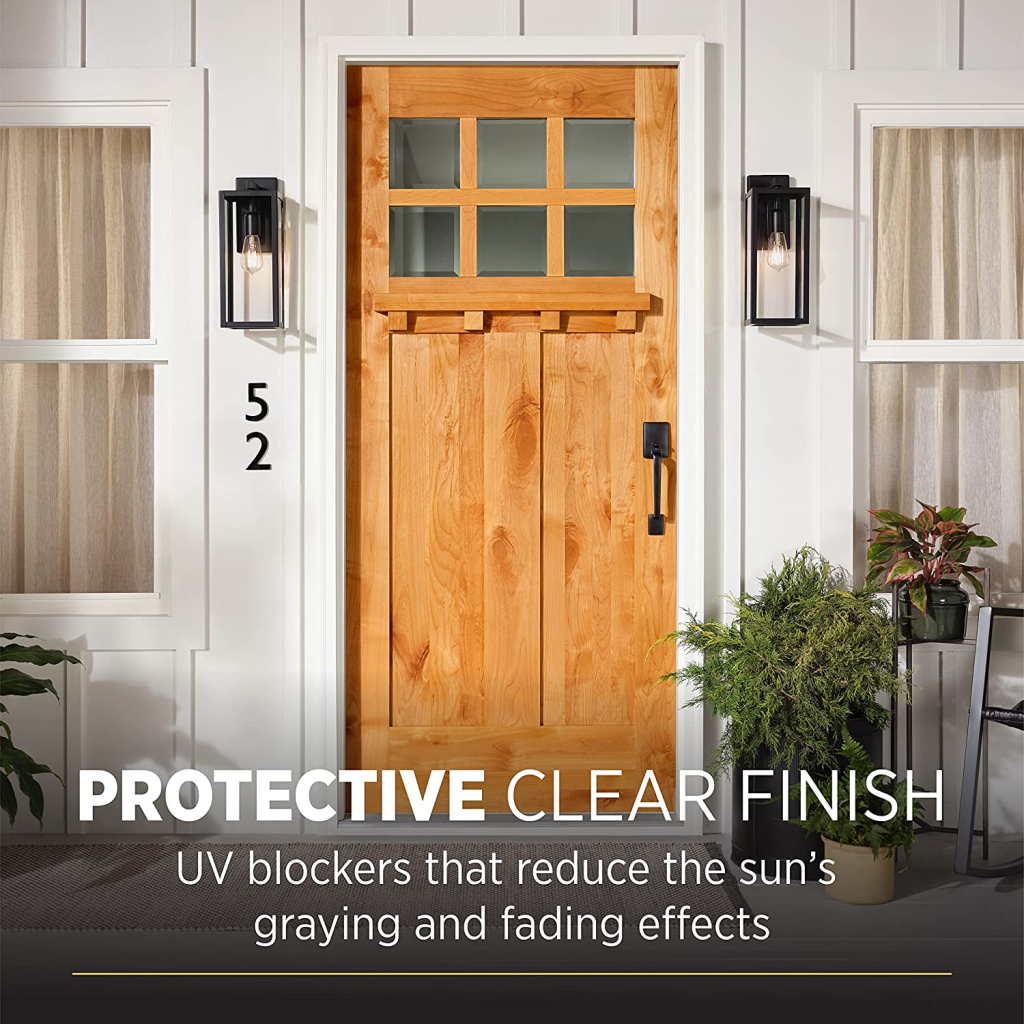 6 Best Exterior Polyurethane Reviews
These are the top 6 exterior polyurethane for your outdoor DIY projects:
#1. Best Water Based Exterior Polyurethane – General Finishes Exterior 450 Water Based Topcoat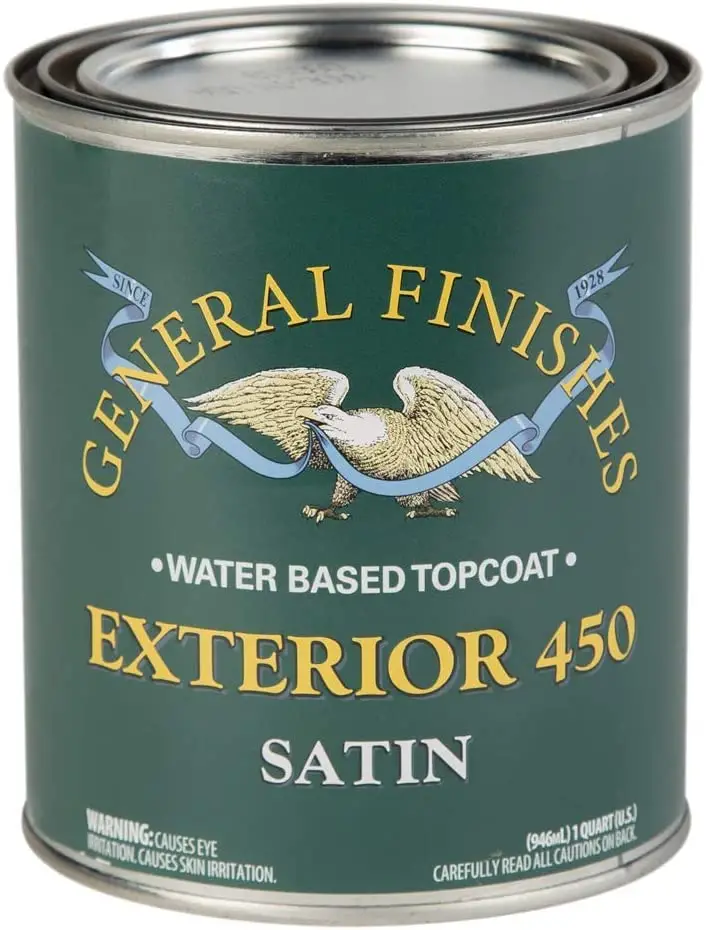 The topcoat's transparent satin finish adds a natural radiance while preserving the surface's original color. Protecting the color from the sun's rays is made easier thanks to the exterior topcoat's high concentration of UV absorbers. As an added benefit, the water-based composition dries far faster than oil-based formulations. Applying the topcoat on white or light-colored painted surfaces may result in yellowing.
Pros
Mold and mildew buildup is minimized thanks to this pre-treated solution.
You only need soap and water to clean a surface coated with a topcoat.
UV absorbers keep the coating's color vibrant and long-lasting.
A solution based on water is both more effective and less harmful to the environment.
Cons
When used on a white or light-colored surface, it causes yellowing.
#2. Best Exterior Polyurethane for the Money – Minwax Gloss 63200444 Helmsman Spar Urethane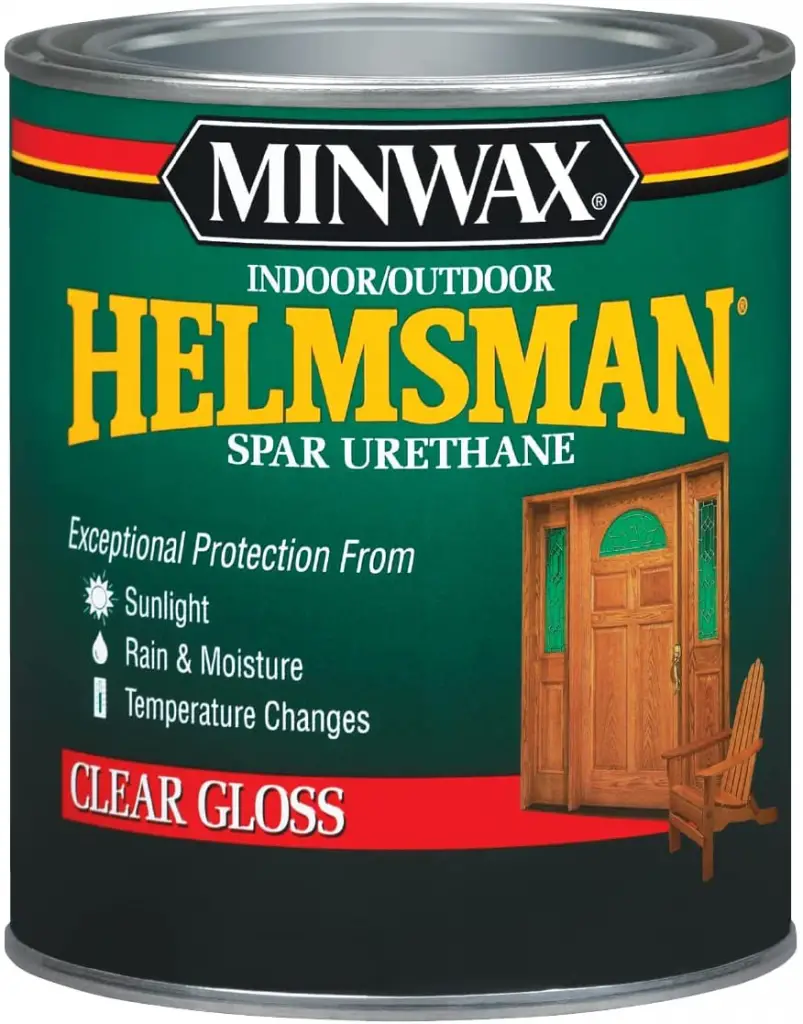 The Urethane provides good sun protection because of a combination of UV absorbers. You won't have to be concerned about your things fading because of the UV protection. Urethane is designed to provide a weatherproof barrier to protect against rain, water, moisture, and dust. You can expect your wooden items to look brand new and last for years to come if you use this finish on them. The urethane expands and contracts with the hardwood surface to accommodate the weather's demands.
Pros
It is possible to use urethane both indoors and outdoors.
Designed to act as a barrier against the elements such as rain and dust.
Adapts quickly to both cold and hot temperatures.
Anti-fade properties are provided by the presence of UV absorbers in the formulation.
Cons
A poor choice for wood-made objects.
#3. Best Oil Based Exterior Clear Polyurethane of Stain – ZAR ZAR-34112 34112 Ultra-Fast Drying Exterior Polyurethane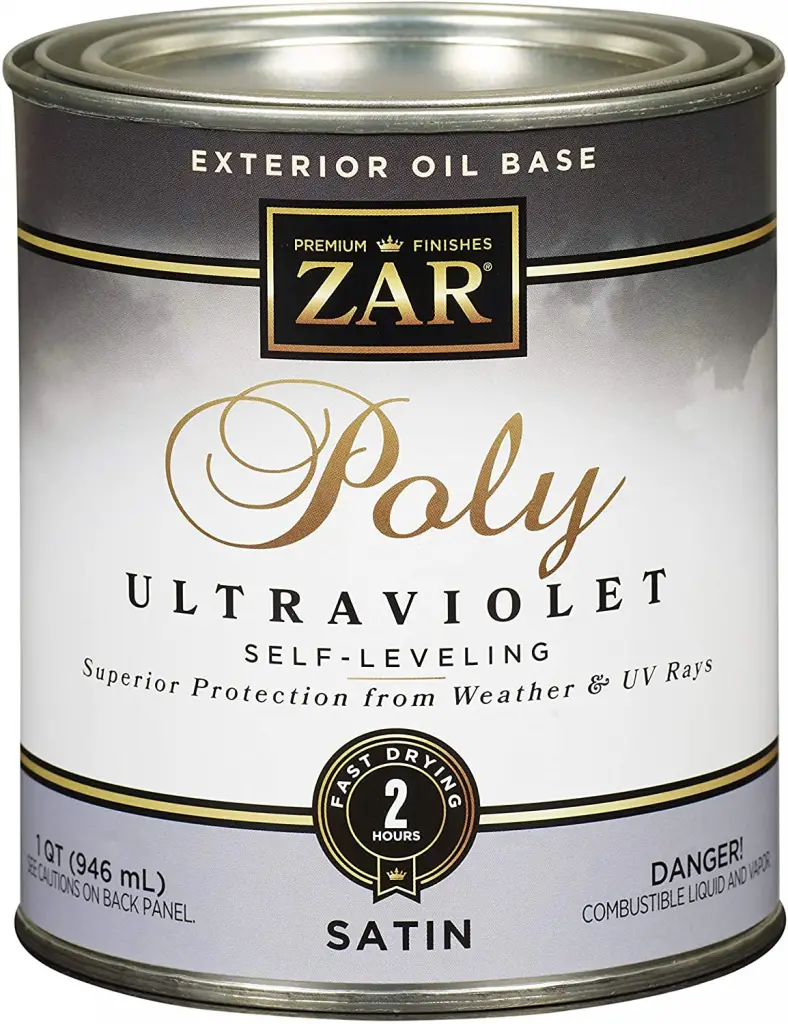 Wood, fiberglass, and steel are just a few of the materials that can benefit from exterior polyurethane. It can be used on a variety of wood surfaces, such as boat decks, outdoor doors, and even patio sets. Even though it has an oil-based composition, it dries in just two hours. On the other hand, its UV treatment protects the surface from UV radiation. Its ability to adapt to quick weather changes makes it ideal for even the most severe weather.
Pros
It can be used on wood, steel, and fiberglass
It dries in just 2 hours
It is combined with UV absorbs and antioxidants that help protect against UV radiation
With its oil-based formulation, it gives a clear and natural look
Cons
For marine wooden surfaces, it should be above the waterline
#4. Best Exterior Polyurethane for Metal – Rust-Oleum Ultimate Spar Urethane Water Based Gloss Finish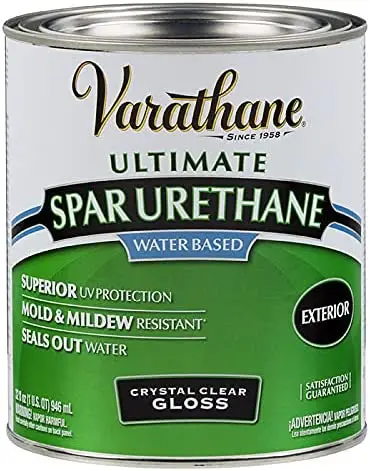 This external polyurethane is designed to keep people safe but provides exceptional performance and durability. It is easy to use because of its low odor composition. A second coat can be applied in as little as two hours. Any type of wood can be treated with this non-yellowing mixture. This product has a UV-resistant coating that helps keep it free of mold, mildew, and harmful UV radiation.
Pros
With its formulation, it gives a low odor
The satin finish is crystal transparent and gives the wood a natural appearance.
3 coats can be applied in a day
Because it doesn't become yellow, it keeps its original appearance on the surface.
Cons
When it becomes wet, its clear tint changes to a milky color.
#5. Best Exterior Polyurethane Gloss Finish – Rust-Oleum Varathane Classic Clear Oil Based Outdoor Spar 275 Voc Urethane, Gloss Finish

This exterior polyurethane from Rust-Oleum is oil-based. This formula ensures a more uniform, glossy, and long-lasting finish. Protecting outdoor wood surfaces has never been easier because of polyurethane's three main environmental benefits. It may dry in as little as two hours, covering an area of up to 190 square feet, thanks to its unique formula. The quick-drying nature of this paint also means that it may be reapplied in only nine hours.
Pros
It has a satiny texture and a natural appearance because of its oil-based composition.
It adapts to any kind of weather.
Because it is fast drying, it allows for the quicker coating
This product provides waterproofing, mold and mildew protection.
Cons
#6. Best Exterior Spray Polyurethane for Wood Door – Minwax Available Helmsman Spar Urethane
The Urethane provides good sun protection because of a combination of UV absorbers. You won't have to be concerned about your items fading because of the UV protection. On the other hand, Urethane is designed to provide a weatherproof barrier to protect the vehicle from rain, water, moisture, and dust. You can expect your wooden goods to look brand new and last for years if you use this finish on them. The urethane expands and contracts with the hardwood surface to accommodate the weather's demands without causing any harm during quick temperature fluctuations.
Pros
It can be used both indoors and outdoors
It's made to create a barrier against moisture, rain, and dirt.
It can adapt to temperature changes
UV absorbers are included to protect against sun damage and fading.
Cons
It's not advisable to use on wooden products
What do You Need to Know about Outdoor Polyurethane?
Can You Use Polyurethane Outside?
You can use water- or oil-based polyurethane finishes for any outdoor furniture, decking, fencing or flooring. The best outdoor polyurethane finishes will help protect your wood from weather (rain, sun) damage while preventing human scratches to maintain its appearance. Please remember not to use indoor polyurethane for outdoor use.
Is Exterior Polyurethane Waterproof?
Yes, it is waterproof against water from rain and snow. It will repel water because it has a semi-porous surface. It will protect you for many years against mild inclement weather. 
How Long Does Exterior Polyurethane Last?
Well-applied exterior polyurethane will last for 5-10 years even when exposed to severe weather. The lifespan of your sealant will be greatly affected by environmental factors such as sun exposure and temperature.
Water-Based or Oil-Based Outdoor Polyurethane
Water-Based Outdoor Polyurethane Clear Coat
Water-based polyurethane topcoats use water rather than solvents as the base for carrying the polyurethane. Water-based polyurethanes can also form a hard protective film, but require more volume to be used.
Water-based clear coat means that it will not emit harmful volatile organic compounds (VOCs). Additionally, it contains mildew inhibitors and UV blockers that ensure it maintains its protective layer. This clear coat can be applied over a previous coat of oil or latex paint to renew its finish and protect it from future damage.
Oil-Based Outdoor Polyurethane Clear Coat
Oil-based polyurethane is ideal for hardwood decks, fences, and other outdoor projects. The oil base allows these paints to be applied in temperatures as low as 40 degrees Fahrenheit, important for colder climates. 
Should You Use Water-Based or Oil-Based Exterior Polyurethane?
A lot of people will tell you that oil-based polyurethane is best for staining wood and keeping it moisture free. Water-based polys tend to have a more flexible feel.
Therefore, if you're using hardwoods, water-based products may not give you adequate protection from moisture, they are appropriate for softwoods like cedar and pine.
Which Is Better for Outdoor Furniture Varnish or Polyurethane?
Polyurethane is a synthetic resin based on either water or oil. Varnish is an older product manufactured from resins, oils, and solvents of various kinds. Because varnish has a larger solids-to-liquid ratio, it is less vulnerable to UV radiation degradation. The varnish is a fantastic choice for outdoor decks and outdoor furniture projects.
Is Polyurethane Good for Outdoor Use?
If you're trying to decide whether or not polyurethane is a good material for exterior use, it's important to look at its durability. Some outdoor polyurethanes contain materials that make them more durable and long-lasting. 
Oil-Based Paint or Water-Based Paint
Oil-based paint can be used on various surfaces and does not require a primer. It is not suitable for direct sunlight areas because it will fade easily. Waterproofing is one of the water-based paint's greatest assets. Homeowners should also consider whether or not they want their wall surfaces to be breathable.
Related Post >> Water-Based Vs. Oil-Based Polyurethane Finish: Which Is Better On Wood?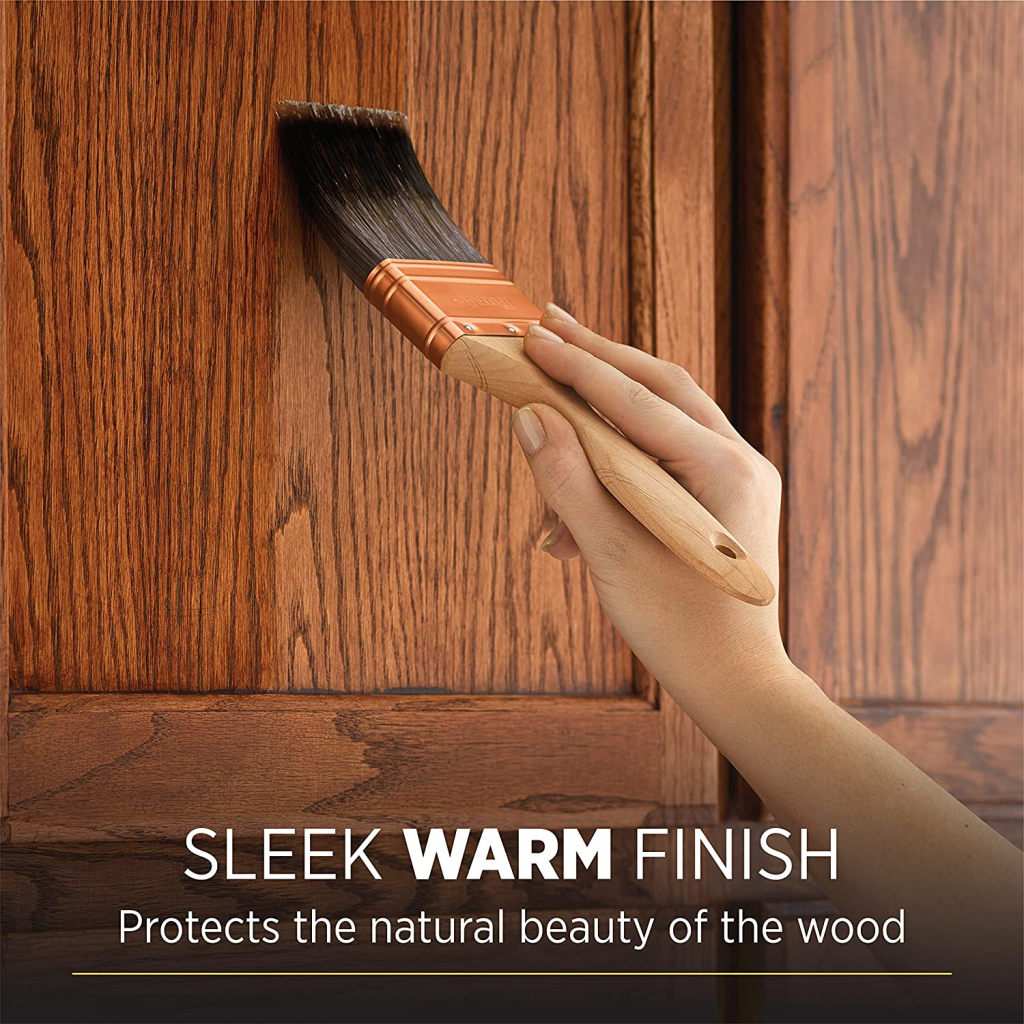 Factors to Consider for Exterior Polyurethane
With so many different types of paint on offer, you want to make sure you get a product that will hold up against both UV rays and extreme weather. That's why it's important to research your options carefully before deciding on an exterior paint product.
Here are some important factors to consider before choosing exterior polyurethane:
Curing & Fastest Drying Time
When looking for an external wood finish, factoring in drying and curing time is always a top priority. A fast-drying poly is the best choice if you need your job finished in a hurry.
Related Post >> How Long Does Polyurethane Take To Dry?
Durable & Lasting
Good exterior polyurethane will be dense, meaning that it's resistant to denting and chipping. This way, your coating will stand up well to environmental factors like rain and extreme temperatures. A high density is also a sign of a long-lasting product; you won't have to reapply it every few years. 
Durability is the most crucial element to consider when purchasing a product. As a result, you'll save money by purchasing something long-lasting, rather than having to refinish the surface as regularly.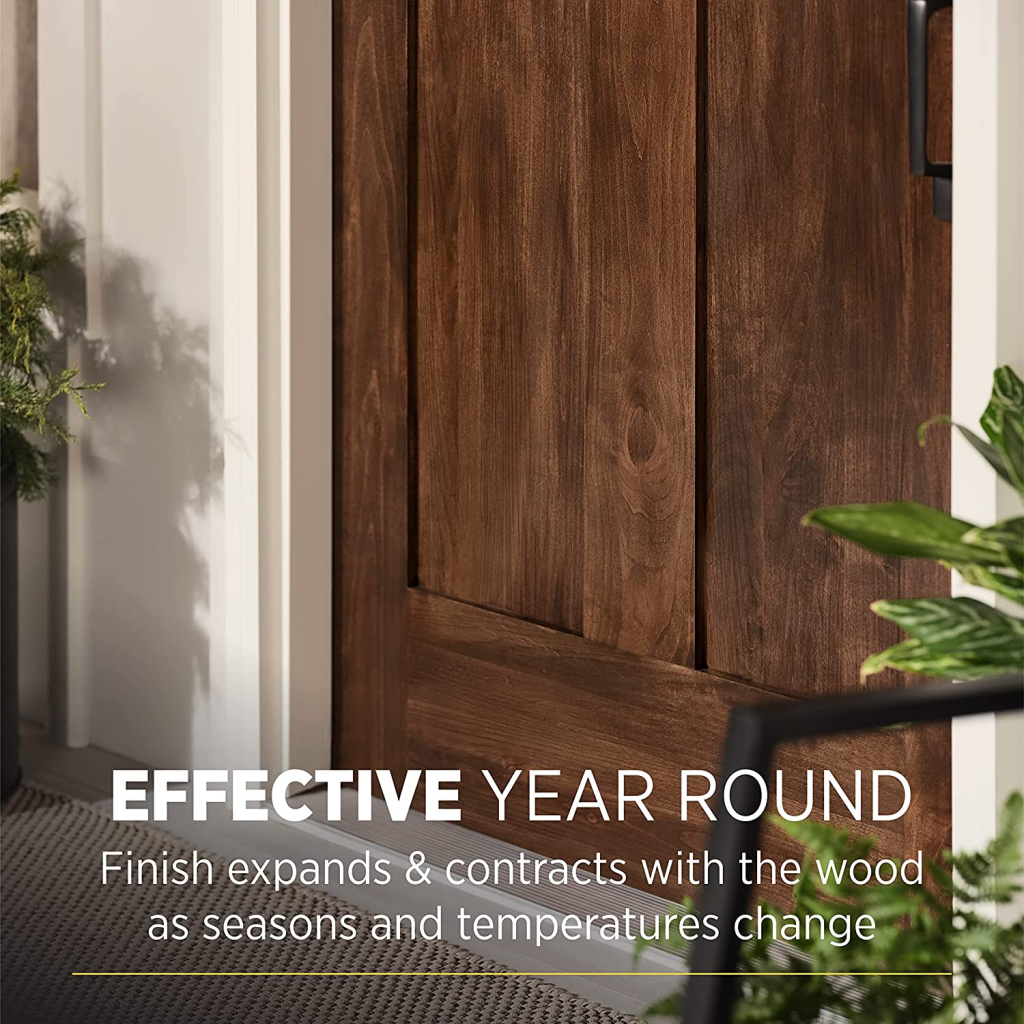 Water Resistance
Water-resistant polyurethanes are best for those who want to protect their siding against rain and snow but don't want a layer of paint. Water-resistant paints sit right on top of your siding, providing a seamless surface that's easy to clean. The downside is that these paints aren't as long-lasting as other types of polyurethanes; they'll eventually chip or fade with weathering.
Heat Resistance
One of the top priorities when choosing an exterior polyurethane is heat resistance. A good exterior polyurethane shouldn't crack or peel when exposed to sun, rain, and other elements over time. After these exposures, it should also maintain its glossy shine, which can dull over time. That's why it's a good idea to choose a product that has been tested for heat resistance.
UV Resistance
Because sunlight can seep through a clear finish and show up on the wood grain, this implies that your wood is at risk of being damaged. A product must have finely powdered metallic compounds that are transparent to visible light while reflecting UV radiation to reflect UV light.
Number of Coats
Normally, your first coat will cover about 60 to 80 percent of your surface. You'll need a second coat to get complete coverage and finish your project smoothly. If you're working on exterior furniture or some other large surface area, expect to need more than two coats.
Colors & Tints
Choosing just one color for your paint job is easy. But if you want to liven things up a bit, consider using multiple shades and tints in a single room or space—such as a dark blue-green on an accent wall and lighter blue-green elsewhere. You can mix it up even more by adding whites, grays, and taupes as well.
Sheen
It's also crucial to think about the sheen you desire. Depending on the desired sheen, you'll need to buy a variety of finishes. Polyurethane matte is not an option if you want a transparent finish that reflects the surface's natural wood grain. You can choose a clear varathane spar urethane varnish if you like a penetrating oil finish.
Toxicity & Odor
Polyurethanes are considered to be toxic, although not carcinogenic. They give off fumes that may cause eye, nose, and throat irritation. The material is also harmful if it comes into contact with your skin or is ingested. You should wear gloves and use a respirator when working with these materials. Finally, avoid skin contact with uncured (wet) polyurethanes to avoid irritation and/or allergic reactions.
You may want to select a product that is odorless or at least has little or no smell. A strong chemical smell will be obvious throughout your entire home and could potentially irritate anyone who comes into contact with it.
Flexibility
Because wood expands and contracts with changes in humidity, temperature, and wind, you must use polyurethane with the right ratio of resin to oils if you want it to be flexible with the wood. 
Ease of Use
You should always choose an easy-to-apply exterior wood finish if you don't intend on hiring a professional.
For beginners, it is important to find a product that is simple to apply, so that you can complete the process on your own without needing the help of a professional.
Repair
Make sure you thoroughly research products before deciding on one and ask around for reviews of different brands. Look for one that is UV protected, so it will last longer than other options. It should also be water-resistant and mildew resistant, so you don't have to worry about keeping your home looking its best in harsh weather conditions.
Value for Money
Of course, you want to know that you're getting good value for money with any product. If your budget is tight and you're looking for exterior polyurethane, it's important to think about what matters most to you: low price? High quality? Extra features? Whatever it is that tips your decision in one direction or another, make sure it will work for you.
Exterior Polyurethane Alternatives
There are many alternatives to exterior polyurethane, including oil-based paint and water-based latex paint.
Oil-based paints are often available in a spray can as well as a tube, making them just as easy to apply as polyurethane.
Another alternative that is considered more environmentally friendly is water-based latex paints. Water-based paints will stain your deck and fence more than polyurethane because it doesn't penetrate wood grains as other products do. It offers an attractive sheen that is both water and mildew resistant.
How to Apply Exterior Polyurethane for Your Outdoor Project?
You can achieve a flawless oil-based polyurethane finish by following the steps in this article. A natural bristle brush, dust-free, well-ventilated room, and patience are all you need.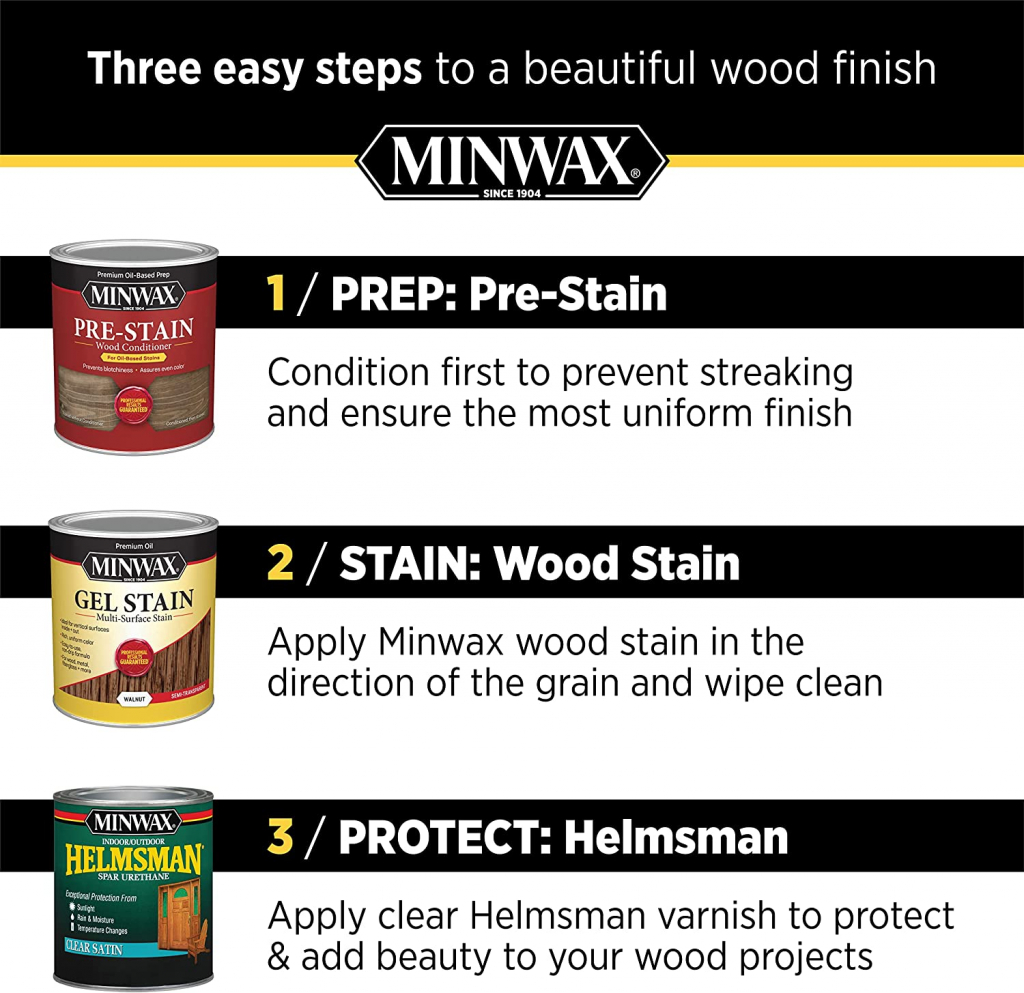 An oil-based polyurethane varnish brings out wood's inherent beauty and texture. Our 8-step process teaches you how to apply the polyurethane correctly:
Step 1 – Sand The Surface & Remove The Dust
Use a fine grit of sandpaper to sand your project.
Immediately clean the dust off the surface, the wood is free of blemish.
Use a tack cloth to wipe the surface down.
Related Post >> Do You Have To Sand Polyurethane Between Coats?
Step 2 – Seal The Surface
Use long, even strokes to apply the sealer with a natural-bristle brush. Make sure you don't miss out on any runs.
Brush the wood in long, even strokes from end to end after loading your brush in 1 inch of the mixture.
Maintain a moist edge by overlapping each pass until the entire surface is coated.
Brush any drips into the surface after you've caught them with your brush.
Step 3 – Apply The First Coat of Exterior Polyurethane
Apply a coat of finish straight from the container within 24 hours of sealing the surface.
Long, even strokes are the best way to apply the varnish over the whole piece.
To provide a smooth finish, overlap your strokes.
Make a point of catching any leaks, especially at the bottom.
Step 4 – Shave off The Bumps
When the surface is completely dry to the touch, use a razor blade to remove any remaining drips.
Step 5 – Wet Sand The Top Coat
Using 400-grit sandpaper set on a sanding block, sand away any remaining imperfections after the initial layer has dried for 24 hours.
Using circular strokes, sand the surface to eliminate any imperfections or dust bumps that may be present.
Wipe the smooth surface with a wet cloth, and then dry it with a clean, dust-free cloth after you're done.
Apply a second and final coat 24 to 48 hours after the first coat was applied, using the same steps as before.
Step 6 – Repeat Steps 4 & 5
Shave off any lumps (per Step 5) and damp sand the surface after the second coat is dried (per Step 6).
Step 7 – Polish The Surface after Wet sanding
After a minimum of 48 hours, use an automotive rubbing compound to polish the finish.
Using a clean cotton cloth dampened with water, rub the surface with an automotive rubbing compound in a circular motion.
Allow the surface to dry before buffing the finish with a clean, dry cloth.
MasterSeal NP 1 is a high-performance, non-priming, gun-grade elastomeric polyurethane sealant. It bonds to a variety of materials, including concrete and masonry, without the need for mixing or priming. 
Pros
Most building materials don't require a primer, which cuts installation expenses.
It contains a one-component formula that requires no mixing and reduces labor costs.
Paintable and compatible with non-rigid coatings
Easy to gun and tool, thereby speeding up its application while making neater joints
Cons
The paint might react adversely with the caulk
FAQs
Can water-based polyurethane be used outside?
You can use water-based polyurethane for outdoor furniture, decks, and floors. It's essential, however, that the label or container of water-based polyurethane has the correct chemicals. To be used outside, it must include UV-blocking chemicals.
Can You use interior polyurethane outside?
Exterior polyurethane can be used indoors, but internal polyurethane should never be used outside since they lack UV-protection ingredients.
Can you put exterior polyurethane over interior polyurethane?
There is no need to coat the interior polyurethane with exterior polyurethane. This is because exterior poly has resin, a flatting ingredient that helps minimize shine and absorbs Ultraviolet radiation. The interior polyurethane should be sanded or removed before applying the outer polyurethane.
Can you use exterior polyurethane inside?
While it's not recommended, you can use exterior polyurethane inside if you want to protect against moisture. It's best to avoid using exterior poly on interior surfaces because it can attract moisture and create more problems.
What is the difference between interior and exterior polyurethane?
Both types contain an oil-based resin. Exterior polyurethanes have additives to make them more resilient against harsh weather conditions. They are texture, UV protection, waterproofing, and mold and mildew resistance.
Does exterior polyurethane have more fumes than interior polyurethane?
Both polyurethane sealants use volatile organic compounds, or VOCs, as a solvent. To determine whether your product has more fumes than another option, you'll need to compare it to other VOC-containing materials. Most products labeled low VOC are less toxic and have lower concentrations of harmful chemicals.
Can exterior polyurethane be used on fiberglass?
Yes, you can. For fiberglass exterior applications, use a clear exterior polyurethane coating (satin or low gloss). Sealant should be applied at the very least once a year to offer optimal protection.
Can You use Minwax fast-drying polyurethane for the exterior?
You can use water-based polyurethane for outdoor furniture, decks, and floors. The label or container of water-based polyurethane must have the correct chemicals. To be used outside, it must include UV-blocking chemicals. It should also be marked "Exterior Use Only" to avoid chipping.
Can you use polyurethane exterior moulding in cold winter?
The answer to that question is no. Polyurethane does not expand when it freezes. Water expands and contracts at a much higher rate than polyurethane.
Can you use polyurethane over exterior latex paint?
Latex and oil paint can be applied with polyurethane. Polyurethane paint over latex paint can be oil-based or water-based to preserve the wood. Poly should not be applied until the paint has completely dried.
Final Words: What's The Best Polyurethane for Outdoor Use?
Minwax Gloss 63200444 Helmsman Spar Urethane is the best exterior polyurethane. It takes the longest to dry, but it's extremely long-lasting, weatherproof, mold-resistant, and mildew-resistant.
Let's get started!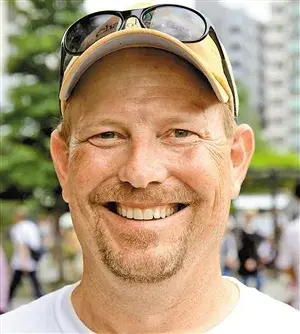 My name is Mark, and I am a software engineer and the founder of OnWoodWorkingArt.
I grew up with a passion for woodworking and now have my woodworking studio with a group of like-minded friends who love to create woodworking. My dream is to have a more extensive workshop and be able to make woodworking my main business.