Did you recently stain your deck after the recommended drying time? You walked on it, but the newly stained deck was showing footmarks? Are you planning on staining your deck, and do you want to avoid the staining issue just mentioned?
Then, it is important you go through the helpful guidelines in this article. While some deck stains get dry within 5 – 6 hours, others could get dry in more than 24 hours.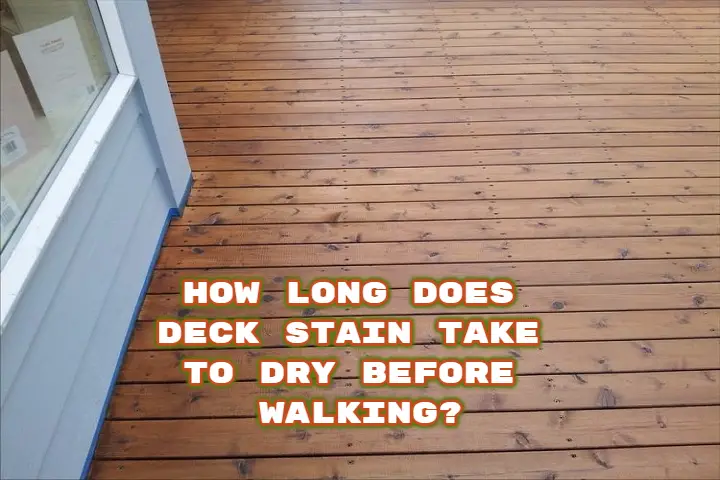 Here's what I learned:
How Long Does Deck Stain Take To Dry?
Generally, water-based deck stains dry completely within 12 hours, while oil-based deck stains require at least 24 hours before walking on, depending on the type of stain and environmental factors. So you should go at least 12-24 hours to finish the staining and let it dry completely before the rain.
The different factors responsible for this will be explained as you read further. Also, the best time and the best deck stain to stain your deck are pinpointed in this article.
Keep reading!
Deck Wood Stain Drying Time
A deck is exterior wooden furniture; hence, certain levels of atmospheric conditions are needed when staining a deck. If these conditions are not met, it will affect your deck wood stain drying process.
Another factor that determines deck stain drying time is the type of wood stain.
Water-Based Deck Stain
A water-based stain is a wood stain whose solvent is water. And since wood readily absorbs water, this type of stain quickly penetrates the wood in an ideal temperature range. Hence, the water-based deck stains dry faster.
That is, within 3 – 4 hours, they dry to touch, and in the space of 24 hours, they completely dry. After which, the deck can comfortably accommodate foot traffic if environmental conditions do not impede the staining process.
Oil-Based Deck Stain
The oil-based stain has the same characteristic as oil-based paint when it comes to a long drying time. Oil stains take their time to penetrate wood pores. Hence, they take more hours to dry. However, this depends on the brand of oil stain you used on your deck.
Nevertheless, under normal temperature range, oil-based stains on deck get dry in 5 – 6 hours. And cure within 24 -36 hours.
These time frames could be extended under unfavorable weather conditions.
Read More >> How Long Does Stain Take To Dry Completely On Wood?
It Takes 24 – 48 hours for Deck Stain to Dry before Rain
It is preferable to avoid staining a deck on a cloudy day or if the weather forecasts rainfall hours after deck staining. You need approximately 24 – 48 hours before rainfall to avoid the drying stain on your deck from absorbing water from the rain. If it does, it gets blotchy.
If this period is not given for the stain to dry and rainfalls, the rain will simply wash off the wet deck and disrupt the whole staining.
However, deck stain drying times are dependent on deck stain brands. With some deck stains, a fully dry time of only 4 hours is required.
How Do You Know If The Deck Is Dry Enough to Stain?
Are you working on a wet decking or wet treated lumber? To effectively stain your deck, you must let the wood properly dry. To know the moisture level of pressure-treated wood, carry out a water bead test. To do this, sprinkle a handful of water on the wet wood.
If the water stays on top, the moisture content is very high. The wood surface is dry enough to stain if the water is absorbed fast. If the water is slowly absorbed, the deck is not completely dry.
Wait 6-12 Hours
The length of time needed for each coat to dry is also a factor that determines the total number of hours it will take a stained deck to dry.
However, different deck stains require different drying times between coats, in the range of 6-12 hours. Some stains need 2 – 6 hours to dry before a second coat can be applied while some need 6 – 12 hours. Hence, it is better to heed the manufacturer's instructions.
How Many Coats of Deck Stain Should You Use?
The number of coats of stain needed on your deck is determined by the brand of stain you are using and your preference.
For instance, their product labels indicate one-coat coverage on some oil-based stains. This means the first coat of such wood stain is all you need.
However, if this first layer of coat is not producing a desired shade of color, you might opt for two coats. But, let the first layer dry before applying a fresh coat.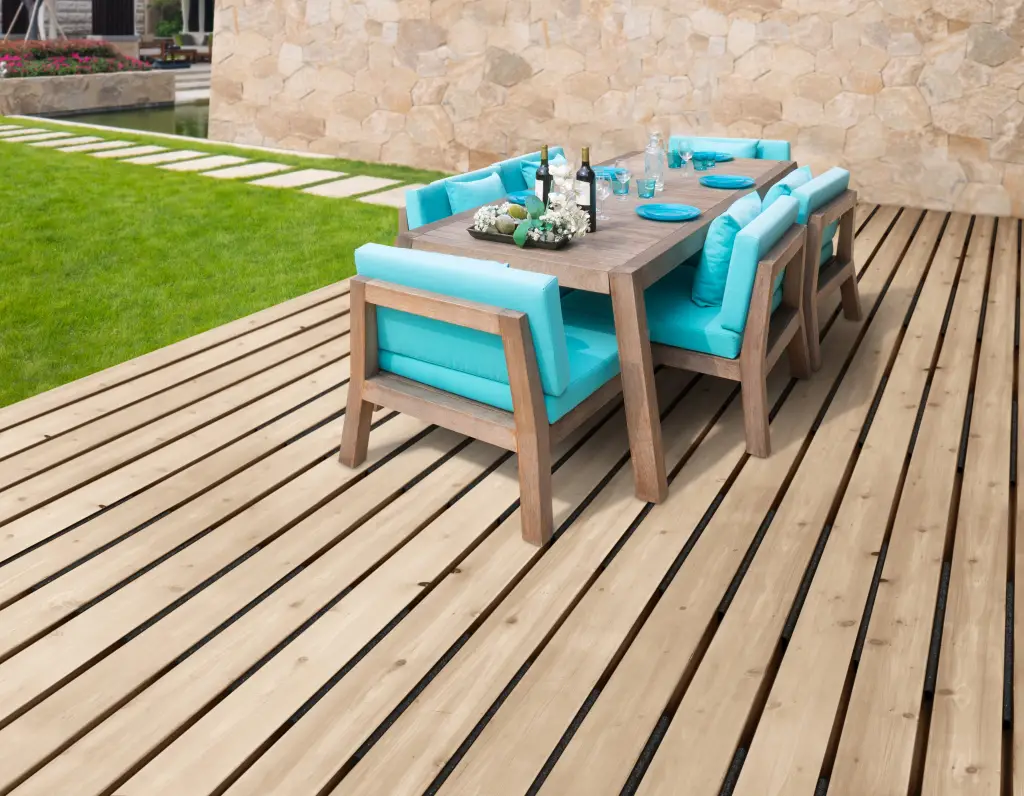 Best Time to Stain Your Deck
When it comes to an exterior staining project, hot weather with direct sunlight is a bad idea although it sounds good.
Also, applying deck stain in high humidity when the water vapor in the air is dry is not a good idea either.
The best time to stain a deck is the evening of a hot day when the sun is setting, the level of humidity is not higher than 70% and there is no forecasted rainfall overnight.
Factors That Affect The Deck Stain Drying Time
Apart from applying stain on your deck under direct sunlight, there are other factors that can hinder your stained wood from producing the desired staining result. The different factors are explained below.
Deck Stain Type
Most deck stains come in oil forms. However, there are water-based stains that are used on wood decks. Water-based stains are generally known to be fast drying compared to oil-based stains.
Hence, if it is a water-based stain you apply to your deck, the stained deck's drying period is faster than an oil-based wood stain.
Either way, follow the manufacturer's instructions on drying times.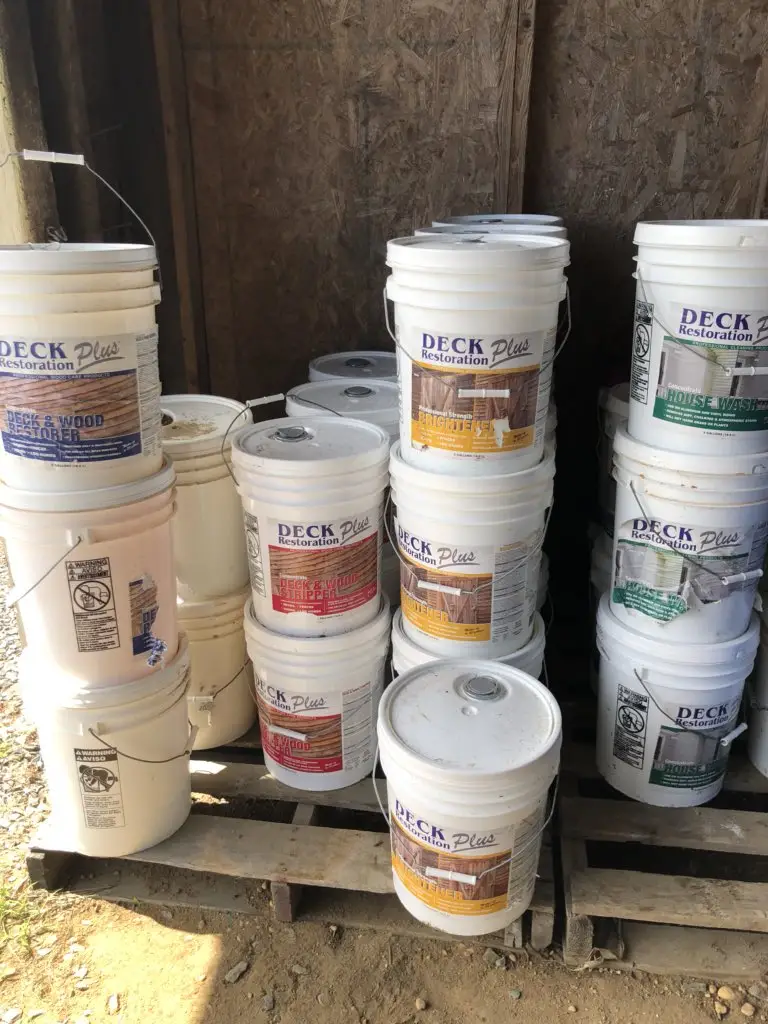 Deck Wood Type & Age
Here is another cogent factor. The type of wood your deck is, also contributes to how fast or slow the drying time will be.
For instance, stain dries faster on a ring-porous wood like oak, compared to a diffuse-porous wood like maple.
Also, staining an old deck is faster than staining a new one with new wood. This is because new decks are often made with wet woods that need time to dry before you apply stain.
Whether The Deck Wood Is Dry
If your deck boards are wet from rainfall or because it is new lumber, staining such woods will lengthen the drying period. The reason is that the water or moisture in the wood will have to be evaporated before you apply deck stain.
If you apply stain on the wet deck without letting it dry, the water trying to evaporate from the wet lumber will get the stained deck splotchy. Therefore, you end up with a wet stain instead of a drying stain.
Weather Condition: Temperature, Humidity, Ventilation
The recommended deck staining temperature is between 50°F and 90°F. Too low-temperature increases drying period, and too high temperature destroys the drying process.
Also, the ideal humidity is between 30 – 65 degrees. Too high humidity doubles the drying time.
Another factor that determines deck stain drying time is ventilation. Low ventilation increases drying times while high ventilation hastens drying times.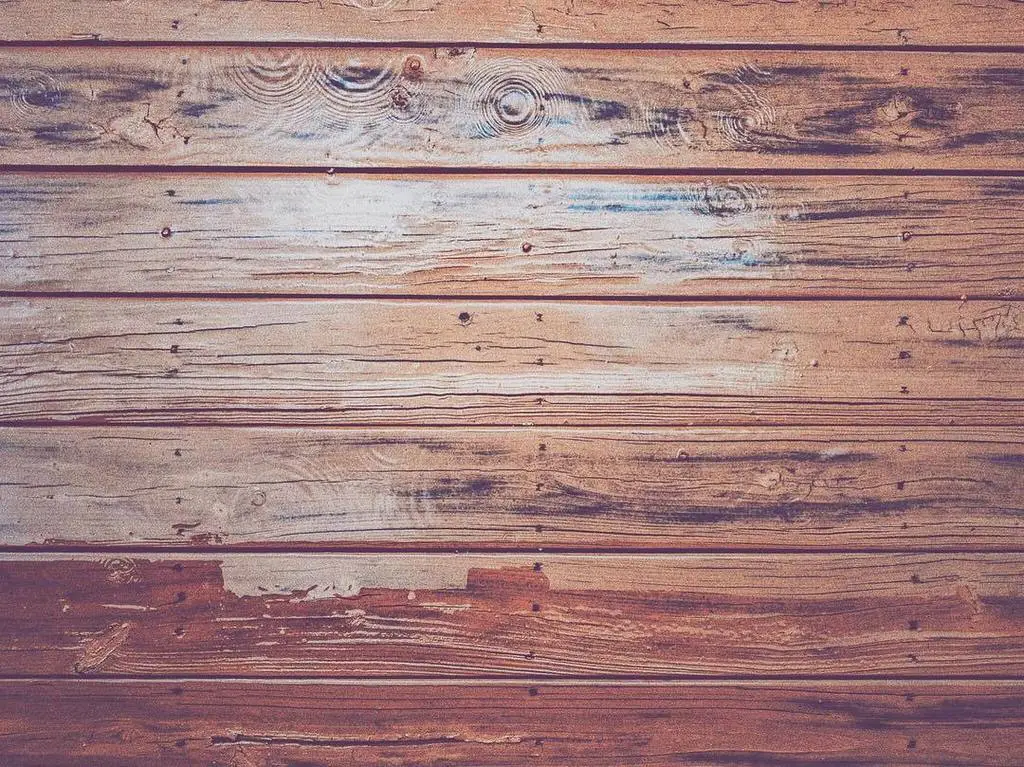 Application Method & Number of Coatings
It is generally recommended to start staining with a thin coat and keep adding layers of thin coats until you get your desired color depth. The reason is that thick coats take longer to dry while thin coats dry within the manufacturer's stipulated time.
Also, not all stains can be sprayed. Spraying such stains can impede their drying period. You can always use a high-quality brush, a rag, or lint-free cloth to apply your deck stain.
How to Speed Up Deck Stain Drying?
Trying to get your deck stain dry, especially in too hot and too cold weather conditions can be a little bit daunting.
Also, the flat surface of a deck makes it hard to get drying equipment that will stay directly on top of the entire deck to dry it.
However, there are two techniques you can utilize to get your deck stain dry quickly. The first is through the use of a huge fan. The science behind using the fan is that the air above your deck is kept cool with less water vapor.
Hence, the moisture in the applied stain can easily escape into the cooler air. Thereby quickening the drying period.
Another thing to do is use a space heater (cannon style) to quicken the escaping moisture's evaporation rate.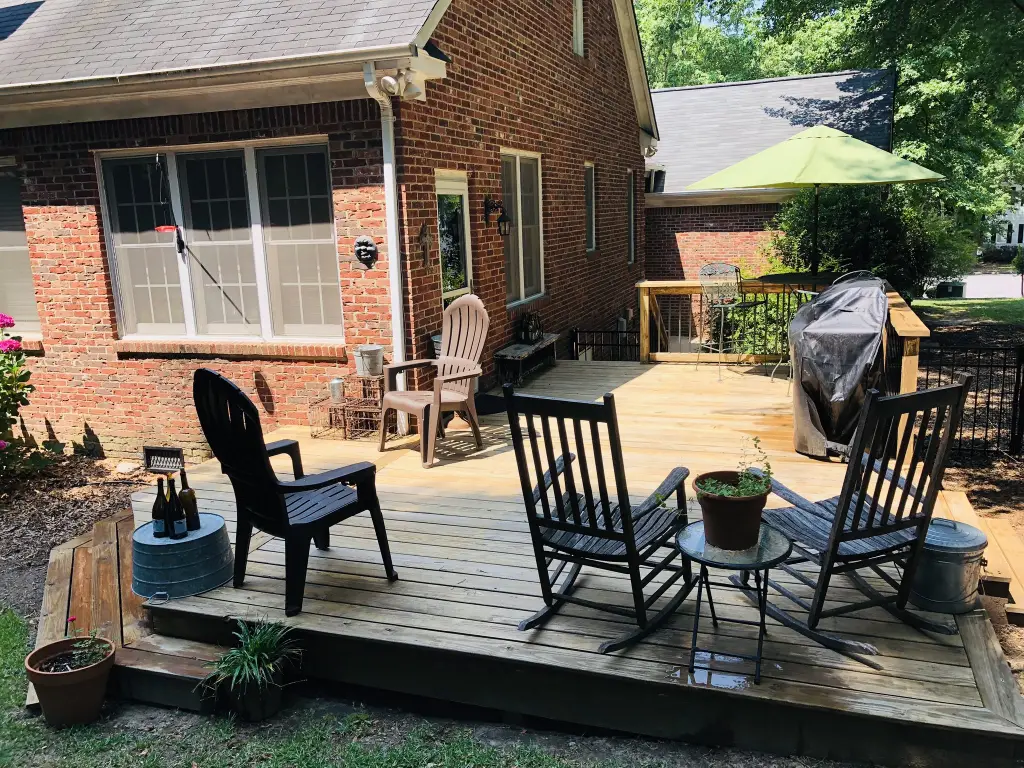 Best Fast Drying Deck Stain – Ready Seal 530 Exterior Stain and Sealer for Wood, 5-Gallon, Mahogany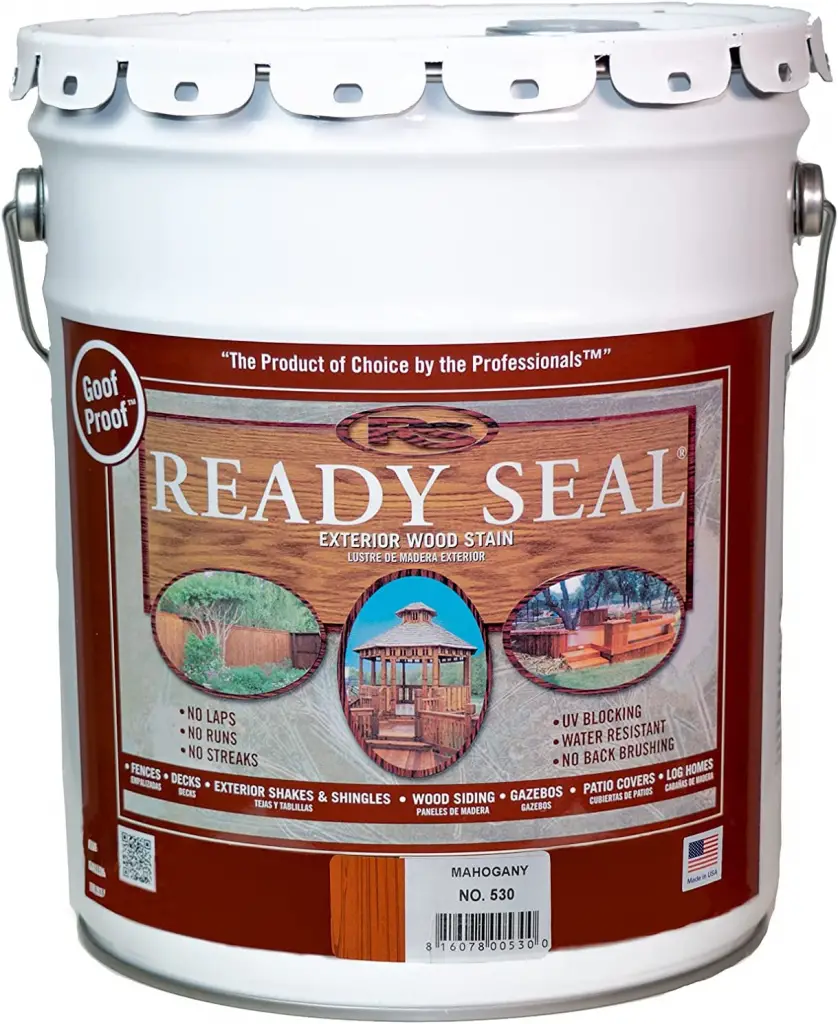 Waiting for a stained deck to dry before applying a sealant can be time-wasting. The more reason you should select a deck stain containing a sealer like this Ready Seal exterior stain. It is a semi-transparent oil-based wood finish that can be sprayed, brushed, or rolled unto wooden decks.
Apart from the self-correcting and self blending of this stain and sealer, it can also be used in any range of temperature. Hence, you do not have to bother about too low or too high temperature.
However, this wood stain can only be used on wood surfaces without existing finish(es).
Furthermore, you do not need a primer with this stain and sealer, and back brushing is not needed.
However, you have to wait 14 days to know the color of your newly finished deck.
Pros
All temperature usage
Stain plus sealer
Goof – Proof
Self-blending
Durable
Easy to use and apply
Cons
Exterior use only
14 days curing period
Why Is My Deck Sticky after Staining It?
Your deck is sticky after staining because you left the excess stain on the surface without wiping it. These excess stains on the normal layer of stains prevent the moisture from completely evaporating.
Hence, the whole stain becomes sticky. Next time, try to wipe off all excess stains within 15 minutes of application to prevent sticky stains.
You can solve the sticky stains problem using mineral spirits.
Read More >> Why Is Wood Stain Sticky & How to Fix?
Final Words
In conclusion, there are quite a several quick-drying weather-resistant stains designed nowadays by stain brands. Using these types of stains make deck staining easier. The only factor to watch out for is rainfall.
However, be it water-based, oil-based, or deck-designed wood stains, do not forget to protect your deck after it dries from the sun's UV rays. Too many ultraviolet rays from the sun can disrupt your stain's natural color, thereby causing fading.
Furthermore, ensure the wood sealant you will use is also waterproof to give your deck furniture lasting protection from atmospheric water and rain.
.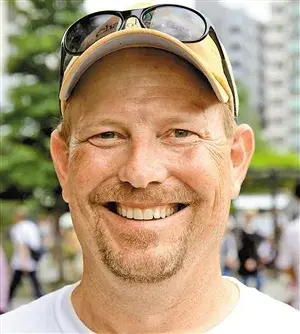 My name is Mark, and I am a software engineer and the founder of OnWoodWorkingArt.
I grew up with a passion for woodworking and now have my woodworking studio with a group of like-minded friends who love to create woodworking. My dream is to have a more extensive workshop and be able to make woodworking my main business.