The question 'can you use polyurethane on metal, appears recurrent among beginner and veteran crafters. The consensus is that polyurethane is a reliable plastic material used as a coating ingredient. 
Here is what I've found:
Can You Use Polyurethane on Metal?
Polyurethane does not adhere well to smooth metal surfaces directly. However, you can use polyurethane on metal, provided you first sand the metal surface with fine sandpaper and then apply a primer. Finally, a sealer should be applied to the primer to enhance its resistance to corrosion and rust.
Polyurethane is a perfect sealing material suitable for a wide range of surfaces, including metal and wood. Although it has different bonding characteristics, poly comes in liquid and semi-hard forms. 
Bestseller No. 1
Bestseller No. 2
Bestseller No. 3
Benefits of Applying Polyurethane to Metal
Polyurethane is a perfect sealant to protect your metal from corroding. Polyurethane's hard and non-toxic ingredients make it a strong adhesive that can hold out against impact, moisture, and the elements. Additionally, it is also highly resistant to alcohol and chemical formulations.
prevent rust on metal furniture
Polyurethane is ideal for sealing materials to protect them from corrosion and moisture. As a rule of thumb, you must first prepare and prime the surface properly. Also, you'll need to apply poly according to the right formula.
prevent paint from scraping off metal
Poly comes with ingredients that help to prevent your paint from scraping off metal. Naturally, the poly surface has a topcoat that makes the paint adhere as it should have. It doesn't matter whether you choose oil-based or water-based poly. Your metal won't scratch.
You can use polyurethane over paint on metal and many painted surfaces. Polyurethane is a quick-drying finish that works perfectly on various surfaces, including metal and wood. Besides being a clear finish, poly also enhances and protects your seals.
Polyurethane sticks to metal. However, oil-based poly is a selective thermoset polymer that won't bond with some metal type. While water-based poly will work with all metal types, their oil-based counterparts won't stick to brass or stainless steel metal.
Oil-based or water-based polyurethane coating 
Both types of polyurethane are suitable for coating metal surfaces, with their pros and downsides. Meanwhile, they both need to be primed before they can be applied. Otherwise, they won't stick to metal. 
While oil-based poly will take longer to dry, it comes out with a smoother and more refined finish than its water-based counterparts.
Oil-based lasts longer and is more durable on metal than water-based poly. Oil-based poly can also dent your metal easier because of its softer and smoother finish. 
With its lower VOC, water-based poly is more eco-friendly.
Overall, oil-based has a comparative edge. 
Spray or brush
There's no debate as to the comparative advantage of using a can of spray paint over a paintbrush when you want to coat a metal with poly.
No doubt, a paintbrush will produce as hard of a finish. However, it depends on whether you're using water-based or oil-based poly. Regardless of the type of poly, spray paint is faster.
Besides, you will need fewer coats of spray paint than you'll need when using a paintbrush. In all, make sure you use spray paint that's specifically designed for applying coating on metal. 
Lacquer vs. polyurethane sealant
Both lacquer and poly sealants are ideal for coating metal, but polyurethane is preferable. No doubt, lacquer coating is often recommended for wood and wooden surface. It can work on metal, too. Also, lacquer is resin-based and so dries out faster than poly. But it can lose its color with time. 
Whether acrylic or solvent, polyurethane is non-toxic and hard and can take 8 to 24 hours to completely dry out. However, it works more perfectly and produces a top-quality, smoother, more delicate, and softer finish. Poly is more durable due to its thickness, thereby leaving a solid seal on your metal.
Besides, unlike lacquer sealant, poly is not susceptible to scratches. 
Spar Urethane vs. Polyurethane
Polyurethane works better on metal than spar urethane would do.
Typically, spar urethane is manufactured to offer a noticeable finish for wood and wooden surface and protect it from natural elements. Specifically, it is suitable for both the interior and exterior part of your wooden project exposed to sunlight, temperature change or water.
Spar won't adhere strictly to the metal as poly would do.  
On the other hand, unlike spar urethane, polyurethane is not susceptible to chemical damage. It's resistant to chemicals and won't degrade over time, even when the metal is exposed to alcohol or any form of harmful chemicals.
Read More >> Spar Urethane Vs. Polyurethane: Which Is Better Finish On Wood?
How to apply polyurethane for metal?
Dry Time
The time taken to finish applying polyurethane on a metal surface depends on the type of polyurethane you're using. Oil-based poly takes between 8 and 12 hours to dry, whereas water-based takes 2-3 hours. Of course, this also depends on the environment (temperature, humidity, wind speed)
In addition, your skills and experience also matter.
Best Temperature & Humidity
The ideal temperature for applying polyurethane sealant on metal is 70 degrees F. Anything below 55o is far too low and cold for poly to work and adhere to your metal. 50% humidity will also be a perfect condition.
Supplies and Tools Needed
Epoxy primer
Polyurethane (oil-based or water-based) product
Sealant 
Tack cloth
Vacuum cleaner
Lint-free cloth
Sandpaper
Painting brush
Step-by-Step Guide to Apply Polyurethane on Metal
Step1: Prepare work area: The first step is to clear and clean the work area of dust, using the vacuum cleaner. You shouldn't allow any grime to mix with or settle on your wet poly. Secondly, you'll need to ventilate the area to avoid inhaling toxic fumes your poly will emit. 
Step 2: Clean old metal surface: This step is important if you're refurbishing an old project. Take off all old lacquer, shellac, wax, varnish, or paint. 
Step 3: Apply a primer: Use a primer ahead because your polyurethane cannot bond firmly to a metal surface.
Step 4: Sand the surface: After cleaning, you should sand the surface to make it level and even. Use 180- or 320-frine grit sandpaper. This should give you with a smooth finish.
Step 5: Wide off your metal surface: Soak a lint-free cloth inside mineral spirits -if you're using oil-based poly- or soak cheesecloth inside denatured ethanol for water-based poly. Use the cloth to wipe off sanding deposit or dust.
Step 6: Apply poly: You can use the brush-on method, spray-on method, or wipe-on method to apply the poly finish. Each one has its pros and downsides. Stir the poly paint can vigorously before using it. You can thin the sealing coat with mineral spirits. 
Step 7: Allow the coat to dry: For water-based, you'll have to wait for 8 to 10 hours whereas, oil-based poly will take between 24 to 48 hours to dry.
Step 8: Sand the surface again: Use coarser sandpaper (320- or 400-grit). This second round of sanding helps to take off scratches, brushstrokes, bubbles, runs, and dips. Sanding must be done gently.
Step 9: Apply the second coat: This time, you should be getting a finer surface. Apply your poly and repeat steps 7 and 8.
Tips for High-Pressure Polyurethane Painting on Metal Surfaces 
Applying high-pressure poly painting on metal surfaces requires the following tips:
Prepare the surface: It doesn't matter whether you're using high-pressure or low-pressure poly paint. You must adequately prepare the metal surface. This will include cleaning and removing any dust. 
Use appropriate polyurethane: Metal surfaces often work better with oil-based poly painting. In all, go for the best poly paint.
Prime surface after paint: This is a no-brainer. If the surface will contact moisture, it's important to prime it before painting. 
Fix minor dents: You should repair any dents or holes, small or big.
Sanding is significant: Make sure you sand the surface and remove any sanding deposit. This way, you can get a smooth painting.  
If you wish to finish your metal surface, this is the polyurethane you should apply. It's designed to provide your metal and fiberglass maximum protection against UV. Besides, the product has a strong resistance to scratch, water, chemicals, and elements.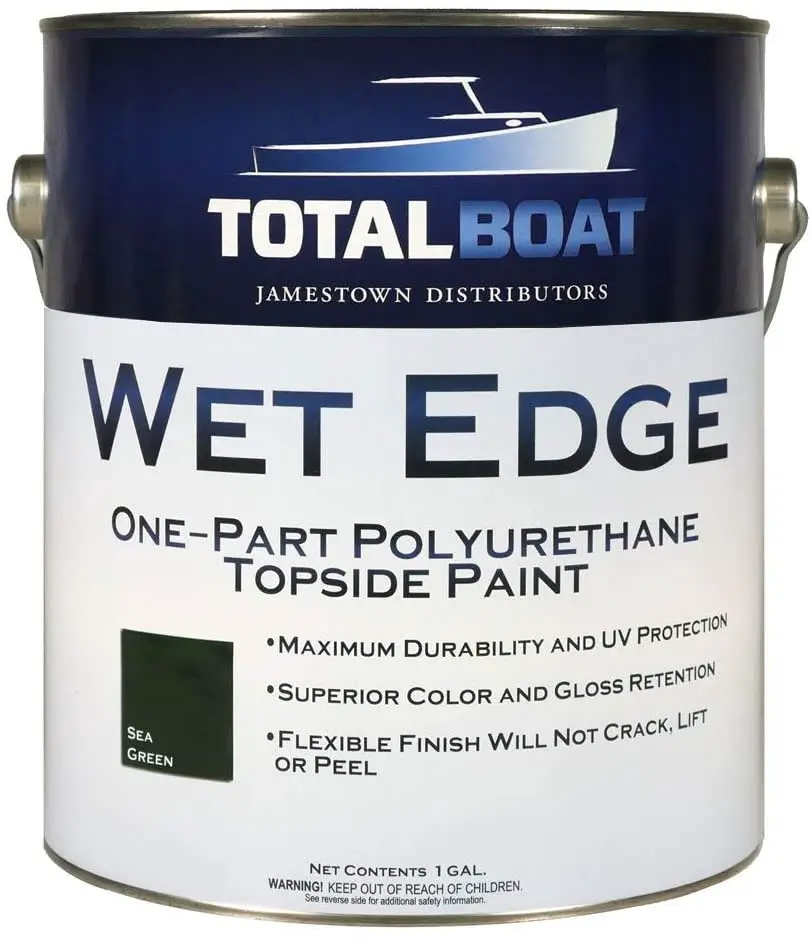 What's more, the TotalBoat Wet Edge Marine Polyurethane is a marine-grade product with an incredible abrasion-resistant capacity. This means it won't crack or peel under any condition. It will functionally optimally if you consider applying it on high-wear metal surfaces. 
It boasts between 350 to 400 sq. ft coverage. But its high VOCs may not be good news for the ecosystem. 
Pros 
Excellent resistance to water, scratch, abrasion, and chemical
Offers optimum protection to a metal surface
Versatile on fiberglass, metal, and other surfaces
Oil-based and marine-grade
Protected against UV 
Cons
Relatively pricey
High VOC
Rust-Oleum Ultimate Oil-Based Spar Urethane is one of the best poly products to apply on your metal or wooden surface. It is formulated against UV light and sun rays, and the product won't discolor your furniture surface. This way, your furniture will resist the damaging effects of the rays of the sun. It's highly resistant to moisture and elements.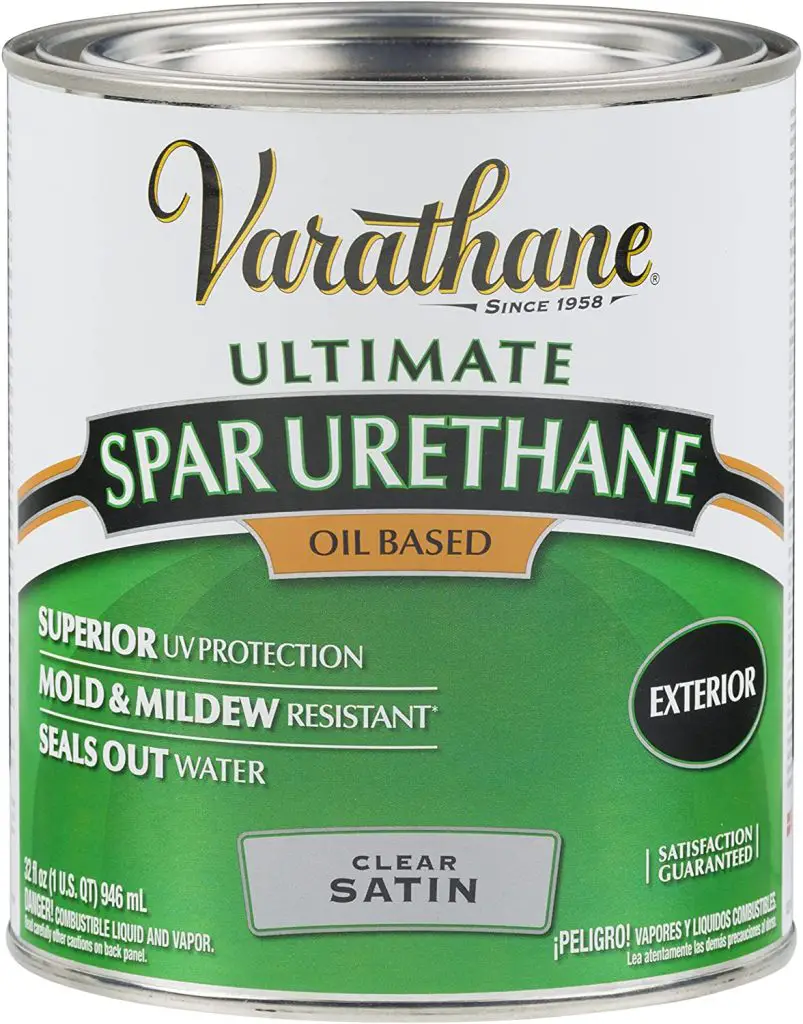 In addition, the oil-based poly dries to touch in a matter of 2 hours and will only need recoat after 8 hours. It is resistant to weather and protects your furniture from mildew, graying, mold, and other environmental factors. The product provides an excellent finish to your metal furniture.
Pros
Moisture-resistant and waterproof
Protected against UV
Offers fine finish
Not affected by eco factors 
Great for outdoor metal surfaces
Cons 
Besides, Minwax Polyurethane is perfect for metal surfaces
Minwax polyurethane is not designed to feature a hard drying surface. When you apply Minwax poly on metal, existing scratches on the surface won't be easily noticeable or seen. This is not the case when you apply it on wood. Its ability to hide scratches makes Minwax poly perfect for metal surfaces.
Read More >> Best Exterior Polyurethane | Reviews & Buyer's Guide [May 2022]
---
How to remove polyurethane from metal? 
To remove polyurethane from metal, you'll need some supplies, including a paint scraper and a spray stripper.
Once you have these and others, you should carry out the following:
Remove dirt and grime from the metal surface by spraying the degreaser
Apply the spray stripper evenly on the surface. Shake before use.
Place the paint scraper in pace and move it along the surface to remove polyurethane
Continue to scrape the surface 
Repeat until the entire surface is rid of poly
Wash the surface as soon as you complete the process
Can you polyurethane galvanize metal for the kitchen countertop?
Yes, but you have to prepare the surface. Secondly, if the kitchen countertop is made of brass or steel, oil-based poly may not work effectively as its water-based counterpart. This is because polyurethane plastic doesn't work on all metal surfaces.  
Does spray polyurethane on metal yellow? 
Yes, but it depends on the type of poly you're applying. Only oil-based polyurethane will turn into a yellow finish. After spraying with solvent poly, you should expect your metal surface to have a yellow tint. Over time, the color will turn darker and then yellow. 
How glue polyurethane foam to metal? 
Choose highly viscous poly foam to ensure your poly foam glues permanently to the metal surface. There are some ways you can glue poly foam to metal. To ensure the product cover a wide area over a large piece of foam, it's better to apply adhesive. 
Typically, a 3M spray adhesive will be the best option. Alternatively, an upholstery spray adhesive will also be a perfect product. Once you've done this, you can follow these steps:
Spray both surfaces. Allow it to get tacky for between 1 to 2 minutes
Set the foam on a mating metal surface
Bond the poly foam to the metal
How to put polyurethane on metal wheels?
To put poly on metal wheels, ensure you use poly that doesn't exude oil. Naturally, urethane rubber won't bond to metal wheels. To provide you bond the poly to metal wheels, you've got to take the following steps. It's time to apply your poly on metal.
Sand or etch the metal surface (use fine-grit sandpaper)
Remove sanding dust and deposit
Clean the sanded metal surface with solvent, preferably acetone 
Allow the surface to dry 
Mix and apply rubber polyurethane 
Prime the surface by spraying it with a top-quality shellac primer
Final words
Putting polyurethane on metal is a no-brainer for beginner painters, but preparing the metal surface is the first step. If you're looking at clear coating or protecting your metallic surface against the elements, polyurethane contains enough ingredients for this purpose.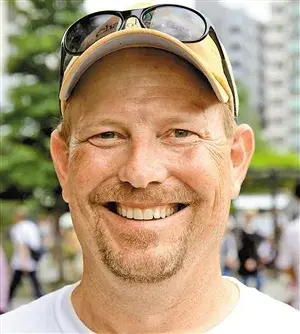 My name is Mark, and I am a software engineer and the founder of OnWoodWorkingArt.
I grew up with a passion for woodworking and now have my woodworking studio with a group of like-minded friends who love to create woodworking. My dream is to have a more extensive workshop and be able to make woodworking my main business.