Have you been staining several types of wood, but that douglas fir softwood has been giving you some little problems? Are you planning on doing some woodwork on douglas fir wooden table? Do you want to know more about staining and painting douglas fir? To get that ultimate guide you've been searching for, then you need to quickly read this article.
I've researched and here's what I've found:
How to Stain Douglas Fir Wood?
You can stain Douglas Fir Wood. Sand the wood with 100-grit sandpaper, then apply Minwax Clear Pre-Stain Wood Conditioner, wait for it to dry and apply 2-3 thin coats of gel stain. Finally, apply a clear polyurethane finish as a protective layer.
More of the information that will be given about staining douglas fir wood is the best wood stain to stain douglas fir, the 6 best stains you can use for your Douglas woodworking project, the best stain color for douglas fir, etc.
So, let's get going!
Bestseller No. 1
1/2 pt Minwax 273 Espresso Wood Finish Oil-Based Wood Stain
RICH EVEN COLOR – Minwax Wood Finish is a deep penetrating, oil-based wood stain that provides beautiful color and enhances the natural wood grain in one coat. It's perfect for interior staining projects such as wood furniture, cabinets, doors and more.
QUICK DRYING – Staining interior wood has never been quicker. The special formula allows it to deeply penetrate wood pores within 5 minutes of application, resists lapping, and dries in two hours, making all your wood projects quick, beautiful and easy.
EASY TO APPLY – Use a clean cloth or wood stain brush to apply this wood stain in the direction of the grain. Wait 5-15 minutes and wipe away excess stain. The longer you wait, the darker/richer the color. Reapply coats for deeper color.
Sale
Bestseller No. 2
Bestseller No. 3
STORM SYSTEM Storm Protector Penetrating Sealer & Stain Protector - Deck Protector, Fence Protector, 1 Gallon, Pacific Redwood
Wood deck protector - A true oil-based semi transparent stain and sealer meant to protect and highlight the natural beauty of the wood grain.
Storm Wood Stain Protector is a semi transparent sealer that penetrates deep into the wood for added protection against Mother Nature.
Compatible with any wood species. Great for wood staining Mahogany, as a Mahogany sealer, Cedar sealer, Cedar fence sealer, Redwood, Pine wood stain, Douglas Fir, Spruce Stain, Cyress, and Pressure Treated.
Bestseller No. 4
1 qt Minwax 61500 Clear Pre-Stain Wood Conditioner
PRE-STAIN TREATMENT FOR ALL WOOD – Ensure wood projects look great with Minwax Pre-Stain Wood Conditioner. Use prior to applying oil-based wood stains to help prevent streaks and blotches. It works by evening out the absorption of oil-based wood stain.
PREVENT BLOTCHES – By Minwax Pre-Stain Wood Conditioner prior to staining with oil-based wood stains, you can prepare the wood to avoid blotching and streaking, ensuring beautiful results.
ASSURES EVEN STAIN PENETRATION – Wood is porous, and tends to absorb stain unevenly. But this wood conditioner for staining evens out the absorption of oil-based stains for natural, even results. Wood may be stained immediately after application.
Sale
Bestseller No. 5
Furniture Repair Kit Wood Markers - Set of 13 - Markers and Wax Sticks with Sharpener Kit, for Stains, Scratches, Wood Floors, Tables, Desks, Carpenters, Bedposts, Touch Ups, and Cover Ups
Choose between a 13-piece and a 17-piece furniture repair kit, Wide Range of Uses: It has both markers and crayon type filler, very easy to fill the scratch, discoloration, hole or separation gaps, Ideal for any kind of wooden furniture.
The 13-piece kit includes Six Repair Markers, Six Paper Wrapped Wax Sticks Crayon Type Filler, and One Wax Stick Sharpener Nicely Packaged in a Blister Style Packaging. 6 UNIQUE COLORS - to match the color of your furniture.
The 17-piece Includes Eight Repair Markers, Eight Paper Wrapped Wax Sticks Crayon Type Filler, and One Wax Stick Sharpener Nicely Packaged in a Blister Style Packaging. 8 UNIQUE COLORS - to match the color of your furniture.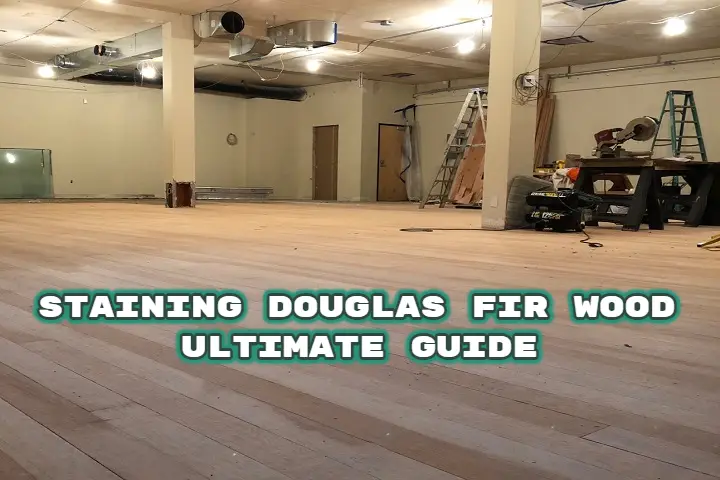 Does Douglas Fir Stain Well?
To be honest, Douglas fir can stain well. This answer might be inconsistent with your previous knowledge, but it is true. Something requiring a little bit of technicality doesn't mean it cannot be achieved. Similarly, the douglas fir type of wood is naturally intricately designed in such a way that is different from other types of wood. Hence, the techniques you utilize in staining pine furniture will be very different from those you will use in staining a Douglas table.
Irrespective, Douglas fir stains well if you follow the necessary careful preparation techniques and other techniques explained in this article.
What Does Douglas Fir Look Like When It Is Stained?
Perhaps you have been hearing all sorts that the douglas fir type of wood does not stain well. That is not true. Yes, douglas fir indeed has some distinct characteristics that some call surface inconsistencies such as uneven texture, different absorbing levels of wood pores, and varying pore structures. Also, douglas wood is known to have some kind of deep red and orange hues. All these features do seem to make it hard to stain douglas fir.
However, when you are done staining douglas fir, the outcome can be so beautiful that you might think of remodeling all your douglas furniture. When you apply wood stain to douglas wood effectively, it exudes a fabulous rich color.
Stain or Paint Douglas Fir: Which Is Better?
Both are excellent choices. Therefore, all you need to do is decide which one to go for. All wood can be stained or painted as means of protecting them. While paint on wood covers up the wood grain with beautiful bright colors, a stain on the other hand protects the wood by enhancing its warm natural colors. The major thing is to protect the wood from wear and tear and some environmental conditions like UV rays, water, decay, insect infestations, etc.
However, I think it is better to apply wood stain to douglas fir. Did you ask why? Because douglas wood has a lot of interesting features that shouldn't be covered up by paint.
Wood Conditioner
Moving forward, when building a house, a lot of attention is paid to the foundation. This is because if the foundation is wrong, the remaining building process is also wrong.
Likewise, to stain douglas well, one of the foundational preparation you should not joke with is the use of a wood conditioner. Everything you need to know about this careful preparation step is explained below.
What is Wood Conditioner?
Wood conditioners are mostly used on softwoods as a pre-stain conditioner to reduce the stain absorption rate of this kind of wood. Hence if you are working on porous woods like fir, pine, birch, etc, you need to utilize a wood conditioner.
However, you need to choose a suitable wood conditioner. There are two types which are oil-based wood conditioners and water-based wood conditioners.
Why Use Wood Conditioner before Staining Douglas Fir?
Remember I pointed out that doug fir has surface inconsistencies like different absorption intensity of its wood pores. Hence, if the wood is stained without proper surface preparation, it will unevenly absorb stain. This means staining problems like blotching, irregular dark spots will occur. Therefore, a wood conditioner is used on douglas fir before staining it to prevent all these.
Related Post >> What Is Wood Conditioner & When to Use?
This is a pre-stain conditioner produced by Minwax. It is known to be effective in preventing irregular absorption of wood stain by penetrating the wood grain in an even way and enhancing stain preparation.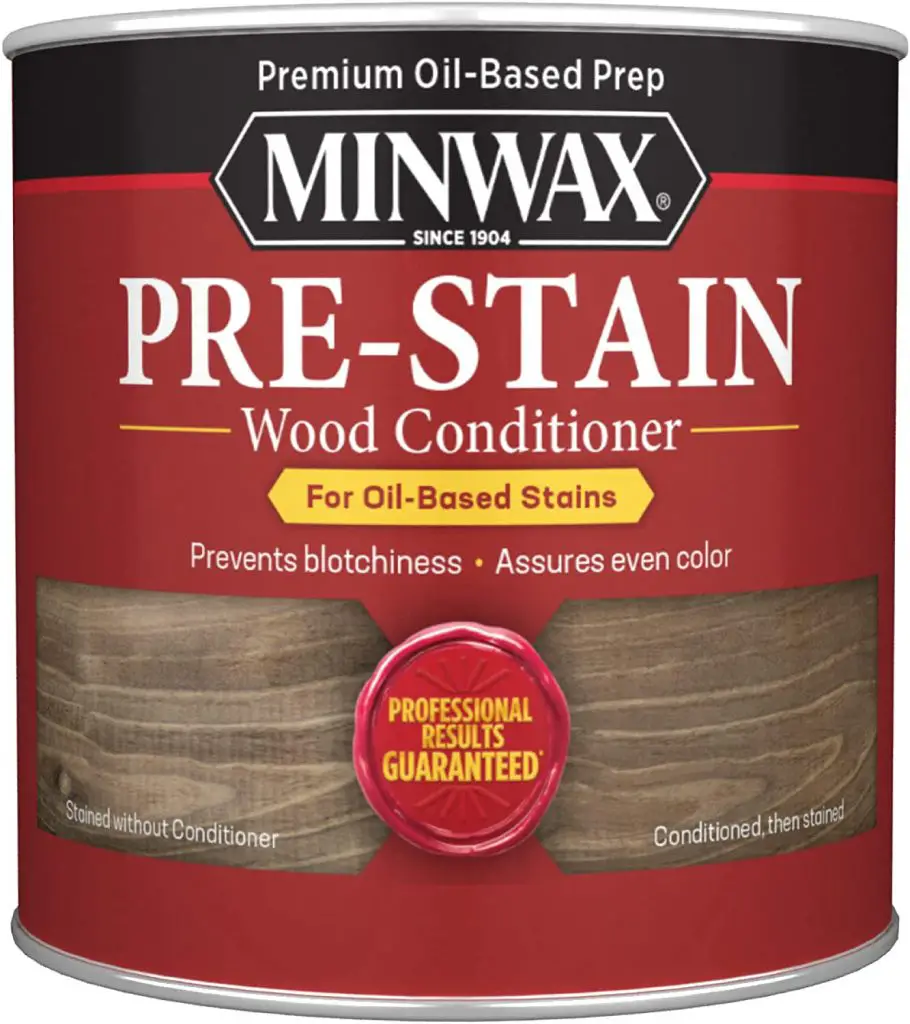 It is an oil-based pre-stain, hence it is meant to be used with an oil-based stain. It prevents blotches and brush streaks. One of its advantages is that immediately after you apply it on doug fir, you can start the staining process.
Also, it is non-selective, it works well on both hard and softwoods. Hence, you can use it on all your wood projects be it pine, alder, fir, maple, birch.
How To Stain Douglas Fir?
Now, here is the main deal. I know you want to know how to stain douglas fir. We will be discussing that in this section. However, here is a tip for you, when staining douglas, do not be in a haste. Below are the tools and materials you will need.
Tools You Need
Linseed oil, foam brush, lint-free cloth, paper towel, clean cloth, wood conditioner, a gel stain, drop cloth, sanding block, sandpaper, finishing top coat or wood sealer, gloves, face mask and other forms of protective gears, etc.
Prepare Douglas for Staining
The first thing to do as earlier mentioned is to prepare the surface by sanding the wood, cleaning the wood to remove sanded dirt and dust, and applying wood conditioner. Below are specific instructions on how to go about this.
Sanding the wood
It is always good to start a staining process to prepare the surface of the wood adequately. Similarly, you need to sand your douglas fir lightly with 100-grit sandpaper because it is softwood. Also, ensure you use a sanding block to do the sanding. This is because you need to exert uniform pressure on the wood surface to tone down the uneven texture of douglas and enhance the smooth surface required for staining.
Cleaning your douglas wood
Of course, after sanding to remove those scratches and unsightly marks, you need to remove the sanded dust from the douglas wood surface. You can do this using a clean cloth, a paper towel, or just a rag. The most important thing is to get all the dust off the douglas fir wood.
Conditioning douglas fir
The next thing to do is apply a wood conditioner. This is to ensure even stain penetration because lack of this could lead to issues such as blotchy staining, stain bubbles, and some pores on the douglas wood accepting more stain than the other thereby leading to non-uniform absorption of stain. To avoid all this follow the steps below
Steps to take in using the wood conditioner
Choose a compatible pre-stain conditioner. It is advisable you purchase both the pre-stain conditioner and stain to be used from the same manufacturer.
Apply the first coat of the wood conditioner and leave it on the douglas fir surface for about 15 minutes. This first coat is readily absorbed and gets dried quickly.
Apply the second coat of wood conditioner evenly along the wood grain. Remove excess conditioner with a cloth. Then let it be there for another few minutes also.
After this second coat gets dry within 15 to 20 minutes. Then the surface of your douglas furniture is ready for staining.
Staining Douglas Fir Step by Step
Finally, let's consider the staining process of the douglas fir wood. But remember the preparatory process is as important as the staining procedures. The first thing to note in staining douglas is that the best kind of stain to use on it is the gel stain. Although you might opt-in for an oil stain or any other stain type. If you want to go for other types of stains, there are certain conditions to keep in mind. However, if you will be using a gel stain, below are the steps to follow.
Applying a thin layer of gel stain: On the pre-stained douglas fir, apply a thin coat of the gel stain. Now, where the technicality is, is that you apply the gel stain in such a way that its thick consistency is not replicated on the surface of your wood.
Waiting for the stain to dry: After applying the first thin coat by ensuring you exert an equal amount of pressure on your foam brush all through, you let the first coat dry. If this first coat is thick, it will elongate the drying time of the stain.
Applying the second layer of stain: Apply the next layer of coat along the wood grain in the same manner. To avoid a dark shade of stain color, apply only one coat of the gel stain. Remove excess stain with a lint-free cloth, and let it dry also.
Let the gel stain completely dry: To know this, test with a paper towel. Wipe the towel on the dry gel stain, if it is completely dry, no color will stick to the paper. You can then apply a sealant.
Apply clear top coat: Apply a clear top coat that will be suitable for the usage of your douglas wood be it varnish, shellac, polyurethane, or lacquer.
Staining Douglas Fir vs Pine
Pine wood and douglas fir wood are both softwoods with a high level of resins. Hence they are available in different colors, especially pine. Because of the lack of uniformity in their surface structures, they both tend to get blotchy when stained. However, the grain of douglas is hard and its pattern is uniform compared to the scattered grain of pine. Either way, both are prone to uneven stain absorption. Hence, they both require a wood conditioner to help them absorb stains evenly. However, because of the peculiar surface inconsistencies of pine wood, the applied stain on the wood might require a sanding sealer. An early american stain is good on pine. But the color of this early american stain is choosy.
6 Best Stain for Douglas Fir Wood Reviews
Furthermore, the stain type is another imperative thing to consider to stain douglas fir wood effectively. Apart from the location consideration of the stained douglas fir furniture, not all types of wood stains are suitable for staining douglas. Hence, the six best stains for Douglas Fir wood type are described below.
Minwax is a renowned wood stain manufacturing industry. They have been in existence for years. Hence, their wealth of experience when it comes to formulating wood care products is top-notch.
This polyshade wood finishing Minwax product is two-in-one. This is because it consists of both stain and polyurethane sealer. It has an antique walnut color and gives a satin finish to the wood. It is designed to combine with a wood's color to give a beautiful and distinct color. Therefore, this makes it more suitable to be used with the red and orange hues of douglas fir. This warm rich brown color of polyshade finish combines with the natural color of douglas to give a rich and uniform color.
It reduces drying time, you don't have to wait for the stain to dry before applying a sealer, because the sealant and stain are together.
Pros
Two-in-one sealer and stain
Rich colors
Cons
It is that it is only suitable for indoor use.
This also is an oil stain containing a stain and sealer. It is available in different shades and you can mix any of these colors to get the desired color. It is an exterior stain and sealer, hence should be used outdoors since it contains a constituent that allows it to protect outdoor douglas furniture from UV rays, mildews, mold, and sunlight. It is easy to apply with a foam, brush, or spray and only two thin coats are needed. Each coat needs a drying time of about 45 minutes. This wood stain does not leave streaks, and requires no back-brushing or thinning.
Pros
It contains both a stain and sealer, hence reducing finishing time.
Suitable for external staining woodwork
Cons
You cannot use it directly on unfinished woods without first stripping a former stain or paint.
It takes a long drying time of 14 days to get the resultant color of your stained wood.
This exterior stain and sealer is suitable for staining that douglas fir deck. It is a Semi-transparent stain designed for outdoor wood protection. It protects your douglas wood surface from water damage, mildew, and UV damage. Also, the color of this stain is resistant to fading. It does not require thinning, but there is a need to shake well to ensure a uniform color. Usually, a coat of this stain and sealer is always enough with a drying time of approximately 120 minutes, but for increased color tone, two coats can be used. If you are not sure about the color outcome, you can test it on scrap wood.
Pros
It is resistant to fading and waterproof
It contains both stain and sealer hence, it reduces wood finishing time.
Cons
It does not penetrate well under too much sunlight especially if the surface temperature is above 50 degrees.
You have to shake well before use to ensure an even color.
This Minwax semi-transparent stain is a non-drip gel stain formulated for multiple surfaces. That is, It can be used on metal, fiberglass, plywood, etc. It is easily applied with foam or a clean cloth. Also, this oil-based stain reduces the chances of blotching and streaking. As a result, the uniformity in stain color is ensured. And this is why it is perfect for the douglas fir door.
Pros
It does not require sanding in between coats
It is suitable for almost all surfaces including metal.
Cons
Each coat takes more than 6 hours to dry.
It is just a stain, you still need a sealant to give your furniture a protective finish.
This stain is one of the wood stains that makes woodworking fun. Did you ask why? Because you can create a beautiful staining effect with this stain. Ordinarily, to create an old weathered look effect on the wood, you have to use a particular painting technique which is a fairly long process.
But, with this wood stain, you stain douglas fir wood with that wood effect in minutes. Also, to use this stain, no priming is needed. All you are required to do is sand with 220-grit sandpaper in the direction of the wood grain. Apply a foam brush while also following the direction of the grain without wiping. After this, you can decide whether to apply a sealant or not.
Pros
It can be used to design without needing a primer
It has a short drying time of not more than 1 hour
It is easily cleaned up with soap and water.
Cons
It is not suitable for exterior usage without applying a protective sealant.
Here is another ready seal product. It is also an oil-based dark walnut-colored stain specifically designed to work on exterior wood surface. It is quite easy to apply with spray, roller, or brush. When using this ready seal stain and sealant, you do not have to use a primer. All you need to do is strip off all old paint and stain for easy penetration. Oil stains are known to emit harmful fumes more than water stains. However, this ready seal oil stain consists of low volatile organic compounds (VOC), making the stain less harmful.
Each applied coat dries fast within an hour and all you need is two coats. Hence, you can get your staining and finishing project done in less than two hours.
The color outcome of this stain after curing for 14 days might be different from the initial applied color. Hence, you might want to make use of scrap wood to know your stain color.
Pros
Suitable for exterior wood
No primer required
Low VOC
Cons
Need to test the color change
Factors to Consider before Choosing Stain for Douglas Fir Door
Seeing the complexities of douglas fir structural makeup, it is essential to put into consideration certain factors to effectively stain douglas fir wood. Some of these factors are:
Stain Penetration
Due to the uneven structure of douglas fir wood pores. That is, some wood pores are large, some are medium while some are small. Hence, when a stain is applied each of these varying pores absorbs the stain unevenly. To avoid this, it is advised to choose a gel stain. Other forms of stain can be used like oil stains.
Stain Color
Furthermore, douglas fir wood already has reddish and orange hues. Hence, the color of the stain you want to choose should be considered to avoid contrasting stain colors and loss of the aesthetic features of your douglas door
Wood Finishing
In addition, not all wood finishing is compatible with every stain. If you are using gel stains, use sealants such as varnish, shellac, or oil-based polyurethane. For oil stains, you should seal them with linseed oil or wax. But, it is preferable to choose a two-in-one stain and finish.
Location and Use
Another vital factor to consider is the location and use of your douglas table. The type of stain you will choose for douglas floors and decks must be quite different from the one you will choose for douglas cabinets and doors.
Best Finish for Douglas Fir
The best finish for your douglas staining project is dependent on the stain you decided to use. If you used a gel stain, an oil-based polyurethane coat is considered the best clear coat you should use for the douglas wood. And this is the reason the polyshade wood stain polyurethane finish is recommended as the overall best stain and finish for a douglas fir. The reason gel stains are the best for douglas is because their thick consistency will slow down the absorption rate and allow easy rubbing until an even color intensity is achieved. However, with a good wood conditioner, a poly stain and finish like the one previously mentioned will provide you with the best stain and finish for indoor douglas wood. For the best exterior finish, choose a finish that provides optimum protection. You can check above to choose one.
Best Stain Color for Douglas Fir
As earlier mentioned, douglas has natural color. Hence, these natural colors highly influence the color outcome of the applied stain. Naturally, certain stain colors enhance these natural colors.
However, if you want to get a particular color choice, you must be good at color mixing. The original colors of doug fir are orange, red, and brown hues. Any wood stain can suddenly accentuate these colors and make them too dark. An example of this is the warm color fruitwood stain produced by Minwax. This fruitwood stain when used on douglas produced an extreme red color. Some might love this color. Therefore before choosing your best color, ask yourself if you want to shout the original colors or tone it down. Lastly, while mixing colors, test it on scrap wood before using it on your wood.
Tips for Staining on Douglas Fir
Softwoods are prone to get blotchy. Hence, always use a wood conditioner to prevent this. However, remember to use the right type of wood conditioner. Whether oil-based or water-based.
If you are working with different shades of douglas fir wood and you intend to get the same color intensity on them. On the dark-shade woods use lighter coats, while on light-shade ones use more coats.
For some grades of fir wood, it is good to tone them instead of staining them. To do this, get aniline dyes of your preferred color and then add them to the clear coat you intend to use. Such as shellac, varnish, etc.
Before adding the aniline dye. Follow the manufacturer's instructions when dissolving it with denatured alcohol. Also, apply a sealant after this.
FAQs
Can you stain a douglas fir timber beam?
Yes, you can. However, light stains work fine on the douglas fir timber beam. Just follow the same procedures of staining douglas explained above.
Does Douglas fir darken over time?
Yes. Because all wood tends to change color as they age. Apart from this, over-exposure to sunlight can cause this change. That is, the look of your douglas 5years from now will be a little different from what you see now.
How do you make Douglas Fir look weathered?
There are several ways you can get a weathered wood effect with your douglas wood. You can use a paint technique in which you will apply a prime, or simply go for a weathered wood effect wood stain and sealer.
What color does Douglas fir age to?
Douglas fir varies in color. Hence, the colors they change to as they age are influenced by their original colors. Nevertheless, shades of grey are noticed as they age.
How do you darken fir wood?
You can darken fir wood in varieties of ways. You can use a vinegar and steel wool oxidation solution or a coffee tea or black tea pre-stain solution. To use a wood stain, choose a dark grey colored one and apply as many coats to increase the dark shade.
Does polyurethane make the stain look better?
Both water-based and oil-based polyurethane has a subtle effect on wood stain. This is due to their color tones combining with the applied stain. Apart from this polyurethane gives a shine that makes stains appear better.
How to stain Douglas fir to reduce red color?
To do this, you can create your own stain to produce a color that can tone down the red color. You can decide to add pure green dyes to the wood in a regulated amount. Also, you can bleach the wood with homemade bleach or store-bought ones.
How to Stain Douglas Fir Darker?
You should pre-stain it with a homemade coffee or black stain to do this. Or you choose a dark-colored stain and apply layers of the stain.
Final Words: What Is the Best Stain for Douglas Fir?
There is no single best stain for douglas fir. Not at all. But, specific perfect wood stains are depending on your douglas fir projects ranging from doors and floors to decks. Also, the type of staining outcome you want and the location of your wood will all determine the best stain for your douglas furniture.
Notwithstanding, gel stains are considered the single most compatible and perfect stains for douglas fir. I hope this article has provided enough guidance for you to stain those douglas DIY furniture with fun and professionalism.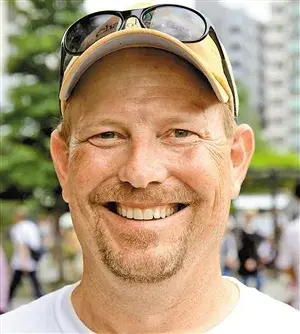 My name is Mark, and I am a software engineer and the founder of OnWoodWorkingArt.
I grew up with a passion for woodworking and now have my woodworking studio with a group of like-minded friends who love to create woodworking. My dream is to have a more extensive workshop and be able to make woodworking my main business.