Is that wood furniture too light, and do you want to reveal its beauty by making it darker? Are you wondering if you can stain wood darker, or do you want to know the several ways you can do that? Do you want to know the best wood type for dark stains? You are reading the right article. Yes, you can make dark your wooden furniture, and there are three major ways to do that.
I decided to research further and found out:
How to Stain Wood Darker Color?
Sand the wood surface with coarse and fine sandpaper, clean off the wood chips and debris with a rag, follow with a thin coat of gel stain, repeat the application several times, waiting for it to dry, and finally apply the protective wood finish.
But there's a lot more to know about staining wood darker.
This article will discuss more of these, including how to apply dark wood stain to light stain, the best dark wood stains, and the best dark wood stain colors, amongst others.
Let's get started.
Bestseller No. 1
1/2 pt Minwax 273 Espresso Wood Finish Oil-Based Wood Stain
RICH EVEN COLOR – Minwax Wood Finish is a deep penetrating, oil-based wood stain that provides beautiful color and enhances the natural wood grain in one coat. It's perfect for interior staining projects such as wood furniture, cabinets, doors and more.
QUICK DRYING – Staining interior wood has never been quicker. The special formula allows it to deeply penetrate wood pores within 5 minutes of application, resists lapping, and dries in two hours, making all your wood projects quick, beautiful and easy.
EASY TO APPLY – Use a clean cloth or wood stain brush to apply this wood stain in the direction of the grain. Wait 5-15 minutes and wipe away excess stain. The longer you wait, the darker/richer the color. Reapply coats for deeper color.
Bestseller No. 2
Sale
Bestseller No. 3
Sale
Bestseller No. 4
Sale
Bestseller No. 5
Birchwood Casey Walnut Wood Stain, 3-Ounce
Water-soluble stain is sun-fast, true-to-color and non-bleeding. - See more at: https://www.birchwoodcasey.com/Refinishing/Wood-Finishing/Walnut-Wood-Stain.aspx#sthash.sdoCeH3f.dpuf
Produces a clear, rich color without grain clouding or smearing
Rich brown walnut
Can You Stain Wood Darker?
Of course, you can. In as much as a dark wood can be made light, a light wood can also be made dark. All you are required to do is choose a particular method of staining wood darker, follow the laid down procedures, and start your dark staining wood project.
3 Ways to Stain Wood Darker
This section explains the three easy ways to darken wood in simple steps and procedures.
Using Gel Stain
A gel stain works best when it comes to darkening dense woods. This is because gel stain does not absorb into the wood grain. As a result, the gel stain prevents applying several layers of a thin coat of dark wood stains on some wood without visible effect. Below are the materials you need and how to go about it.
Tools and materials
Rubber gloves, chip brush, lint-free cloth, a gel stain, sanding block, dark wood stain, wood finish, scrap wood, etc.
Steps for Staining Wood Darker with Gel Stain
Put a drop cloth on the floor. Then go ahead to clean your wood off dirt and grease. If it is bare wood, there is no need for this. Use a wood conditioner after washing for wood surfaces previously stained with oil-based stains.
Working along the wood grain, sand the clean wood surface with coarse sandpaper and fine-grit sandpaper. (120-grit and 220-grit respectively)
Apply the gel stain on a piece of scrap wood to determine the intensity of the dark color. Working on a small area per time, apply a thin coat of the gel stain. Leave it for about 25 seconds. Then wipe with a lint-free cloth.
Keep applying and wiping coats of more gel stain until you get a satisfactory dark color. Then dry it for a day or more before applying a dark-colored wood stain.
Lastly, after drying the gel stain, apply a protective wood finish.
Using Coffee
Using coffee as a dark wood stain sound funny and interesting right? It is. Instead of a coffee spill giving your wooden furniture heat marks, why don't you just use it as a natural stain?
Tools and materials
Grit-sandpaper, coffee, chip brush, lint-free rag, scrap wood, wood finish, etc.
Staining Wood Darker with With Coffee
Prepare a dark-colored instant coffee or brew a bowl of strong coffee in a heat resistant container and leave it to cool.
Wearing your protective gear, sand the wood surface and remove wood dust with a clean rag.
Apply a first coat of your strong coffee stain using a brush or a clean cloth. (Test the stain color first on a piece of scrap wood).
Let this first coat dry before applying multiple coats until you achieve a desired dark color.
Wipe off the excess stain then leave it to dry completely. You can apply a protective wood finish.
Using Tea and Vinegar
This method is quite experimental because you will have to create a particular product to use. This product is called iron acetate.
Tools and materials
A strong black tea, steel wool, apple cider vinegar, tack cloth, wood piece, chip brush, boiling water, wood finish, etc.
Staining Wood Darker with Tea and Vinegar.
Drop a ball of fine steel wool inside a closed container filled with apple cider vinegar. Leave it inside for about two days to form an iron acetate solution.
Prepare the dark wood stain by brewing some black tea using boiling water. You can add more tea bags to get a darker stain.
Gently sand your wood, and wipe off using a lint-free rag before applying the brewed black tea to the wood surface with a soft cloth.
Allow the black tea to be absorbed into the wood grain and wipe off excess with a lint-free cloth.
Then apply the iron acetate with a brush. The soluble iron in this product reacts with the tannins in the applied tea to form an insoluble black iron complex.
This complex gives a dark wood finish to the stained surface. Remove excess with a cloth and let the wood dry. Then protect your wood surface with a suitable finish.
How to Use Darker Wood Stain Step by Step
Coarse sanding
Using medium-grit sandpaper, give your wood surface a rough sanding to a coarser grit. Scratch along the wood grain to prevent visible scratches. Be it a finished wood or a bare one, sanding is needed. Wipe off the sanding dust. You can use a wood conditioner before sanding.
Moisturizing wood grain
Pour some water on the surface of your wooden furniture. This process roughens the wood surface by raising the wood grain. This means the wood surface area can accommodate more dark stains to give a deep dark color. This procedure is optional.
Stain application
Pour the dark wood stain inside an open container. Then use foam or rag to apply bit by bit on the wood surface in the direction of the grain. The paintbrush might leave brush marks. Apply the first coat and let it dry completely. Wipe off excess with a tack cloth before applying the second coat. The number of coats you apply depends on how dark-colored you want your wood to be. After this, go along to dirty wipe the stain on the wood, this process leaves excess stain to cure on the wood to give a darkened color.
General wood finishing or glazing
A glaze could either be an oil-based or water-based liquid stain. It contains a high amount of pigment. Hence, it works to increase the intensity of the dark color of the applied stain. Choose a compatible glaze and apply a light coat. You can apply as many as three coats, but make sure each coat dry completely before applying the next. Also, you can leave excess glaze on the wood to give it a darker hue before wiping it off. Instead of using a glaze, you can make use of a toner to fasten the wood staining process.
Protecting the wood
Lastly, after drying the glaze, apply a suitable wood finish.
How do You Apply Dark Wood Stain to Light Stain?
Is your wooden furniture already light stained, but do you want to make it darker? It is quite possible, in as much as stains can be mixed Below are the steps you should take.
Can You Put Dark Stain over Light Stain?
Yes, you can apply a dark wood stain over a light stain. It involves a straightforward process However, keep in mind that the resulting dark color you envisaged might be affected by the lighter wood stain you are applying it to. Hence, it is advisable to test the resulting color on a hidden wood surface before applying it all over.
Step by Step to Apply Dark Stain to Light Stain
The first thing to do is remove the topcoat on the light-stained finished wood. Lightly sand the wood surface to prepare it to accommodate more stain and not to remove the light stain. Use a grit-sandpaper. Wipe off the scuff sand.
Apply the dark wood stain in a thin coat on the clean wood. Apply multiple thin coats until you get a desired dark shade. Depending on what you want, you can choose a water-based or gel stain. Apply with foam or rag to avoid brush marks
Leave in excess stains to get a darker color, but remove if you want even staining on your furniture. Then let it cure for as long as required, maybe half a day to a few days.
After all, this, apply a sealer to finish up your dark staining job. However, you can apply a light coat of toner or glaze to stain darker if you are not satisfied with the finishing color.
However, you need to choose the right color of toner to avoid messing up your job. Toners are made of dyes and pigments. Hence, choose the right color depending on if you want to warm up or reduce the shade of the applied darken stain.
Best Wood Type For Dark Stain
Suitability and compatibility matter a lot when using a darken stain on your wood surface. This is because not all wood types are compatible with dark-colored stains. The best wood type for dark stains should have the following major characteristics:
It should be a hardwood
The grain pattern should be open instead of closed or figured.
The wood should be one that can easily absorb many layers of stain coats.
Woods considered hardwoods tend to hold darkened stains more effectively than their soft counterparts. Also, woods with open grain patterns tend to hold stains well compared to those with closed grain patterns. Their coarse grain enables them to accommodate stains. Similarly, not all wood types can hold multiple layers of the coat even when you leave it to dry. Therefore, because a dark-colored stain requires more than one coat, wood that can absorb stain in a fast manner is more suitable for a darkening stain.
Examples of such woods are Hard maple, Cherry, and Red oak. However, some wood can be stained to look dark in color irrespective of wood type if the right wood stain is used. For instance, a gel stain can still be used to darken a closed grain or softwood. This is because the darkening wood stain is more about mixing colors to get a darker shade.
10 Best Dark Wood Stain Colors
Black: A black wood stain is the best darken stain color you can go for if you really want to get that wood furniture to be black and classy.
Dark Grey: This type of dark wood stain color gives a toned-down dark color.
Ebony Gray: This is an exterior wood stain color belonging to the gray color category.
Dark Brown: This is another shade of a dark wood stain color for people who prefer brown to black or grey.
Deep Charcoal: This gives a rich opaque outcome and is suitable for exterior use.
Dark Bark: This wood stain color gives a semi-transparent exterior finish and a dark brown shade.
Bayberry: This dark wood stain provides a solid exterior finish with a dark green hue.
Coffee Bean: This is a water-based dark wood stain in the gray color family.
Red Mahogany: This provides an exquisite penetrating deep red dark color for your wood project.
Antique Walnut: In need of a dark wood stain with a brown-yellow shade? Go for Antique Walnut.
6 Best Dark Wood Stain Reviews
Listed below are the 6 Best Dark Wood Stains:
Read on to learn more about dark wood stain!
This is an oil-based stain specifically designed for interior use. There are different shades of black color, but this wood stain gives a true black color, which is rich and even to your wood. It is formulated to stain darker and deeply penetrate wood grain in a single coat. Due to this, it also dries fast. The more coats you apply, the richer the color. It can be used on interior furniture only.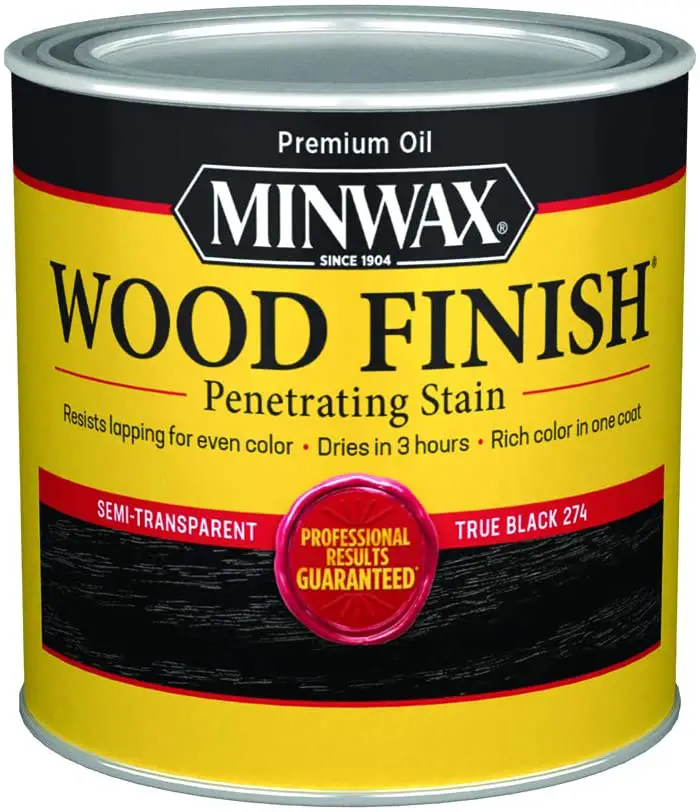 Advantages
It is easy to use. That is, you can apply it with ease using a foam or clean cloth.
It gives a beautiful rich black color and gives a painted furniture outlook.
It is quick-drying.
It can be used on any type of wood.
Disadvantages
It is formulated to be used in line with Minwax Pre-stain. This means it might not give a very good outcome if not used with a particular pre-stain.
Not suitable for a less porous wood unlike a gel stain which is.
It cannot be used on outdoor wood furniture.
This is an eco-friendly wood stain due to the fact that it is a water-based stain. It does not contain organic solvent or harmful chemicals that pose threat to users. Hence, if you don't want too many chemicals all around your residence, this wood stain is a good option. It is easy to use and made for small exterior vertical surfaces only.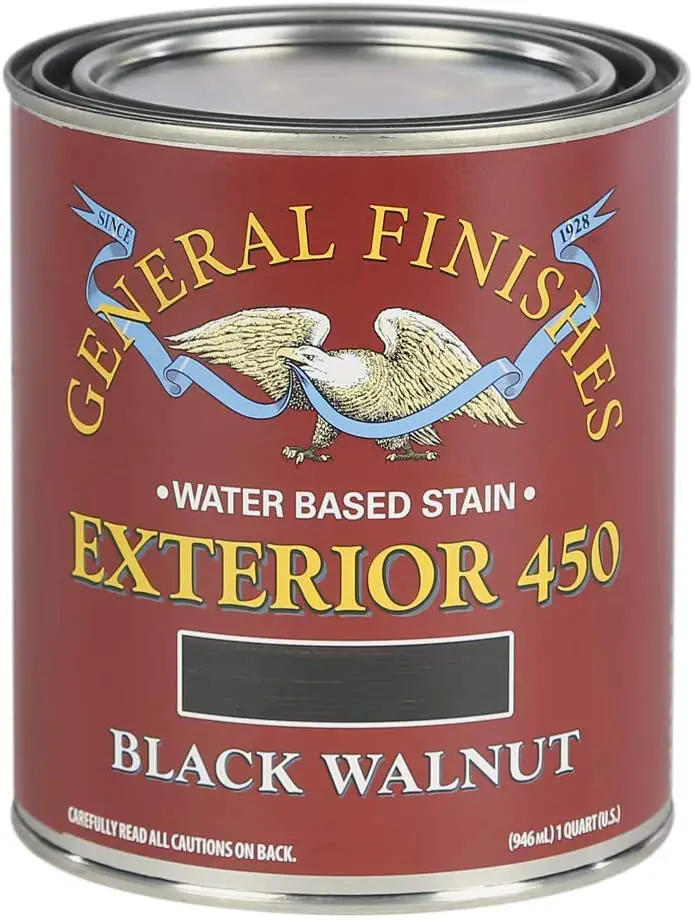 Advantages
Does not contain harmful chemicals. Hence, it is safe to use.
It is easy to use because it can be applied using a brush, spray, or foam.
This same stain is easy to clean with soap and water.
It also protects against Uv rays because it contains UV absorbers
Disadvantages
It cannot be used on a large outdoor horizontal wooden surface like a deck.
It does not protect against sunlight. This could lead to a change in color as time goes on.
It is made for exterior use only.
This is a nano pigment wood stain. Nano pigment is a new system of making wood stains in such a way that the stain can hold more color pigment particles. Also, it is an oil-based stain that is easy to use without conditioning the wood or using a pre-stain. It dries fast and can be used on all interior wooden furniture.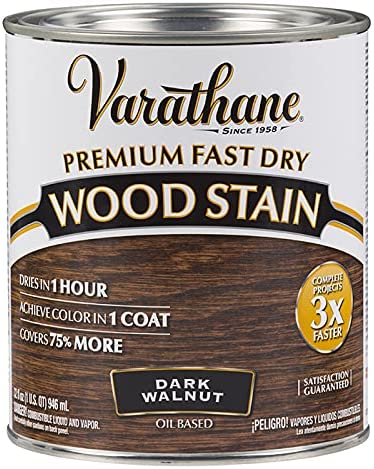 Advantages
High-performing due to the nano pigment system it is formulated with.
As far as an item of furniture is used for an interior purpose, the stain can be used on it be it vertical or horizontal surface.
With a single coat, you can get your desired dark color and it is fast drying.
You do not have to use a wood conditioner or a pre-stain.
It is easy to use with either a rag or foam
Disadvantages
It cannot be used on exterior wood furniture.
Not suitable for a less porous wood, unlike a gel stain which is.
Here is another oil-based stain with a paint-like weathered gray color with a blue tone. It is also a nano-pigment stain, making it coat well with just a single coat application. It is quite thick but easy to use. It is designed to enhance wood grain while protecting it and dries fast. It gives a painted furniture look to stained items.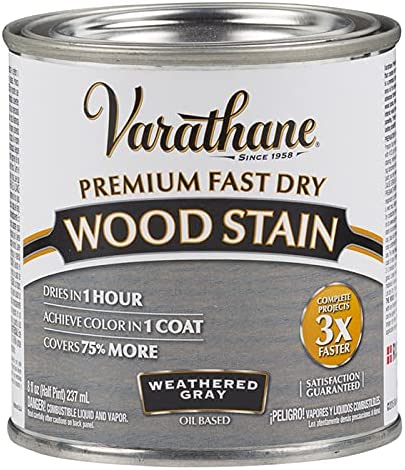 Advantages
You do not have to use a wood conditioner before using it.
With just a quart or half a pint, you can stain a large surface of the wood.
Because it dries fast, it saves time
Disadvantages
It does not provide maximum protection unless used with a polyurethane finish. Not suitable for less porous wood, unlike a gel stain.
It is only recommended to be used on interior wood surfaces only.
Not suitable for a soft wood, unlike a gel stain which is.
This is another oil-based wood stain that enhances the wood's natural grain, thereby giving it a rich classic gray color. It is formulated to penetrate deeply into wood grains. Hence, all you need is a single coat. It is easy to use and apply and dries quickly, saving time. The recommended staining surface is interior furniture such as molding, trim, kitchen cabinets, doors, etc.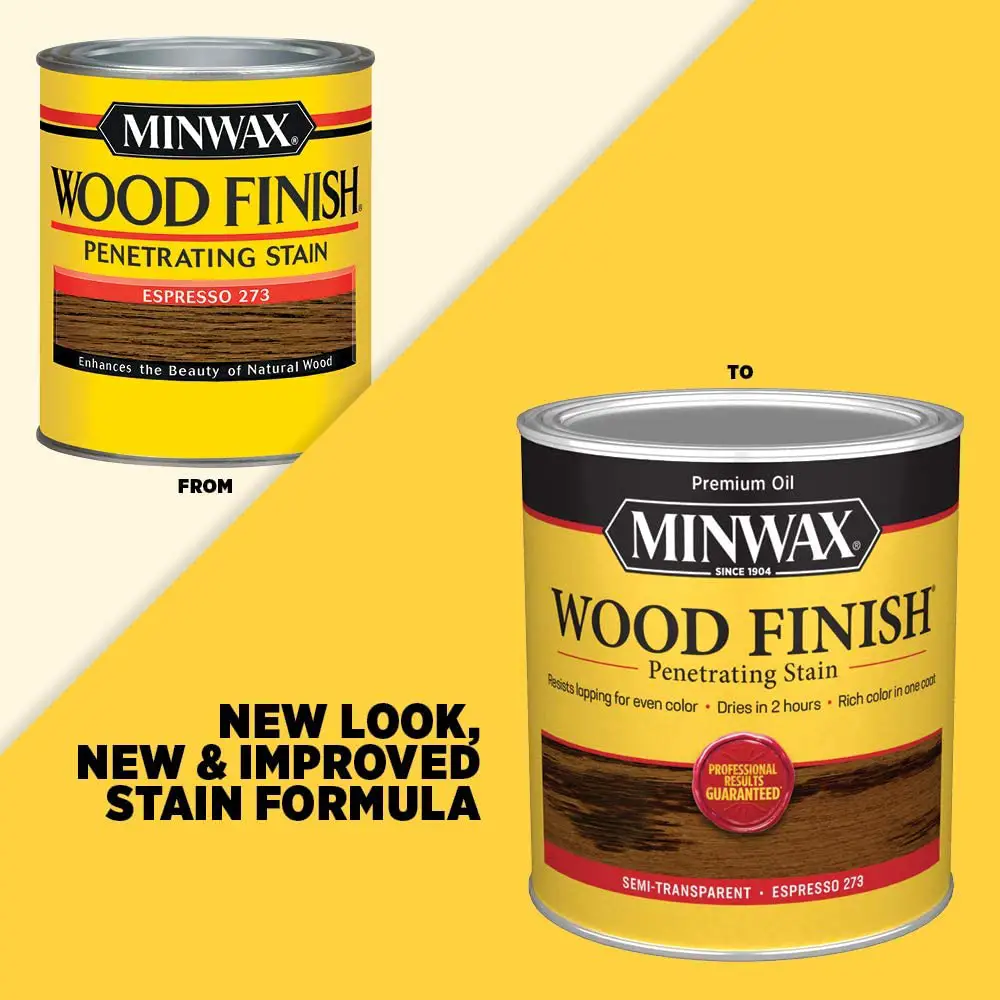 Advantages
The color does not fade.
It gives a glossy finish.
It is a deeply penetrating stain that dries quickly, reducing wood staining time.
You can apply it easily with a cloth.
Disadvantages
A Minwax pre-stain needs to be used prior to the use of this stain.
Not suitable for a closed-grain wood, whereas a gel stain is.
You must wait about 6 hours before applying a protective finish or topcoat.
It is only used on interior wood projects.
Finally, this is a 360-degree tip spray paint. You do not have to worry about brush marks with this type of stain. It penetrates well and gives an earthen brown natural color. It is also quick drying. It is formulated with substances that protect the wood from aging and damage while protecting it from harmful ultraviolet rays. Also, it gives an opaque semi-transparent finish.

Advantages
It gives even coverage with a semi-transparent durable finish.
It protects from water, therefore it can be used on wood that is constantly exposed to moisture.
It is easy to use. All you need to do is spray. Also, you can either spray vertically or horizontally, it is non-selective and does not require the use of batteries.
Fast drying time of about 15 minutes to touch.
Disadvantages
It is designed for external use only.
Not suitable for a soft wood, unlike a gel stain which is
7 Tips for Making Darker Coloring on Wood
Sand along the grain pattern to minimize scratches
There is a required type of wood sanding in applying darker coloring on wood. It is called coarser grit. This type of sanding roughens the bare wood surface to a required extent. This rough texture is needed in order for the wood to absorb the stain that will be applied to it. Seeing that there are different sanding blocks, the proper one to use to get this coarser grit is 120 and 220-grit sandpaper. If you are using a sanding machine, you could decide to finish up with a grit-sandpaper. However, always remember to sand along the grain pattern to minimize scratches. Also wipe off all scuff sand.
Increasing stain concentration.
You can decide to manipulate your wood stain to get a dark wood stain color. All stains consist of three substances: vehicle, binder, and pigment. The pigment is the color. Therefore to darken the pigment of your wood stain, you can simply increase the concentration of pigment by adding more pigment to the original stain Here are some ways you can do that:
Adding more pigment
Buy oil pigment and add to an oil stain. But, for water-based wood stain, use a universal color pigment. Ensure to measure the pigment used to keep track of the pigment concentration.
Using excess stains
Another way you can increase the stain concentration is to let it sit on the applied surface. Do not wipe the excess stains. With time, more solvent evaporates, and more stains penetrate making the wood darker.
Coating in layers
Applying the stain in layers while allowing drying time in between is another way to darken the stain on the wood. That is, you apply a first coat and dry. Then, apply a second coat.
Change stain type
Another thing you can do is to make use of a gel stain or glaze instead of a normal wood stain. Procedures for using a gel stain have been discussed above under three ways to stain wood darker.
Dirty Wiping
Using the dirty wipe technique. That is, you leave excess stains on the wood and try to make them even by wiping some off or applying them. It is quite straightforward, but you need a level of expertise. If not all your staining could become muddy. Hence, there is a need to be careful when making use of this technique on a newly stained surface.
Raising the grain
Getting a darker stain involves applying layers of coating. Therefore, you can wet the wood with water to make your wood grain absorb these layers. Leave it to dry overnight. By this time, the grain is raised. Apply your stain and wipe off excess to see a darker stain.
Using a Non-grain Raising dye.
In addition, not all wood is porous. Hence, it becomes increasingly difficult to get them to absorb as much stain as possible. Therefore, you can decide to use a non-grain-raising dye containing a binder. You either apply multiple thin coats of the dye stains or you simply use more dye concentration.
Using a Toner
Furthermore, if you still do not get that dark hue you are looking for or you want to change the dark hue. The best thing to do is use a toner. Toners are made with dye. Hence they do not create muddying on your wood staining job. However, it is advisable to use them after you apply a finish. That is, after using a sealer coat. You can also apply it to each coat of finish. The major work of toner is 'toning" the dark color of your wood as you desire. Nevertheless, the type of toner color you choose can change the overall outcome of your dark wood staining. Hence, choose the right color. An orange or red dye toner is suitable to add warmth to the darkening stain on your wood.
Glazing
Similarly, instead of toning, you can use glazing. However, glazes are made with pigments, therefore they might mud up your wood staining job. Hence, using a toner is better than using a glaze. However, it is quite useful for professional woodworkers to highlight certain wood areas or create patterns.
FAQs
Can You Stain Over Stain Without Sanding?
Yes, you can, depending on the type of stain you are working with. For a gel stain designed to sit on top of the wood like paint, sanding might be unnecessary. However, to get the best out of your staining project, it is advisable to give your wood a light sanding.
Can You Darken Stained Wood Without Sanding?
If you are using a gel stain, it is possible. But for any other wood stains that require multiple coatings, there will not be room for the wood grain to absorb these multiple coats if the grain surface is not sanded a little. Some even need coarse sanding.
Can Stained Wood Be Stained A Darker Color?
Yes, you can always add a stained layer to your stained wood to give it a darker color. However, the type of staining procedure might differ based on the wood you are working with. Gel stains work better on less porous wood.
Does The Second Coat Of Stain Darken Wood?
Yes, the second coat of stain will always give a darker hue compared to the first coat. However, this is dependent on whether your wood is porous enough to absorb the stain and the length of time you leave the second coat on your wood. Sometimes, when using a gel stain, just a layer of coat might be enough.
Does Polyurethane Make The Stain Darker?
Yes, an oil-based polyurethane finish tends to give your wood a darker tint compared to other forms of finishes. On the other hand, water-based polyurethane might not give this dark effect. Using a polyurethane finish with a gel stain gives a darker stain.
Final Words: What is the darkest stain for wood?
Finally, with all being explained so far, I hope you now fully understand how to stain wood darker. Also, you can now utilize this knowledge to give that old dressing table a darker color. However, here is a beauty tip. If you want a very darkened stain for your wood, go for a black stain. It is also known as Onyx wood stain. It is the darkest wood stain there is. Due to the saturation of this color, it might be difficult to apply. However, with a cloth, you can easily wipe in the black stain gently along the grain.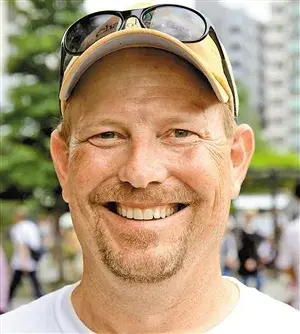 My name is Mark, and I am a software engineer and the founder of OnWoodWorkingArt.
I grew up with a passion for woodworking and now have my woodworking studio with a group of like-minded friends who love to create woodworking. My dream is to have a more extensive workshop and be able to make woodworking my main business.