Do you have that old painted item and you wish to give it a new look by staining it this time around? Have you always loved an antique finish and wish to have it on one of your pieces of furniture? Have you been wanting to know how can you stain over paint? All your questions will be well answered in this article.
Here's what I learned:
Can You Stain Over Painted Wood?
You can stain painted wood deck for an antique look. Lightly sand the wood surface with fine-grit sandpaper, using a damp rag to remove wood chips, and taking a foam brush to apply a thin coat of gel stain. Finally, apply clear polyurethane sealant as a protective layer to prevent scratching and peeling.
Keep reading, More of how to go about this will be further discussed below.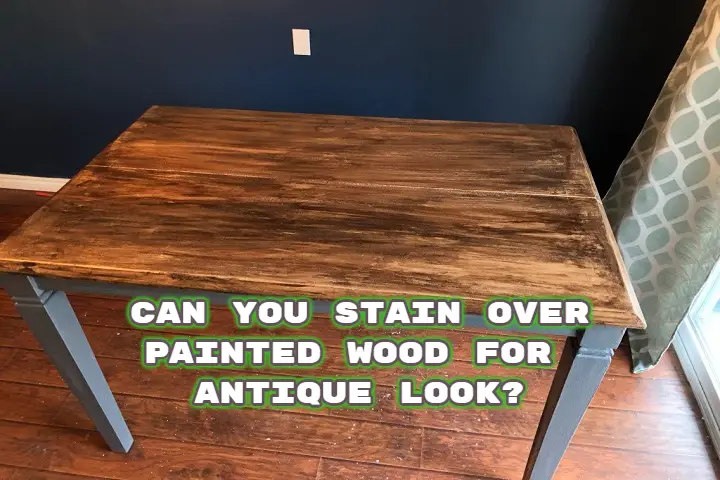 Let's get started!
Can You Stain Over Paint?
Of course, you can. In the world of staining, anything is possible peradventure you use the right tip such as stripping off all paints. However, you should put in mind that staining over a painted wood will never give the same staining outcome compared to staining over another stain or raw wood.
Stain Over Paint Basic Techniques
What Is The Difference Between Paint and Stain?
There are a lot of differences between a paint and a stain. Although, both are thought to be means of covering, protecting, and beautifying surfaces. Here are some differences: Paint tends to be thicker than stain, hence, stain requires additional coats. Paint comes majorly with three types of finishes: matte, gloss, and satin, while stain needs an applied finish.
Paint adheres to the surface on which it is applied, whereas, a stain is always absorbed by the wood except for a gel stain. In addition, paint covers up the wood grain, but stains accentuate the natural features of the timber.
Basic Principle of Stain over Paint
Before applying stain over paint, one thing to note is that some factors such as the type of old paint used, initial paint color, and the new stain to be used determine the stain effect on a painted surface. Another beautiful effect of stain on a painted surface is that depending on the type of brush used in staining, there are always brush marks.
Some use these stain streaks as a form of beauty. However, it can be reduced. But if you want your anticipated antique furniture to have subtle and fine stain streak characteristics, you can either use a sponge or horse-hair brush.
When and Why to Stain Over Paint?
Ordinarily, paints tend to have more aesthetic appeal than stains. However, for wood, the best beautiful outlook you can cover them with is a stain. Hence, if that painting on your timber is peeling or worn out, I guess it is high time you gave the old furniture a more natural and unique outlook.
Nevertheless, it is good to point out that, staining painted surfaces should be carried out on small woodwork projects. This is because as much as it could be fun giving your painted wood a unique look and transforming it, it could also be a strenuous paint job. Because you are creating a total new wooden effect.
What Happens if You Put Wood Stain over Paint?
Furthermore, as pointed out, applying a wood stain over paint is quite possible. Especially with gel stains that do not soak into the wood like paints. To know how your painted chair will react to a wood stain, you can stain an inconspicuous part of the chair and let it dry to see the weathered and aged look effect.
In addition, what happens when you apply wood stain over paint is dependent on the method of stain application, type of stain used, etc. Nevertheless, when you stain over paint, your wood could come out with an antique look, rustic look, or both.
Types of Stains You Can Use Over Paint
Gel Stains:
If the stain application you want to use is directly staining on the paint, you might want to go for a gel stain. This is because it doesn't soak into the wood grain. It is much considered a wood sealant. However, due to the thickness of the stain, one coat is always enough.
Wood Stains:
Normal wood stain application on the painted wood surface requires that you first remove the paints by scraping, sanding, or using wood chemicals. This is because a wood stain is meant to bring out the natural beauty of wood. And since this beauty is covered by paint, there is a need for paint stripping.
Deck Stains:
Deck stains like wood stains require paint stripping before they can be used on a painted wood surface.
Lacquer Stains:
Another important thing to note in applying stain on painted wood is to choose the right stain. This type of stain is best used on latex paint and water-based paint.
How Do You Apply Stain over Paint?
Tools and Materials:
Sanding block
dry cloth
foam brush
stain
sealant
You can get them from a paint store.
Step by Step to Apply Stain over Painted Wood
Step 1: Cleaning Wood Surfaces
The first thing to do is surface preparation. That is, you prepare the painted surface by getting rid of dirt using a mild solvent or dish soap and water. Use a washcloth instead of a sponge to get the entire area of the wood thoroughly cleaned. After this, wipe the wood dry with a clean cloth.
Step 2: Wear Protective Equipment
Give yourself and your surroundings maximum protection. Wear gloves to cover your hands, and eye goggles to protect your eyes. Put drop cloth on the floor to avoid stain spluttering directly on your deck or lawn or floor. Lastly, work in an open space that is well ventilated.
Step 3: Sanding
Working in a well-ventilated area, the next thing to do is sanding to get as much paint off as possible. Give the wood a light sanding while it is still wet, or sprinkle some water on it. This type of sanding help get rid of minor imperfections, and it is best done with a fine-grit sandpaper. After this remove sanding dust with a clean rag. Dam a rag with water, then use it to wipe the wood clean again
Step 4: Applying Stain
The next step is applying a stain. As earlier said, a gel stain is preferable. To get a better stain effect, use a dark-colored gel stain. Pour a portion of the stain into an empty paint can. Then using a foam brush, apply the first coat to the wood. Ensure this coat is eve. Also, this first coat should be a thin coat because a thin coat dries faster. If there is any excess stain, wipe away using a staining pad. After this, leave it to dry for about 60 minutes.
Furthermore, a good way to get a dark-colored stain is to apply more coats of the gel stain. Hence, you need to apply a second coat of the stain. The stain color of the finished piece depends on how many layers of the gel stain are applied. Note that you must use the same technique of waiting for the first coat to dry with each coat. However, the drying time could be different based on the atmospheric conditions.
Step 5: Applying Sealant
After applying all the stain, let the stained wood dry completely before using a sealant. It is at this stage you apply a wood finish, sometimes called a sealant. But, you need to get a gel stain-compatible finish that will maximally protect your stained painted surface from damage caused by scratches, sun, paint peels, water, etc. A clear coat like polyurethane sealant can be used.
Can You Stain over Primer Paint?
Probably you paint over primer, and you want to know if you can stain over primer. Yes, it is quite possible. However, the possibility is restricted to two types of stains which are a gel stain and a lacquer-based stain. Normal stains like water-based stains and oil-based stains cannot be used on primer paint.
This is because, these types of stains need to penetrate a wood surface, and not just sit on it, since primer has blocked the entire surface, penetration becomes difficult. The stains stay on the surface and become sticky and messy. Nevertheless, with a gel stain, you can stain on primer paint.
Can You Stain over Paint without Sanding?
Yes, you can stain without going through the stress of sanding. In fact, that is what will bring about the antique look you want for your wood. Here is what happens. The dark paint on your wood although might be old, still covers the wood with a kind of glossy finish. Since stain needs to soak into the wood grain, the paint creates a finish that prevents this.
Hence, the stain is light and cannot be dark since the painted wood cannot absorb too much stain. The little stain on the wood gets dried on the paint, and the result is an antique look.
How to Get a Different Look Style
How to Get a Faux Wood Grain Look?
Do you want to give your painted kitchen cabinets a natural wood grain look? Here is how you can do it. The first thing to do is to lightly sand the paint's top layer with 320-grit sandpaper. Then go ahead to apply a primer. After which you paint the wood with an orange-yellow color, to give a wood effect.
Add more paint. Let it dry, then apply a gel stain in long strokes following a particular direction. The orange/yellow paint color underneath the gel stain brings about a faux wood grain look on the stained wood.
How to Get a Smooth Look?
To give painted furniture smooth staining, two things are required. The first is to scuff sand bumps and other wood imperfections off the painted furniture. Secondly, apply the gel stain preferably with a foam brush, and when wiping the excess stain, wipe in a single direction so that the visible lines caused by wiping can be in a uniform direction on the stained wood.
How Do You Make Painted Wood Look Like Wood Stain?
The painting technique used is the Faux Bois Finish. However, the types of paint that can create this effect are latex paint and acrylic glaze. And the two must-have complementary colors that will give a wood-like effect on your paint job. If the color of the latex paint is yellow, that of the acrylic glaze should be dark brown. Mix equal parts of the glaze and latex paint, and apply to the latex-painted surface.
Types Of Paints Not To Stain Over?
Sealant:
There are different stains with distinct peculiarities. Just as the name implies, this type of paint seals and protects wood from moisture and other forms of liquid. Hence a stain with some degree of moisture can not soak into a sealant, even a gel stain.
Exterior Paint:
Stains are selective. They are meant to stay on natural surfaces. Hence, they repel any surface that has chemicals they cannot combine with. Exterior paints are formulated with chemicals to protect surfaces from Uv rays, sun, and the like. Hence, wood stains cannot be used over these paints.
Metal Paint:
This type of paint has a strong coating because it is formulated to bond with metal surfaces. And since one of the greatest enemies of metal is moisture, this paint is designed to resist and lock out all forms of moisture that could corrode the metal. Hence, no stain can stick to this kind of paint.
This is an oil-based stain formulated majorly for interior use. It has a brownish dark walnut color that gives a dark hue with one coat. Also, it gives a darker color as you apply more coats.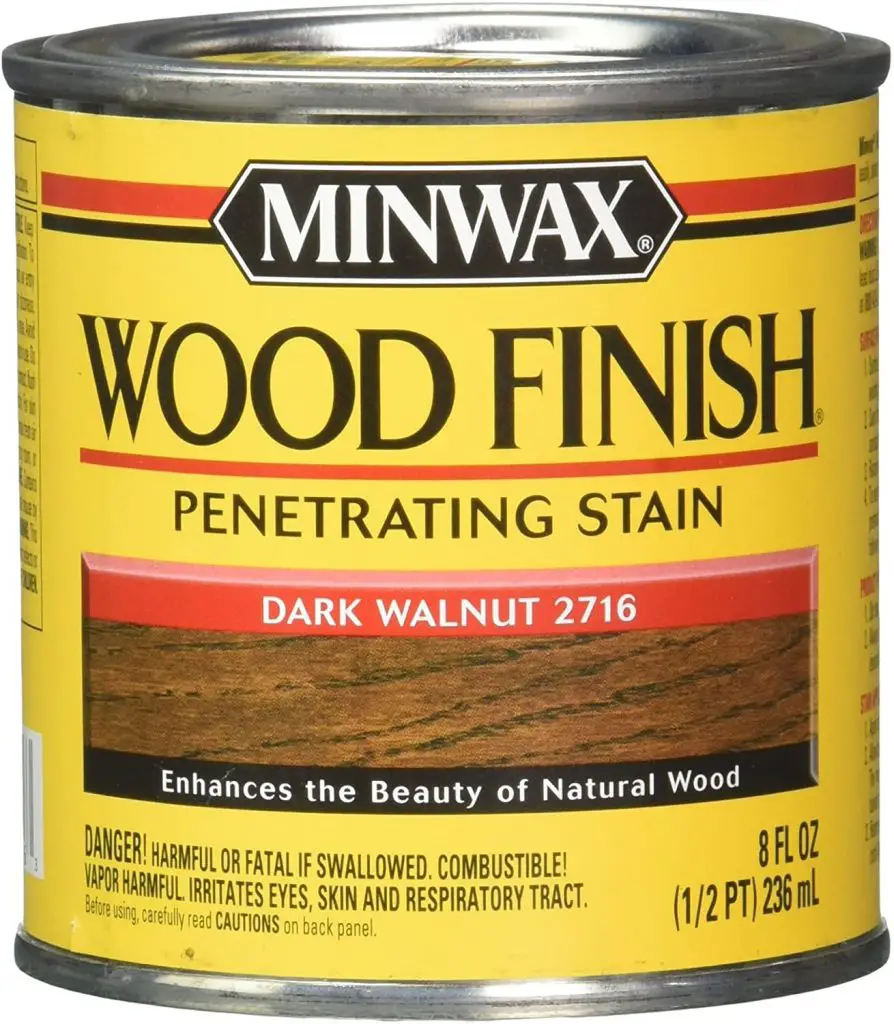 If you need a transparent household wood stain for an indoor wooden surface, you should go for this Minwax product. This is because, apart from the fact that it penetrates fast, it stains deeply and gives a form of wood grain finish.
Advantages:
It can be used over white paint.
It can be used on bare wood and stripped one
It is easily applied with foam or a natural bristle brush.
It penetrates deep into wood pores and enhances its grain.
It has a relatively fast drying time.
It is available in varieties of color
Disadvantages:
Can only be used indoors.
Tips for Stain over Paint
The first thing to note is that stains that are oil-based are best applied to paint using cotton pads or natural horsehair brushes, while on the other hand, water-based stains are not selective. You can use a foam or sponge brush.
Secondly, make sure to sand properly to remove the gloss from glossy paint before you apply stain. If not the stain won't be absorbed well. Similarly, if there is caulking or glues on your furniture, scuff sand them because they also will not absorb stain leading to a lighter color.
Also, with the right type of stain applicator, you can make a stained design on the painted furniture. For instance, using a sponge can produce a marble-like effect. If you want a stippled look, use a thick-nap roller to apply the stain.
Lastly, to deepen the applied stain on the painted surface, strongly wipe the stain along the grain using a clean dry cloth.
FAQs
Can You Stain over Painted Deck?
Normally you cannot, because semi-transparent stain and transparent stain like the water and oil-based stains will not penetrate a paint. If you try to use them, all you get is a lighter color of stain. But with solid stains that sit on a surface, you can.
Hence, if you want to stain your deck without sanding, apply solid stains. Nevertheless, the necessary procedure for preparing the surface should be followed.
Can You Put Solid Stain over Paint?
Of course, you can. This is because solid stains also called wax-based stains and paints have almost the same characteristics of sticking to surfaces instead of penetrating them.
However solid stain is a thin film-like wood finish that is mostly categorized as deck stain. Hence, putting a solid stain over paint is like coating it with a no-sheen covering to avoid paint peeling.
Can You Stain over White Paint?
Yes, you can. The color white is a natural basic color. In color mixing, white denotes a blank color that can combine with other colors to bring about different tones of color.
You can stain over milk paint with a gel stain. But, make sure you choose the right color of gel stain that will bring out your desired color from the milk paint.
Can You Dry Brush Stain over Paint?
Dry brushing is a beautifying technique and in as much as one can stain over paint, dry brushing stain over paint is quite achievable too. A gel stain that does not need to be absorbed by the paint should do the trick.
Can You Use Minwax Gel Stain over Paint?
Minwax gel stain can be applied on both stained surfaces as well as painted surfaces. Be it milk paint, chalk paint, or latex paint. This is because a gel stain is a type of stain that gives a finish coating instead of penetrating a surface
How Do You Make Paint Look Like Stain?
You can use the faux wood grain technique earlier discussed to make your paint looks like a surface stained with visible wood grain. All you need is paint that looks like a stain, a primer, and a gel stain.
What's The Difference between Paint Grade and Stain Grade Wood?
In simple terms, stain-grade woods are woods that are manufactured to retain their natural look. Imperfections, knots, and stains are minimized on these types of woods. However, since paint-grade wood will be covered with paint, spots and marks could be seen on it. Their usage brought about the grading.
Does Plywood Look Good Stained?
The type of plywood you are staining will determine if it will look good stained or not. Oak plywood will look good stained compared to birch plywood. Nevertheless, if the right techniques are followed, you can stain any type of plywood to look good.
Final Words: How to Use Stain over Paint?
Finally, using stain over paint is quite possible, as previously explained. And the best stain to use is the gel stain. The steps and procedures on how to use the gel stain over paint have also been explained: Cleaning Wood Surfaces; Wear Protective Equipment; Sanding; Applying Stain and Sealant.
Other paints can be used, but sanding is required for them to be absorbed. Using stain over paint is quite easy, the most important thing is for you to choose a suitable stain for the paint. And how to do this has been pointed out above. All you need to do is to go and stain that painted dresser like a professional.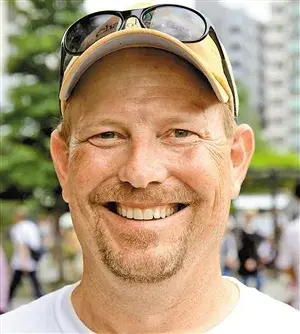 My name is Mark, and I am a software engineer and the founder of OnWoodWorkingArt.
I grew up with a passion for woodworking and now have my woodworking studio with a group of like-minded friends who love to create woodworking. My dream is to have a more extensive workshop and be able to make woodworking my main business.