Are you thinking if it is possible to paint over that your dark-stained fence? Do you have questions such as can you paint over wood stain? Will paint stick to stain? How to paint over dark stained wood and the likes? Of course, you can paint over stained wooden products. And yes, any paint will stick to stained wood as much as you use the right primer.
Here is what I've found:
Can You Paint over Stained Wood?
Yes, You can paint the stained wood, It can give your wooden furniture a new look. Sand the wood, apply primer and latex paint, and use a protective coat. You can also skip the sanding and priming process if the paint is able to fully adhere to the wood surface.
Concerning how to paint over a dark stain, all you need to do is follow the painting process that will be explained in this article. Furthermore, you can also learn how to paint over a stained wood door, floors, cabinets, etc.
Let's read on!
Will Paint Stick to Stain?
Yes, paint can stick to stain. However, this is dependent on the type of stain, and the painting preparation process followed. Specifically, paint stick to a water-based stain easily compared to an oil-based stain.
Nevertheless, it might be difficult for paint to stick to sealing stains like varnish stains, lacquer stains, and gel stains.
Why Paint Over Stain?
Are you thinking of what you stand to gain if you paint over stained furniture? Well, wood stains such as water-based stains and oil-based stains protect your furniture while maintaining its natural color. On the other hand, Paint allows you to give your furniture a brand new color and finish.
Hence, if you feel like changing the natural color of your stained wood to a brighter color, you should apply paint over the stain. Apart from this, paint effectively prevents wood from both external and internal moisture, thereby protecting wood from deformation. Therefore, to give your stained wood more shinny and colorful look, you should paint it.
What Happens if You Paint over Stained Wood?
If you paint directly over a water-based stained wood, the paint could adhere to the surface of the stain. This is because such type of stain can absorb paint to an extent. Although to effectively get your desired paint outcome, you need to use a primer and Sander.
However, on a wood stain with a glossy surface like an oil-based stain, if you paint on it, all you get is a smudgy-colored substance that won't dry. And, if it does dry after a long time, it will get cracked as time goes on. This also applies to staining on a wood finish.
Types of Paint to Use Over Stained Wood
Water-based Paint
This type of paint is better used on water-based wood stains. To make use of this paint effectively, use a water-based latex primer. To increase the color consistency of the paint, you can tint the color of the primer to the stain color
Acrylic Latex Paint
Acrylic latex paint is good to be used on the wood surface that is formerly stained with an oil-based stain. You can use a bonding primer with this paint. To get complete coverage, apply two coats and work in a well-ventilated space.
Chalk Paint
Chalk paint is a kind of paint that is chalky. You can use it without priming, depending on the situation. However, due to the chalky nature of the paint, a polyurethane top coat is often applied. The outcome of this paint gives a matte finish.
Oil-based Paint
This is a type of paint that combines resin and pigment in a natural or synthetic oil solvent. It gives a shiny finish and It is mostly used on a wood surface that does not require frequent painting. This is because it gives a lasting and durable covering.
Spray Paint
If you do not want to go through the stress of using a brush to paint your stained wood, then you need spray paint. As the name implies, all you need to do is to spray. It enables you to finish your DIY projects quickly and smoothly.
How to Paint Over Dark Stained Wood Furniture?
Tools & Supplies
To paint over the stain, especially on dark-stained wood furniture, here are the basic tools you need to paint like a professional painter:
Sander: This is needed to prepare the wood surface by removing old stain finish, blemish, etc. You can use 120 or 150-grit sandpaper, a sheet sander, or liquid sandpaper.
Tack cloth: This is used to remove the sanding dust from the wood.
Wood filler: This is a real wood fiber used to fill holes and imperfections in the wood.
Paint primer: This is essentially needed to paint dark stained wood furniture because it helps it a lighter shade. Examples of primers are water-based latex primer, shellac-based primer, and bonding primer. There are also oil-based primers.
Foam roller: This is used to apply a primer so well that stain bleeding is avoided.
Paint: Of course, you need a can of paint, whichever color you choose and type you choose. However, you should mix appropriately to get the most of your paint.
Paintbrushes: Also, you will need different sizes of paintbrushes which will help you to paint both the entire surface and intricate areas. You can get them from a paint store.
Protective Finish: some people do not make use of this, however, if you want a glossy finish, you should get one like the oil-based polyurethane finish. Nonetheless, different paints have their unique finish just like the chalk paint has a matte finish.
Step by Step Paint over Stained Wood
Step 1: Repairing The Broken
The first thing required to do is repair your furniture if there is a need to. Fix any broken or removed pieces with super glue or other types of adhesive. After this, use liquid sandpaper or a hand one to lightly sand. This helps to remove old furniture wax and disfiguring marks.
Step 2: Sanding and Cleaning
There are always wood stain residues after sanding. Use a tack cloth or a damp rag to get rid of them. You can use a de-glosser instead of sanding using a sander de-glosser. Pick one from a paint store if you do not want to go through the stress of using sandpaper. However, when you are using a stain-blocking primer, sanding might become unnecessary.
Step 3: Applying Primer
The next step is the application of primer. Apply a single coat of the primer with either a brush or a foam roller. This step might become a little tricky because wood bleeding might occur as a result of tannins in the dark wood. If a part of the primer reflects the color of the wood, that's a wood bleed. All you need to do is re-coat those areas with the primer before applying a second coat. An oil-based primer is more suitable for wood furniture than a water-based primer.
Step 4: Painting
The next thing to do is to apply more than one coat of paint. Some apply as many as three coats of paint. Some paints are better suited for certain areas.
Latex paint is most suitable for cabinet doors, this is because it does not give off any kind of smell after application.
Oil-based paint is good to be used on deck, porch, fence, and other constantly exposed areas. This is a result of its long-lasting and full protection characteristic.
Also, wait for the first coat to dry before applying the next, until you finally apply the top coat. Depending on atmospheric conditions, 5 to 6 hours of drying should be enough. Wipe off excess paint with a tart cloth. To shield your paint job from unfavorable atmospheric conditions, you can use a tarp. Remember to wear gloves and other protective wear.
Step 5: Apply Durable Finish
There are different types of paint finishes. Examples are high gloss, semi-gloss, and satin finish. You choose one based on the intensity of sheen you want. However, take note that the more colored your painted furniture is, the higher it will boost the sheerness of a finish.
If you want all the sheerness, you can still go for the high gloss finish. But, if you want to reduce the shine, a semi-gloss finish is okay. Nonetheless, go for a fast-drying protective finish.
Can you Paint over Stain on Wood Without Sanding or Stripping
Things are getting customized nowadays, thanks to scientific advancement. A while back, if you want to have an even paint finish on your stained wood, that does not peel after some weeks, then you need to sand or strip.
However, that is not the case now. With a tool called liquid sandpaper or a de-glosser, you can go ahead with painting over your stained wood without sanding or stripping. Also, a bonding primer can make that possible. And, for most effect, combine the two tools.
On your stained wood, apply liquid sandpaper. Allow it to seep into de-gloss the wood stain for 11 to 15 minutes. After which you clean off with a damp rag. Apply a bonding primer to provide a good surface for the paint to adhere to. Two coats can be applied. Then you involve painting.
If you still do not want to sand or strip at all. Just the use of the right primer will allow your paint to stick better to the wood stained furniture. However, you should sand when painting stained wood for a better painting outcome.
Furthermore, some stained wood might not necessarily need sanding or stripping. Examples are kitchen cabinets, furniture, and the. Another thing to consider if you want to paint without sanding is the type of paint you should use. Most often, water-based latex paint, spray paint, or oil-based paint works well on stained wood.
Therefore, they might stick to the wood surface more without necessarily sanding. On the other hand, a paint-like acrylic paint will surely require sanding. That is, you cannot use this paint on stained wood without sanding. As a result, painting without sanding is dependent on you choosing the right primer and right paint.
What Stained Wood Items Can Be Painted?
1. Exterior Siding
When applying paint on a stained exterior siding, choose similar paint with the previous stain for more effects. You must sand and remove sanding dust with a damp cloth. To make sure the paint sticks, use a stain-blocking primer. Then easily apply your paint with a paintbrush.
2. Deck
In applying paint over the stain on your wood deck, the first thing to do is to remove any form of debris (sand, moisture, oil, etc). You can do this using a deck cleaner or warm soapy water. After this, you allow the deck to dry completely before roughening up the surface with a Sander, and then painting.
3. Cabinets
Remove cabinets drawers, hinges, doors, and door handles to prevent them from paint stains. Spread out drop cloths on your kitchen floor to protect it. Then go ahead to apply a de-glosser or lightly sand before applying your paint. Protect the edges by taping them.
4. Floors
When applying paint over the stain on your wooden floor, you should sand appropriately along the wood grain to remove the glossy finish. Clean up sanding dust and use a good primer. This is because wood floors are constantly used.
Hence, to prevent wood bleeding, use a good primer and apply thin coats of paint in layers. Ensure each coat dries sufficiently before applying another.
5. Fence
Sanding is always the first step in applying paint over the stain. However, some fences do not have a top coat of finish. Hence, you might not need to sand if the stain is worn off. just wash, allow it to dry, and begin painting.
However, please do that easily with liquid sandpaper if you need to de-gloss. And, remember to choose exterior wood paint that will protect your fence under harsh weather conditions.
6. Paneling
Once again, clean the wood paneling to remove all dirt. Let it dry. Use a wood filler to fill up holes. Sand and prime the wood. Preferably, use a stain-blocking primer. Two coats of this primer are enough. After this apply your paint. Similarly, two coats of paint should be enough.
7. Doors
Here also, you have to clean the surface of your wooden furniture. You can use baking soda and warm water solution to do that. You let it dry, then sand, before priming and applying paint. For a perfect paint job, caulk the surfaces of the surfaces hinged to the walls. Then apply your finish.
This is a white interior oil-based primer. It is formulated to contain a sealer and stain blocker. This primer has a low odor and it also helps reduces the odor of oil-based paint. It properly blocks off the water, ink stains, pencil marks, etc. To get that DIY done quickly, make use of this primer because within, an hour, your first primer coat gets dried.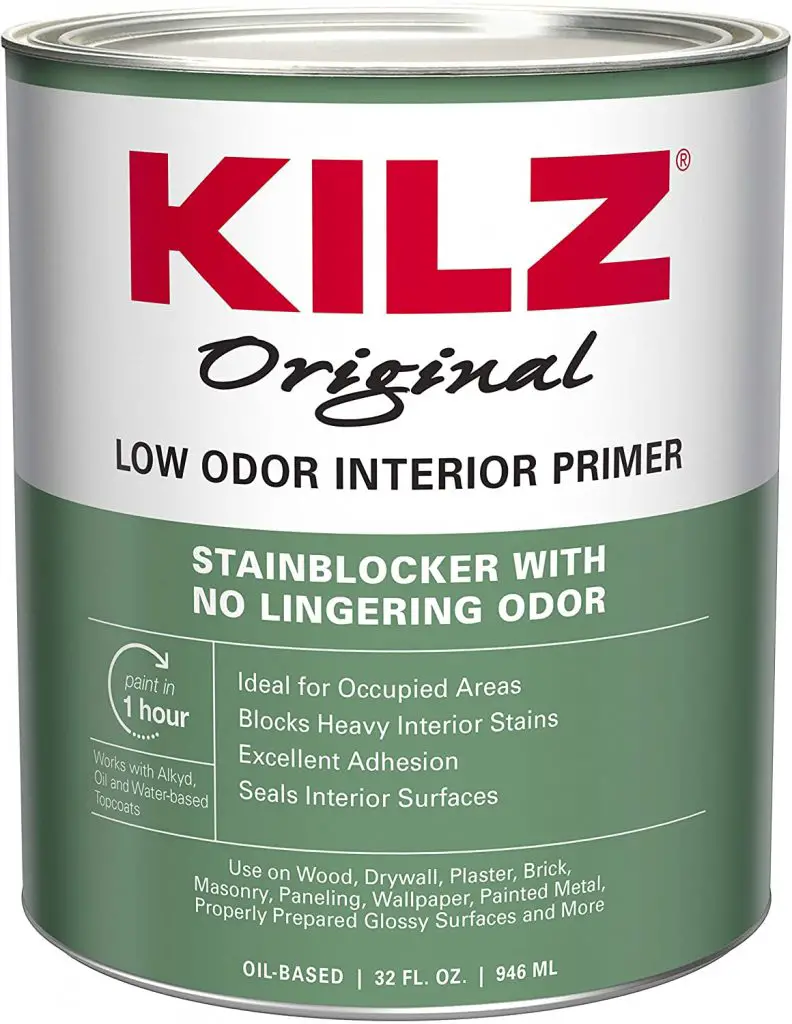 Pros.
It is fast drying. Hence, saves time.
It is can be used with both latex and oil-based paints
It can be used on different wood surfaces, such as metal, brick, plaster, etc.
This primer can be sprayed, rolled, or brushed.
Cons
You need to mix well before use.
It only works well on prepared surfaces.
It is only used on interior surfaces.
This is a beautifying chalk paint designed to be used without elaborate preparation of the surface it is meant to be applied on. This is because it is already formulated to contain a primer and a topcoat which gives a matte finish. It is formulated to work on all surfaces be it indoor or outdoor. Chalk paint is available in varying colors and is very easy to use.
Pros.
It can be used on different furniture be it upholstery, kitchen cabinets, home decor, etc.
It requires little to no preparation
Gives a good top coat.
It dries fast.
It has high durability.
Cons.
It leaves brush strokes on the painted surface. Hence, it is advisable you thin and uses a paint sprayer.
There is still a need to apply a sealant after using this paint.
It is a little bit expensive.
Frequently Asked Questions
Can you paint over stained wood without priming?
When it comes to painting stained wood, there is a lot you can try out and experiment with. Yes, you can paint over stained wood without priming. What will happen is that your painting will lack the gracious effect of a primer. To avoid this, apply the first coat of paint, add a second coat and then a top coat.
What is the best way to paint over stained wood?
Of course, your stained wood is no longer ordinary. To get the best paint effect on a stained surface, it is better to use an oil-based primer than a water-based latex primer.
Apart from this, always make sure you do not skip the sanding process. Even if your primer has a sander, giving it light sanding is needed.
Can you use Kilz on stained wood?
As earlier mentioned, oil-based primers are good for painting stained wood. Since Kilz is one, it is very good to be used on stained surfaces. The only precaution is that this primer is designed to be used for interior purposes only. Hence, it can only be used on interior stained wood
Can you paint over stain pressure-treated wood?
In as much as pressure-treated wood can be stained, it can also be painted. To avoid chemical hazards, however, certain information is needed. For instance, you need to know if your stained-treated wood is preserved with copper chemicals or not. Because this determines the type of paint that can be used and top coats.
Can you paint over varnished wood?
Yes, you can paint over a varnish-stained dresser. All you need to know is that certain paint like acrylic paints work best for varnished wood than others.
Also, follow the necessary painting steps for stained wood and choose the right primer.
Related Post >> Can You Use Acrylic Paint on Wood Furniture?
Final Words
Now, if your neighbor asks you the question, can you paint over old stained wood? I am sure with all the above explanation, your answer should be yes. Therefore, instead of discarding those strong old stained wood, why don't you add some color to it and give it a total make-over. Follow the steps given above on how to paint stained wood.
It is understandable and easy to implement. Apart from this, do you know painting can be therapeutic? The process can help calm your nerves while the outcome can help boost your mood. Why don't you try it and paint over stain today?
Let's get started!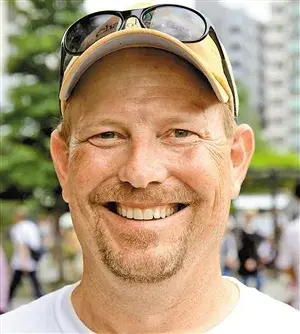 My name is Mark, and I am a software engineer and the founder of OnWoodWorkingArt.
I grew up with a passion for woodworking and now have my woodworking studio with a group of like-minded friends who love to create woodworking. My dream is to have a more extensive workshop and be able to make woodworking my main business.