Are your next woodworking projects on maple woods? Do you need instructions on how to get perfect results from staining those maple floors? Then you need a guide and this article contains adequate information to provide that ultimate guide.
Here's what I found:
Does Maple Wood Take Stain Well?
You can stain maple well. However, because maple's dense, closed grain makes it difficult to absorb stain evenly, you will need to enhance absorption with sanding and pre-stain wood conditioner to prevent blotchiness and make maple stain perfect. In addition, you need to apply a top coat for protection.
Maple is a hardwood whose strength is top-notch and used for varying purposes. If you are contemplating staining maple wood and you've got a lot of questions, then you should go through this article.
Some of the topics of discussion are the best maple wood stain, will gel stain work on maple, and how to stain maple wood, among others.
Let's get into it!
Bestseller No. 1
Bestseller No. 2
Bestseller No. 3
Minwax PolyShades Wood Stain + Polyurethane Finish – Quart, Olde Maple, Gloss
POLYSHADES WOOD STAIN – Minwax PolyShades is an oil-based wood stain and poly in one. It enhances wood grain by combining beautiful, rich color and long-lasting polyurethane protection in one easy step.
REDUCE FINISHING TIME – This one-step wood finish can be used over polyurethane finishes, so you can change the color of your wood surface without removing the existing finish. Use on bare or already-finished wood.
BEAUTIFUL RESULTS – This beautiful wood stain provides a rich finish with a glossy sheen. It offers a classic, medium brown color that looks great on a variety of projects. Recommended uses: furniture, woodwork, doors, cabinets & accessories.
Bestseller No. 4
Bestseller No. 5
1/2 pt Minwax 22230 Colonial Maple Wood Finish Oil-Based Wood Stain
RICH EVEN COLOR – Minwax Wood Finish is a deep penetrating, oil-based wood stain that provides beautiful color and enhances the natural wood grain in one coat. It's perfect for interior staining projects such as wood furniture, cabinets, doors and more.
QUICK DRYING – Staining interior wood has never been quicker. The special formula allows it to deeply penetrate wood pores within 5 minutes of application, resists lapping, and dries in two hours, making all your wood projects quick, beautiful and easy.
EASY TO APPLY – Use a clean cloth or wood stain brush to apply this wood stain in the direction of the grain. Wait 5-15 minutes and wipe away excess stain. The longer you wait, the darker/richer the color. Reapply coats for deeper color.
What Causes Blotchy Staining and Unevenness in Maple Cabinets?
Hardwoods are known to be porous woods. However, because maple has a fine-textured natural wood grain and a tight grain structure, its level of porosity is reduced. As a result, maple is categorized as a closed-grain wood with very small wood pores. Hence, it is called a tightly pored wood.
Maple is a tightly pored wood when a wood stain is applied to it, uneven stain absorption occurs. That is because the wood pores are too small stain does not penetrate deeply. And when the maple cabinets absorb stain unevenly, it leads to blotchiness, which could result in dark spots.
This is more of the reason why a sanding sealer or a pre-stain wood conditioner is usually utilized when staining maple to prevent blotchiness. Irrespective of all these, when the required guidelines are followed in staining maple woods, the staining process becomes straightforward and perfect results are gotten without much stress.
How To Stain Maple Wood Cabinets?
Planning on staining your cabinets made of maple woods? Staining maple excellently in a fast and easy way is possible. Just put in mind that you have to prevent uneven staining unlike the walnut wood you stained in your last woodworking.
Here are the detailed steps on how to stain maple furniture:
Remove the old finish with wood chemical stripper
Sanding with sandpaper to get a smooth wood surface
Applying pre-stain conditioner & wait to dry
Apply the wood stain & let it dry
Apply top coat for protection
Tools You Need
Below are the tools and materials needed:
Chemical stripper
Rags
Damp cloth
Brush
Mineral spirits
Sanding sealer or pre-stain wood conditioner
120-sandpaper, 180-grit sandpaper
Pigmented stains
Finish
After getting these tools ready, you could also purchase some scrap pieces of wood to do some practice before starting the main woodwork to avoid mistakes.
Prepare Maple for Staining
Remove The Old Finish with Wood Chemical Stripper
Furthermore, if your maple cabinets have some previous finish on them, the first thing to do is to remove the finishes using a wood chemical stripper. Leave for a few minutes and scrap the finishes off using a plastic scraper before wiping the maple surface with a damp cloth and leaving it to dry.
Sanding with Sandpaper to Get a Smooth Wood Surface
After this, you go ahead to get a smooth surface through sanding. Start with a light sanding using the 120-grit sandpaper. This might leave some sanding scratches. Therefore, lightly sand these sanding scratches with 180-grit sandpaper before you finish the process with 220-grit sandpaper to get a very smooth surface.
Applying Pre-Stain Conditioner & Wait to Dry
Here is another thing to do before staining your maple wood cabinets. You need to apply a sanding sealer or a pre-stain wood conditioner to prevent excessive stain absorption and uneven staining. A good sanding sealer you can use is a Rust-Oleum Zinsser shellac sanding sealer which you can use as a base coat on all raw wood.
On the other hand, if you want to use a wood conditioner instead, you can choose the Minwax pre-stain conditioner for perfect results. Mix the Zinsser sanding sealer completely with denatured alcohol or mix the Minwax conditioner with mineral spirits to thin it. Then apply it to the wood surface uniformly.
After applying it with a rag or brush, you leave it on the surface for several hours to dry. Between 6 – 8 hours the wood should be dried, then you check for blotchiness. If there are, re-apply to the fast-drying part and leave it to dry overnight before staining.
Staining Maple Wood Cabinet
Choose a Maple Stain
Moving further, certain stains work well on maple wood, they are called pigmented stains. The reviews of the different pigmented wood stains (water-based stains or oil-based stains to choose from) are also highlighted in this article. Hence, choose one suitable for your maple wood cabinets.
You can use a penetrative stain like an oil stain, a water stain, or a dye stain. Or use a non-penetrative one like a gel stain. You can decide to use any. Just ensure you use a conditioner with them. However, for a dye stain, you might not need a conditioner.
Apart from pigmented stains, dye stains are also used on maple. Dye stains are used to add dark color to maple wood. However, woodworkers prefer to use oil-based stains and gel stains when doing maple woodworking.
Apply The Wood Stain
Apply a thin coat of maple stain with a paintbrush or a rag along the grain patterns. Remove excess stains with a lint-free cloth and leave it to dry. If you want a darker hue and you are using a water-based stain, you should lightly sand before applying a second coat.
For an oil-based stain, you do not need to sand, just wipe over the dried stained maple wood cabinets with a damp cloth. Then you apply a second coat, wipe off excess stains and leave it to dry overnight.
Apply a Durable Finish
After achieving the desired stain color on your maple wood cabinets, it is necessary you protect the maple wood with a top coat such as a Polyacrylic finish or polyurethane topcoat.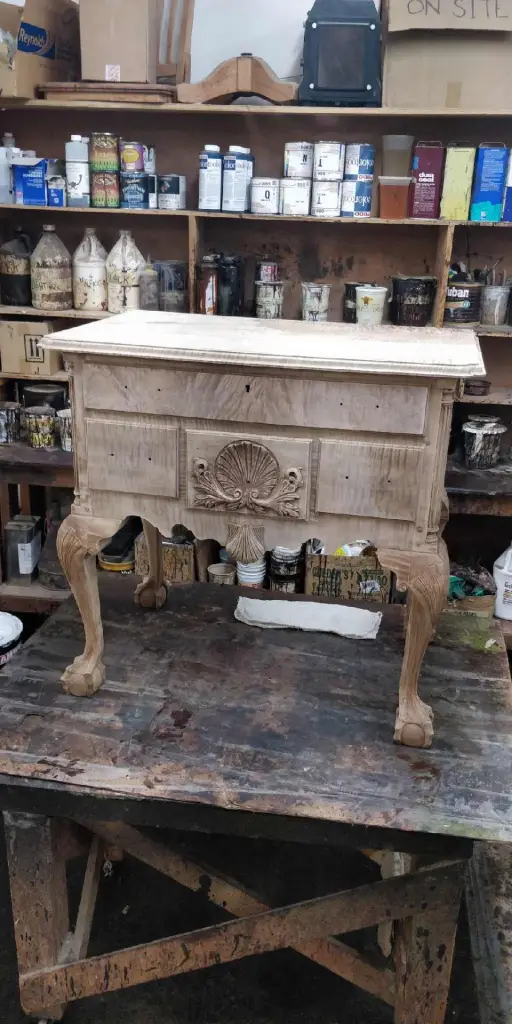 Staining Maple Wood Dark
You can make your maple wood to take a dark stain. It is true that woods such as birch ply, mahogany, cherry, black walnut, hard maple, birch, etc that have tight grain structures hardly take dark stains. However, following the right instructions and methods, it is achievable.
Usually, Stains are used in reaching a dark stain on maple. You do not have to start looking for dyes and mixing them. There are different dye stains with varying dark stain colors you can purchase. All you need to do is get quality products and follow the right instructions.
Cover The Natural Wood Grain
As mentioned earlier, you can get any dark color consistency on your maple furniture from gray to black by using stains. If you are trying to cover the natural wood grain of your maple wood, you should use dyes with the dark stain color of your choice, for example, black.
Many a time, woodworkers' best choice for staining maple black is by using a non-grain raising black colored water-based stain. However, a black pigmented oil stain too will work perfectly, and as you keep shading with additional stain, the black shade increases.
Follow the instructions below to stain maple wood darker.
How to Make Maple Stain Darker?
As usual, the first step is to remove previous paint or finish with a chemical stripper. Leave it on the surface for a few minutes as instructed by the product maker. Then scrape off using a paint scraper or putty knife and start sanding starting from medium grit to fine grit.
After sanding using the 120, 180, and 220-grit sandpaper. Wet the wood with water to raise the maple wood grain. Then sand lightly again with the 220-grit sandpaper. In the same proportion mix Zinsser sanding sealer with denatured alcohol, apply it to the surface, and leave for hours to dry.
You can use a dark walnut gel stain or oil stain with black color, but a dye is preferable. Mix a black-colored aniline-trans tint dye with water. Apply a thin coat of the mixture and add additional coats until you get a desired darker color and leave the wood to dry.
Read More>>How to Stain Wood Darker Color? [3 Ways, 7 Tips, 10 Best]
Perfectly seal in the dark color using tinted dewaxed shellac. Mix it with a little water and apply it lightly to the maple surface. When it is dry. Apply a preferred finish be it linseed oil, tung oil, polyurethane, or polyacrylic finish.
Stain Colors for Maple Wood
Most Popular Maple Stain Colors
The natural colors of maple woods vary. However, the hard maple wood is known to have a creamy white natural color with a warm shade of red and brown undertones. Hence a stain with the brown color or dark color tends to suit hard maple furniture well. Nevertheless, you can apply a preferred stain color.
Some of the most popular maple stain colors are golden oak, danish treak, dark walnut, mahogany, country pine cherry, candlelight, and cinnamon, among others. You can use any stain color be it natural, light, or dark shade on your maple plywood or coffee tables.
Dark Walnut Stain Is Best for Maple Wood
There are limitless stain colors you can use on your maple furniture; out of these colors, there is no best stain color. Your preferred stain color is the best for your maple furniture. You can either decide to stain maple furniture like a golden oak or a dark walnut.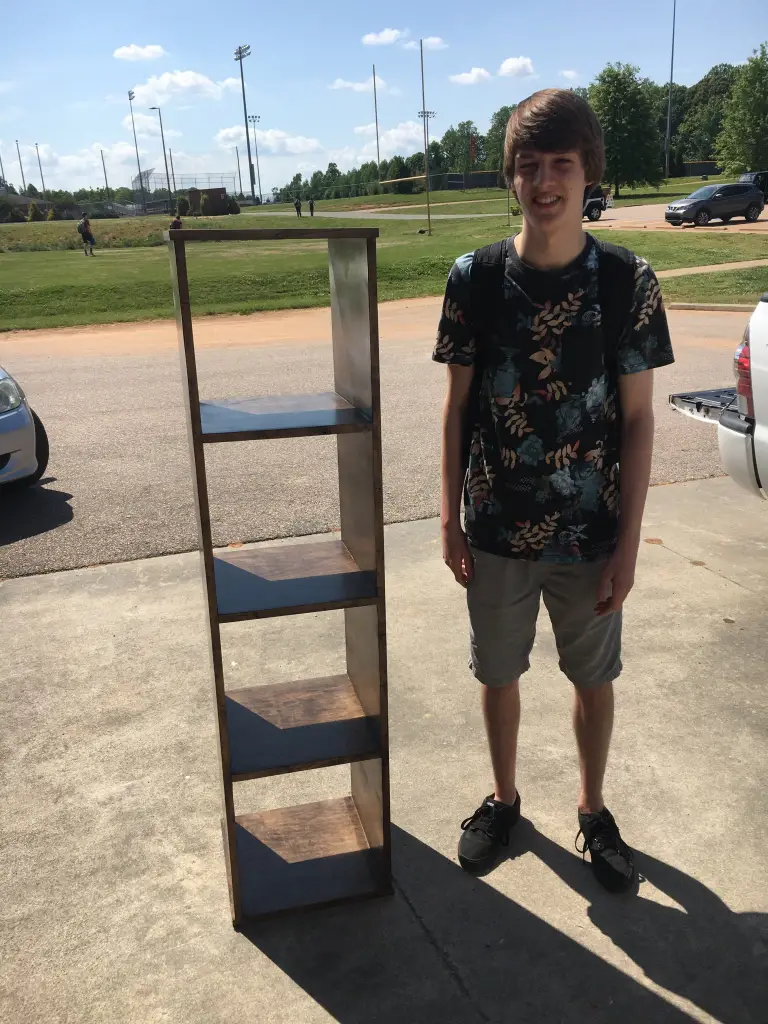 Maple Stain vs. Maple Dye
Both maple stain and maple dye have their distinct purposes. Hence, you make use of them according to what you want to achieve in your maple woodworking projects. However, the figure of maple woods which includes the grain patterns and the shapes of the wood grain determines if a stain or dye will be used.
For instance, a maple dye is more suitable than a maple stain for dense woods like curly maple whose wood grain is too tight and susceptible to uneven stain absorption. This is because dyes give in-depth color to these wood species. After all, dyes are easily absorbed compared to stains.
In addition, dyes penetrate the wood cells and fibers to give a deep coloring to wood whereas stains penetrate available wood pores and gel stains penetrate just a little. As a result, maple dyes are commonly used compared to maple stains.
2 Best Pre-Stain Wood Conditioner for Maple Wood
Maple is a dense wood that blotches a lot. To prevent this uneven stain penetration that causes these blotches, maple needs the help of a conditioner to enhance uniform stain absorption.
In addition, you can also use a sanding sealer instead of a conditioner.
#1. Minwax 61500 Clear Pre-Stain Wood Conditioner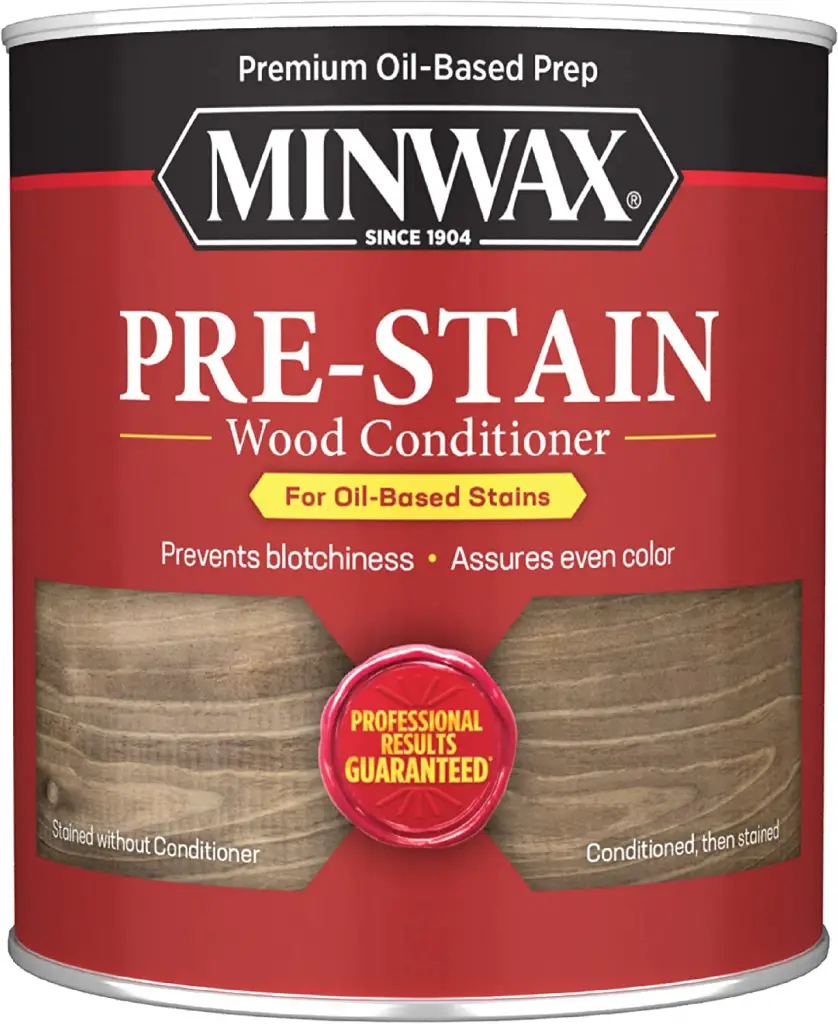 If you are planning on using oil-based stains on your maple coffee tables, your staining tools is incomplete without a wood conditioner. This Minwax conditioner is a pre-stain designed for use with an oil-based stain. Since maple woods absorb stain unevenly, this conditioner helps to control the problem of uneven staining.
This conditioner works to effectively prepare the surfaces of porous woods both hard and softwood. It helps them to absorb stain evenly while keeping at bay blotching and streaking. Varying woodworkers have tested it and it is recommended for use on woods such as maple, birch, alder, and pine.
Furthermore, you can apply your oil stain immediately after using this wood treating conditioner, which means you get to finish up your woodworking in time.
Pros
Greatly enhances uniform staining.
High absorbency
Easy to use
Immediate staining is possible.
Used on both hard and softwood
Cons
It can only be used with an oil-based stain.
#2. General Finishes Oil Based Pre-Stain Wood Conditioner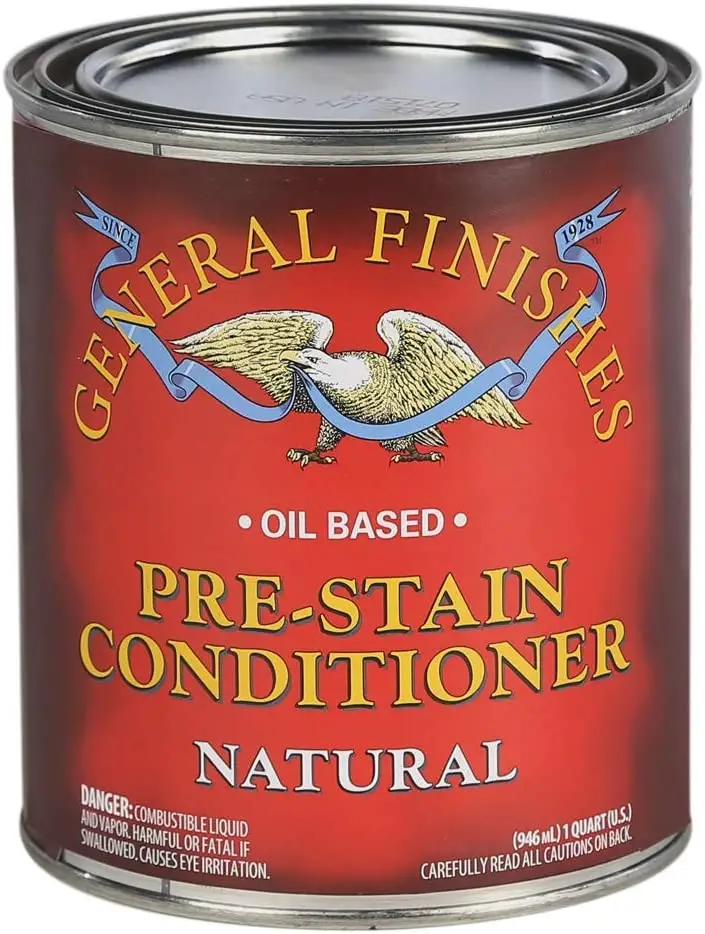 This is an oil-based pre-stain wood conditioner with a natural color similar to the Minwax wood conditioner. The natural color of this conditioner does not alter with the stain color to be applied. Hence, this makes preferred by some woodworkers. However, it can only be used together with an oil-based wood stain.
Apart from this, it is designed to work well on softwoods that tend to be more porous such as aspen, poplar, cherry, pine, birch, etc. Nevertheless, since it is designed to be used on wood surfaces, it can also be used on hard maple or soft maple.
Furthermore, It is designed to penetrate wood grain well in order to promote uniform staining and prevent blotching and streaking. Lastly, it is easily applied with a paint pad applicator, a cloth, or foam brush.
Pros
Durable
Easy to clean
Easy to apply
Cons
Used only with oil stains
8 Best Stain for Maple Wood
For staining maple, it is important to use a wood conditioner prior to staining. In addition, not all stains are suitable for maple, so it is vital to choose the right stain for maple. Here are the 8 best maple wood stains:
#1. Varathane 262006 Premium Fast Dry Wood Stain, Dark Walnut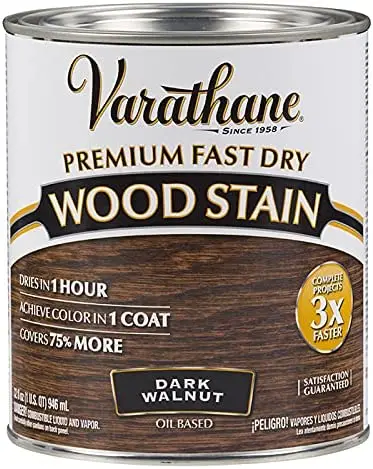 A lot of woodworkers try to shy away from staining their maple woods dark because of blotchiness staining issues. However, with this oil-based dark walnut stain coupled with the conditioner aforementioned, say no to blotchiness while staining. This stain dries quickly to touch in one hour, thereby reducing woodworking time.
Also, the stain is very dark. Hence you can achieve a darker color with just one coat. It gives a three times coverage of 275 sq ft per quart than normal stain. It deeply penetrates wood pores while sealing. This is because its color pigment is enhanced with nano pigment particles.
In addition, It is very suitable for any type of interior woodworking ranging from trim and paneling, cabinets to doors, etc.
Pros
Fast drying
Easy to use
One-coat coverage
Highlights wood grain
Easy to clean
Cons
Only suitable for interior woodwork
#2. General Finishes Water Based Wood Stain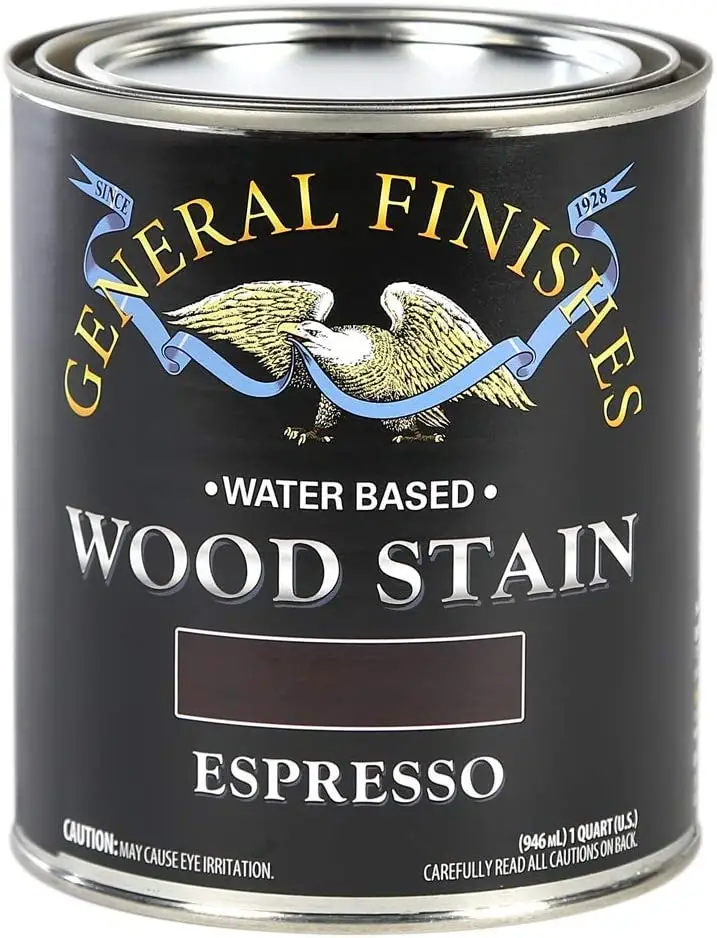 Water-based stains are now formulated so that they are easy to use just like oil-based ones. This General Finishes espresso water-based stain is easy to work with just like an oil stain. Also, its pigments are high quality hence, it gives a deep and rich espresso color to your maple.
Furthermore, because it is a water-based stain, it contains low Volatile Organic Compounds (VOC), easy to clean, and is not susceptible to fire. Apart from this, you can easily create a customized color because it can be mixed easily compared to oil stains.
Also, it has a thick formula; hence, it is suitable for maple. Due to its thick formula stain penetration is slow, hence blotching can be controlled.
Pros
Durable
Easy to apply
Easy to clean
Low VOC, hence less toxic.
Cons
Need an extra sealant
Designed for indoor use only.
#3. Minwax 70012 Dark Walnut Wood Finish Oil-Based Wood Stain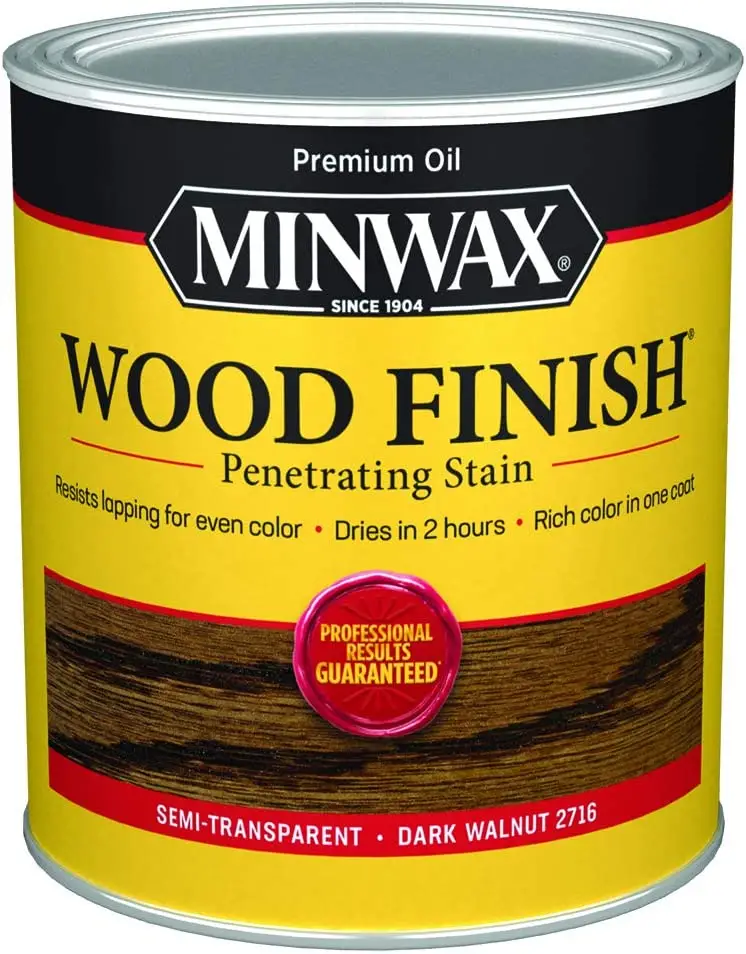 This is a Minwax quick-drying oil-based dark walnut wood finish. It has a rich, even, and beautiful color, as a result, it raises the natural wood grain and penetrates deeply in one coat. The more you coat, the deeper color you get. It is formulated for interior use.
As a result, you can use it on indoor maple doors, floors, tables, etc. Also, it is easily applied. All you need to do is use a cloth or a stain brush to apply it, following the direction of the grain patterns. This penetrating stain works well on both bare and stripped wood surfaces.
In addition, it has high penetrating power such that after it is applied, it deeply penetrates the maple wood surface within 15 minutes.
Pros
Quick-drying
Easy to use and apply
Deeply penetrates
Cons
Suitable for interior use only.
Extra wood protection is needed.
#4. Minwax PolyShades Wood Stain + Polyurethane Finish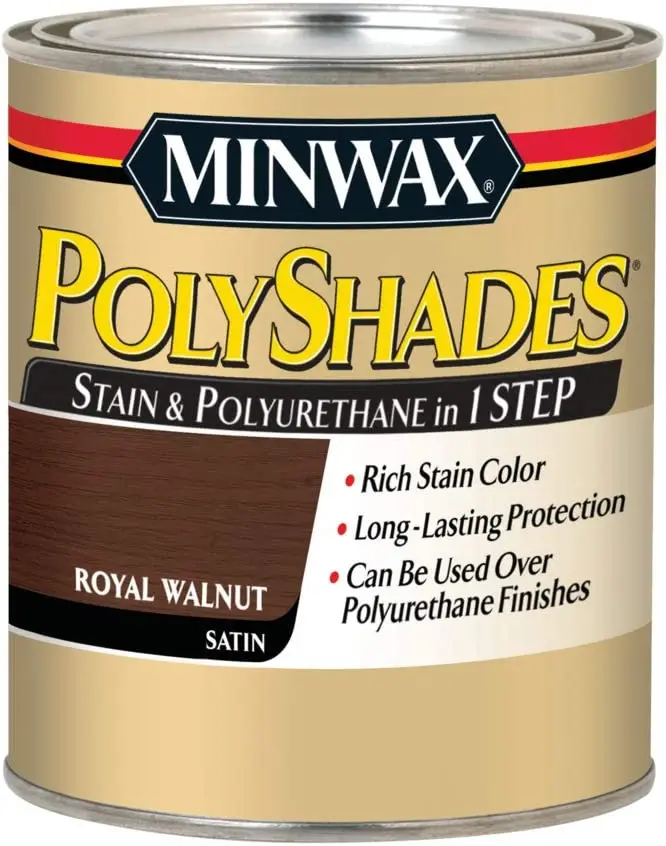 This is another Minwax product you can use on your maple furniture. Staining maple with dark colors could be quite stressful, from sanding, conditioning or sealing, grain popping, sanding, and staining to coating. However, with this polyshade wood stain and finish, the last two steps can be achieved in one single process.
This oil-based wood stain and polyurethane finish has a rich dark brown color. The more the coats, the richer and deeper the resultant color. Also, It is designed to highlight wood grain as the wood pores absorb the color pigments. And it is easy to apply.
In addition, you can use this two-in-one stain and sealant on a previously finished wood surface without having to strip the surface.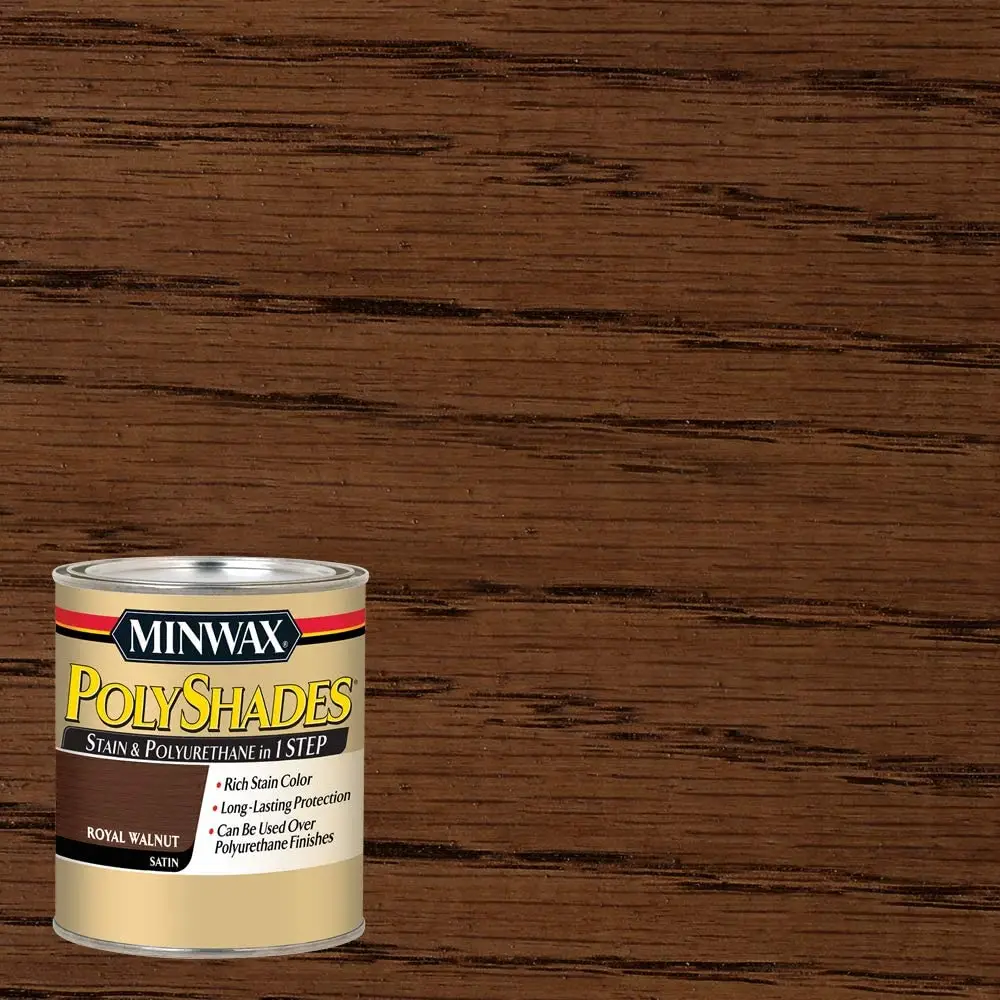 Pros
Durable
Long-lasting protection
Easy to use
Suitable for all wood projects
Cons
Does not protect from UV rays
#5. Minwax 26020 Aged Oak Interior/Exterior Gel Stain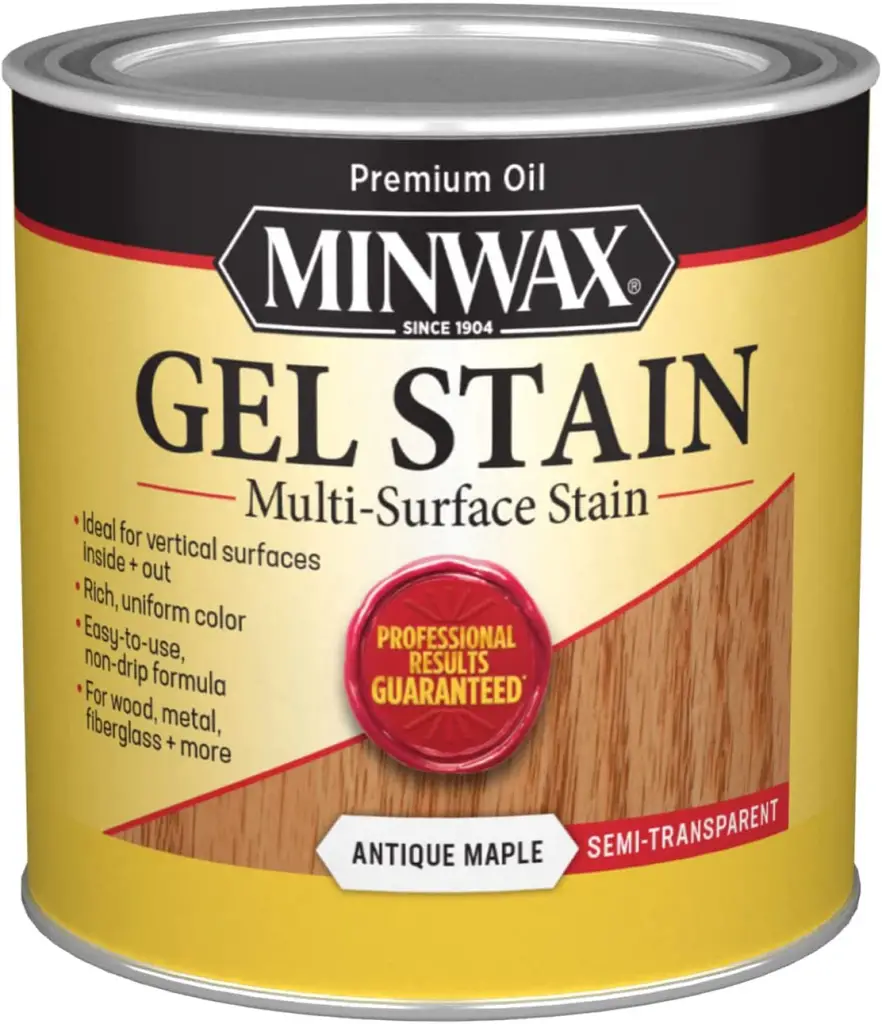 This is another product produced by Minwax, a leading American company when it comes to finishing and caring for woods. This product is a black semi-transparent gel stain. When it comes to staining dense woods like hard maple dark, your best choice is either a gel stain or a dye.
This is because a gel stain enables you to control stain application and absorption. Apart from this, a gel stain stays on the wood surface like paint instead of penetrating it. As a result, blotchiness is avoided. This Minwax gel stain also called surface stain works likewise.
Furthermore, its thickness makes it suitable for both vertical and horizontal interior wood surfaces. Moreover, it can be used on multiple surfaces, metals or fiberglass.
Pros
Durable
Easy to use and apply
Multiple surface stain
Cons
Require a wood conditioner
Only ideal for interior purposes.
#6. HOWARD RF2016 RF3016 Restor, Maple-Pine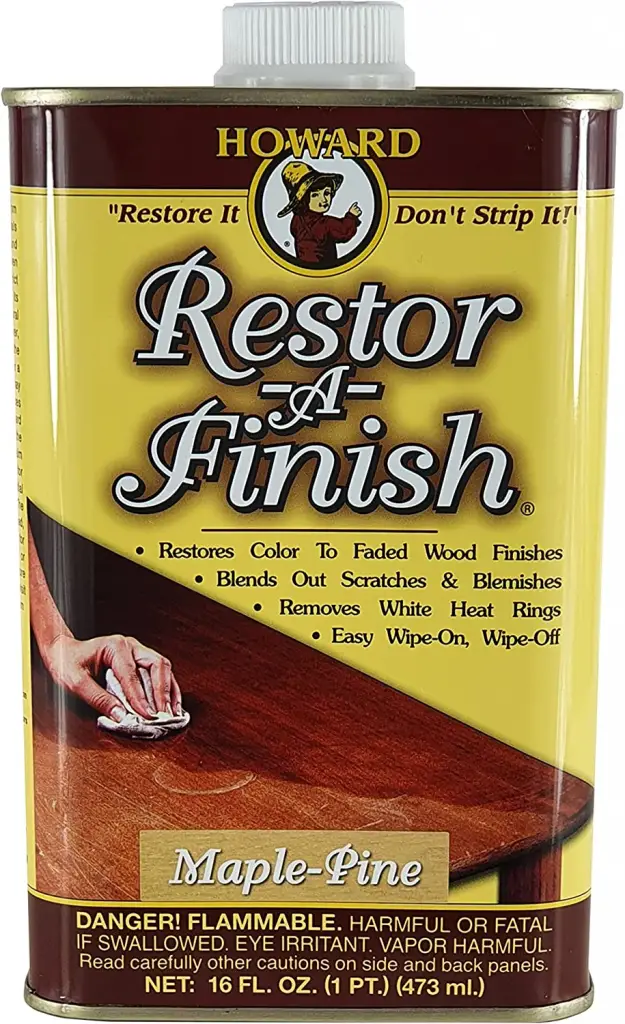 This is a unique stain. It seems Howard products are specifically made for staining maple because all the stain colors of Howard products are suitable colors for staining maple ranging from golden oak, mahogany, and walnut to maple pine. This product being reviewed provides a maple pine color to your maple doors.
Also, this Restor stain is designed to restore old finishes without stripping and erases minor scratches and blemishes. Including smoke damage, heat rings, oxidation, heat marks, etc. Hence, you can skip this wood stain's chemical stripping and sanding process.
Furthermore, it can be used on existing woodwork to restore the faded colors. Therefore, instead of staining your maple doors all over again, restore them with this stain.
Pros
Durable
Easy to use.
Wood restorer
Nice Scent.
Cons
#7. Rust-Oleum 260361 Ultimate Wood Stain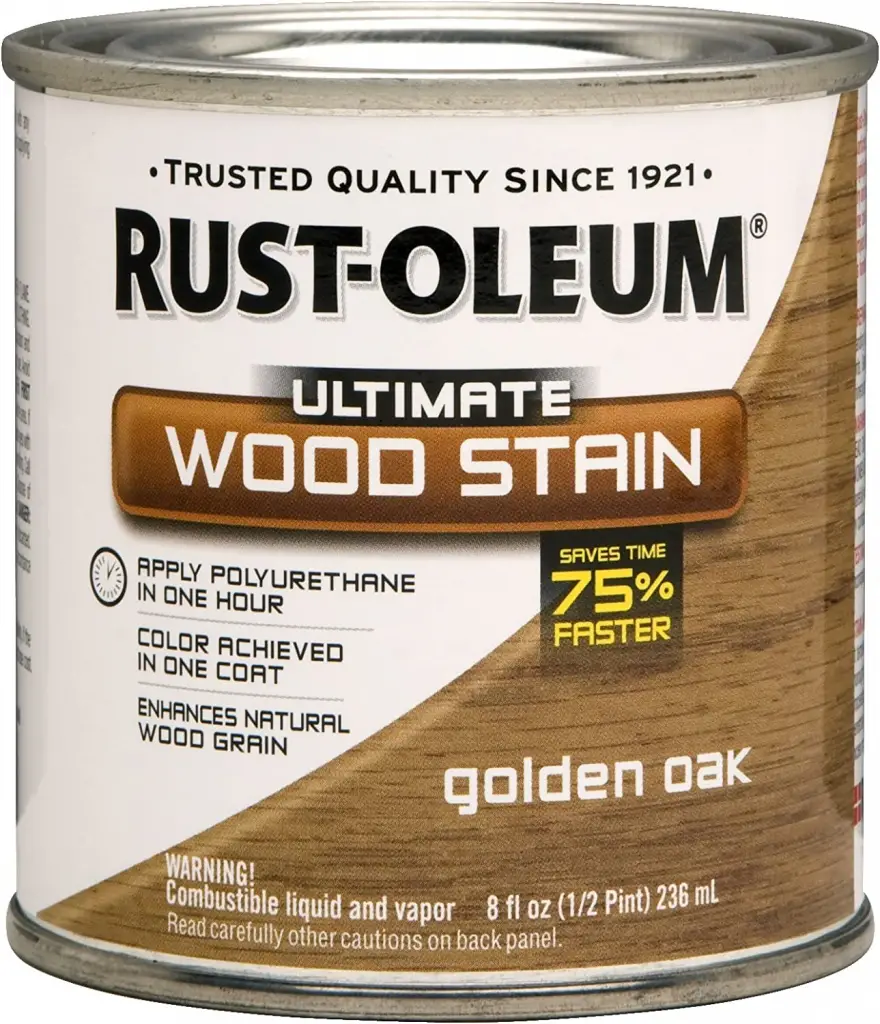 Trying to get an early American stain for your maple furniture? You should choose this Rust-Oleum product. It is a fast-drying wood stain that enables you to finish up your woodworking within a short time. Within 60 minutes, it gets completely dried and ready for a topcoat.
This stain is a high-performing stain, it provides a deep color to your maple just like a dye as it enhances the wood grain with only one coat. Hence, you might decide not to use a wood conditioner with this product. It is an oil-based stain that is fast-drying.
In addition, it deeply penetrates and seals the wood. This is the more reason it is suitable for use on maple because as stains penetrate the pores, they are sealed to prevent further stain penetration.
Pros
Durable
Fast drying
Deep penetration
Deep and even color
Cons
Ideal for interior woodwork only.
#8. Minwax Wood Finish 223304444, English Chestnut Stain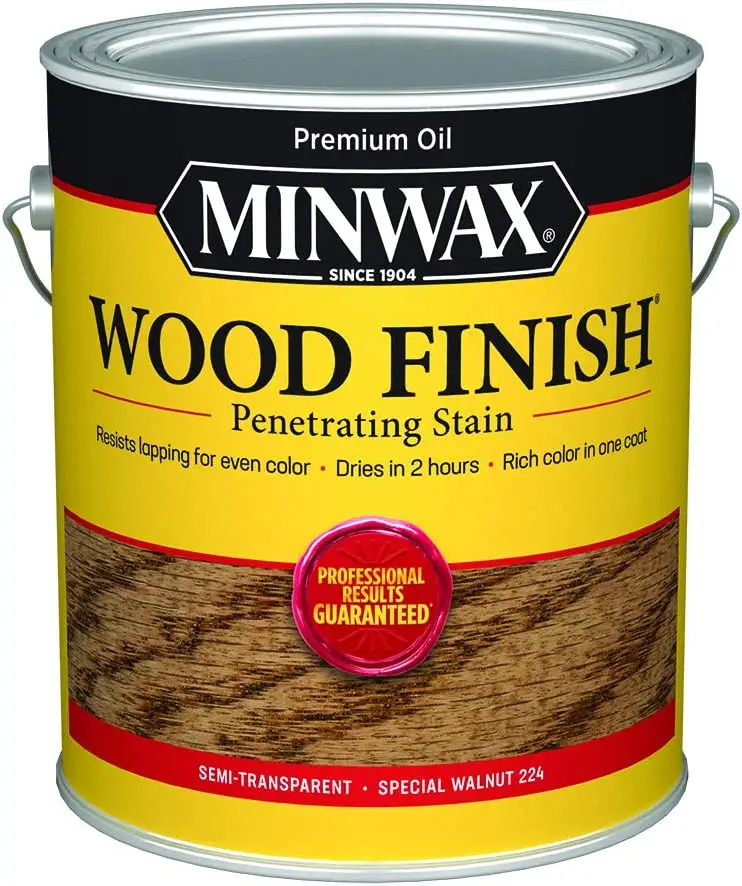 Similarly, another semi-transparent English chestnut Minwax oil-based penetrating stain with a relatively fast drying time is here. It dries fully within two hours. It provides an even and beautiful deep color. Hence, only one coat is needed and the wood pores deeply absorb this first coat within five minutes.
It is easily applied with a clean cloth or a stain brush and the more time you leave the excess stains on the wood surface, the deeper the color becomes. Also, it enhances wood grain with its rich color and this wood stain prevents blotching and streaking.
However, there is a need to use an oil pre-stain wood conditioner before using this oil stain to enhance its performance.
Pros
Rich even color
Dries quickly
Easy to use
Cons
Flammable
Ideal for interior use only
Sealant needed
5 Maple Color Wood Stain
#1. Colonial Maple – 1/2 pt Minwax 22230 Wood Finish Oil-Based Wood Stain
Sometimes, natural color speaks louder than artificial ones. Do you want your hard maple to resemble that of a colonial maple? Why not give it a try by using this colonial maple color oil-based wood stain. It is a highly penetrating stain. Hence, you can achieve your desired hue with a good wood conditioner.
Its formulation is ideal for interior woodworking and it dries fast. Because, of its rich color and penetrating power, just a coat is needed to get an intended color hue. And this coat deeply penetrates within 15 minutes. Do not wipe off excess stains, because the longer they stay, the richer the color gets.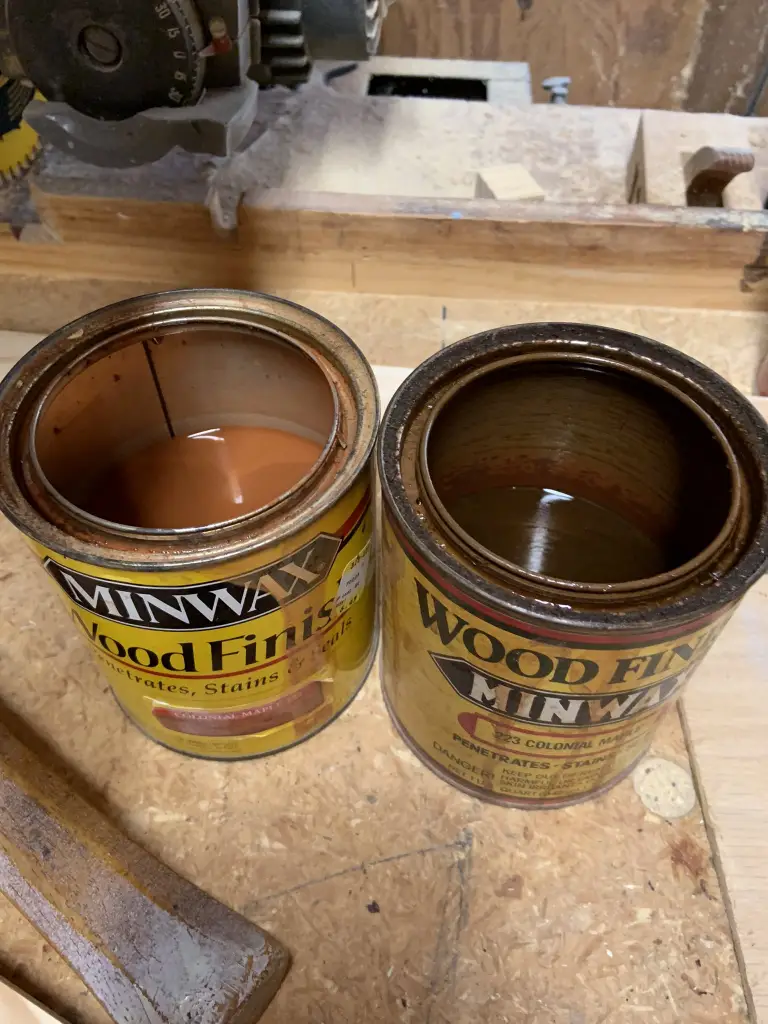 However, before you use this stain, you need to use a conditioner before applying it and a sealant after applying it. To prevent blotchiness and provide maximum protection respectively.
Pros
Easy to use
Durable
Quick-drying
Cons
For interior use only
Flammable
#2. Canadian Maple – SamaN Interior Water Based Wood Stain
This interior odorless water-based wood stain gives a Canadian maple look to your hard maple furniture. It is produced by a North American company called SamaN. This company is well known for producing safe products. That is, this wood stain is not toxic to humans, pets, and the environment.
Hence, this Canadian maple stain can be used on your kitchen cabinets without the fear of toxic fumes being released into your kitchen environment while staining. Also, with this product, you might not need a conditioner thereby saving time and due to its high quality, only one coat is needed.
Furthermore, because it is a water stain, it is easily mixed with other water-based stains to get a customized color and it can be quickly cleaned with water.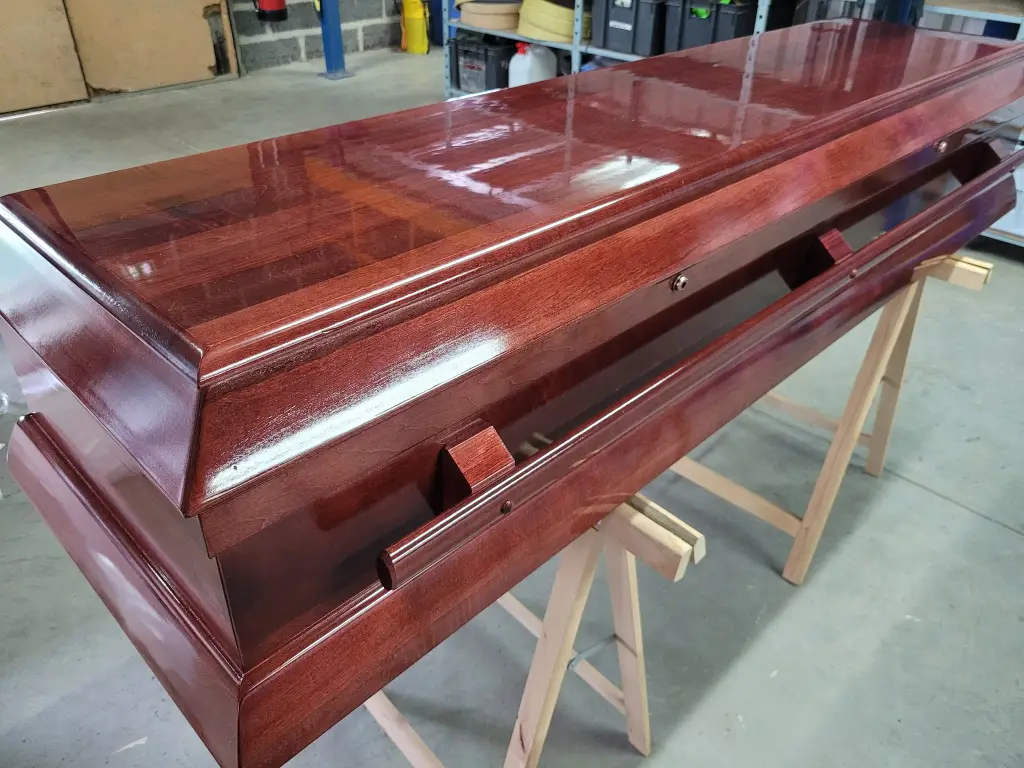 Pros
Easy to apply
Easy to clean
Durable
Non-toxic
Cons
Only used for interior woodwork
#3. Honey Maple – Varathane 313610 Premium Fast Dry Wood Stain, Half Pint
Here is another maple color wood stain. This wood stain gives your maple wood a honey maple look. Isn't that interesting? It is formulated with nano-pigment particles hence, its pigment can be deeply absorbed compared to woods with small wood pores like maple. As a result, only one light coat coverage is required.
This oil-based wood stain naturally beautifies wood by enhancing the natural wood grain. It gets dried fast such that within one hour, a coat gets completely dry. Thereby, speeding up woodworking time. Also, this honey maple stain seals the wood pores as it penetrates, reducing blotching and streaking.
In addition, it is ideal for varying interior woodworking maple projects from doors, trim, and paneling to cabinets doors, and no conditioner is not needed.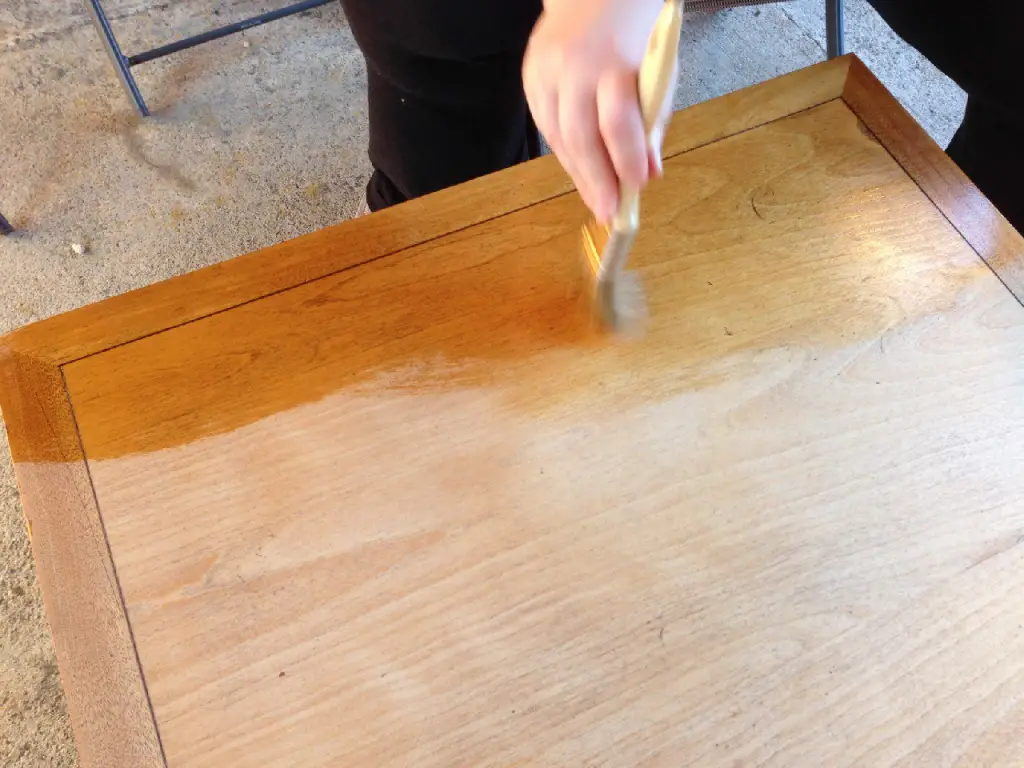 Pros
Easy to apply
Long-lasting
Dries fast
Easy to clean
Cons
#4. Golden Maple – SamaN Interior One Step Wood Seal, Stain, and Varnish
This high-quality two-in-one golden maple wood seal stain and varnish is produced by a top-notch North American wood care company. As usual, this wood stain is a green product. That is, it is risk-free, and odorless thereby safe for both humans and the environment. It gives an aged oak look to your hard maple.
Furthermore, with this aged oak designing wood stain, you can achieve your staining, sealing, and varnishing wood processes in one single step. Hence, hastening up woodworking time. It can be used for different interior wood projects and is easily applied with either a foam or a quality brush.
In addition, it is a fast action stain that requires only one light coat and it dries quickly.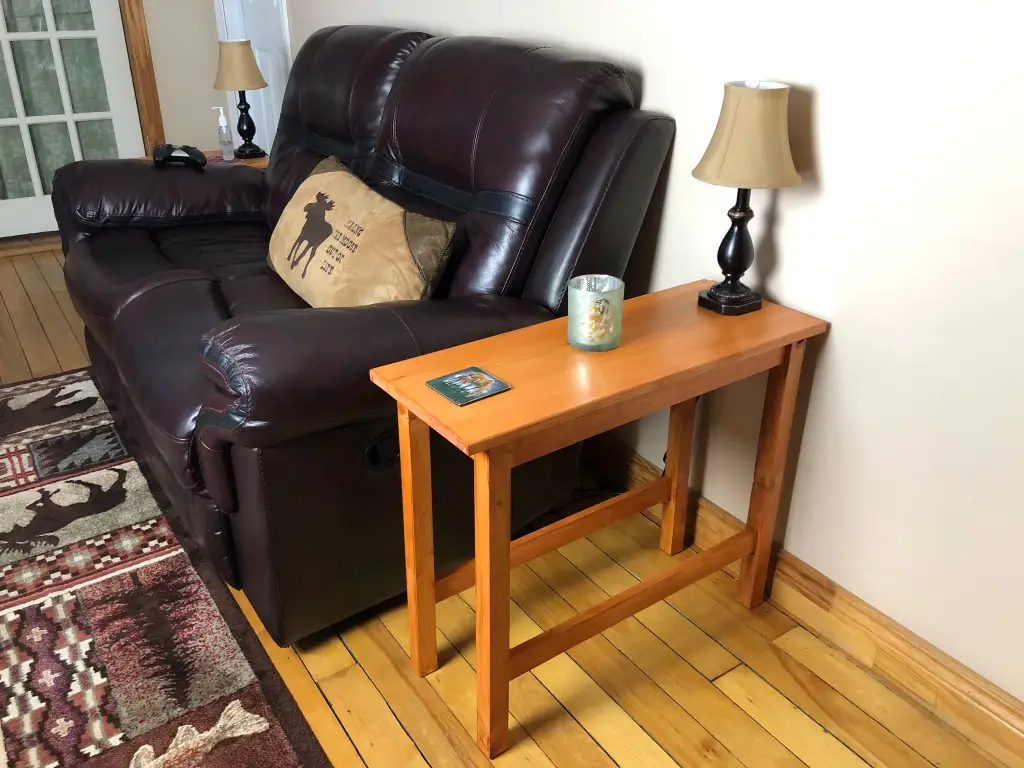 Pros
Easy to use
No sanding and stripping.
Odorless
Easy to clean
Fast-drying
Cons
Not suitable for external use.
#5. Antique Maple – Minwax 66030000 Gel Stain
This easy-to-use gel stain will give you the antique maple looks you have always wanted for your maple tables. Seeing that it is a gel stain, you might not need to use a conditioner or worry about blotchy staining and streaking.
This semi-transparent gel stain is a multi-surface stain. Hence, it can be used on varieties of surfaces such as metals, fiberglass, wood, etc. Also, it is a non-drip formula stain that is suitable for both vertical and horizontal interior wood surfaces giving them an antique maple color and design.
In addition, because of its thick consistency, it gives a rich and uniform color to wood thereby, producing a beautiful antique maple staining outlook. It dries relatively fast, but environmental conditions like high humidity could be a deterrent factor.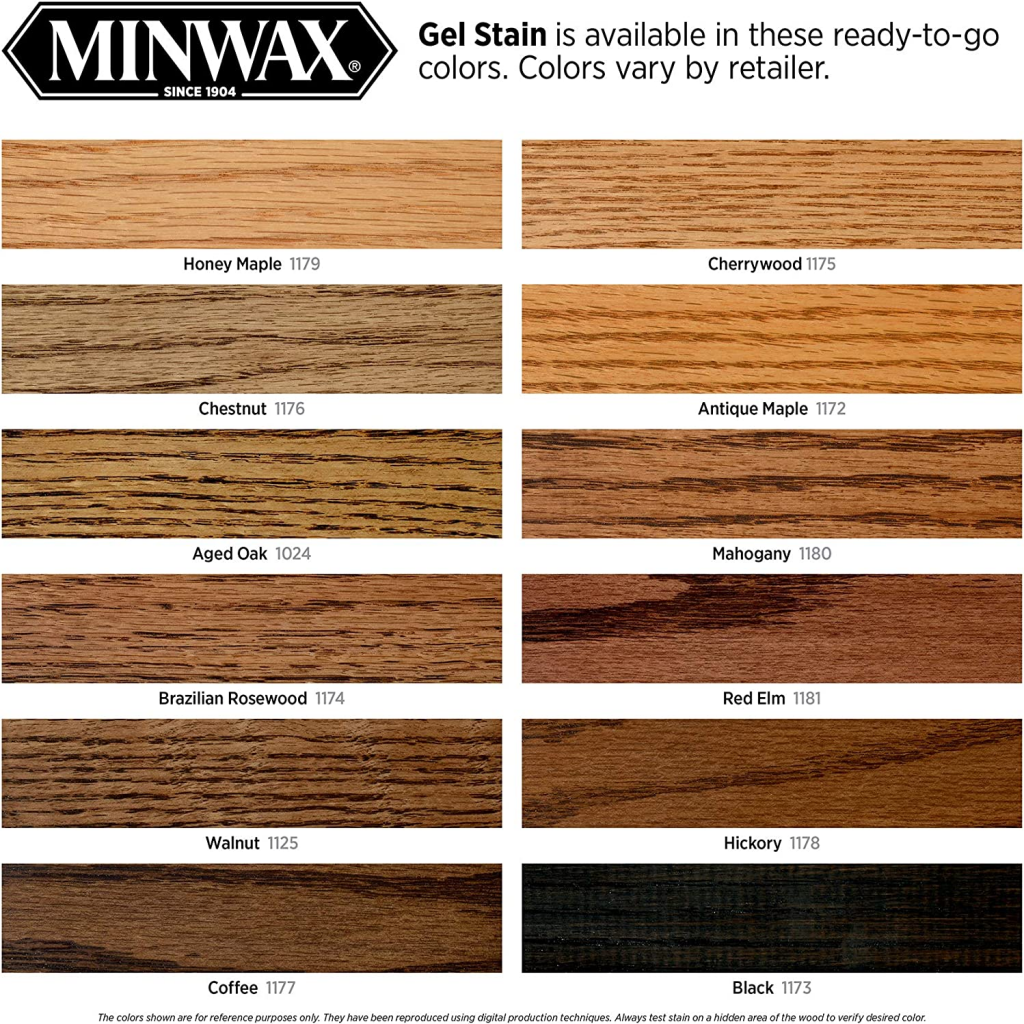 Pros
Durable
Easy to use
Uniform color
Cons
Considerations before Buying Maple Wood Stain
Wood Projects (Furniture, Doors, Cabinets, Trim, Paneling)
The first thing you should put into consideration before purchasing your maple wood stain is the type of wood project you are working with. For instance, if your maple furniture will be placed amidst others already stained and painted furniture, the existing color should be considered before a maple wood stain.
The existing color should be considered to avoid contrasting colors. Also, the type of surface your maple project has should be considered to choose a suitable maple stain that works well for both vertical and horizontal surfaces. The specific design you want for your project also determines the maple stain type.
Uniform and Natural Color
Also, it is essential you purchase a maple stain that provides a uniform and natural color. Natural color enhances the natural beauty of the wood without obstructing or covering up the wood grain. Also, with a natural stain color, the classic look of your hard maple is greatly highlighted.
Similarly, you should consider a stain's uniformity and richness before purchasing it for your maple project. This is because a non-uniform stain coupled with non-uniform tight grain pores can accelerate the rate of blotching and also give your maple conspicuous dark and lighter stain spots
Prevent Blotches
Blotches are one of the major concerns of woodworkers when staining maple wood which is a tightly grained wood. Hence, you want to ensure you choose a stain with nano-pigment particles or a stain that deeply penetrates and seals as the wood pores absorb it.
Choosing this type of stain is important as you consider the different types of maple wood stain to buy. This is because when blotchiness is prevented, irregular dark and light stain spots are avoided, and your maple staining result comes out beautiful. Otherwise, the whole staining could turn out bad.
Ensures Even Penetration of Stains
As you consider buying your maple wood stain, if the wood stain guarantees a uniform penetration of stains so that streaks and blotches are prevented, it is still advisable to use a wood conditioner before using the stain. Irrespective of whether the stain is penetrative or pigmented.
Hence, consider purchasing this conditioner to be sure that streaks and blotches will not disrupt your staining. Because the conditioner works in such a way that the varying pores of the maple furniture are conditioned and even penetration of stains is ensured.
Fast Drying
The staining procedure of maple wood is quite long especially when you are staining your maple with a darker color. Now, imagine you are working with a stain that takes more than four hours to dry, how strenuous and tiring will the whole process be? Hence, consider buying a fast-drying stain.
A fast-drying wood stain enables you to finish your staining project quickly, saving time. Apart from this, if you are working with an oil stain containing volatile organic compounds, the fast-drying time will reduce the toxic smell curing time.
Sun Protection & Anti-oxidation
Maple wood tends to be very susceptible to oxidation due to constant exposure to the sun and atmospheric oxygen over the years. However, different causal factors could oxidize your maple doors, thereby changing color. They are exposure to UV rays, heat, water, and atmospheric oxygen.
Hence, if the location of your maple furniture is in a place where it will be constantly exposed to these elements, you should consider buying a stain that can protect your wood from them. And also consider purchasing a wood sealant to offer extra protection from sunlight and the like.
Easy to Apply
While some maple stains are applied with a rag or a stain brush, some you need to use a lint-free cloth, foam brush, high-quality bristle brush, or paint pad applicator. Nobody wants a strenuous DIY project that is meant to be fun. Hence, you should consider purchasing a maple wood stain that is easy to apply.
Apart from this, the type of tool you use to apply a wood stain could cause stain streaks. Particularly, when you are using a brush that is not smooth. To avoid all these, purchase a wood stain you can easily apply with a rag.
Size & Coverage
Another important factor to consider is buying a wood stain for your maple furniture. Different wood stains give varying coverage depending on their formulation. While you can stain a maple door with a half-pint of some stain, you need a quart with others.
As a result, if you know that your project size is large with wide coverage, it is important to choose a wood stain that can cover such large coverage without the need for purchasing extra stains. Also, a wood stain that can cover the wood completely in one coat is suitable for a large project.
Cost
Finally, it is imperative you count the cost and draft a written budget for your woodworking projects before you start. This will enable you to spend within allocated funds and avoid wasteful spending. Also, you can compare two alternatives and choose one within your means.
However, do not think less-expensive stains will not perform as highly expensive ones. That is not true. There is a good maple wood stain for every budget. All you need to do is consider how much you are willing to spend and buy stain whose cost is within your budget.
Tips for Staining Maple Wood with Tight Grain
Maple wood is known to be diffuse-porous wood. Although the wood pores appear to be uniform, they are not. Some wood pores are small compared to the others, and this is the main reason blotchiness sets in. To avoid this, make use of a dye stain.
Furthermore, you can also use a maple stain. However, it is imperative you subject your maple wood to proper conditioning by using a pre-stain wood conditioner or a sanding sealer. This helps to prevent uneven stain absorption and blotchiness. Also, choose a dye stain or gel stain to stain maple wood dark.
It is best to use gel stains. Gel stain sits on the surface of your maple wood and does not really penetrate, hence you do not have to worry about some part of the wood getting darker than the other. Also, a dye will color the maple wood cells in such a way that blotching is prevented.
Lastly, if blotching has already occurred, you should note the end-grain areas and sand them with 220 or 320-grit sandpaper to discontinue stain absorption.
Wood Glue also works. Mix a little water with white glue and apply to the blotchy end grain. Let it dry, sand lightly, and stain again.
FAQs
Can you stain maple wood to look like walnut?
Staining maple with any color is possible although staining it with dark colors could be tasking. Hence, it is possible if you want your hard maple to have an artificial walnut look. Just ensure you use a stain that will give the desired look.
What is a good finish for maple?
After staining your maple furniture, you can decide to use finishes like tung oil, tinted shellac, and linseed oil to enhance the appearance of the grain. Nevertheless, with a polyurethane coat, you still need to protect your maple wood from moisture, UV rays, and sunlight. Tinted shellac also protects the wood from UV rays.
Does maple stain like pine?
No. Maple does not stain like pine because it is denser than pine. Hence it gets blotchy more than pine. However, a variant of maple called soft white maple takes stain in a manner similar to that of pine wood.
How do you stain maple wood to look like a cherry?
You can stain maple to look like cherry wood in color, but you cannot mimic cherry's grain pattern and structure on your maple wood. To achieve a natural cherry color on your maple, purchase a cherry wood finish and apply it to your maple.
Final Words: What kind of stain is best for maple?
Most woodworkers recommend gel stains as the best stains for a tightly pored wood like maple. This is because this type of stain does not penetrate pores; hence, the uneven stain absorption that causes blotching does not affect it. It covers the wood surface.
The best way to stain a maple without blotching is by sealing its surface with a sanding sealer before you apply your stain or use a conditioner to treat the wood to enhance uniform stain penetration.
Nevertheless, depending on your choice, you can still choose oil stains or a wood dye. The most important thing is to select a suitable maple stain, follow the proper staining process and achieve a perfect staining result.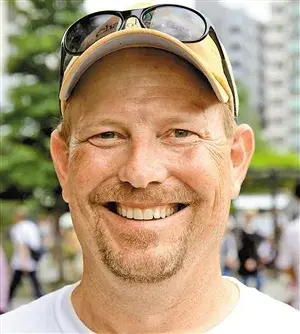 My name is Mark, and I am a software engineer and the founder of OnWoodWorkingArt.
I grew up with a passion for woodworking and now have my woodworking studio with a group of like-minded friends who love to create woodworking. My dream is to have a more extensive workshop and be able to make woodworking my main business.