MDF, also called medium density fiberboard is a wood by-product such as fiberboard, plywood, veneer, particleboard, etc. Medium-density fiber is always so smooth and strong because of the high pressure and temperature the dried wood dust particles are subjected to. Hence, having this strong wood by-product as your cabinets, furniture or doors is a good choice. However, you are thinking about staining those mdf products, and you really need an answer to the question, can you stain mdf?
Can You Stain MDF Cabinets, Furniture, or Doors?
You can stain and varnish MDF furniture, cabinets and doors to improve their appearance, but it is difficult to achieve the sheen when stained on log. Because MDF has no wood grain, dye absorption is not good. You will need to add a layer of polyurethane to the stain as a sealant for protection.
All the techniques and procedures you need to stain your mdf furniture will be highlighted in this article.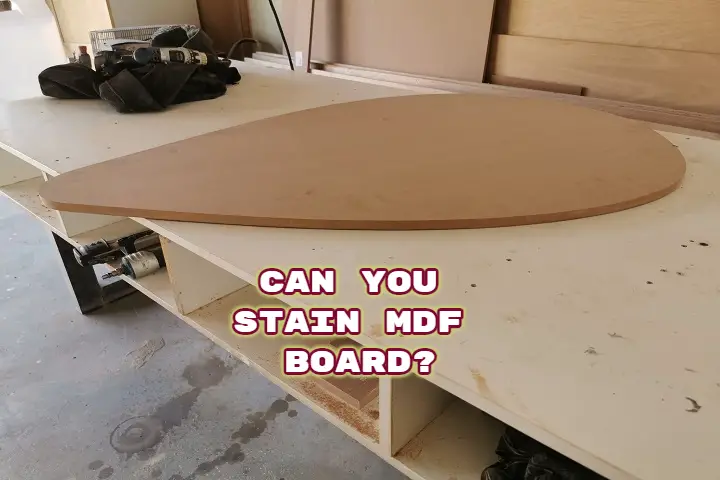 Let's keep reading.
Can You Stain MDF Board?
MDF consists varieties of wood mill by-product. It is typically a form of wood made by composite materials of sawdust infused with resin. Hence, it has no wood grain. However, this does not mean you cannot stain your mdf. You can stain MDF products beautifully, but do not expect a glossy and perfect staining effect like natural wood with wood grain.
What Is MDF – Medium Density Fiberboard?
Medium Density Fiberboard is simply a beautiful recycled wood product. That is, instead of disposing of sanding dust, sliced-off wood, sawdust, etc., they are dried, ground, and pressed under heat and pressure to produce highly dense products. These paneled wood fibers are bonded together with glue, such as formaldehyde, preserved with resin, and protected with wax.
Also, they are subjected to sanding to produce a smooth finish. MDF comes with a lot of advantages. Some of which are it is less expensive compared to plywood, very dense, and weather-resistant. Hence, it does not shrink or expand like natural wood.
What Does Stained MDF Look Like?
Moving forward, now that the question of can you stain MDF has been answered, the next thing to consider is, how exactly will my MDF furniture look like after staining it? Will it be worth the time?
Actually, how you stain your MDF will determine what it will look like. For instance, if you decide to stain your mdf to look just like wood, that is exactly what you get. Therefore, the type of design you want for your mdf furniture, the color, and the type of stain and varnish products, be it glossy or semi-glossy all determine what a stained mdf will look like.
Can You Make MDF Look Like wood?
Absolutely. You can. If a painted wood surface can be made to look like wood with visible wood grain, why not an mdf surface? The major requirement to make your mdf look like wood is primer and paint techniques. With some paint techniques like faux bois and the like, you can achieve different types of stain designs on your mdf surface. In the world of art, anything natural can be simulated.
Hence, the wood grain of natural wood can be created as a design for unnatural wood. The necessary guidelines and procedures needed to stain mdf surfaces like wood will be discussed later in this article.
How Do You Prep MDF for Staining?
MDF surfaces are pretty different from wood surfaces. Therefore, preparing an MDF surface for staining requires little caution here and there. For MDF wood board with old stain or paint with the old finish, it is important you use a small portion of chemical wood stripper to remove the paint.
Then clean off the used wood stripper with a clean cloth or brush and let it dry completely. After which, you apply a grit-sandpaper on the mdf board using light but smooth strokes. It is advisable to start sanding with a grit-sandpaper with grit number 120 and finish the sanding process with the 180-grit sandpaper.
Clean the surface free of dust with brush or dry cloth and your mdf board is more ready for staining.
How to Stain MDF Cabinets to Look Like Wood?
Furthermore, you can stain mdf board without making it have a natural grain like oak. However, the idea we will be discussing in a few steps below is all about applying stain to your mdf surface to make it look like a natural timber like oak, maple, etc. Hence, the type of grain effect you want to copy should determine the wood stain color you will choose.
Tools and Materials You Need
Here are some tools and materials you need. You can easily get them from a local store. They are: drop cloth, face mask, dry cloth, paint stripper, scraper, oil-based paints, a sealant such as a varnish or polyurethane (oil-based polyurethane), different types of brushes, power sander with vacuum attachment, different types of sandpapers (120, 150, or 180-grit), amongst others
Staining MDF Board Step by Step
Before we proceed, it is good to know that some types of mdf depending on their purpose are made with harmful chemicals like formaldehyde. These chemicals are not safe. Hence, it is imperative to avoid inhaling them by taking proper care that your workplace has excellent air coming in or out that is, proper ventilation. Use eye goggles, and a good face mask to avoid harmful sanded mdf residues.
Step 1: Necessary Preparations
Protect your floors by using a drop cloth. Ensure there is great airflow in your work area and wear the necessary protective gear. Prepare your mdf board by applying wood stripper according to the product label to remove old paint or stain. The stripped surface should be completely free of the chemical before sanding.
Step 2: Surface Sanding
Wearing a protective face mask, start with light sanding using the 120-grit sandpaper, before using the medium smoother finish of 150-grit, and finally for a perfect textured finish, sand the surface with the 180-grit sander. Thoroughly remove mdf dust with a brush. If there is remaining dust, wipe them off with a cloth rag.
Step 3: Fixing MDF boards and Priming
After getting rid of the sanded dust from the surfaces and edges, use a wood filer or wood putty to level up all holes and surface damage. Then you apply a solvent-based primer with a paint brush. This is optional, but it is advisable to seal the primer on the mdf surface with glue like Carpenter's glue.
Step 4: Apply the stain
If you want your mdf surfaces to look like red oak, choose a wood stain in the reddish brown family. Apply thin coats of the stain evenly in an overlapping long stroke pattern. Allow this thin coat to dry completely before applying another. Ensure you apply the stain on the edges too using smaller paintbrushes. 2 to 3 coats of stains should be enough since it does not absorb stain.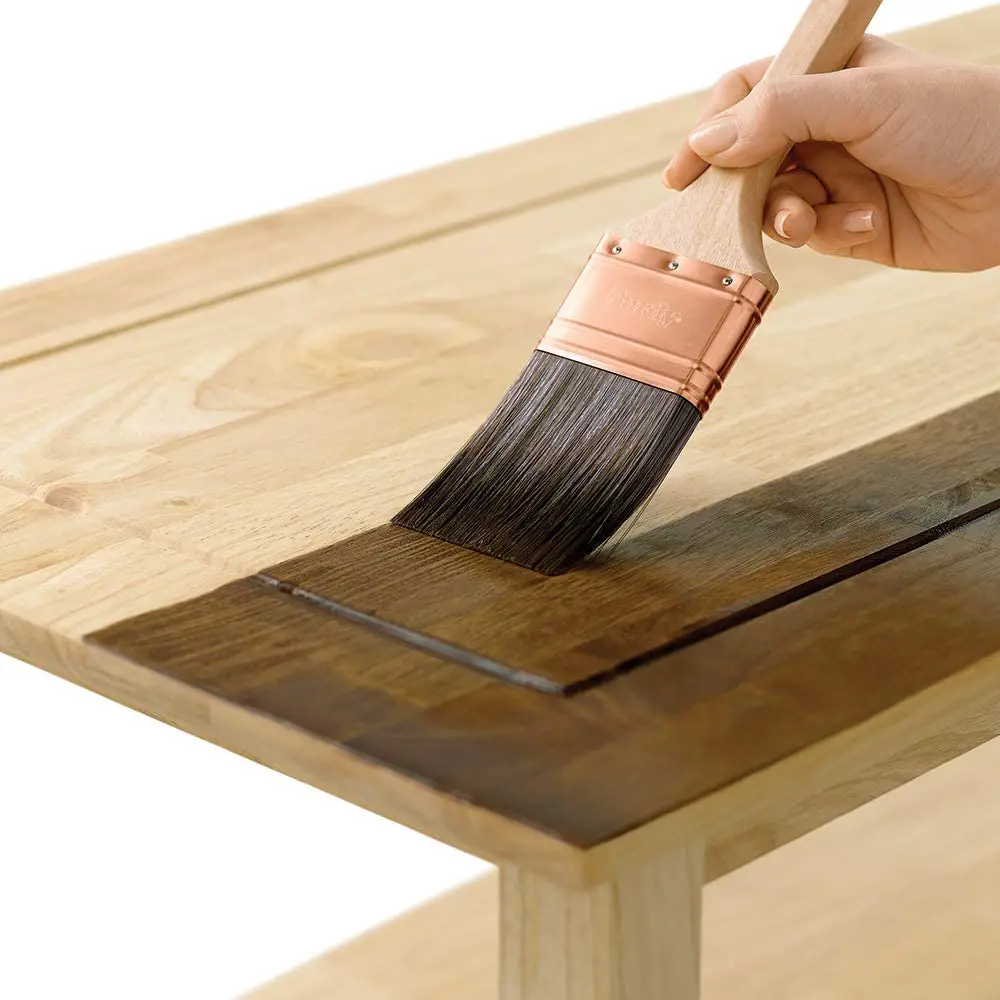 Step 5: Adding straight oak grain pattern using faux bois technique.
To do this, use a beautiful dark-colored glaze or varnish. Apply a thin coat of the varnish to the stained surface. Using a grain creating tool, carefully apply the oak grain pattern from top to bottom without breaking the lines. Then let your mdf surface gets dry before applying your glossy finish. Note that this grain making tool is more efficient for small surfaces.
How to Stain MDF Doors?
Can you stain mdf doors in an easy, nice, and excellent way? Yes, you can. The steps to take will be explained shortly. The first thing to do is protect yourself by working in a well-ventilated room. Then you start to remove previous paint or stain from the mdf door surfaces.
After this, sand the surface of the mdf board . You can make use of a power Sander with attached vacuum cleaner to protect the air from unsafe dust particles.Wipe the surface of the mdf free of dust with a brush or soft cloth.
Seeing that mdf is a composite material that does not absorb stain, choose a gel stain. For a lighter stain, go for a solvent-based wood stain. Apply the stain in several thin coats until you get desired appearance.
Let each coat dry before applying another. After all thin layers of coat are fully dry. Use a sealer like varnish or polyurethane coat on the stained surface.
3 Best Stains for MDF Furniture Like Natural Wood Colors
Are you working on some building projects in which you are using mdf board as a construction material? Do you want to know the best stain to use to make an mdf product have a finished look like real wood? Below is the description of three stains that gives a natural wood appearance to your mdf board like a top coat.
Staining mdf can be a straightforward process, when you follow the right techniques, choose the right types and colors of wood stains. This Minwax product is designed to give your mdf tables a weathered oak wood finish. It has a rich color and it dries quickly. It is formulated with a penetrating power, that can penetrate to an extent the wood fibers of medium density fiberboard. Lastly, you do not have to worry about uneven texture, because this wood stain provides an even finish.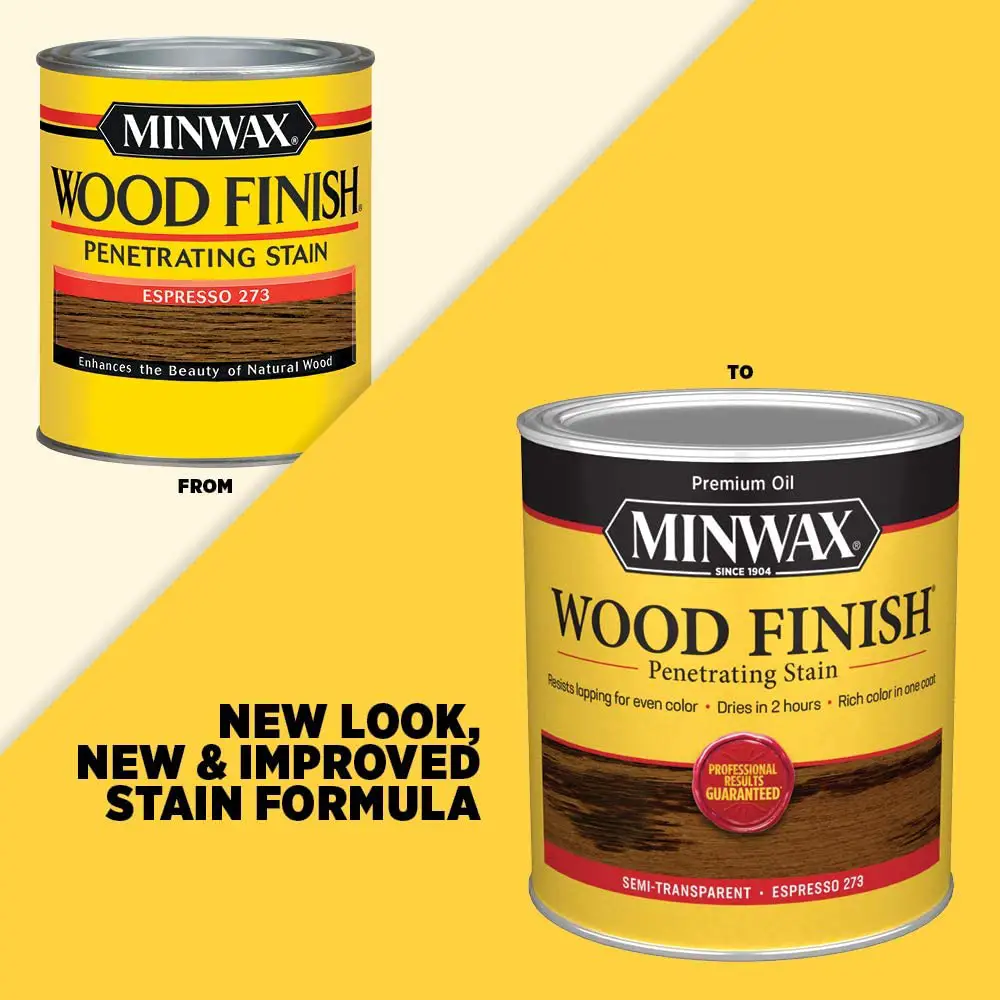 Advantages.
Gives a smooth application. You can apply it with a dry cloth, a brush, etc.
Has a fast drying time. Hence, you can varnish mdf quickly.
You can use it on varieties of wood like plywood, particle board, etc.
It does not require several coats.
Disadvantages
Cannot be used for exterior mdf staining.
You still have to use a sealant or a finish to externally protect your wood boards.
This is a non-bleeding water-soluble stain with a dark brown color designed to give a walnut timber color. I know you were advised not to make use of water-based stains for the staining mdf project. However, this Birchwood Casey water-based walnut stain comes in a concentrated form. This concentration can be adjusted to suit your mdf staining without hassles. If you have always desired to stain mdf to have a traditional look, then go for this type of stain.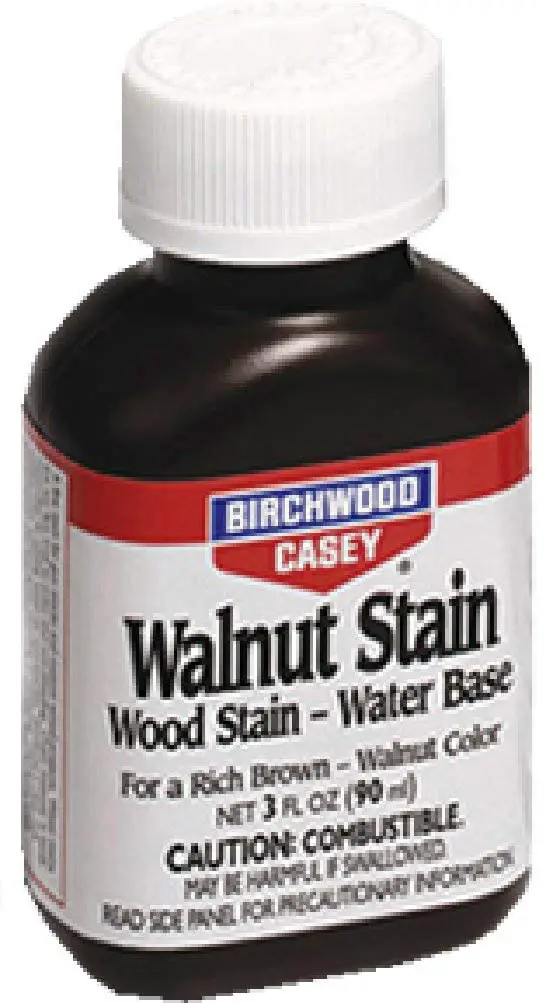 Advantages
It gives a rich color to your medium-density fiberboard table
It is a non-bleeding water stain
It is easy to use with a brush or cloth. Cleaning it too is not difficult. You can wipe it off easily.
It is environmentally safe, has no pungent odor, and does not contain injurious chemicals.
Disadvantages
It can only be used on a wood surface
Did the old finish on your exterior mdf surface got worn out due to overexposure to unfavorable weather conditions? It is time to use this exterior semi-transparent wood stain before you use that protective varnish. This stain is formulated to shield your mdf from UV rays, and water, and withstand tough conditions.

Advantages.
It is water-resistant.
It gives a durable and even finish.
It has a fast drying time. 10 – 15 minutes dry to touch time and a complete drying time of about 1 to 2 days.
Disadvantages.
It can only be used on exterior wood surfaces.
Tips for Apply Stain on MDF
A particular tip to emphasize is that to work with the grain pattern creating tool on your mdf products, ensure you practice how to use it. You can get scrap plywood from a local store to try it with. Also, use it before the applied stain dries. This is to avoid a stress-free staining project.
In addition, when using the graining tool, use it in such a way that when you start pulling from one end to the other end, you don't stop at the middle. If peradventure you do, use brushes immediately to wipe it out.
Furthermore, working in a well ventilated area always start sanding lightly with the 120-grit sandpaper and make sure to get rid of all dirt on the mdf boards before staining. When priming, it is better to choose a solvent-based primer than a water-based primer.
Also, note that not all solvent-based primers can act as a base coat for mdf. Some oil-based stains are combustible and dangerous, hence always dispose of used clothes properly.
Lastly, wash your brushes and other materials before you store them. If you worked with oil-based stains, mineral spirits can be used to clean your brush. For water-based stains, use soapy water to wash the brush.
FAQs
Can MDF be colored?
You can paint and stain mdf as a DIY project, but it cannot be colored. However, there are technologically advanced mdf that are manufactured with different colors. Therefore, they are referred to as colored mdf. You cannot color mdf, but can only paint and stain it. The technique for staining mdf has been explained above.
Can you stain white MDF
White mdf is a colored mdf, hence, you might not be able to stain it. It has already been covered with a sealant-like white material. If you wish to stain your mdf. Do not order for the white or colored mdf. Purchase the bare one with no protective colored sheath for easy staining.
How do you dye MDF?
Dyeing mdf might be a little strenuous. Remember a medium-density fiber is made up of composite material. Hence, its wood fibers have little absorbing power. Therefore, when you clean the mdf, sand it, and try to apply the dye, it will not absorb as much dye needed to bring out the wanted color.
Can I paint MDF without primer?
Yes, you can paint mdf without primer. However, do not expect a smooth painting. The major reason for priming is give a smooth surface for a paint to be applied without breakages and blotches. Therefore, you should reconsider painting your mdf without a primer if you want to paint smoothly.
What is the difference between wood dye and stain?
Different differences exist between wood dye and stain. One of these is, that wood dye is made to be absorbed by wood to majorly give it a different color while wood stains apart from giving color provide a form of protective coat to wood. Both can be used together to increase wood color intensity.
Can you use food coloring to stain wood?
Yes, you can use food coloring to stain wood. However, this is better suited to staining small wooden structures like children's toys. This is because the wood needs to be soaked inside the food coloring. The longer it is soaked, the more food color it absorbs. However, wood stains can be made with food such as black coffee.
Is It Better to Paint or Stain MDF?
Both paint and stain are good on mdf. They do not have the same textured finish. Therefore, the choice to either go for paint or a stain is yours. To make this choice look at the environment in which you are planning to place your mdf, then give it a paint design or stain design that best suit the environment.
What Kind of Paint Do You Use on MDF?
Both oil-based paint and water-based paint are suitable for use on MDF. The only precaution is that when working with water-based paints, be careful about the edges of your MDF. They are porous and hence can absorb too much of water paints. You should prime the edges to prevent this.
Which is better wood stain or varnish?
Both stain and varnish have their uses. Nowadays, some stains are now formulated with varnish. The wood stain gives color and beauty to wood. On the other hand, varnish gives a protective clear coat to wood. Varnish is not suitable for external use, whereas there are exterior stains. You use them as you need them.
Final Words: what is the best finish for MDF?
Staining mdf should be a simple process now that all the necessary questions have been answered. With all the explained techniques, outlined tips, and pointed-out steps you should be able to stain those mdf tables like a professional woodworker.
Finally, it is good to briefly explain the best finish to use on your mdf stained surface. Typically, varnish is still the best finish you can apply on your mdf. The only setback is that it is not suitable for exterior use. Oil-based polyurethane is a suitable top coat for exterior mdf. Shellac too can be used to seal mdf surfaces but it can get easily moistened.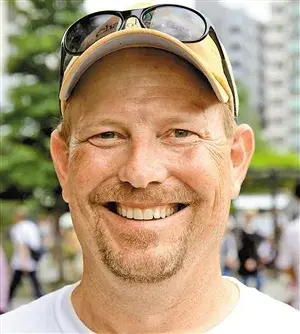 My name is Mark, and I am a software engineer and the founder of OnWoodWorkingArt.
I grew up with a passion for woodworking and now have my woodworking studio with a group of like-minded friends who love to create woodworking. My dream is to have a more extensive workshop and be able to make woodworking my main business.