Paints are essentials that make wood surfaces look more attractive. However, they can be disfiguring when they become fade, and when this happens, getting them removed can be challenging. Choosing a high-quality wood stripper is essential for removing the paint from the surface of the wood. 
While some types of paint can be difficult to strip, others may be easy. However, the easy-to-strip paint may not produce an attractive look on the wood surface. When you try to scrape off stubborn and unpeeling paints, you may peel the surface. This article will reveal the best paint stripper for wood to remove paint from your surface. 
Here's a list based on my experience and research:
Best Paint Stripper For Wood
So, let's jump in!
Top 9 Best Paint Strippers For Wood Reviews
There are many wood strippers on the market and painters may find it challenging to choose the most suitable one. However, each product has varying qualities, pros, and cons.
The following wood stripper products will help you pick the suitable one for your surfaces:
1. Best Paint and Varnish Stripper for Wood Flooring: Safe 'n Easy Citrus Paint & Varnish Remover Gel
Suppose you're searching for a top wood paint stripper. The Safe 'n Easy spots all the features you should be watching out for. This professional paint and varnish remover work perfectly on a wide range of surfaces: masonry, brick, cinderblocks, fiberglass, stone, metal, bathtubs, glass, concrete, stone, wallpaper glue, and lots more. 
It can perfectly remove up to 15 or older paint layers when you apply it and allow it to sit for some minutes before rinsing it off.
Just as its name implies, it is safe and easy to use and has been one of the best choices for painting professionals. It is perfect for removing latex paints and oil-based varnishes.
It is also a type of zero-VOC paint stripper.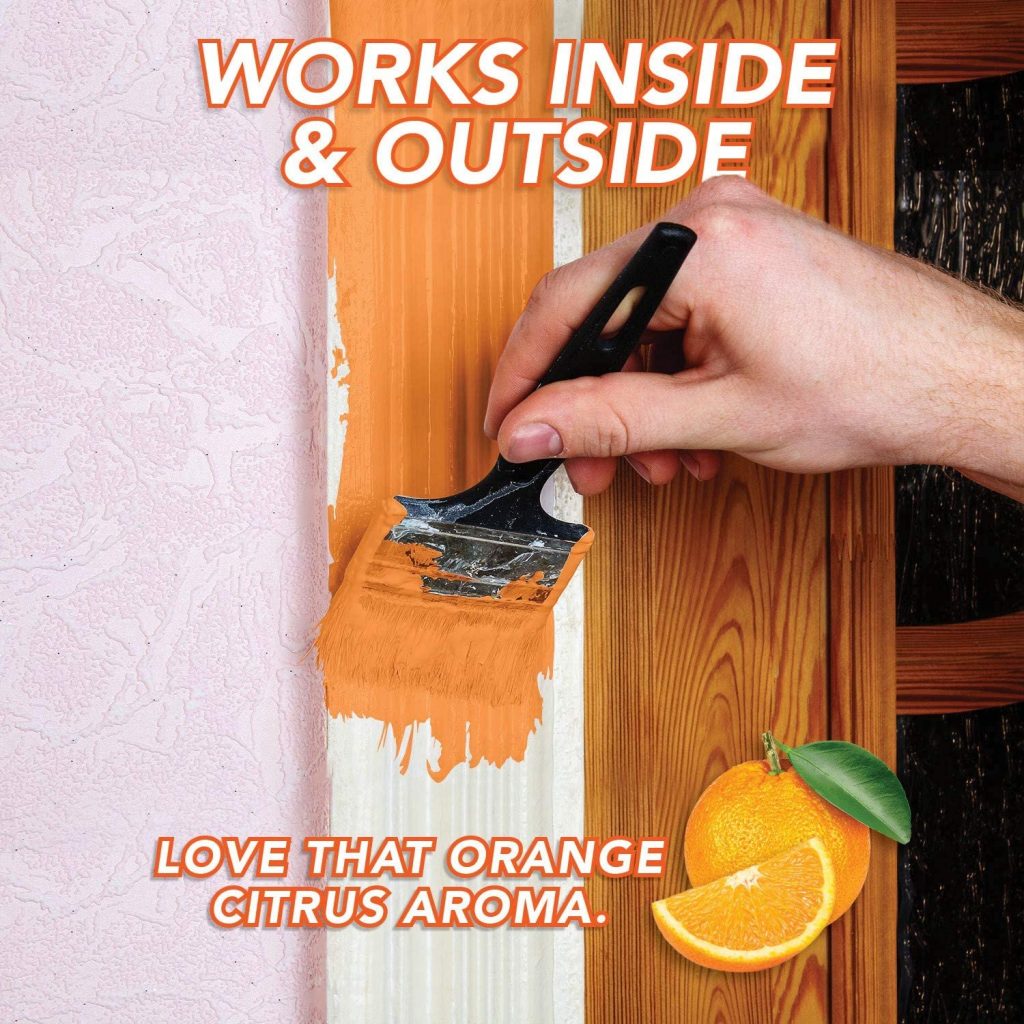 Safe 'n Easy Citrus Paint & Varnish Remover Gel is the best paint and varnish stripper for wood flooring. You won't think twice before you opt for this non-drip water-based stripper gel formula for your wood flooring. It adheres well to the surface and boasts 100% biodegradable features. 
The stripper doesn't produce any smell, making it very safe to use with no VOC or fume to inhale. In addition, it doesn't contain any dangerous chemicals, mess, fuss, caustics, or N-Methyl-2-pyrrolidone (NMP). So, there's no need for any neutralizer.
It is also perfect for interior and exterior wood surfaces, making it the ideal wood flooring paint stripper.   
Pros
Citrus smell that freshens the air
Toxic-free
No foul odor or smell
Gets rid of different paint layers
The thick gel can cling to vertical surfaces
Outdoor and indoor friendly
Cons
Temperature determines its effectiveness
2. Best Paint Stripper for Wood Furniture: Smart Strip Advanced Paint Remover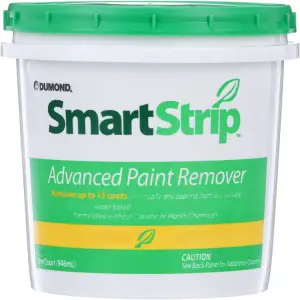 Smart Strip paint remover is the best paint stripper for wood furniture from Dumond Store. This paint imparts no nasty fumes to users. It can also remove up to 15 layers of old or new paint and coatings. The smart strip works perfectly on wood, metal, bricks, concrete, tile, bathtubs, porcelain, deck, plaster, and other wide range of surfaces.
It is a water-based formula and 100 percent biodegradable, containing zero chemicals or caustic paint strippers that can be dangerous to the environment such as methylene. It is suitable for different application tools such as roller, brush, or sprayer. A light coat of this paint can remove up to 4 layers of the paint.
That's not all. The Smart paint remover is suitable for Do-It-Yourself homeowners and contractors. When working with this guy, you won't feel any odor or inhale any toxic fume.
Pros
Can work for different surfaces
It has a biodegradable formula
There's no production of fume
Odor-free
No need to neutralize the stripped surface
Suitable for most DIY and professionals
Cons
May not cling enough to vertical surfaces due to less thickness
3. Best Chemical Paint Stripper for Cedar Wood Shingle: Sunnyside Corporation Hi-Speed Ready-Strip Citrus Paint & Varnish Remover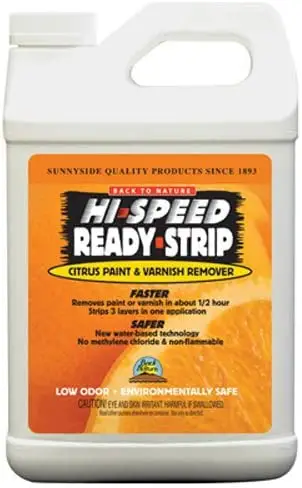 The Hi-speed ready-strip citrus will not take long to begin its work. Even just after 30 minutes of applying it, you will start seeing the results. As a result, it remains one of the fastest means of removing paint from wood, concrete, brick, stone, and other surfaces. This strip can remove up to three layers of paint, whether it is water-based or oil-based paint and varnish. You can apply it with either a roller, sprayer or even brush.
Additionally to its fast actions, there is no need to panic about the production of VOCs, and does not use methylene chloride or other toxic chemicals. This is why it remains a safe option for the user alone and the environment, leaving you with a nice citrus aroma. Its no-drip formula provides convenience and ease of use. Fortunately, you can clean it with water.
The best chemical paint stripper for cedar wood shingle is Sunnyside Corporation Hi-Speed Ready-Strip Citrus Paint & Varnish Remover, especially if you are in a hurry. The choice of this product is a no-brainer. The first thing is that it is easy to clean up. So, when the chemical gets to any part of your cedar wood surface that shouldn't be stained, you can a mixture of a little soap and water will easily remove it.
The stripper also stays wet for a longer time on your cedar wood. This way, you won't have to apply it every so often on your surface. A little drop can serve for another 20 minutes before you apply another.
Pros
It's fast effective
Zero methylene chloride
No production of hard odor
Easy cleaning with water
Can cling to vertical surfaces
Cons
Stays wet longer
Thin layers are not effective
4. Best Fast Paint Stripper for Veneer Wood: Sunnyside 657G1A Multi-Strip Advanced Paint & Varnish Remover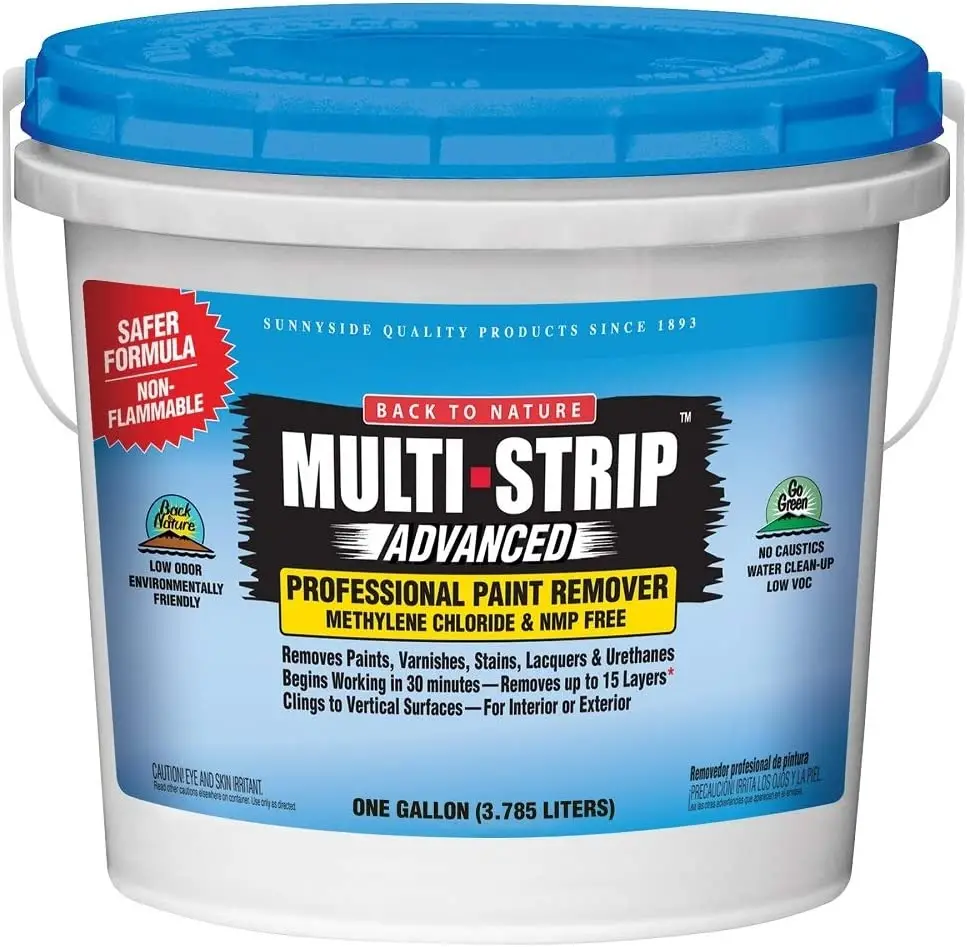 The Sunnyside is another super-fast varnish remover that starts to work within 30 minutes of application. It is so effective that it can remove up to 15 layers of both old and new paints, urethane, lacquer, varnish, and even stain. It is produced without methylene chloride or other harmful substances.
It binds perfectly to vertical surfaces and can be applied on a wide range of surfaces such as metal, wood, stone, masonry, veneers, plaster, and other exterior and interior surfaces. You can easily apply it using a brush, putty, paint roller, or knife.
What's more, the Sunnyside varnish and paint stripper produces no muss or fuss. In addition, it won't leave any mess around the workspace. This is an ideal paint remover to work with throughout the year.
Some painters aren't even sure whether paint remover can be used to remove paint from their veneer wood because veneer is not a solid wood. Going for the Sunnyside 657G1A Multi-Strip ADVANCED Paint & Varnish Remover will be best option. Veneer wood requires mild chemicals; any harsh chemicals applied on it can damage the surface. The zero toxicity of this remover makes it ideal for use on veneer.
Again, this stripper can remove up to 7 layers of paint in one fell swoop. This means you won't have to waste so much of your chemical to get rid of paint from the veneers.
Pros
Becomes effective as quickly as possible
It is not too expensive
Its tacky nature makes it suitable for both horizontal and vertical surfaces
Can strip up to 15 layers of paint
Cons
For full effectiveness, there may be a need for thick layers
5. Best Paint Stripper for Heavy Paint on Wood: Smart Strip Pro Paint Remover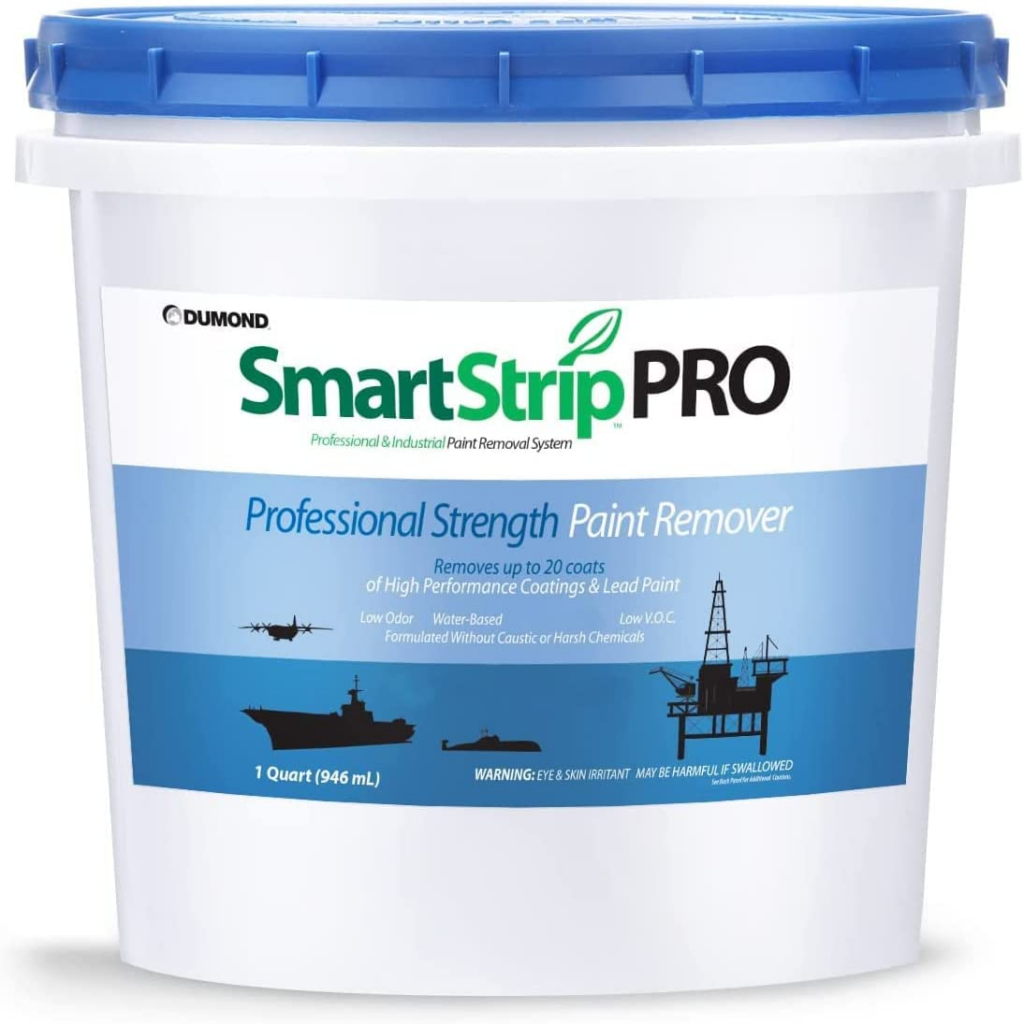 Heavy paint on wood can be difficult to remove. Using the smart pro strip paint remover is recommended to get rid of different layers of paint from the wood. This 100 percent biodegradable stripper works perfectly and can remove about 20 layers of both new and old paints. . What makes the Smart Pro Strip paint remover the right guy?
First off, it is pretty safe to use. You won't inhale any fumes as you apply this remover as it contains very low or no volatile organic compounds (VOC). It's lack of harmful smell, caustics, or VOC make its extremely safe for use. As there are no harsh chemical fumes like methylene chloride, you won't need to spend your money on any neutralizer. The chemical is also very effective and will work where many other removers will fail to act.
This 100 percent biodegradable stripper works perfectly and can remove about 20 layers of both new and old paints. It is suitable for exterior and interior painting on surfaces such as office buildings, hospitals, historic buildings, opera houses, and many more.
Smart Strip is an advanced non-toxic water-based formula designed for professionals that works excellent for emulsifying coatings and paintings. Where other paint removers seem to fail, the Smart Strip will take care of all your needs.
You can apply it on different surfaces such as wood, concrete, fiberglass, metal, stucco, plaster, brick, tile, and lots more. For the most challenging paints such as epoxies, varnishes, urethanes, and other ones, Smart Strip will remove them from any surface.
Pros
Can remove 20 layers of paints
Works on different surfaces
No production of harmful smell, No harsh fumes
There's no need to neutralize
It is fume-free
No caustic, chloride, or methylene
Low VOCs
Cons
It is designed for professionals only
6. Best Family-Friendly Indoor Spray Gel – MAX Strip Universal Makeup Remover
This paint and varnish remover helps you to remove paint on any surface (glass, fiberglass, laminate, metal, furniture, windows, wood, porcelain, floors, brick, granite, countertops, ceramic, tile, marble, granite, carpet , concrete, stone, clothing, carpet), such as spills, paint drips, dirt and grease, tree sap, various stickers, glue and graffiti.
Another important function of it is as a fast acting spray gel stripper. And because it's low in VOCs and non-corrosive, it's the best furniture paint stripper for indoor use.
It uses a water-based formula that quickly removes excess residue with just water.
Pros
Safe for skin
no bad smell
Smoke free, making it the best furniture stripper.
quick clear
Suitable for a variety of surfaces
Cons
There is no way to remove car or factory finished paint
7. Best Paint Stripper for Thick, Multilayer – Citristrip Paint and Varnish Stripper Gel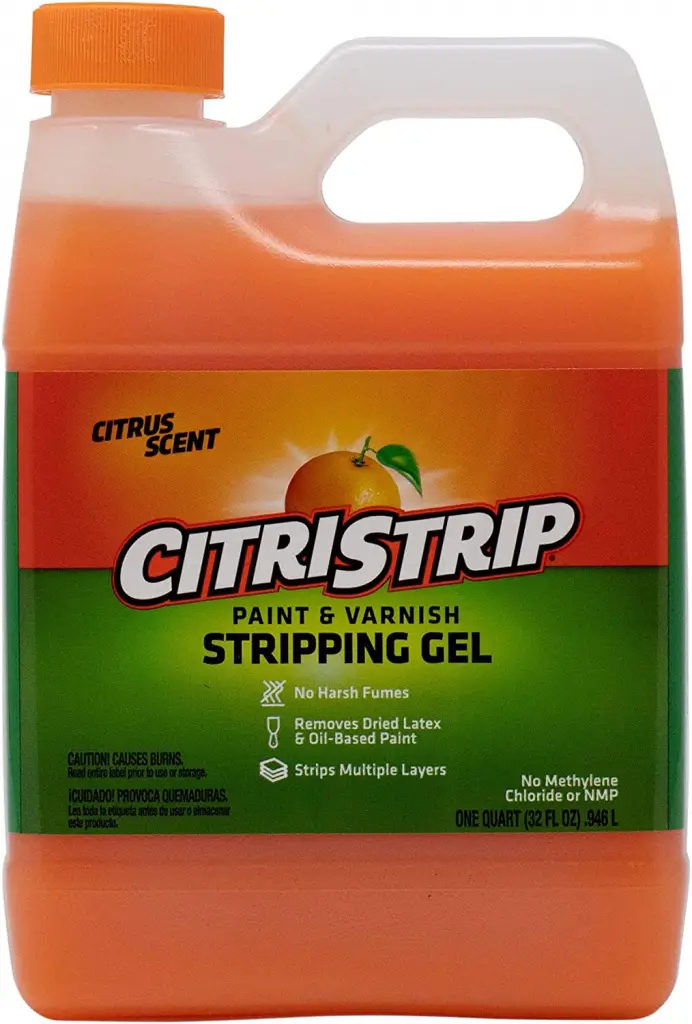 Citristrip removes five coats of dry latex paint, oil-based paint, varnish, polyurethane, and insect repellent spray from metal, wood and masonry surfaces in 30 minutes.
The Citristrip Paint & Varnish Stripping Gel is easy to use and free of toxic chemicals like NMP and methylene chloride. It stays moist and active for 24 hours, helping to peel off multiple layers in one step.
This varnish remover has a fresh and captivating citrus scent for indoor use.
To work effectively on wood surfaces, apply a thick coat and cover with plastic. Let it sit, then scrape it off and clean it up. For best results, we recommend waiting a few hours after application.
We strongly recommend wearing a respirator, gloves, and safety glasses when using the Citristrip Paint & Varnish Stripping Gel. Because it uses benzyl alcohol as its active ingredient, it can cause lung irritation and burns. Be sure to keep this paint remover out of the reach of children.
We recommend that you test this citrus paint remover on an inconspicuous area before using this citrus paint remover on any synthetic surface, as some paint removers can damage surfaces.
Pros
Fascinating citrus scent without harsh smoke.
Powerful wood varnish stripper for multiple layers.
best varnish stripper
Cons
8. Best Eco-Friendly Paint Stripper: Smart Strip by Dumond Chemicals
Smart strip Advanced Paint Remover is a product designed to remove up to 15 coats of paint from various substrates, including wood, metal, stone, brick, glass, fiberglass, decking, tile, concrete, plaster, and more surface or interior. Smart strip Advanced Paint Remover is Dumond Chemical Company's revolutionary paint stripper.
This remover is a water-based, non-toxic paint stripper that is user- and environment-friendly. You can spray with a brush, roller or airless sprayer.
Smart Strip is best for removing oil-based, water-based, latex, acrylic-based, stains, polyurethane and older lead-based paint and varnish coating systems up to 20-30 years old.
It doesn't require a peel off paper as it's formulated to stay moist and effective for a long time. Use a sponge, water, or an electric washing machine to remove any old paint residue. No neutralization is required after peeling.
The paste should be left on the coating for 12 to 24 hours or 48 hours for better results. It depends on the type and amount of coating to be removed. After an appropriate dwell time, the softened, pasty coating is removed with a spatula.
Pros
Zero VOC – Non-toxic paint remover
odorless
100% biodegradable
pH neutral
Best non-dichloromethane paint remover
Cons
9. Best for tough stripping of antiques – Max Strip Paint and Varnish Remover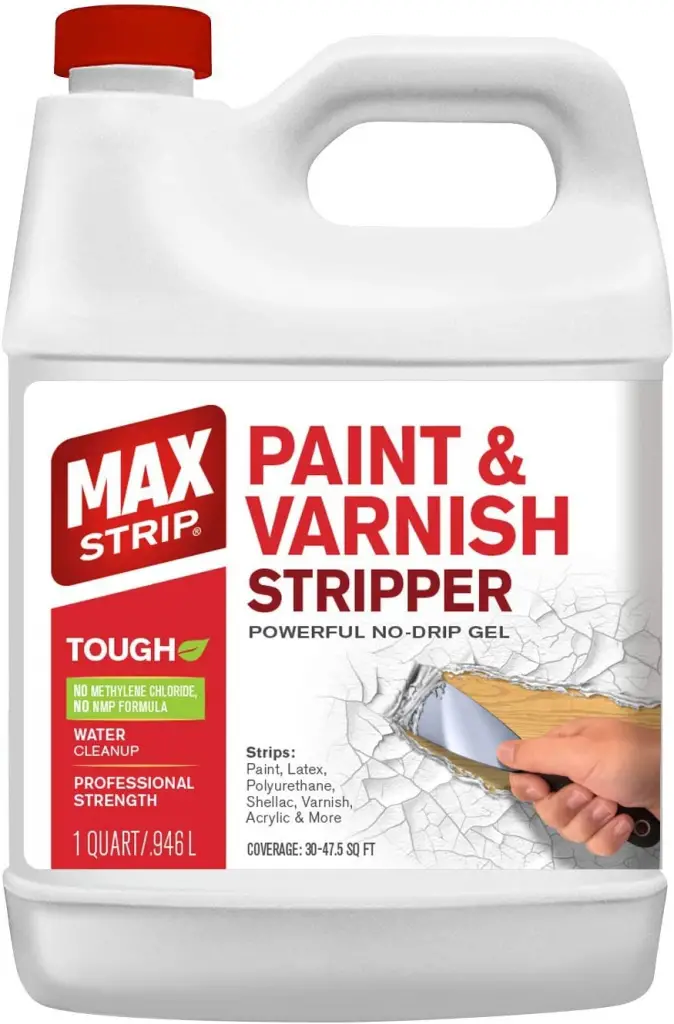 Max Strip Paint and Varnish Stripper is a powerful, easy-to-use, non-drip gel. This product removes paint and varnish from the interior and exterior without damaging the surface being stripped. So another very nice benefit of Max Strip is that it is very useful in stripping paint from antique wood.
It is important to note that although the manufacturer says no special ventilation is required, it doesn't hurt to keep your work area ventilated, weather permitting.
Max strip has professional strength for all types of painted and varnished surfaces and can strip paint, bug spray, latex, acrylic, and polyurethane finishes.
It is perfect for professionals, consumers and DIYers.
Pros
No ventilation required
Not harmful to skin
No MEP or NMP
Can be cleaned up with water
No pungent fumes or unpleasant odors
No corrosive properties
Cons
Less effective on spray paint
Not strong in adhesion
Cannot remove automotive or baked-on paint
May corrode plastics
Best Paint Remover and Stripper for Wood and Metal
The best paint remover and stripper for metal is Smart Pro Strip paint remover. This is because many layers are required in painting metals to prevent corrosion. To remove multiple layers, it is best to use this paint stripper.
Removing paint from metal can be quite unsafe and dangerous. With the Smart Pro Strip paint remover, you can safely strip your metal without any toxic feeling. Besides, the stripper will spread to every part of your metal surface, including the hard-to-reach areas. The icing on the cake is that the stripper works effectively with heat gun. This is the best kit for taking paint off your metal.
What are Paint Strippers?
As the name implies, a paint stripper simply means a type of paint that is applied on any surface to remove paint. It is also a substance that removes layers of varnish glue, or enamel on a wooden surface or any kind of surface. Removing paint strippers can be carried out in two ways: sanding and stripping.
A paint stripper or remover will penetrate your paint's multiple layers profoundly and remove all unwanted chemicals or paint on it. The remover also helps to clean the underlying surface. A paint remover without a fuss, mess, or drip has been considered the best. A versatile paint that works on many surfaces and can be applied using a brush, roller, or foam wlaos works better.
Types of Paint Strippers
Test your wood to know the type of paint to buy. You will need stronger chemicals for oil-based paint and varnishes than latex paint. You can do this by applying a few drops of thinner to the wood area. If there is instant bubbling, it is latex paints, if it doesn't bubble instantly, you have an oil-based surface to strip.
Here are the main types of paint strippers:
Solvent-based Paint Stripper
This is a solvent that penetrates paint layers, breaking the binds between the surface and the paint. It works by making the paint swell. Solvent-based paint strippers usually have an active ingredient known as methylene chloride or dichloromethane. This hydrocarbon compound helps to dissolve the bond between the paint and the surface. It achieves this by swelling the paint to make it lose its grip on the surface. But the chemical is harmful and may pose serious health hazards if not carefully applied. Whether it's in its liquid of gel form, solvent strippers work on vertical surfaces.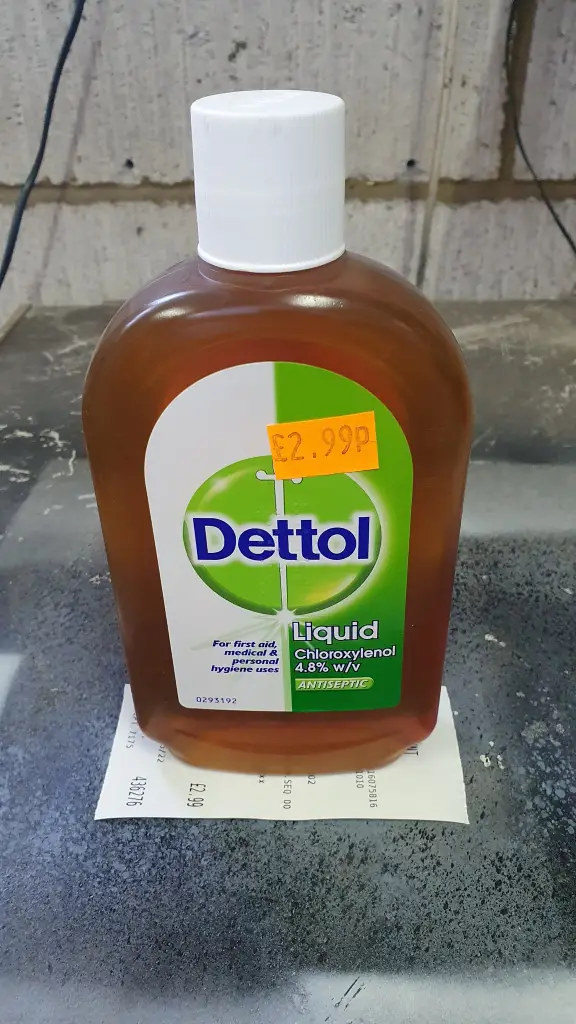 Caustic-based Paint stripper
This type of paint stripper works by breaking down paint's chemical bonds (also called caustic soda). Its main ingredient is sodium hydroxide, also called caustic soda or lye. The bond-breaking process is usually by hydrolysis. The stripping process is a decomposition process that involves breaking down the polymers' chain bonds that come together to form the paint. It is important to neutralize the caustic stripper; otherwise the new finish will not work as effective as it should. Apart from premature failure, the stripper may be too harmful to be used if it's not neutralized. You can also use caustic strippers to restore old furniture.
Biochemical-based Paint stripper
Just as the name implies, biochemical-based paint strippers may consist of acids from citrus, terpenes, or even lactic acids. It may also include citric paper byproducts, which can be irritating to the skin. Like solvent and caustic, a bio-chemical paint also contains N-Methyl-2-pyrrolidone (NMP). They are perfect to be used on different surfaces. But the painter must be careful when applying this type of paint remover. Despite its lower VOC and smog content, NMP can still irritate the skin and adversely affect the respiratory and reproductive systems.
Typically, bio-chemical paint strippers are ideal for commercial use. Nonetheless, you can apply for household use if you won't mind the odor. The thing about this stripper is that it must stay for a long time on the surface before it can work effectively.
Zero-VOC Paint Stripper
Also called non-toxic paint remover, the zero-VOC stripper is safer and eco-friendlier than other types of paint strippers. Some of the solvents include dibasic ester, alcohol solvents, and bio-based solvents. It contains no volatile organic compounds. These compounds are usually toxic and not friendly to the ecosystem.
An example of a zero-VOC paint stripper is the soy-based paint remover. This chemical contains methyl soyate. This is an organic compound with methyl ester refined from soybean oil. Although it is bio-based, the solvent is much more eco-sustainable and environmentally friendly than other paint strippers, including petroleum-based products.
What to Consider When Choosing the Best Paint Remover for Wood
Surface Material
Paint strippers perform better on some surfaces. It is, however, best to choose a pair stripper that will match or suit the surface you want to use it for. The following paint stripper will work perfectly for the following surfaces:
This paint stripper strips paint perfectly as well as epoxy and polyurethane from wooden surfaces. It is also suitable for masonry and metal surfaces with discoloring the surface.
A caustic paint stripper works perfectly for surfaces such as concrete and brick fireplace surround. It works perfectly for removing oil-based paint. While the latter is is good for stripping epoxy and polyurethane, caustic is ineffective for removing epoxy and polyurethane. However, they can cause aluminum to erode, blackening hardwood like maple.
Biochemical paint strippers
Just as caustic caustic paint strippers, biochemical is ineffective in applying epoxy or polyurethane. However, it is effective in the removal of water-based paint from surfaces such as mansory, wood, or metal.
This paint stripper can break down the resins of oil and water-based paints to loosen it from different surfaces such as masonry and metal. To a reasonable extent, it can remove paint from woods too. However, Zero-VOC is not effective in the removal of epoxy and polyurethane.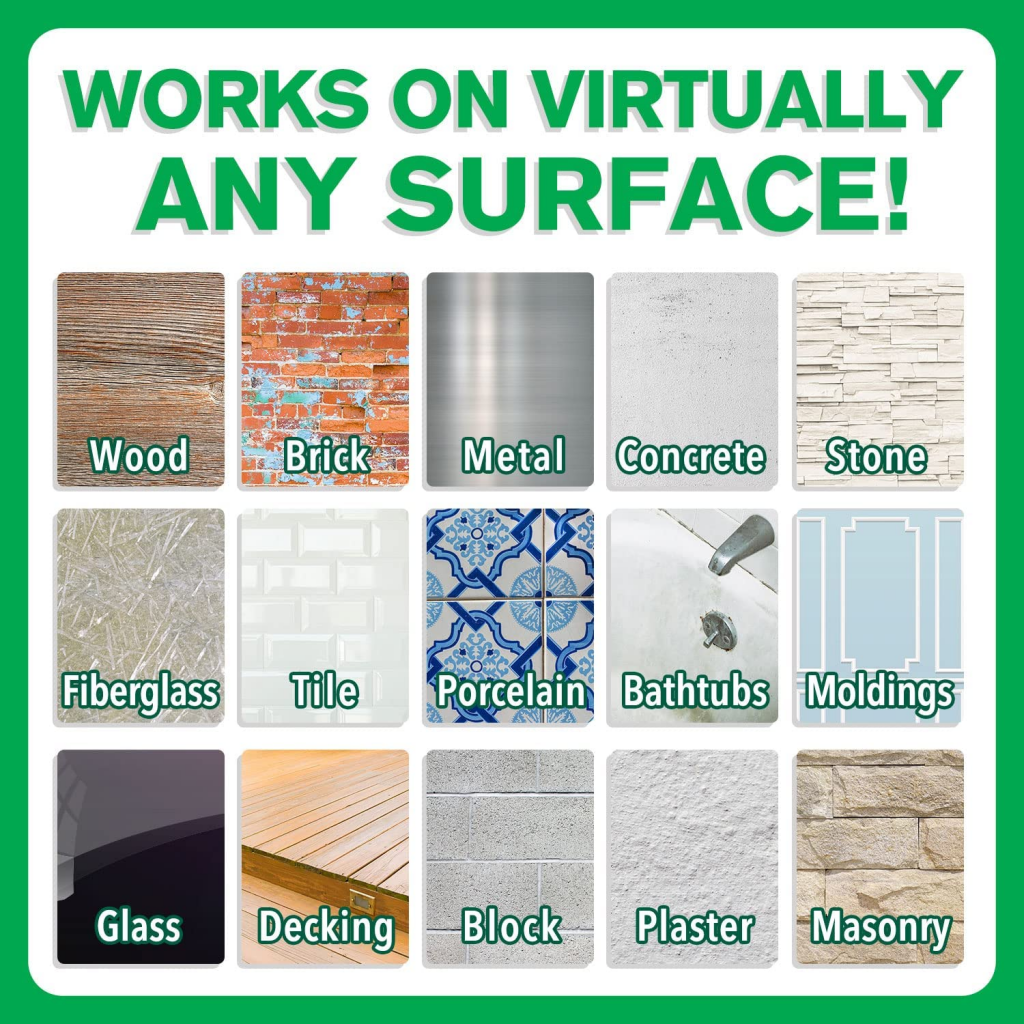 Health & Safety
Health and safety are important in the application of strippers. Some of these contain chemicals that can be harmful to health. While some strippers can be more toxic or dangerous, it is best always to use protective equipment when applying application. Avoid inhaling the fumes when applying. However, protective equipment may vary depending on the paint stripper you are working with. Generally, all paint strippers require you put on hand gloves. For solvent, you must put on a respirator to avoid inhaling the fumes and chemical-resistant hand gloves.
For caustic paint strippers, they can be irritating to the eyes, lungs, and skin if you inhale them by mistake. Caustic are considered safer due to their lower VOC content than solvent stripper. when applying them, you may need safety glasses, protective clothes, and chemical-resistant hand gloves
For biochemical, it is safer compared to caustic products. While it is considered safer, this doesn't mean it is safe to apply it without any precautionary and safety measures. However, there is a need to have in place a respirator, chemical-resistant hand gloves, and protective wear before you apply them.
They are considered the safest stripper for low VOC among the remaining ones. However, it can also lead to irritation of the lungs and redden the skin due to direct exposure. There's a need to put on safety gloves.
A good paint stripper should have an attractive scent that will not affect one's health.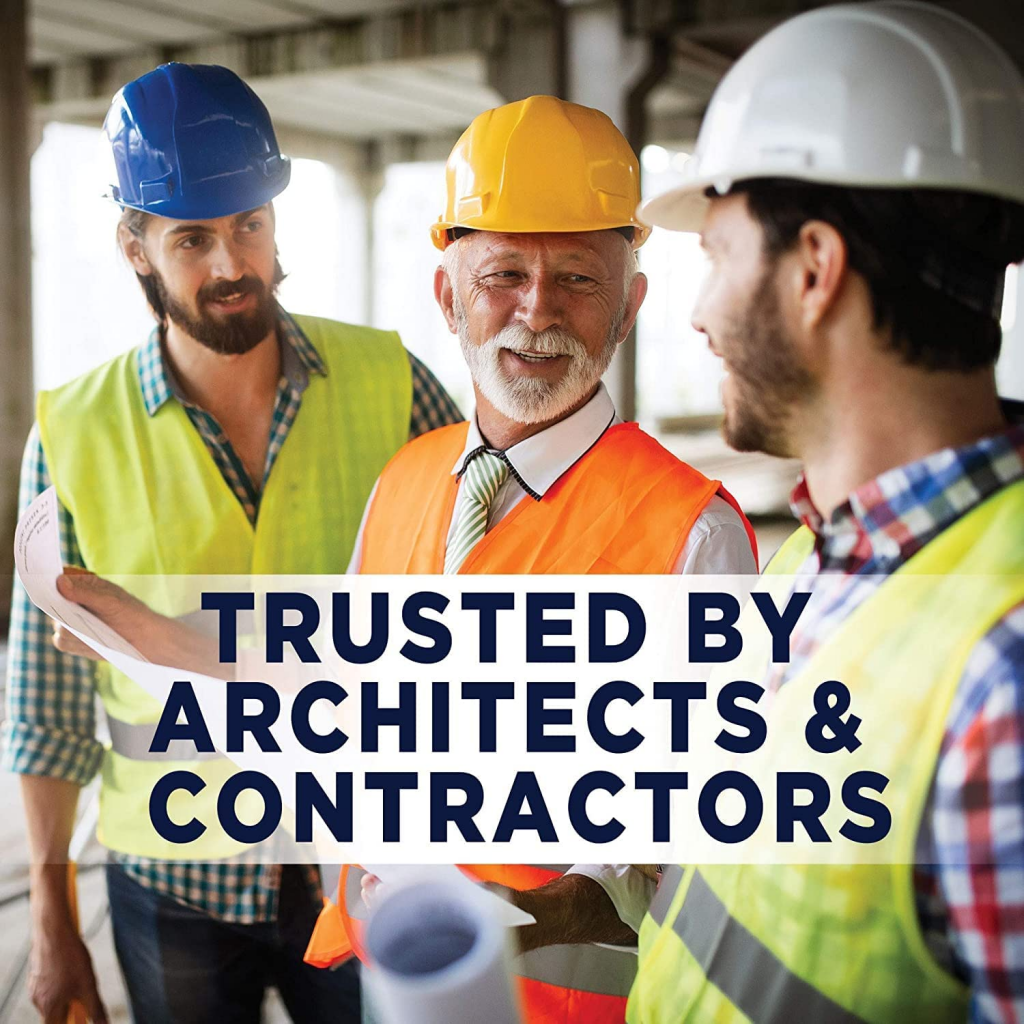 Method of Application
When applying solvent, you can apply it in a thin layer (usually less than 1/8-inch), leaving it on the surface for about 15 minutes before lifting the paint off using a paint scraper. However, wash the stripped surface with water or mineral spirits before you repaint it.
Caustic paint strippers are applied using a 1/8-inch to 1/4-inch layer and needs to sit on the surface for about 30 minutes before scraping off the paint.
Biochemical: Apply biochemical in a thick 1/8-inch to 1/4-inch layer, leaving it on the surface between 3 to 4 hours before removing the paint with a scraper. You do not need to neutralize it while you will need to wash the stripper surface using mineral spirit or water.
Number Of Coats & Effectiveness
Check out how effective the paint stripper you are choosing is.
This will help to fasten your work by softening the old paints.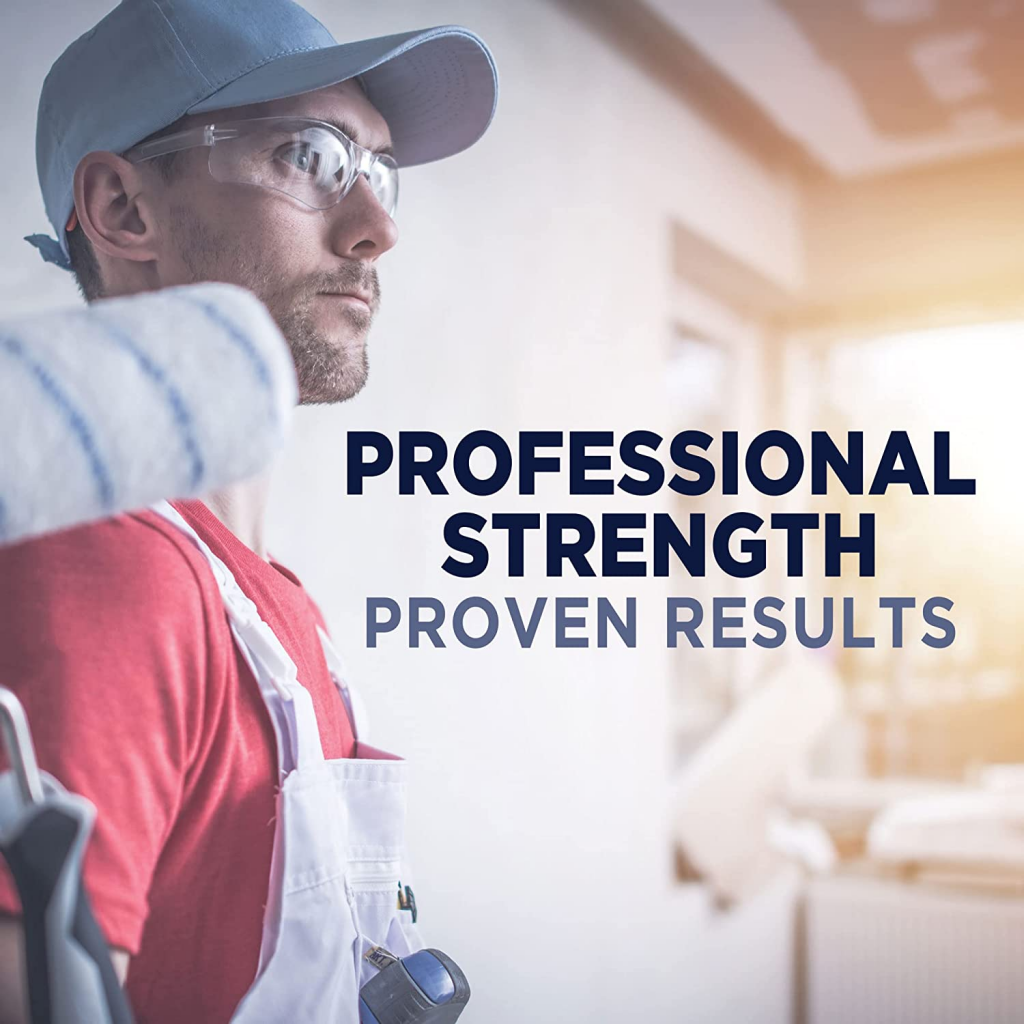 Choosing a paint remover that requires more coat may mean you will send more than you have budgeted. Consider a stripper that won't require much coat with effectiveness.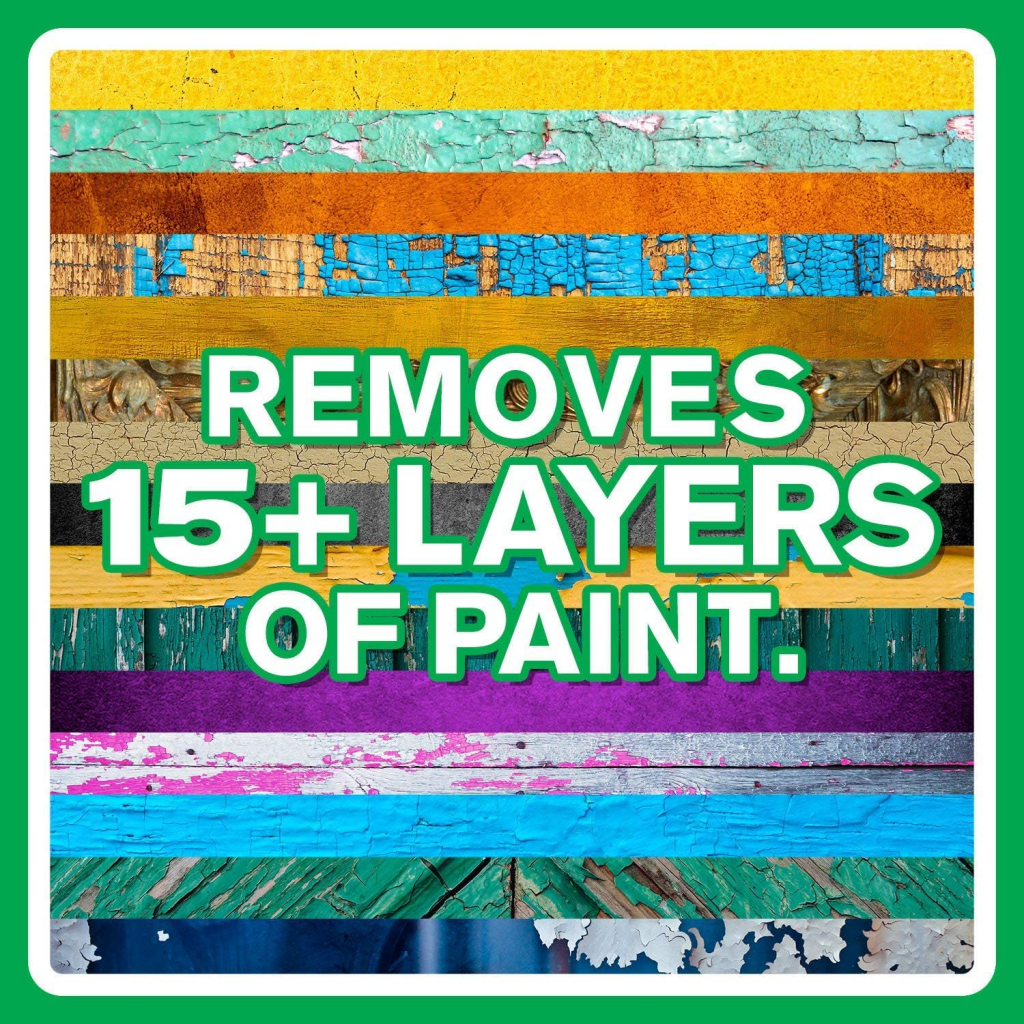 Easy to use(spread & remove)
Most paint strippers are suitable for DIY projects. However, find out how easy it is to apply before you buy it. Spreading paint strippers should not be difficult to spread on the wood surface.
The best paint stripper will not be challenging to remove older paint.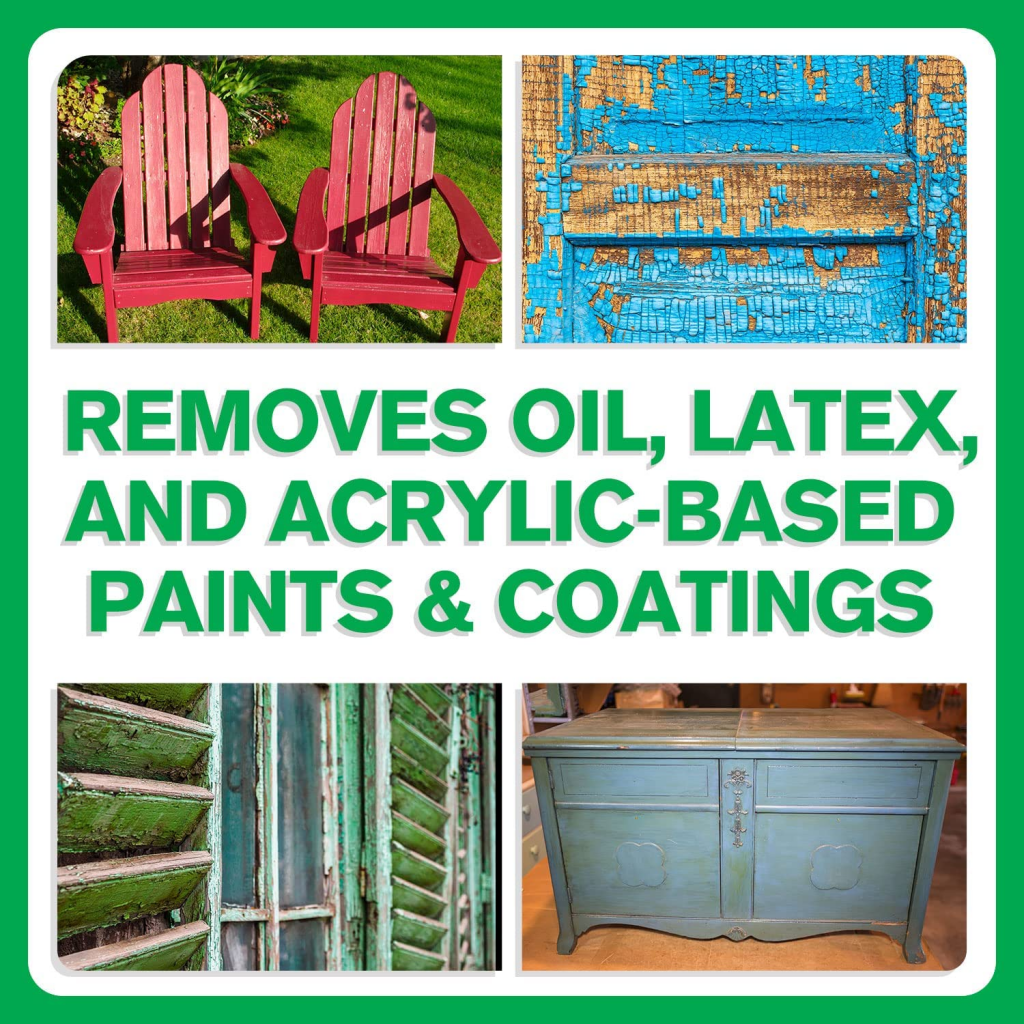 If you are in a hurry or want to work urgently, it is best to check out the activation time for the paint stripper remover before buying it.
Value for money
While some paint stripper removers are expensive, some are cost-effective and will not require you to spend much.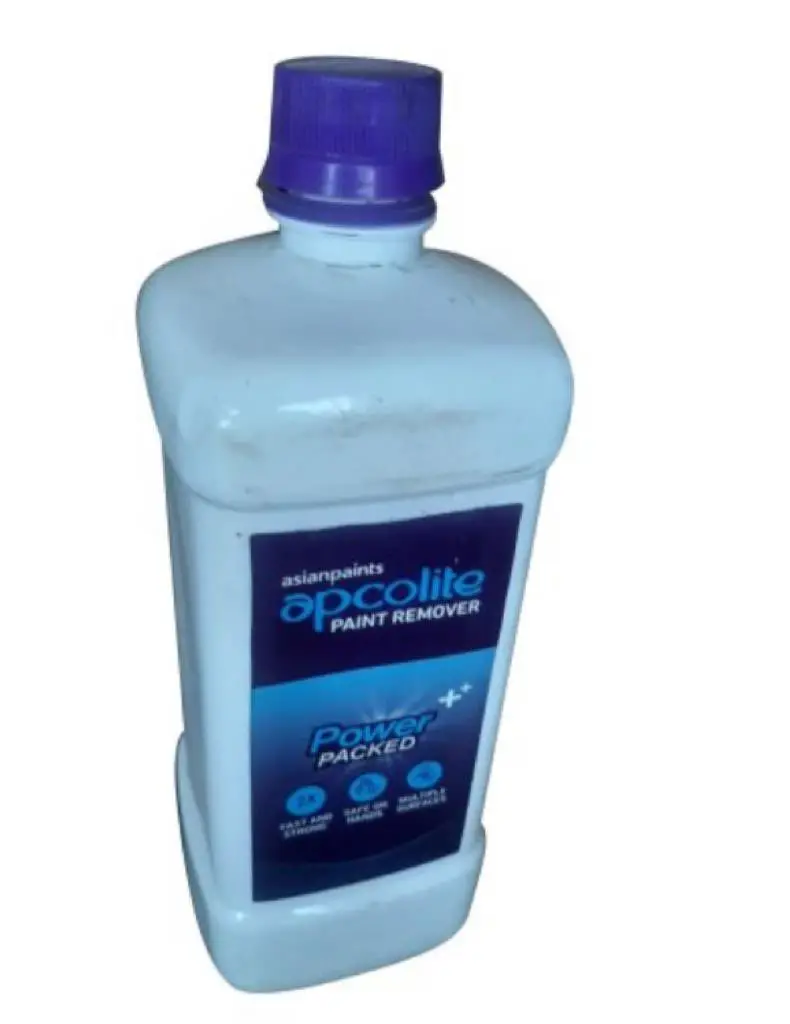 How to Use the Best Paint and Varnish Remover?
This may vary from paint remover to paint remover. However, it is best to read the manufacturer's instructions on the total time.
Supply & Tools:
Paint scraper
Wired brushes
Paint varnish stripping gel
Pressure washer
Manual sanding block
Protective eyewear/ clothes
Gloves
Ventilator
Prepare For Stripping Paint From Wood:
Apply paint stripper
Wait for the paint to bubble
Scrape with suitable tools
Reapply stripper in necessary areas
Wipe with mineral spirits
Apply steel wool on non-stripping areas
Prepare the wood for refinishing
Step-by-step:
Apply a thick layer of a stripper using an old brush
Allow it to sit for some time as recommended by the manufacturer
Scrape it off using a metal scraper
If not fully scrapped, apply stripper again
Safety Considerations When Using Paint Strippers on Wood
Most paint strippers contain chemicals that can damage your health if not handled properly. Here are some lessons for using paint removers safely:
Read the instructions carefully
Work outside
Keep fumes from spreading
Ventilate
Put on protective wear such as clothes and chemical-resistant gloves
Wear a mask
Wash off the paint on your skin
Avoid eating or drinking close to the work area
Avoid lighting up
Seek a professional if things seem difficult
FAQs
Does the paint stripper expire?
The truth about the expiration of the paint stripper is that it has a shelf life, especially if you have opened it. However, not much evidence points to its expiration over time. The best thing to do is to keep it sealed even after opening it and airtight whenever you are not using it to keep it intact as long as possible.
Can paint strippers ruin clothes?
Yes, a paint stripper can ruin clothes since it contains a certain solvent that can stain clothes. You should be careful whenever you apply it. Although are ways you can get rid of paint stripper from your clothes, it is best to be careful when using it.
How do you dispose of paint strippers?
The best way to dispose of paint strippers is to solidify them. Mix it with absorbent material or sawdust in a disposable bag or container, leaving it to solidify. Once the mixture turns solid, you should place it in the garbage. You can also recycle the container.
What is the best product to strip paint from wood?
The best product to strip paint from wood is Safe 'n Easy Citrus Paint & Varnish Remover Gel.
What is the easiest way to strip paint off wood?
You can easily strip paint off woods using different means. You can use steel wool to remove paint off wood. Also, you can use old toothbrushes and wire brushes. You should be careful with metal scrappers while you strip paint off the wood to prevent wood scratching.
Is it better to sand or strip paint?
Sanding or stripping paint can be narrowed down to one's choice. However, it is faster to strip paint than sand it. More importantly, sanding cuts through stains. It is often safe to strip paint than sanding.
Do you have to sand after stripping?
Yes, there's a need to sand the wood after stripping especially after using a chemical stripper. Although there is no emission of harmful chemical fumes from sanding, ensure you are not in an enclosed area where there's no free ventilation flow.
Does vinegar remove paint from wood?
No, vinegar does not remove paint from wood. It only helps to make the paint soft for easier removal from the surface of the wood. Being a non-toxic and natural alternative to chemical paint strippers requires time to remove all paints.
Do I need to strip old paint before repainting?
No, stripping before painting isn't compulsory. The most important thing is to scrape off old paint not adhering well to the surface. You can scrape off curling up or flaking paint by scraping.
How do you clean stripper off wood?
Combining vinegar and water is the best and most common way of cleaning stripper off the wood. A mixture of these two liquids in equal proportion, using a soft rag and gently applying it on the wood to get rid of stripper off the wood.
How do you make homemade paint remover?
Get a container and turn two cups of room temperature water into it. Add a cup of each of borax, ammonia, and washing soda. Mix all of them thoroughly until you get a consistent creamy paste. Apply it to the surface to remove paint.
Can baking soda remove paint from wood?
Yes, baking soda may effectively remove adding a cup of baking soda to some boiled water can do the job. However, there are chances that it can result in damaging the wood.
Does bleach remove paint?
Yes, bleach will get rid of paint from different types of surfaces. As an oxidizing chemical, penetration, and breaking of the bond in the paint make it easier to remove.
Is acetone a good paint remover?
Yes, it is a good paint remover. The strength of the solvent makes it perfect for removing paints and finishes. Therefore, acetone is a common paint remover.
Final Words: what is the best paint stripper for wood
Painters are considerate in picking the best and environmentally safe stripper for woods. The best paint stripper for wood that doesn't leave you with harsh chemicals or odor is the Safe' n Easy Citrus paint remover. Different from its cost-effectiveness, it leaves a sweet fragrance behind.
Let's get started now!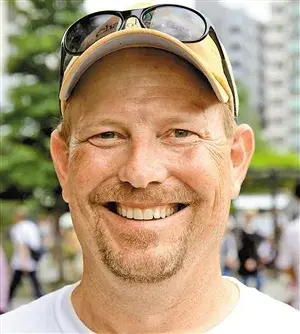 My name is Mark, and I am a software engineer and the founder of OnWoodWorkingArt.
I grew up with a passion for woodworking and now have my woodworking studio with a group of like-minded friends who love to create woodworking. My dream is to have a more extensive workshop and be able to make woodworking my main business.