Acrylic paints are non-cracking and flexible water-based paints. They can be used on different surfaces, including ceramics, glass, stone, and plastics. So, can you use acrylic paint on wood furniture?
You can use acrylic paint on your wood furniture, Sand and clean wood furniture surfaces, apply a coat of sealer and varnish before applying acrylic, and finish with a coat of sealer for protection.
Acrylic paints are good paints you can choose to use on your wood due to their non-flammable property and reduced toxicity.
Hence, all the information you need on painting your wood furniture with acrylic paints will be discussed in this article.
Some of which are how to procedurally apply acrylic paint to your wood furniture. Also, how long acrylic paint lasts on wood, the best primer, and the best acrylic paint on wood furniture will be discussed, among others.
Let's jump in!
Oil vs. Acrylic Paint on Wood
The two common types of paints are acrylic (water-based) and oil paints. The major difference between these two paints is that the solvents differ. Notwithstanding, both have distinct characteristics. Acrylic paints are dissolved with water and are known to be quick drying.
You can easily paint your wood and finish it within a short period. Apart from this, they are easily applied to wood. Also, acrylic paints are readily available in emulsion, matt, satin, and gloss. Hence, you can get varieties of quick-drying paint finishes. However, it is more suitable om wood with low impact use as it cannot withstand excessive wear and tear.
On the other hand, oil paints are mostly preferred on wood because they are believed to be durable and adhere strongly. However, they require a longer drying and curing time compared to acrylic paints. Also, they are not as easily applied as water-based paints. Nevertheless, they give a water-resistant hard finish.
Oil paints also contain volatile organic compounds. Hence, they are flammable and less environmentally friendly compared to acrylic paints. Also, they cannot be easily cleaned with water. Nevertheless, they are more suitable on high-impact wood like coffee tables because they can withstand wear and tear compared to acrylic paints.
Benefits of Using Acrylic Paint for Wooden Furniture
Generally, wood is recommended to be stained because staining enhances the natural features of your wood. However, some woods are not stained grade but paint grade. That is, wood with a certain defect should be painted and not stained. However, you can decide to paint if that's your preference.
Furthermore, painting should also be considered if the wooden furniture is old or previously painted. As mentioned earlier, two types of paints can be used. However, let's briefly consider the benefits of using water-based acrylic paints:
Easy to apply
Environmentally friendly
Fast drying
The foremost benefit of these paints is that they are easy to apply.
An acrylic paint requires no technicality, and DIYers can easily use it. Also, you do not have to go through the stress of purchasing a paint thinner before cleaning acrylic paint. You can do so with just water.
Another benefit of this paint is that it is environmentally friendly.
Hence, you are not just adding beauty to your wooden furniture but also preserving the ecosystem. Apart from all these, the major benefit acrylic paint offers you is that it is fast-drying. And this is more of the reason why it is common and preferred.
How Long Does Acrylic Paint Take to Dry on Wood?
Because acrylic paints can be used on various surfaces, they have different drying times peculiar to different surfaces. Averagely, acrylic paint should dry completely within 1 hour. However, it might take a longer period of about 24 hours to cure.
Notwithstanding, this drying time varies based on the specific type of paint, the thickness of paint, and the number of paint layers used. Thin layers of acrylic paints might take 15 to 30 minutes to dry. However, thick layers might require 45 minutes or more. Either way, acrylic paint is still pretty fast-drying.
Priming vs. Sealing
Primers and sealers are both painting preparation materials. They are used to prepare the surface to be painted, just like a pre-stain conditioner prepares the wood surface before staining. However, to use them on the woods, there are different factors to consider.
Primers help to smoothen wood surfaces to be painted. It simply provides good adhesion for paints. However, when working with wood, you should purchase wood primers. Sealers work similarly to primers. However, it is more suitable for use on wood surfaces that are porous and could absorb paint.
Hence, paint sealers are used to seal off the pores when seeing paint is meant to stay on the wood. And since sealers contain binders, paint can easily stick on sealers to provide a smooth finish.
Therefore, paint sealers are preferred to use on large pored woods like oak. Also, for woods susceptible to tannin bleeding, use a sealer instead of a primer.
How to Apply Acrylic Paint on Wood Furniture, Cabinets?
Are you thinking of painting your wooden kitchen cabinets with acrylic paint? It's a great thought. Acrylic paints are one of the best types of paints you can apply to wood furniture. This is because they do not crack, peel or flake.
Also, they are somewhat stretchy, hence flexible. Therefore, this makes it easy to use. To beautifully apply acrylic paint on your wooden furniture, follow the procedures explained below.
Tools You Need
There is nothing as good in woodworking as working with the right tools. Below are the tools and materials needed to effectively paint your wooden furniture.
Lint-free cloth
Sandpaper (fine-grit)
Sponge brush
Tarp and drop cloths
Clean rags
Water
Wood primer or sealer
A protective covering, etc
Using Acrylic Paint on Wood Step by Step
Anything worthwhile surely takes a process. Also, to get well-painted wood furniture with acrylic paints, you need to follow a particular process.
This process includes:
Workplace & wood preparation
Sanding the wood & cleaning the sanded wood
Wood sealing
Wood priming
Painting the wood.
Sealing the wood
Step 1: Workplace & Wood Preparation
To avoid having to start cleaning spilled paint and sanded wood residues, you should put some drop cloths on the floor. If you are working outdoors, use a tarp to prevent messing up your floor. Also, endeavor to work in a well-ventilated room to avoid inhaling sanding dust and chemicals. If your wood has a pre-existing finish like wax, stain, or paint, try to use a de-waxer or paint remover before moving to the next step.
Step 2: Sanding the Wood
Some woodworkers tend to skip this process since the wood will still be primed. However, to enhance effective priming, it is good you sand along the grain to remove scratches and the like. You can start the sanding process with 150 medium grit sandpaper and smooth sand with 180 grit sandpaper.
Using a brush, wipe off sand particles. Ensure the removal of all sand particles by using a water-damped rag to clean the surface of your wood. Then let it dry.
Step 3: Wood Sealing
Sealing and Priming have similar yet distinct purposes. Hence, both are needed when applying acrylic paint to your cabinets. Apply two layers of paint sealers to block off the wood pores from absorbing the paint. Apply each layer in thin coats.
Also, give a time space of 30 minutes for the first coat to dry before applying another. And sand the surface again a little before applying the second coat of sealer. Remember to wipe off sand dust with a dry cloth or paper towel.
Step 4: Wood Priming
After sealing the wood, prepare the sealed wood for painting by priming it. The best primer you should go for will be discussed later in the article. Using the 180 grit sandpaper, sand lightly again before applying a thin layer of the primer.
For fuller coverage, you can decide to apply two layers of the primer. However, ensure you apply the layers using thin coats. After this, leave the wood to dry for a couple of hours. If possible, allow it to dry overnight.
Step 5: Painting The Wood
Acrylic paint dries up quickly. Therefore, you need to have clean water around you to apply it without issues. This is because you might need to constantly clean your brush to avoid dried paint on it. Also, water and rag are needed to easily clean spills or paint drops on the wood surface.
Professionals recommend you use a sponge brush when applying this paint. Sand the wood lightly before applying your paint and when you got a satisfactory look, leave the wooden furniture to completely dry for about 6 hours under normal drying conditions. You could as well leave it to dry overnight
Step 6: Sealing The Wood
Are you thinking do I have to seal the wood again? Yes, you should. This is because acrylic paint on wood should be given extra protection. Especially if you used it on an exterior piece of wood furniture. Extra protection is needed to prevent chips and also to make it withstand wear and tear better.
Apply a thin layer of the sealer and let it dry. But for optimum protection against scratches chips, and water damage, apply a second layer of the sealer using thin coats. Then let it dry for about 5 hours, and your painted furniture is ready for use.
Does Acrylic Paint Last on Wood?
How Long Does Acrylic Paint Last on Wood?
Painting generally is known to last long for years due to its perceived durability. This is also applicable to acrylic paint on wood. If the surface of the wood is well prepared and the right painting process followed, acrylic paint can last for more than 10 years.
To particularly elongate the years that the acrylic paint will last on your wood, endeavor to use a removable varnish sealer on the painted wood. The reason is that the varnish provides additional protection, and instead of the paint wearing off over the years, it's the removable varnish that wears off.
Does Acrylic Paint Yellow over Time?
Paint yellowing is mostly common with oil paints and other solvent-based paints due to their chemical formulations. Therefore, acrylic paint does not yellow over the years mainly because its solvent is water. And this is one of the peculiar characteristics of acrylic paints.
How to Make Acrylic Paint Permanent on Wood Furniture?
The only way to make acrylic paint permanent on wood furniture is to seal it on the wood. There are several acrylic paint sealers you can use on your wood. However, the best acrylic paint sealer is varnish. Other sealers you can use are polyacrylic finish and clear acrylic finish among others.
3 Easy Ideas of Acrylic Paint on Wood Furniture
Vintage Design: One of the easy painting ideas you can make on your wood furniture is a vintage design. If you are working on an old piece of furniture, this is a good design to use. The first thing to do is clean the surface of your wood. Then sand and clear off all sanding residues.
After choosing the color of your acrylic paint, mix it with water in a ratio of 3 to 1. Seal and prime the surface of your wood before applying acrylic paint. To create a more distressed look, lightly scuff sand with medium-grit sandpaper.
Flicking Design: After preparing your wood and painting it, you can decide to add some life to it by giving it a splattering paint effect. To bring out the beauty of this design use a complimenting color different from the one used as the background color.
Thin the acrylic paint with equal water, then splatter the paint on the furniture using a brush and following a pattern.
Dabbing Design: This design is quite very simple. It's all about giving your piece of furniture a somewhat polka dot design. Create some round holes with cardboard. Ensure the underlying acrylic paint on your wood furniture is dried.
Using another color of acrylic paint, dab the paint unto the surface of your wood furniture with the patterns in cardboard.
Acrylic Paint on Wood Outside
Will Acrylic Paint Work on Wood Outside?
Be it exterior or interior wood, woodworking professionals propose acrylic paint as the best type of paint on wood surfaces. Therefore, acrylic paint work on wood furniture placed outside.
However, there is a precaution, and acrylic paint is water-based. Hence, if it is not fully dried, it can easily be washed off by rain. But, once dried, it becomes resistant to water. Nevertheless, protect your exterior wood with a water-resistant sealer.
Is Acrylic Paint Weather Resistant?
Ordinarily, acrylic paints are not weather resistant. However, this is dependent on the type of brand of acrylic paint purchased. Because some manufacturers specifically design acrylic paints that can withstand extreme weather conditions.
An example of this type of acrylic paint is Anita's outdoor weather-resistant acrylic paint. However, if the acrylic paint you intend to use on your outdoor wood is not weather resistant, it is good you seal it with a good weather-resistant sealant.
How to Protect Acrylic Paint on Wood Outdoors?
As earlier mentioned, sealing acrylic paint on outdoor woods is the only way to protect your exterior wood. Examples of sealers you can use are water-based polyurethane top coats and polycrylic top coats.
These durable sets of sealers can provide extensive additional protection to your exterior wood.
How to Get Dry Acrylic Paint off Wood Table or Floor?
Because acrylic paints are water-based, they are easily cleaned or removed with mild dish soap, water, and wood oil like olive oil. However, these mild paint-removing substances might not work for large wood surfaces like decks and floors. But they can be used jointly with other effective acrylic paint removers.
An effective acrylic paint remover is denatured alcohol. To use it:
Sprinkle some of the alcohol on the wooden floor and leave for about 10 minutes.
Use a paint scraper to remove the paints.
Dampen a clean cloth with this alcohol and use it to completely get rid of all specks of paint.
Best Acrylic Paint on Wood – ARTEZA Iridescent Acrylic Paint
I am sure woodworkers who love to design with paint will love this acrylic paint. This paint contains 10 different colors, often referred to as iridescent acrylic paint that produces 10 chameleon colors. It is highly viscous; hence it has a thick consistency which makes it easy to use and apply.
Furthermore, it is suitable for use on different surfaces such as metals, rocks, stones, canvas, fabrics, paper, etc. However, it is majorly recommended for use on wood and paper surfaces. Also, it dries up quickly, thereby increasing wood finishing time.
Apart from this, ARTEZA iridescent acrylic paint is a multifunctional paint that an artist can use for designing on different surfaces. Woodworkers can also use it for painting wood surfaces.
Pros
Easy to use
Blends smoothly
Decorative paint
Cons
Small-item volume
Used majorly for crafting and decorating.
Best Primers For Acrylic Paint on Wood – Zinsser 02004 Bulls Eye 1-2-3 All Surface Primer
This is a white-colored water-based primer that is suitable for both exterior and interior surfaces. It can be used on varieties of surfaces such as metals, tiles, wood, drywall, masonry, tiles, and the like. This primer sticks on surfaces uniformly and does not require sanding.
That is, you do not have to go through the stress of sanding before applying this primer. Also, this primer has stain inhibiting properties that prevent tannin bleeding in wood. Furthermore, it gives extensive coverage of 87 – 112 square feet per quart.
Furthermore, it has a quick-drying period. Within 35 minutes, it dries to the touch and in 60 minutes it can effectively accommodate paint. This Zinsser all-surface primer can be used on difficult surfaces. Also, it is easy to clean and easy to work with.
Pros
Stain blocking resistance
Durable
Quick-drying
No sanding
Cons
Wood sealing is still needed
More for you >> Best Wood Primer for Acrylic Paint
Best Acrylic Paint Sealer For Wood – Minwax 233334444 Polycrylic Protective Wood Finish
Sealers are quite as important as primers when applying acrylic paint to wood furniture. This polycrylic sealer manufactured by the Minwax brand provides a clear beautiful and durable protection to painted wood. It contains a low odor and it does not yellow over the years.
This acrylic paint sealer is suitable for use on all wood species. Also, it is scratch-resistant and it protects the painted surface from dirt, spills, and the like. Furthermore, it dries up relatively fast. Within 4 hours, two layers of this sealer would have dried. That is each layer takes approximately 2 hours to get dry.
In addition, this polycrylic sealer is easy to clean up with soapy water. Also, it gives an attractive and classic satin sheen final outlook to painted wood surfaces.
Pros
Easy to use
Durability
Low odor
Fast-drying.
Cons
Related Post >> What Is the Best Wood Sealant for Acrylic Paint?
FAQs
Is acrylic paint waterproof on wood?
Acrylic paints are water-based paints, which can be easily washed off by water. However, when acrylic paint gets dry, they become slightly water-resistant. But, they are not waterproof. They can slightly prevent water but cannot completely prevent it.
How many coats of acrylic paint should be used on wood?
Acrylic paints are known to be relatively thick and flexible. Hence, normally a coat of paint should be enough. However, in cases where the underlying primer is still showing after applying the first coat. Then, apply another layer of paint coat to produce an excellent coverage.
Can you use acrylic paint on a dining table?
Acrylic can be said to be suitable for varying wood surfaces. Hence, it can be used on the dining table. Also, considering the fact that acrylic paints are non-toxic, they are more suitable for use on the dining table. However, they are not usually available in large containers
Can you use acrylic paint on the bedroom door?
Yes, you can apply acrylic paint to your bedroom door. To do this, remove all previous paint and clean the surface of your wood. After this sand and remove sanding residues. Seal and prime your wooden door before using a roller to apply your acrylic paint.
Can you use acrylic paint on wooden letters?
Yes, you can use your acrylic paint on wooden letters. However, professionals suggest that you acrylic spray paint. However, to effectively paint your wood letters, you should prime the wood surface, and sand it a little. Then use a flat brush to apply primer to the edges before spraying paint on the front of the wood letters
Do you need to prime acrylic paint on wood?
The two major paint preparatory materials are primers and sealers. Sealers might not be needed for some surfaces like metals. But primer is needed on all surfaces to provide good adhesion before painting. However, a primer is used before applying acrylic paint and not after.
Do you need to seal acrylic paint on wood?
You might decide not to use a sealer when working on other surfaces. However, because a wood has pores, a sealer is highly needed to seal off these pores. Also because acrylic paint is just slightly water-resistant and not water-proof, extra protection from a sealer is needed to seal acrylic paint on wood.
How to pour acrylic paint on wood?
There are different techniques you can use when doing acrylic pour painting. One of the simplest techniques you can utilize is flip cup dirty pour. In this technique, you pour the different colors of acrylic paint you want to use inside a flip cup. Do not mix. Then simply pour all the layers of paint at once.
Final Words: How to Paint Wood with Acrylics?
Painting generally is a satisfying surface beautifying procedure. Similarly, painting wood with acrylics tends to be so easy and delightsome. Although the steps to follow might be a bit extensive and relatively long. However, following these steps saves you time, energy, and resources.
However, when painting wood with acrylics, always remember to seal, prime, paint, and seal again. Also, don't forget to constantly scuff sand before starting each process. Getting acrylic paint beautifully on your wood will be easy as you follow these processes.
Have fun painting.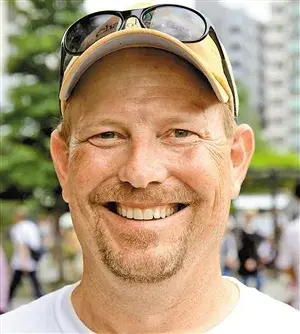 My name is Mark, and I am a software engineer and the founder of OnWoodWorkingArt.
I grew up with a passion for woodworking and now have my woodworking studio with a group of like-minded friends who love to create woodworking. My dream is to have a more extensive workshop and be able to make woodworking my main business.